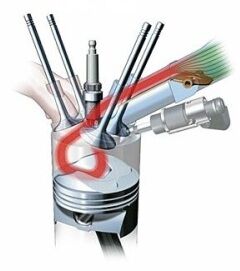 Fuel Stratified Injection or FSI is a proprietary direct fuel injection system developed and used by Volkswagen AG, as well as its luxury subsidiary Audi.
It was first introduced in 2000 when VW introduced the 1.4 litre direct-injected inline-four unit in the Volkswagen Lupo city car. The system was adapted from Audi's Le Mans prototype race car R8 and has since proliferated throughout the Volkswagen Group's petrol engine range.
VW/Audi has since added turbocharging in conjunction with the FSI system, giving it the moniker TFSI.
As is the case with all direct-injection systems, FSI increases the engine's power output while reducing fuel consumption simultaneously by as much as 15 percent. This is in large part to the stratified charge principle at part load. In this operating mode, the engine only requires a fuel-air mixture capable of immediate ignition in the area around the spark plug. The remainder of the combustion chamber is filled with a leaner mixture, one with a considerable degree of excess air.
Fuel is injected on the engine's compression stroke and is picked up by the movement of the air that has been drawn into the combustion chamber. This movement is imparted to the air by a movable flap in the intake port and by the special shape of the piston crown. This effect is known as "tumble". The injector, which is supplied by a single-piston pump and common rail fuel line, is in the side of the cylinder head, and controls the injection time to within thousandths of a second, at injection pressures of up to 110 bar.
As a result of this, the engine can be run without the incoming mixture flow being throttled. The direct-injection engine also benefits from reduced heat losses, because the layer of air around the 'cloud' of ignitable mixture isolates the latter from the cylinder and cylinder head.
Other key components of the system include:
A high-pressure common rail fuel injection system with a demand-controlled single-piston injection pump specially developed for the purpose; this only supplies sufficient fuel to maintain the desired pressure in the system.
A new cylinder head with four valves per cylinder and valve operation by roller cam followers.
A further-developed version of the air-guided combustion process with continuous control of charge movement.
An external exhaust gas recirculation system.
A further development of the exhaust emission treatment system, with a NOx storage-type catalytic converter and NOx sensor.
Community content is available under
CC-BY-SA
unless otherwise noted.