Ford Transit
Ford
aka
Type aka here, not up there
Production
produced from when to when+total units made (optional)
Class
Commerical
Body Style
SWB Van
LWB Van
LWB High-top van
Length
length - type here
Width
Width - type here
Height
Height - type here
Wheelbase
wheelbase - type here
Weight
Weight - you get the point
Transmission
6 speed Manual, FWD/RWD
Engine
2.4 litre TDCi Inline-4
Power
N/A hp @ N/A rpm
N/A lb-ft of torque @ N/A rpm
Similar
Toyota Hiace
Designer
Designer (lead designer if it was a team effort)
The Ford Transit is a panel van sold in Europe (inc. Turkey) it has been around for more than 45 years and more than 6 million Transits have been sold altogether. The first Transit was built in August 1965. One Transit "supervan" reached 150MPH.
For 2011, Ford UK is launching the 100 unit limited edition SportVan Limited. It is differentiated from the standard Transit by Colorado Red paintwork and Le Mans-style white bonnet stripes, twin exhaust tail pipes, 18-inch graphite color alloy wheels shod in low profile 235/45 tires, front and rear lower spoilers, side skirts and extended wheel arches, optional LED cargo lights and LED daytime running lights, velour interior trim along with standard air conditioning, six CD-player with remote steering-column-mounted controls, cruise control, power windows, powered and heated mirrors, leather steering wheel, tinted glass, leather gearshift knob, a perimeter alarm, power deadlocks, rain-sensing wipers, auto headlights, front fog lights, a load area protection kit, ABS, ESP and driver and passenger airbags. Available options include leather seats and a navigation system with a 5-inch color display. Prices start at £22,630.[1]
Certain vehicles come in different trim levels or body styles. Features and major options should be mentioned here.
Add more fields as necessary.
MODEL Trims
Trim1
Trim2
Trim3
Trim4
MSRP
$Price1
$Price2
$Price3
$Price4
Invoice
$Price1
$Price2
$Price3
$Price4
Add more fields as necessary.
As seen on the FuelEconomy.gov website, the City/Highway MPG averages are as follows:
Trim
Trim1
Trim2
Trim3
Trim4
MPG
c/h
c/h
c/h
c/h
Specifications, details, graphs, pictures and other information regarding the powertrain is placed in this section.
Please make sure to write information of the vehicle's performance in a third-person point of view. This section should include information about the car's acceleration figures, handling, braking, etc.
If using information gathered from Road Test articles from a reputable automotive source, then please make sure to cite the quote.
Warranty options and scheduled maintenance information should be mentioned here.
RECALL ALERT: In Transit RWD Diesel models built between 29th March 2006 and 12th December 2006, there is a fault with the pump retaining snap ring within the nut connection of the power steering pump. The snap ring could wear and detach cauing the power steering fluid to leak resulting in a loss of power steering. The worst case scenario could be that the fluid could fall onto the exhaust manifold causing a fire. However, a retaining collar has been developed to ensure the problem will not happen again. [2] [3]
RECALL ALERT: In RWD Transit models built from 15th March 2004 to 1st March 2006, there has been a rear axle defect. Affected models may experience wearing conditions between the axle shaft and the differential pinion shaft. [4]
This section should reference points on safety ratings and features of the vehicle.
List the colors that the particular <MODEL> is offered in.
If there are hybrid versions of this vehicle manufactured, then please elaborate a little bit on it here.
If there are any features of this vehicle that sets it apart from other vehicles in its class, then mention those unique attributes here.
This section should include information on the interior's design, build quality, ergonomics, space (head and legroom, front and rear), features, stowage compartments and overall comfort and livability. Add pictures wherever applicable and keep information in a third-person point of view.
Add more fields as necessary.
<MODEL> Year
Year X
Year X-2
Year X-3
Year X-4
Resale Value
$
$
$
$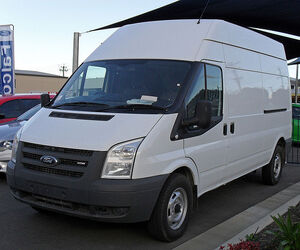 Please make sure to keep critiques in a third-person point of view. If using criticisms from a reputable automotive source, then please make sure to cite the quote.
Fill in as many as appropriate. Add more if necessary and pictures wherever applicable.
Please make sure NOT to use copyrighted pictures.
Mk3 2nd facelift (1994-2000)
[
edit
|
edit source
]
==
Mk1 (1965 -1978) ==
==
Taunus (1953-1965) ==
If the vehicle is sold in other markets worldwide, then this is the section to mention that information. Also, mention if the <MODEL> goes by another name in these other markets.
Design quirks and oddities
[
edit
|
edit source
]
Top Gear made a hovercraft out of a Ford Transit
List out notable awards that the model has received while in production. Boldface the company or organization that gives out the award, and Italicize the name of the award.
Community content is available under
CC-BY-SA
unless otherwise noted.