Use the following MODEL TEMPLATE as the foundation for the Autopedia's Model page:
Start off with a brief Introduction to the particular MODEL. Please DO NOT use the same Introduction text from the <MODEL> Review page, but rather paraphrase ideas relevant to grasp an overall scope of the vehicle.
Please include the following line at the bottom of this section. Please replace <MODEL> Review with the proper text:
See Autopedia's comprehensive <MODEL> Review.
Recent Changes
Edit
In 2009, Ford Australia released the Limited Edition Ford Territory. Based on the TS model, the Limited Edition gets leather seats, Garmin Nuvi 255 Portable Satellite Navigation System, unique 18 inch alloy wheels and "Limited Edition" badging at $45,990 driveaway. [3]
For 2009MY, the Territory receives a mid-cycle facelift.
In 2005, the 6 speed ZF automatic transmission from the BF Falcon became available in all AWD Territory models.
Styles and Major Options
Edit
4.0L engine with 4 speed Automatic with Sequential Sportshift, RWD
Dual front and side curtain airbags
Acutrac system incorporating ABS, Dynamic Stability Control and Traction Control
17 inch Alloy wheels
Air conditioning
CD player
Cruise control
Power windows and mirrors
Auto headlamps on/off
30 storage compartments
4 way power driver's seat
Optionals
Full-time All Wheel Drive with 6 speed Automatic with Sequential Sportshift
7 seats
7 seats
Reverse camera
Rverse sensing system
Dual zone climate control air conditioning
Leather wrap steering wheel handbrake and gearshift
Prenium audio system with 6 disc in-dash CD player
Optionals
Full-time All Wheel Drive with 6 speed Automatic with Sequential Sportshift
Satellite navigation
18 inch alloy wheels
6 way driver's seat with memory
Power ajdustable foot pedals
Electrochromatic rear vision mirror (auto dimming)
Alpine rear DVD system
Side steps
Privacy glass
LED side mirror indicators
Optionals
Full-time All Wheel Drive with 6 speed Automatic with Sequential Sportshift
Satellite navigation
Ghia Turbo
Edit
Same features of Ghia AWD
Unique 18 inch alloy wheels
Bonnet scoop
Dual exhuast outlets with chrome tips
Front sports seats
Perforated leather seat inserts and sports steering wheel
Turbo Blue centre console with Satin chrome accents
Sports instrument cluster with Turbo Blue background
Add more fields as necessary.
MODEL Trims
TX
TX AWD
TS
TS AWD
Ghia
Ghia AWD
Turbo
Ghia Turbo
MSRP
$37,990 AUD
$42,990 AUD
$43,990 AUD
$48,990 AUD
$51,990 AUD
$56,990 AUD
$53,990 AUD
$65,490 AUD
Invoice
$Price1
$Price2
$Price3
$Price4
$Price5
$Price6
$Price7
$Price8
Gas Mileage
Edit
Add more fields as necessary.
As seen on the FuelEconomy.gov website, the City/Highway MPG averages are as follows:
First generation
Trim
RWD
AWD
Turbo
L/100 km
12.2
12.8
14.2
Current generation
Trim
RWD
AWD
Turbo
L/100 km
11.6
c/h
c/h
Engine and Transmission
Edit
Specifications, details, graphs, pictures and other information regarding the powertrain is placed in this section.
Performance
Edit
Towing capacity: 2300 kg
Reliability
Edit
RECALL ALERT: More than 83,500 SX and SY Territories had been recalled to fix a fluid leak from the front brake hoses. [4]
RECALL ALERT: Nearly 5000 Territories are afftected with floor mats that stick to the accelerator pedal much like the same problems with many Toyotas including the Prius. [5]
According to Car Survey.org, the average reliability rating for the Ford Territory is 7.25 points out of 10.
Ball joint and front suspension failure
Edit
The flawed front suspension design is an evident problem in Series I Territories. With one of the problems, the ball joints wear out excessively to the point of failure. One owner experienced the problem and had the ball joints in his car replaced every 45,000 kilometres (28,000 miles) and they show signs of wear. Another problem is when a front axle from a 2005 model fell off. The owner heard scraping noises and she felt unsafe about driving her Territory. Many owners are frustrated emotionally and financially with their Territories and the whole company.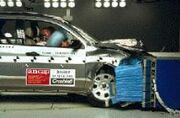 The Ford Territory earned 4 stars in the 2006 round of ANCAP through frontal and side impact crash testing. The TX Territory attained a score of 29.57 out of 37. The TS Territory underwent a pole test with side curtain airbags available to earn an extra 2 points.
Safety features
Dual airbags
Side thorax airbags
Side curatin airbags (TX optional)
Anti-lock Brakes
Electronic Brakeforce Distribution
Seatbelt reminder (Driver)
Centre lap/sash seatbelt
Add Photos of the vehicle here.
Please make sure not to use copyrighted photos.
Silk (Light Blue)
Steel (Blue Metallic)
Ego (Black)
Silhouette (Warmish Black)
Kashmir
Winter White
Lightning Strike (Silver)
Velvet (Maroon)
Seduce (Red)
Sensation (Bright Blue)
Interior
Trek & Dakota (TX)
Sports Leather Seat Trim (TX)
Launcestone and Miller (TS)
Leather Seat Trim in Eucalyptus (Ghia)
Momentum Fabric & Suede feel Seat Trim in Warm Charcoal (Turbo)
Leather Seat Trim in Warm Charcoal and Silver Stitching (Ghia Turbo)
Main Competitors
Edit
Hybrid Models
Edit
There are no hybrid models planned for production. However, the Territory does come with the duel fuel kit.
Diesel Model
Edit
At the beginning of 2010, Ford Australia will start building the new diesel model of the Territory.[8]
Unique Attributes
Edit
If there are any features of this vehicle that sets it apart from other vehicles in its class, then mention those unique attributes here.
This section should include information on the interior's design, build quality, ergonomics, space (head and legroom, front and rear), features, stowage compartments and overall comfort and livability. Add pictures wherever applicable and keep information in a third-person point of view.
Resale Values
Edit
Add more fields as necessary.
<MODEL> Year
Year X
Year X-2
Year X-3
Year X-4
Resale Value
$
$
$
$
Criticisms
Edit
The main criticism of the Ford Territory is its high fuel consumption.
Generations
Edit
Fill in as many as appropriate. Add more if necessary and pictures wherever applicable.
Please make sure NOT to use copyrighted pictures.
Current Generation: (2011–present)
Edit
Second generation (2008-2010)
Edit
First Generation/Origins (2004–2008)
Edit
Worldwide
Edit
So far, the Ford Territory has been exported to Thailand and South Africa.
Design quirks and oddities
Edit
A Ford Territory has it's own drink bottle as standard.
2004 RACV Australia's Best Recreational 4WD
2005 RACV Australia's Best Recreational 4WD
External Links
Edit
Community content is available under
CC-BY-SA
unless otherwise noted.