The Ford Taurus (from Latin "bull") is a mid-size car sold by the Ford Motor Company in North America. Introduced in December 1985 as a 1986 model, Ford has sold nearly 7 million Tauruses during its 21 years of production. The Taurus also had a Mercury sibling called the Sable. Most Tauruses were built in either Chicago, Illinois (until April 23, 2004, at which time the plant was retooled to build the Five Hundred), or in Atlanta, Georgia.
This model was a bold new step in American automobile design. For the first time in many decades, an American manufacturer was building a world class car, inspired by successful European designs, which were making huge inroads in the American premium sedan market. Ford took a huge gamble in basing its bread and butter car on the 1984 Audi 5000, which in turn was patterned on the radical 1975 Citroën CX.
The car was given a major facelift in 1992 and a major redesign in 1996, followed by two design updates in 2000 and 2004. Between 1992 and 1996, the Taurus was the best-selling car in the United States, losing the title in 1997. During that period, the Ford F-150 remained the country's best-selling vehicle, leading sales along with several other vehicles not classified as "cars":
Ford discontinued the Taurus after the 2019 model year, along with the Fusion, Fiesta, and Focus sedans, due to the current growing sales of trucks and SUVs and declining sales of sedans as a result of low fuel prices.
See Autopedia's comprehensive Ford Taurus Review.
Recent Changes
A month after the introduction of the sixth generation Taurus, Ford unveiled the much awaited return of the Ford Taurus SHO on the internet, which is set for an official debut at the 2009 Chicago Motor Show. The resurrected sport sedan is an AWD affair featuring a 3.5 litre direct-injected twin-turbo EcoBoost V6 producing 365 hp @ 5500 rpm and 350 lb-ft. of torque @ 3500 rpm. That power is handled by Ford's 6F55 six-speed SelectShift automatic transmission with a paddle or console activated Manual mode. To keep from spoiling the fun when you get to a corner, the SHO comes Ford's new SR1 suspension setup with MacPherson front struts and a multi-link set up in the rear. Everything is beefed up for sporty driving duty including SHO-specific shock absorbers, springs, stabilizer bars and strut mount bushings. An optional Performance Package will give you better brake pads, recalibrated steering, a "Sport Mode" for the stability control and shorter 3.16 to 1 final drive ratio. Visually, the differences from the regular models are subtle. It will take a pretty trained eye to notice the dark grey finish on the grille that matches the wheels and new parking lamp bevels. However, the decklid spoiler on the trunk will definitely catch betray the car's sporting intent to passers-by. The SHO goes on sale in summer 2009 with prices starting at $37,995. [1]
For 2010, Ford unveiled the sixth generation Taurus sedan. The new car moves away from the previous generation's Ford 500 re-badge formula and is completely all-new. The exterior styling is a combination of Ford of Europe's "Kinetic" design language and the styling of the Ford Interceptor Concept. Engine choices will come in the form of a 3.5 litre Duratec V6 producing 263 hp and 249 lb-ft of torque and a twin-turbo, direct-injected EcoBoost 3.5 litre V6 making an estimated 350 hp (though this particular engine is still on its way). Pricing for the Avalon/Maxima/300/G8 fighter will start at $25,995.[2][3][4][5]
Styles and Major Options
Certain vehicles come in different trim levels or body styles. Features and major options should be mentioned here.
Pricing
Add more fields as necessary.
MODEL Trims
Trim1
Trim2
Trim3
Trim4
MSRP
$Price1
$Price2
$Price3
$Price4
Invoice
$Price1
$Price2
$Price3
$Price4
Gas Mileage
Add more fields as necessary.
As seen on the FuelEconomy.gov website, the City/Highway MPG averages are as follows:
Trim
Trim1
Trim2
Trim3
Trim4
MPG
c/h
c/h
c/h
c/h
Engine and Transmission
Specifications, details, graphs, pictures and other information regarding the powertrain is placed in this section.
Performance
Please make sure to write information of the vehicle's performance in a third-person point of view. This section should include information about the car's acceleration figures, handling, braking, etc.
If using information gathered from Road Test articles from a reputable automotive source, then please make sure to cite the quote.
Reliability
Warranty options and scheduled maintainence information should be mentioned here.
Safety
This section should reference points on safety ratings and features of the vehicle.
Photos
Taurus SHO
Add Photos of the vehicle here.
Please make sure not to use copyrighted photos.
Colors
Red
Grey
Intercepter (Black & White)
NASCAR Series
Main Competitors
Hybrid Models
If there are hybrid versions of this vehicle manufactured, then please elaborate a little bit on it here.
Unique Attributes
If there are any features of this vehicle that sets it apart from other vehicles in its class, then mention those unique attributes here.
Interior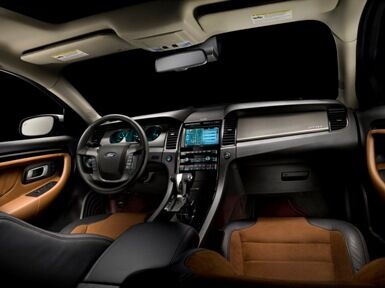 This section should include information on the interior's design, build quality, ergonomics, space (head and legroom, front and rear), features, stowage compartments and overall comfortability and livability. Add pictures wherever applicable and keep information in a third-person point of view.
Resale Values
Add more fields as necessary.
<MODEL> Year
Year X
Year X-2
Year X-3
Year X-4
Resale Value
$
$
$
$
Criticisms
Please make sure to keep critiques in a third-person point of view. If using criticisms from a reputable automotive source, then please make sure to cite the quote.
Generations
Fill in as many as appropriate. Add more if necessary and pictures wherever applicable.
Please make sure NOT to use copyrighted pictures.
Sixth Generation: (2010–2019)
Facing slumping sales, Ford replaced the Taurus in commercial markets with the 2005 Ford Five Hundred, which is based on the Ford D3 platform, and the 2006 Ford Fusion, based on the Ford CD3 platform.
Production of the Taurus wagon was discontinued in January 2005, replaced in the lineup by the crossover Ford Freestyle (on the D3 platform), and by the 2007 Ford Edge crossover SUV (on the CD3 platform).
In 2005, Ford stopped selling the Taurus to the public in the United States and Mexico. The model year 2006 & 2007 Taurus was sold exclusively to fleets, such as The Hertz Corporation. The vehicle ceased production On October 27th 2006, after a short run of 2007 models.
On Wednesday February 7, 2007 Ford CEO Alan Mulally introduced a all new 2008 Ford Taurus along with a new 2008 Mercury Sable and Ford Taurus X CUV.The new Taurus will be replacing the Ford Five Hundred and the Ford Taurus X will be replacing the Ford Freestyle.
Ford Taurus Interceptor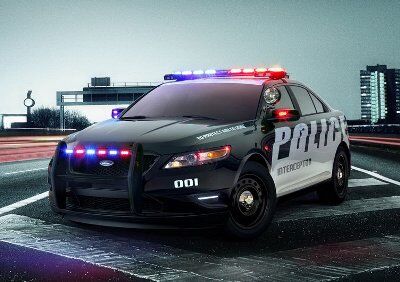 Replacing the aging Ford Crown Victoria in 2011 as the preferred conveyance of America's Police force, the Taurus Interceptor will feature 3.5-liter V6 powering the front wheels and a top-spec model based on the SHO with all-wheel drive and the turbocharged 3.5-liter V6 EcoBoost.
Fifth generation (2008-2009)
The Ford Five Hundred sedan, as produced for the 2005-2007 model year, was scheduled for a significant styling facelift update and power upgrade for the 2008 model year. That vehicle is being redesignated as the new Taurus. Ford's new CEO Alan Mulally determined that Ford's strategy to redesignate new cars in the lineup with new names beginning with the letter F, as in Ford Focus, Ford Fusion, and Ford Freestyle, was not a good marketing move, as some of the renamed cars had highly recognizeable iconic names. The new F names were not as well known to be associated with Ford in the US, and consumers were confused by the name changes Five Hundred to be renamed "Taurus". Mulally believed that the Taurus had an immediately strong brand equity, and that it would take years for consumers to have a similar recognition of the Five Hundred Officals say Ford to revive Taurus name
Changes to the new Taurus from the existing Five Hundred include a newly styled front end, with the signature 3-bar chrome grille from the Fusion, and the addition of the 260 hp 3.5L Ford Cyclone Engine from the Ford Edge, replacing the 203 hp 3.0L V6. The Five Hundred's continuously variable transmission, which was power-limited to a maximum of about 210 hp, is also replaced with a more conventional six-speed automatic. Ford slaps a once-successful nameplate on its refreshed and reinvigorated Five Hundred. The similarly facelifted Freestyle will be renamed the Ford Taurus X. Ford strengthens crossover leadership with introduction of new 2008 Taurus X. The Taurus X will also drop the CVT transmission and 3.0 L V6 used in the Freestyle in favor of the 3.5 L engine and six-speed GM-Ford 6-speed automatic transmission 6F automatic. The Taurus sedan twin, the Mercury Sable nameplate, will also be revived from the Mercury Montego nameplate to return Like Taurus, Mercury Sable nameplate to. The 2008 Ford Taurus will have a base price of $23,245 for the SEL front-wheel drive model to $28,695 for the Limited all-wheel drive model.

Fourth generation (2000–2007)
The Taurus received another redesign in 2000 which minimized some of the oval design elements from the 1996 model. The redesign also featured a taller roof over the rear-passenger space to increase passenger headroom sacrificed by the tapered 1996 design. The taller and roomier trunk also served to make the vehicle more functional. The interior was completely swapped out for a much more conservative design. Certain elements of the interior were retained from the 1996 model, such as the integrated control console which combined the sound system and climate controls into one panel. The suspension was also softened to appeal to a broader, non-sporting audience. To reduce the price and increase profitability, many features such as such as four-wheel disc brakes were eliminated. The Taurus SHO was dropped. The introduction of the Chevrolet Impala (which would compete with the Taurus) in 2000 would eat into some Taurus sales this time.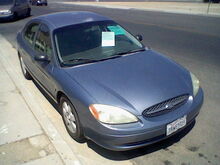 2002 Tauruses included extra equipment on every trim level, including a CD player and power driver's seat on the SE, a power moonroof or leather interior on the SES, and both of these luxury options on the SEL. Side airbags and traction control were added as options on all models.
For 2004, the Taurus received minor cosmetic changes to the front and rear fascias, including an eggcrate grille. Inside were a new instrument cluster and steering wheel. The Duratec engine received a boost in power to 201 hp and 207 ft·lbf of torque. 2005-2007 models remain unchanged from 2004. The Taurus was discontinued on October 27th 2006.
The Fourth Generation Taurus was also Ford's vehicle used in NASCAR Auto Racing for the Sprint Cup and Nationwide Series until the Fusion took its place.
Models
Model
Year
Engine
Power
Torque
Transmission
LX
SE
SES
2000–2005
3.0 L

SFI

Vulcan

V6
155 hp (116 kW)
185 ft·lbf (251 N·m)
4-speed

AX4N

automatic
3.0 L DOHC

Duratec 30

V6
200 hp (149 kW)
195 ft·lbf (264 N·m)
SEL
SE
SEL
2006–2007
3.0 L

SFI

Vulcan

V6
155 hp (116 kW)
185 ft·lbf (251 N·m)
4-speed

AX4N

automatic
Third generation (1996–1999)
The 1996 model year saw the first complete redesign for the Taurus. Ford hoped the radical redesign would lead to the same success it had had with the 1986 Taurus. The controversial oval theme was not well received by the press and the public, and is ultimately blamed as the reason the Taurus lost its bestseller status to the Toyota Camry in 1997.
Another factor that was to blame for the sales decline of the Taurus was the substantial price increase from the previous model. The MSRP for the 1996 model increased US$2500 over the 1995 Taurus. The 1996 Taurus attempted to move upscale, and the result was a car with more standard and optional features. The 1996 model could be equipped with the powerful 200 hp (149 kW) 3.0 L double overhead cam (DOHC) Duratec 30 V6 as an option.
Trim lines were now known as G at the bottom, with GL in the middle and LX as the most-luxurious. The SHO continued with a new 3.4 L V8 engine. The Taurus was a flexible-fuel vehicle for 1997, and earned LEV status in California, but sales were faltering.
In an effort to reverse the sagging sales of the Taurus, Ford tried to increase its appeal by making some cosmetic changes for the 1998 and 1999 model years. These changes included redesigning the grille openings in the front, changing the design from two oval openings to a more SHO-like full width opening for the air dam (minus the bar running through the center), and moving the Ford logo down into an enlarged opening between the lights mounted onto a Jaguar-esque "motif bar". These years also had more attractive headlight lenses, featuring completely clear lenses and a multi-reflector surface in the rear of the housing around the bulb; these were known as the "disco ball" headlights. The rear turn signal lenses were changed from amber to red to match the rest of the lightbar assembly, presumably to present a more "sleek" appearance. Ford also eliminated the two downmarket trim levels, G and GL, and reinstated the upscale SE model from 1995, which featured a harder suspension and four-wheel disc brakes.
Although all 1998 models had the option of the DOHC Duratec engine, it was only available on the SE for 1999. This same year, the front buckets, reintroduced with the SE, became optional on the LX.
Third generation SHO
A 235 hp (175 kW) 3.4 L DOHC V8 was specified for the SHO model, but the 5-speed manual transmission was gone. The V8 in the SHO model (produced from 1996 to 1999), was very impressive, but increased curb weight and the lack of a manual transmission option meant the new SHO lacked the acceleration of the previous generation. These engines were assembled by Yamaha in Japan but more parts were made by Ford than in the earlier Yamaha-built V6.
Separation of the camshaft from its sprocket (components shared with at least one other Ford engine with significantly lower output) has been implicated in a growing number of catastrophic failures of this engine around the 50,000 mile (80,000 km) mark. The standard warranty on this model was 36,000 miles (58,000 km).
Models
Model
Year
Engine
Power
Torque
Transmission
G
GL
1996–1997
3.0 L

SFI

Vulcan

V6
145 hp (108 kW)
180 ft·lbf (244 N·m)
4-speed

AX4S

automatic
4-speed

AX4N

automatic
3.0 L DOHC

Duratec 30

V6
200 hp (149 kW)
195 ft·lbf (264 N·m)
LX
1996–1997
LX
SE
1998
3.0 L

SFI

Vulcan

V6
145 hp (108 kW)
180 ft·lbf (244 N·m)
3.0 L DOHC

Duratec 30

V6
200 hp (149 kW)
195 ft·lbf (264 N·m)
LX
1999
3.0 L

SFI

Vulcan

V6
145 hp (108 kW)
180 ft·lbf (244 N·m)
SE
3.0 L DOHC

Duratec 30

V6
200 hp (149 kW)
195 ft·lbf (264 N·m)
SHO
1996–1999
3.4 L

SHO

V8
235 hp (175 kW)
230 ft·lbf (312 N·m)
4-speed

AX4N

automatic
Second generation (1992–1995)
The Taurus received its first cosmetic update in 1992, which modernized the interior and the front and rear fascias. With the older Taurus facing slumping sales, this new model brought sales back up again with 400,000 units sold during 1992. While the design was basically the same, every body panel except for the roof was changed. This also gave the Taurus what Ford called a "smarter appointed interior", which offered such luxuries as automatic climate control (an option for the LX and, later, SE; standard on SHO models), and a center console was made available for people who didn't want the Taurus' front bench seat. The Taurus was the best-selling car in the United States for every year of this cosmetic update.
The four-cylinder engine was eliminated, and the SHO got an automatic transmission as an option. The cheaper L base model was dropped for 1993. A passenger-side air bag was standard for 1994.
The last year of this updated first-generation Taurus was 1995. A sportier SE model was added. It featured alloy wheels and the designers dumped the front bench in favor of bucket seats separated by a console. The other models gained standard air conditioning and rear window defroster.
Second generation SHO
The SHO model continued with the same powertrain as before—the 5-speed manual transmission remained unique in the Taurus lineup.
The lack of an automatic transmission had hurt sales—a situation Ford rectified in 1993. A 3.2 L version of the Ford SHO V6 engine was introduced for automatic-equipped SHOs, which still had 220 hp (164 kW), but now boasted 215 ft·lbf (292 N·m), a 15 ft·lbf (20.3 N·m) increase over the 3.0 L version.
In 1993, Ford did a minor redesign of the SHO interior, updating the center console. Other changes for 1993 included a trunk lid spoiler with integrated brake light.
Awards
The updated Taurus earned a seventh spot for the car on Car and Driver magazine's annual Ten Best list for 1992.
Models
Model
Year
Transmission
Engine
Power
Torque
L
1992
4-speed

AXOD-E

automatic
3.0 L

SFI

Vulcan

V6
140 hp (104 kW)
160 ft·lbf (217 N·m)
GL
LX
1992–1992
3.8 L

Essex

V6
140 hp (104 kW)
215 ft·lbf (291 N·m)
GL
LX
1993–1995
4-speed

AX4S

automatic
3.0 L

SFI

Vulcan

V6
140 hp (104 kW)
160 ft·lbf (217 N·m)
3.8 L

Essex

V6
140 hp (104 kW)
215 ft·lbf (291 N·m)
SE
1995
3.0 L

SFI

Vulcan

V6
140 hp (104 kW)
160 ft·lbf (217 N·m)
3.8 L

Essex

V6
140 hp (104 kW)
215 ft·lbf (291 N·m)
SHO
1992–1995
5-speed

MTX-IV

manual
3.0 L SHO V6
220 hp (164 kW)
200 ft·lbf (271 N·m)
1993–1995
4-speed

AX4N

automatic
3.2 L SHO V6
220 hp (164 kW)
215 ft·lbf (291 N·m)
First Generation/Origins (1986–1991)
The 1986 Ford Taurus was a very important and successful mid-size sedan that introduced a radical new design philosophy to the United States. Replacing the Ford LTD, the front wheel drive Taurus introduced a much rounder and more organic design. Often described as "jelly bean" shaped, the design proved successful and helped to launch Ford into a new era of prosperity. The Taurus ultimately led to a US automobile design revolution that saw the end of the "boxy" cars of the 1970s and 1980s.
The Taurus and Sable siblings used flush aerodynamic halogen headlights. Ford was the first to produce and sell vehicles with such headlights in the U.S. when it introduced the Lincoln Mark VII in 1984. To do so, Ford had to lobby the NHTSA to have them approved. The Taurus/Sable were the first domestically produced, mainstream sedans to use the new lights.
For 1986, the engines were a 90 hp (67 kW) 2.5 L 4-cylinder found in the MT-5 and L models or a new 140 hp (104 kW) 3.0 L Vulcan V6, optional on the L and standard on the GL and LX models. The MT-5 was equipped with a 5-speed manual transmission, Vulcan models used a newly-designed 4-speed AXOD automatic, while HSC cars used an older 3-speed ATX automatic.
The MT-5 and L models were basic and cheap, starting at US$10,500, with the GL offering a few interior upgrades like rear headrests and a folding armrest as well as the standard 3.0 L V6. The LX was loaded with air conditioning, power windows, seats, and door locks, a cassette stereo, and cruise control, though these features were also available as options on the other cars. The top of the line LX station wagon sold for $14,300.
Ford's 3.8 L Essex V6 was added to the lineup in 1988. Although the power output was rated at the same 140 hp (104 kW) as the 3.0 L engine, this large V6 produced 215 ft·lbf (291 N·m) of torque, a welcome addition especially in the heavier wagons. However, the 3.8 suffered from a head gasket reliability problem, which was a fault with Ford's supplier gaskets, not necessarily with the engine itself. Some attribute this to reduced under-hood cooling.
There was no more 5-speed wagon that year, while the L model was upgraded with a split bench in front and exterior power mirrors. The SHO model was added for 1989, and became the only manual transmission Taurus as the MT-5 model was eliminated.
In 1990, the interior was face-lifted, incorporating a new steering wheel design in order to fit an airbag, a new column shifter/floor shifter, and a new dashboard with a new instrument panel. The 2.5 L four got SFI, bumping up power by 15 hp (11.2 kW) and torque by 10 ft·lbf (13.6 N·m), as did the 3.0 L V6, though output remained the same for that engine. The 3.8 L continued unchanged. All but the SHO got a 4-speed automatic for 1990 and a new electronic AXOD-E transmission in 1991. LX-package cars also got standard anti-lock brakes that year.
First generation SHO
The SHO model, which debuted in 1989 with a sticker price of around US$20,000, changed the dull reputation of the Taurus. Powered by a special "Super-High Output (SHO)" 24-valve V6 (developed with Yamaha), it featured vastly improved performance. With mid-6-second 0-to-60 mph (97 km/h) times, and a top speed around 145 mph (233 km/h), it could keep up with such performance cars as Ford's own Mustang GT, Camaro Z28s, and the Diamond Star Motors cars (Mitsubishi Eclipse, Plymouth Laser, and Eagle Talon) in turbocharged form. It was said to be the most powerful and quickest front-wheel drive car ever made when it was introduced, though fans of the 1968 Oldsmobile Toronado begged to differ, despite the fact that the Toronado ran 0-60 mph (0-97 km/h) in 7.5 seconds, and the 1/4 mile (400 m) in 16.4 seconds at 93 mph (150 km/h).
The SHO, however, wasn't the sales success for which Ford had hoped. It had little exterior differentiation from other Taurus models, displaying understated ground effects and plain colors. The interior was very different, giving very comfortable and supportive sports seats, and an 8000 rpm tachometer. The SHO became the only Taurus to feature a manual transmission since the MT5 was discontinued in that year.
SHO PLUS
A "special edition of the SHO was offered in 1991 that had some different styling cues from the "normal" SHO, such as a plastic hood with a "power bulge" in the middle area, painted wheels (only silver or white, and only white on a white car), and other cosmetic details such as badges (set just behind the front wheels) and a subtle plastic spoiler on the trunk . This was called the SHO Plus Package, and though there was only about 2600 SHO Plus' ever made their value is not significently effected.
Awards
The first-generation Taurus LX was Motor Trend magazine's Car of the Year for 1986. It was also on Car and Driver magazine's annual Ten Best list each year it was produced, from 1986 through 1991.
Models
Model
Year
Engine
Power
Torque
Transmission
MT-5
1986–1988
2.5 L

HSC

I4
90 hp (67 kW)
130 ft·lbf (176 N·m)
5-speed

MTX

manual
L
1986–1990
3-speed

ATX

automatic
L
1991
2.5 L

SFI

HSC

I4
105 hp (78 kW)
140 ft·lbf (190 N·m)
4-speed

AXOD

automatic
L
GL
LX
1986–1990
3.0 L

Vulcan

V6
140 hp (104 kW)
160 ft·lbf (217 N·m)
4-speed

AXOD

automatic
GL
LX
1988–1990
3.8 L

Essex

V6
140 hp (104 kW)
215 ft·lbf (291 N·m)
4-speed

AXOD

automatic
L
GL
LX
1991
3.0 L

SFI

Vulcan

V6
140 hp (104 kW)
160 ft·lbf (217 N·m)
4-speed

AXOD-E

automatic
GL
LX
1991
3.8 L

Essex

V6
140 hp (104 kW)
215 ft·lbf (291 N·m)
SHO
1989–1991
3.0 L SHO V6
220 hp (164 kW)
200 ft·lbf (271 N·m)
5-speed

MTX-IV

manual
Worldwide
The 1996–1999 model was exported outside North America to Japan, Australia, and New Zealand, in right hand drive, but this proved unsuccessful. In these right hand drive markets, the Taurus wore a Mercury Sable grille, a unique front bumper cover with inset parking and turn signal lamps, and a Taurus-style rear, due to those countries' regulations regarding automotive lighting. Australians and New Zealanders tended to stay away from the cars due to their high price; a well equipped, larger-engined rear wheel drive Ford Fairmont cost around the same amount. While Japan got the station wagon, Australian buyers could only opt for a high-spec sedan with the Taurus Ghia badge.
Ford Taurus In Pop Culture
Tauruses appear in many TV shows and movies, often as middle-class family cars, rental cars, municipal fleet cars, etc. Some sample appearances are:
Robocop and Robocop 2 Used a fleet of 1986 Tauruses as OCP police cars.
Scott Calvin drives a first-generation Taurus SHO in The Santa Claus.
Greg Focker drives a 2001 Ford Taurus in Meet the Parents and Meet the Fockers.
Truman Burbank drives a 1996 Taurus rigged with a camera and microphone in The Truman Show.
Rachel Dawes drives a 1992 Taurus in Batman Begins.
In the movie "Blood Work" the character played by Jeff Daniels drives a 92-95 green SHO Taurus.
Famous Owners
Conan O'Brien's daily driver is a second generation SHO.
Jay Leno owns several SHOS
Awards
The new 3.5L V6 engine winner of Ward's 10 Best Engines award.
The 2008 Ford Taurus was rated the Safest Full-Size Car in America
On May 14, 2007 The 2008 Ford Taurus was awarded Top Pick in Safety.
Notes
See Also
External links
News and References
Enthusiast Sites and Discussion Forums