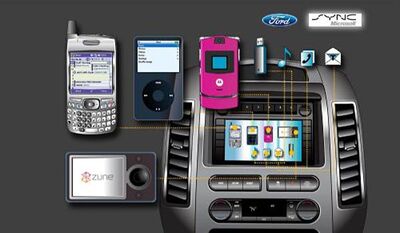 Ford Sync is a factory-installed, in-car communications and entertainment system developed by Ford and Microsoft. The system will be offered by Ford and Lincoln Mercury in North America for sale beginning with product for the 2008 model year.
Ford Sync technology helps drivers bring nearly any personal mobile phone or digital media player into their vehicles and operate them using voice commands or the vehicle's steering wheel or radio controls.
Plans to introduce the new Ford Sync technology were announced by Ford president and CEO Alan Mulally at the annual North American International Auto Show in January 2007. Microsoft Chairman Bill Gates made an appearance to help with the official partnership announcement at the media briefing in Detroit via live satellite.
Ford Sync, which will first be available on select models in the second half of 2007, offers a more user-friendly and potentially safer way to operate nearly all portable digital music players (i.e., Apple's iPod, Microsoft's Zune) with simple voice commands and work Bluetooth-enabled mobile phones. The system is also able to convert cell phone text messages to audio and read them out loud through the vehicle's sound system. The system is programmed to translate such commonly used text messaging expressions such as "LOL" (laughing out loud).
Sync is standard on Lincoln products and widely available as a factory-installed option on Ford and Mercury products. When offered as an option, it is priced at $395. On some models (such at Ford Focus or Ford Fusion), Sync must be bought with other option packages.
Voice-activated music: Ford Sync allows users to browse the music collection on a digital media player, mobile phone or USB drive by genre, album, artist and song title using simple voice commands.
Voice-activated, hands-free calling: By pressing the "Push to Talk" button on the steering wheel, Ford Sync will automatically connect with the names in the mobile phone's contact list.
Uninterrupted connections: With Ford Sync, a user does not have to hang up in the middle of a cell phone call as he or she enters a vehicle. By pushing the "Telephone Button" on the steering wheel, Ford Sync instantly connects to a Bluetooth phone and the conversation can be continued using the vehicle's sound system.
Ring tone support: For supported phones, Sync will play personal ring tones. If a phone has specifically configured and unique ring tones to identify specific callers, Sync will play those tones accordingly.
Multilingual intelligence: Sync is fluent in English, French and Spanish.
Pricing for Ford Sync had not been announced at the time of this post.
Source: Ford Motor Company
Community content is available under
CC-BY-SA
unless otherwise noted.