Ford Shelby GT500
Shelby American
aka
Ford Mustang
GT500 KR
Shelby Mustang
Production
1965 - 2015
Class
Muscle car
Sports car
Body Style
2-door, 4-seat Coupe
2-door, 4-seat Convertible
Length
189.4 in (4,811 mm)
Width
73.9 in (1,877 mm) (Excluding mirrors)

80.1 in (2,035 mm) (Including Mirror)

Height
Coupe: 55.1 in (1,400 mm)

Convertible: 55.4 in (1,407 mm)

Wheelbase
107.1 inches (2,720 mm)
Weight
3900 lb (1770 kg)
Transmission
Tremec 6-speed Manual, RWD
Engine
5.4 litre supercharged DOHC intercooled V8
Power
540 hp (402 kW) @ 6200 rpm
510 lb-ft of torque @ N/A rpm
Similar
Ford Mustang
Dodge Challenger (2008)
Chevrolet Camaro
Designer
Rob Jensen, Lead Designer for 2010 GT500
The Shelby Mustang was a performance muscle car from the 1960s. It was a series of Ford Mustangs which were specially modified by Carroll Shelby's company and sold as a series. The program was factory-sponsored and production was eventually moved in-house. The spirit of the series continues today in the special Mustang Cobra models.
See Autopedia's comprehensive Ford Shelby GT500KR Review and Ford Shelby GT500 Review.
Recent Changes
Edit
Hot on the heels of the unveiling of the sixth generation Mustang, Ford announced a new Shelby GT500. Or make that GT540 because the blown 5.4 litre V8 engine has been tuned by SVT to produce 540 hp (402kW) and 510 lb-ft of torque mated to a Tremec 6-speed gearbox. Redline is pegged at 6,250 rpm. [1][2][3]
On June 13, 2007, Ford unveiled the convertible version of the 2008 Ford Mustang GT, now known as the Shelby GT. Power is raised to 319 hp and 330lb.-ft. of torque thanks to the Ford Racing Power Upgrade Package. The car sports a new fascia complete with billet grille and a sportier looking airdam as well as a roll hoop arching across the rear seats.
Styles and Major Options
Edit
New options for 2012:
$1,595 – Recaro Leather Sport Seats
$1,995 – Glass Roof
$2,340 – Electronics Package (Navigation and Dual Zone Climate Control)
$3,995 – SVT Performance Package (includes upgraded wheels are 19″x9.5 (F) 20″x9.5″ (R) Premium Painted Forged Aluminum wheels)
$375 – Full Vehicle Cover
$1,295 – Shaker 1000 w/ In-Dash CD, MP3, 10 Speakers
Add more fields as necessary.
MODEL Trims
Coupe
Convertible
Trim3
Trim4
MSRP
$49,495
$54,495
$Price3
$Price4
Invoice
$Price1
$Price2
$Price3
$Price4
Gas Mileage
Edit
Add more fields as necessary.
As seen on the FuelEconomy.gov website, the City/Highway MPG averages are as follows:
Trim
Trim1
Trim2
Trim3
Trim4
MPG
c/h
c/h
c/h
c/h
Engine and Transmission
Edit
Specifications, details, graphs, pictures and other information regarding the powertrain is placed in this section.
Performance
Edit
Please make sure to write information of the vehicle's performance in a third-person point of view. This section should include information about the car's acceleration figures, handling, braking, etc.
If using information gathered from Road Test articles from a reputable automotive source, then please make sure to cite the quote.
Reliability
Edit
This section should reference points on safety ratings and features of the vehicle.
2013 Shelby GT500
Edit
2010 Shelby GT500
Edit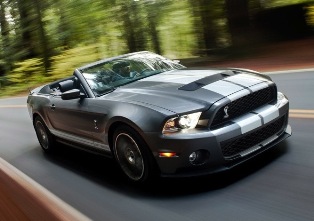 List the colors that the particular <MODEL> is offered in.
Main Competitors
Edit
Create links to other <MAKE> <MODEL> pages in this section.
Hybrid Models
Edit
None
Unique Attributes
Edit
If there are any features of this vehicle that sets it apart from other vehicles in its class, then mention those unique attributes here.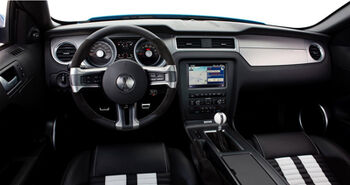 This section should include information on the interior's design, build quality, ergonomics, space (head and legroom, front and rear), features, stowage compartments and overall comfortability and livability. Add pictures wherever applicable and keep information in a third-person point of view.
Resale Values
Edit
Add more fields as necessary.
<MODEL> Year
Year X
Year X-2
Year X-3
Year X-4
Resale Value
$
$
$
$
Criticisms
Edit
Please make sure to keep critiques in a third-person point of view. If using criticisms from a reputable automotive source, then please make sure to cite the quote.
Generations
Edit
The first Shelby version of the Mustang appeared in 1965. All '65 Shelbys were painted white with (optional) parallel blue stripes from nose to tail. They also featured rocker panel stripes with the GT350 name. The engine was a modified K-code 289ci Windsor V8 with special "Cobra" valve covers, tri-Y headers, a special intake manifold and Holley carburetor increased power from 271 to 306 hp (162 to 228 kW).
The 1966 was differentiated in body color (non-white versions were introduced - colors included blue, red, green and black, as well as the original white) and trim. The "Le Mans" stripes were continued as an option, as in 1965. It featured special quarter-panel windows and rear air scoops on each side and an optional automatic transmission. A fold-down rear seat was now standard as well. Where early 1965 cars had black engine blocks, 1966 and later cars had the 289 engine painted blue.
Shelby struck a deal with the Hertz car rental company to produce a special line of GT350s for rent which were subsequently sold to the public after their rental-car lives were finished. These GT350H cars are quite rare and sought-after today, with some examples selling for more than $120,000. Shelby produced 1000 of these cars; 800 in black, and 50 each in red, white, blue and green. The black cars all had gold stripes, whereas the colored cars only had Shelby side stripes, without the Le Mans top stripes. Shelby would repeat this trick in 1987 with the Shelby CSX-T.
The new 1967 Mustang was followed with a new Shelby. It featured a 1967 Mercury Cougar tail light panel minus the chrome trim, a flip-up spoiler, and two sets of air scoops on each side. This was also the first American car to feature a factory roll bar.
This year also saw the introduction of the GT500 alongside the continued GT350. The new GT500 featured a 428 in³ (7 L) FE Police Interceptor Big-block V8. This is also one of the most famous Shelby Mustangs. A modified GT500 clone, known as Eleanor, featured alongside Nicholas Cage in Gone in Sixty Seconds the 2000 remake of Gone in Sixty Seconds and a blue GT500 is prominently featured in the manga series Gunsmith Cats.
Shelby lost the lease for their factory at Los Angeles International Airport in late 1967 so production of the Shelby cars was moved to Ionia, Michigan under Ford Motor Company control.
1969 & 1970
Edit
Carroll Shelby terminated his agreement with Ford in the summer of 1969. The GT350 and GT500 for the 1969-70 model years received extenisve facelifts. Ford was heavily involved with design and style decisions, with Shelby having very little input. Production of Shelby Mustangs ceased with the 1970 model year. The 1970 models were in fact leftover 1969 models.
2006 Shelby GT-H
Edit
Ford introduced the Shelby GT-H version of the Mustang at the 2006 New York Auto Show in April 2006. Like the original GT350H from 1966, the GT-H features gold-on-black paint and will only be available at the Hertz car rental agency. A modest power bump over the regular Mustang GT results in 325 hp (242 kW) and 330 ft·lbf (447 N·m). Features include a 5-speed automatic transmission, and a package from Ford Racing including a 90 mm cold air intake kit, muffler kit, X-pipe, and a cat-back exhaust. Just 500 will be built to celebrate the 40th anniversary of the original.
2007 Shelby GT500 Cobra
Edit
Shelby and Ford will return with a Shelby-branded Mustang, the Shelby GT500 Cobra for 2007. Introduced at the 2005 New York International Auto Show, the GT500 uses a 5.4 L Modular supercharged V8. 500 hp and 475 ft·lbf (644 N·m) will be available, designed to outperform all previous Mustangs. A Tremec 6-speed manual transmission, suspension tuning, a body kit, and 18 inch wheels will complete the car.
The right to purchase the first 2007 Shelby GT500 was auctioned off at the Barrett-Jackson Collector Car Auction on January 21, 2006 in Scottsdale, Arizona for $648,000. Proceeds will benefit the Carroll Shelby Children's Foundation.
2010 Shelby GT500
Edit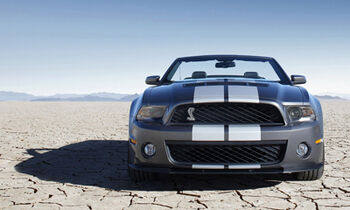 For the 2010 model year, the Shelby Mustang GT500 was redesigned along with the base Ford Mustang. As with the 2007–09 GT500, the 2010 includes unique front and rear fascias, hood with functional vents and unique rear spoiler. The rear spoiler includes a functional Gurney flap. Along with new exterior colors, customers have the option of extending the exterior stripes onto the seats. Production was limited to 2000 units.
The 5.4 L engines's power output was increased to 540 hp (403 kW) and 510 lb·ft (691 N·m) of torque with the addition of a cold air intake similar to the 08/09 GT500KR and includes a knock sensor to protect the engine if lower octane fuel is used. The 2010 GT500's fuel efficiency increased by 2 miles per gallon.
SVT re-tuned the coupe's suspension and worked with Goodyear on 19" tires with new construction, compound and tread pattern. The coupe's 19" wheels are forged for a reduction in unsprung weight. The convertible retained the 18" wheels. The 2010 Shelby Mustang GT500 can sprint from 0 to 60 miles per hour (0 to 97 km/h) in 4.19 seconds and has a top speed of 180 miles per hour (290 km/h). The 2010 GT500 can break from 60-0 in 107.0ft and has a lateral acceleration of 1.00g.
2011 & 2012
Edit
Much like the 2011 V6 and GT Mustangs, the 2011 Shelby GT500 gets an engine update with an all-new 5.4 L aluminum engine which is 102 pounds lighter than the previous cast-iron engine and uses Ford-patented plasma-coating technology (Plasma transferred wire arc). The inventors of PTWA received the 2009 IPO National Inventor of the Year award. This technology was initially patented and developed by inventors from Flame-Spray. The technology was subsequently improved upon by Ford and Flamespray. With the engine updates, not only has performance improved to 550 horsepower (410 kW) and 510 lb·ft (691 N·m) of torque, but the GT500's gas mileage has improved to 15 mpg-US (16 L/100 km; 18 mpg-imp) city and 23 mpg-US(10 L/100 km; 28 mpg-imp) highway, which was enough to eliminate the U.S.Gas Guzzler Tax. The final production number of the 2011 Shelby GT500 by the end of the year was 5100 units.
Ford also improved upon the handling characteristics of the GT500. The overall stance of the car has been lowered by 11 millimeters in front and 8 millimeters at the rear. The car also features Ford's new Electric Power Assist Steering (EPAS) that improves torque build-up and road feel which delivers quicker and more precise steering, increased effort on the racetrack or winding roads, and reduced effort in low-speed parking maneuvers. The car also has Ford's AdvanceTrac stability control system, which features a sport mode when pressed twice consecutively while stopped with the brakes applied.
External improvements include an optional SVT Performance Package, which includes Goodyear Eagl eF1 SuperCar G: 2 tires, all-new lightweight 19-inch forged-aluminum wheels in front and 20-inch forged-aluminum wheels at the rear, a 3.73 rear axle ratio, and performance tuned front and rear shocks along with stiffer springs. The package includes a unique rear spoiler Gurney Flap for improved handling, slightly revised front and rear fascias, a new pedal box for improved clutch use, slotted brake dust shields for improved brake cooling, standard HID (high-intensity discharge) headlamps, MyKey programmable vehicle key, integrated spotter mirrors, and fold-down rear headrests. Optional is a glass top roof, previously available, starting in 2009, with the Mustang GT.
The improvements in handling and performance gives the 2011 Shelby GT500 a skidpad rating of 1.0g, and a Virginia International Raceway lap time of 2:58:48, making it as fast as, and sometimes faster than, cars such as the M3, Audi R8 V10, Dodge Viper SRT-10 and Porsche GT3 around this racetrack. Changes to 2012 model year Shelby GT500 included only a new Recaro seat option. The Sterling Gray color was no longer available.
2013 Shelby GT500
Edit
First unveiled at the Los Angeles Auto Show in November 2011, Ford Shelby GT500 is the most powerful Mustang ever. The DOHC 354.6 cubic inches (5.811 l) 32-V V8 supercharged engine is certified to produce (493 kW, 855 Nm) 662 bhp and 631 lb-ft of torque, with a claimed top speed of 202 miles per hour (325 km/h). The new GT500 weighs 3,850 pounds (1,750 kg), and was available starting May 2012.
The 2013 models have various improvements and differences compared to the GT500 of 2012 including new front end sheet metal along with standard HID headlamps, along with a new LED tail light assembly. The new 2013 Shelby GT500 also has no grill, due to the massive amount of cooling required for the vehicle. Performance changes include twin fuel pumps (a Mustang GT's single supply pump, twice over), larger fuel injectors, a grippier and larger-diameter clutch, a larger fan, a three-row intercooler (the previous car used a double-row unit), a beefed-up Tremec 6060 six-speed with an internal oil pump, and a single-piece carbon-fiber driveshaft. Larger Brembo front disc brakes with six-piston calipers, reinforced axle tubes, and aero tweaks to help the car reach 200+mph safely. Ford says the changes have resulted in a 14-percent reduction in drag and a 66-percent increase in front-end downforce. Also new for 2013 is a larger front anti-roll bar and retuned springs. An rpm-adjustable electronic launch-control function is standard, as is four-mode electronic stability control.
A Performance package is also offered, adding two-mode adjustable Bilsteindampers and a Torsen limited-slip rear differential. In addition to the Performance package, a Track package for road racing can be ordered bringing a transmission cooler, a nose-mounted differential cooler for the Torsenlimited-slip unit, and an air-to-oil engine-oil cooler. Wilwood disc brakes was also brought on board with an improved stopping package.
A Motor Trend magazine May 2012 road test provided a 0-60 time of 3.5 seconds and a quarter mile time of 11.6 seconds at 125.7 miles per hour (202.3 km/h). By comparison the '13 GT500 is faster than both the Camaro ZL1and Corvette Z06.
Automobile-Catalog computer model estimates provided a 0-60 time of 3.3 seconds, a quarter mile time of 11.3 seconds at 130 miles per hour (210 km/h), and a top speed of 208 miles per hour (335 km/h) (manufacturing claim: 202 mph (325 km/h); Car and Driver: 189 mph (304 km/h)).
In February 2012, at the Chicago Auto Show, Shelby officially announced that a convertible version of the 2013 GT500 will reach production. The convertible has a limited top speed of 155 miles per hour (249 km/h).
No major changes from the previous year 2013 have been made, however several colors had been discontinued and been made
Early Performance Tests
Edit
Car and Driver compared an early build 2007 Shelby GT500 with a 2006 Z51 package Chevrolet Corvette. The Shelby obtained a 12.9 sec quarter-mile while the Corvette ran a 12.8. The Shelby had a 100 hp advantage over the Corvette, but a 616 lb weight disadvantage. Similar tests by the magazine Road & Track reported a 13.1 quarter-mile for the Shelby GT500. Some critics have pointed out that the weight of the car is causing estimated ET's less than expected. The weight of the Shelby GT500 with a driver is nearly 4100 lbs. Muscle Mustangs and Fast Fords (August 2006 issue) were able to coax low-12 second performances out of it (best: 12.257s), with trap speeds of over 117mph.
The heavy iron block V8, with supercharger and water-to-air intercooler, shift the weight bias further forward than the standard Mustang GT (57/43%; front/rear. But the car is said to handle predictably and ride comfortably. According to Car & Driver the GT500 provides the "best [overall] bang for the buck around," but the Corvette is a better performance vehicle..
Worldwide
Edit
If the vehicle is sold in other markets worldwide, then this is the section to mention that information. Also, mention if the <MODEL> goes by another name in these other markets.
Design quirks and oddities
Edit
Refer to any pop-culture tidbits about the vehicle in this section.
List out notable awards that the model has recieved while in production. Boldface the company or orgainization that gives out the award, and Italicize the name of the award.
External Links
Edit
Community content is available under
CC-BY-SA
unless otherwise noted.