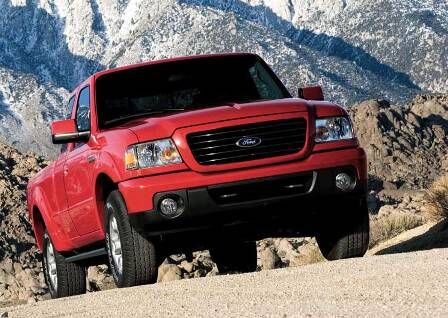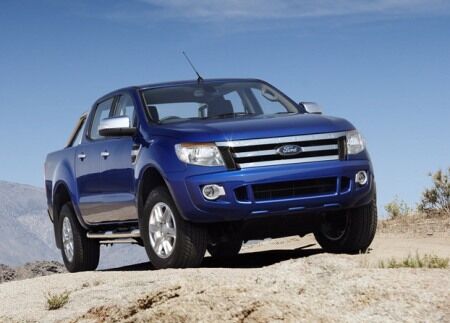 The Ford Ranger name is used on two distinct and unrelated pick-up truck lines by the Ford Motor Company:
The North American Ford-designed compact pickup truck (documented here)
The Mazda-designed compact pickup (documented at Mazda B-Series (International)) sold in more than 130 countries
In North America, the Ranger is Ford's entry-level pickup truck. In the 1960s and 1970s, it was used on versions of the Ford F-Series. The current line of Rangers was introduced in 1982 for the 1983 model year. It replaced the Ford Courier, an Americanized version of the Mazda B-Series. The compact Ranger was styled after the full-size Ford pickups, and is also offered with a four wheel drive option. The Ford Ranger is currently offered as a 2.3 litre I4, a 3.0 litre V6, and a potent 207 horsepower 4.0 litre V6. All transmissions are 5-speed w/overdrive and come with a choice of manual or automatic.The FX4 version comes with an 8.8 inch rear end, 3 skid plates, and Bilstein shocks. Prior to the 1983 model year, "Ranger" was a trim package available on full-size Ford pickups. This truck uses code R1 (for 2-door) and R4 (for 4-door) in the 5th and 6th positions of the VIN. The Mazda - Ford - Mazda truck saga came full circle in 1993 when the Mazda B-Series truck became a rebadged Ford Ranger in North America. Both vehicles are manufactured at Ford's Saint Paul, Minnesota Twin Cities Assembly Plant, which is scheduled to close in 2008. Ford's future product plans in the compact pickup market segment are expected to be announced closer to the end of Ford Ranger production in the Twin Cities, in 2008.
Recent Changes
On October 13, 2010, Ford officially lifted the embargo on the all-new 5th generation Ford Ranger on the web. [1]
For MY 2010, Ford gives the EU-spec Ranger an extensive mid-cycle facelift. [2]
For 2009, Ford adds a special edition variant to the Ranger, dubbed Ranger Le Mans Special Edition. It is essentially a Ranger Wildtrack with Performance Blue and "Le Mans" style white bonnet stripe livery. The Wildtrack's 156 Hp 3.0-liter turbo-diesel remains as well as ABS, EBD, Climate Control, front seat heaters, off-road information centre and a lockable bed cover. Prices begin at £20,900 (US$ 41,400). [3]
Styles and Major Options
Certain vehicles come in different trim levels or body styles. Features and major options should be mentioned here.
Pricing
The 2019 Ford Ranger is set to make a big appearance at some point in 2018, and the new 2020 Bronco in view of the Ranger will show up a year later on a similar chassis. For the Ranger to remain a feasible recommendation versus contenders and nearby Ford's full-size trucks, base valuing should be around the $25,000 stamp. All things considered, expect to see vigorously optioned or conceivable off-street centered variations approach and even surpass $40,000.
Add more fields as necessary.
MODEL Trims
Trim1
Trim2
Trim3
Trim4
MSRP
$Price1
$Price2
$Price3
$Price4
Invoice
$Price1
$Price2
$Price3
$Price4
Gas Mileage
Add more fields as necessary.
As seen on the FuelEconomy.gov website, the City/Highway MPG averages are as follows:
Trim
Trim1
Trim2
Trim3
Trim4
MPG
c/h
c/h
c/h
c/h
Engine and Transmission
Specifications, details, graphs, pictures and other information regarding the powertrain is placed in this section.
Performance
Please make sure to write information of the vehicle's performance in a third-person point of view. This section should include information about the car's acceleration figures, handling, braking, etc.
If using information gathered from Road Test articles from a reputable automotive source, then please make sure to cite the quote.
Reliability
Warranty options and scheduled maintainence information should be mentioned here.
Safety
This section should reference points on safety ratings and features of the vehicle.
Photos
US-Spec Ranger
EU/Asia-Spec Ranger
Add Photos of the vehicle here.
Please make sure not to use copyrighted photos.
Colors
List the colors that the particular <MODEL> is offered in.
Main Competitors
The Rangers competitors are the:
Hybrid Models
If there are hybrid versions of this vehicle manufactured, then please elaborate a little bit on it here.
Electric Ranger
The Ford Ranger EV was a battery electric vehicle produced by Ford Motor Company. It was produced starting in 1998 through 2002 and was built on the two wheel drive Ranger's chassis.
Unique Attributes
If there are any features of this vehicle that sets it apart from other vehicles in its class, then mention those unique attributes here.
Interior
This section should include information on the interior's design, build quality, ergonomics, space (head and legroom, front and rear), features, stowage compartments and overall comfortability and livability. Add pictures wherever applicable and keep information in a third-person point of view.
Resale Values
Add more fields as necessary.
<MODEL> Year
Year X
Year X-2
Year X-3
Year X-4
Resale Value
$
$
$
$
Criticisms
Please make sure to keep critiques in a third-person point of view. If using criticisms from a reputable automotive source, then please make sure to cite the quote.
Generations
Fill in as many as appropriate. Add more if necessary and pictures wherever applicable.
Please make sure NOT to use copyrighted pictures.
Generations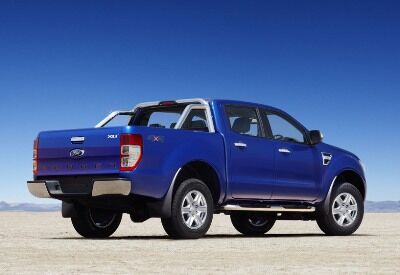 Fourth generation (1998-2011)
For 1998 the Ranger got another redesign, giving it a longer wheelbase and a three-inch (76 mm) longer cab for the regular cab models. The 1995-97 interior was retained. The twin I-beam front suspension was replaced by a wishbone-style system and the front half of the frame was of "boxed", rather than C-channel construction. Rack and pinion steering was also added. The four-cylinder engine was bumped up to a 2.5 L SOHC I4 giving it a 6% increase in power than the old 2.3 L. It put out 120 hp (89 kW) and 149 lb·ft (202 N·m) of torque. That engine was replaced by a new DOHC 2.3 L Duratec I4 in mid-2001. 2001 also saw the pushrod 4.0 L V6 replaced by the SOHC version from the Explorer, bringing with it a beefier M5OD-R1HD manual transmission. In 2001, the Ranger received a facelift, including a new grille, hood, and front bumper, as well as updated headlights and taillights. In 2004 the Ranger received minor updates to the grille, hood, and front bumper. New front bucket seats were also added in 2004 to meet the new U.S. Federal safety requirements. In 2006 the Ranger received more minor updates to the grille, front turn signals and taillights, along with a bigger rear Ford logo that was now centered in the middle of the tailgate.
Third generation (1993-1997)
In 1993 there was another redesign, with a shape more aerodynamic than before. Overall the truck had smoother lines, and other changes included flush-mounted door glass, wider doors, and slight fender flares. The 1989-style dashboard remained, but the seats and door panels were new. The 2.9 L engine was discontinued. The Mazda M5OD-R1 was now the sole manual transmission option. A new "Splash" model was introduced, which had a flareside bed, unique aluminum wheels, and a special paint scheme. The 1993 Splash models were only available as a regular cab, later models could have either cab. The Mazda B-Series became a rebadged Ranger for the 1994 model year.
A number of changes were made for 1995. The dashboard was completely redesigned, and it allowed room for a passenger's side airbag, installed in 1996. The A4LD transmission was updated. 2.3 L and 3.0 L models got the 4R44E, while 4.0 L trucks got the 4R55E. The front brakes were changed to use the same 2-piston brake calipers as the second generation Explorer, and four-wheel anti-lock brakes were added as standard on 4x4 and 4.0 L models.
Second generation (1989-1992)
The truck received a facelift in 1989, which included flush composite headlamps, new front fenders, hood, and grille, along with some uprgrades to the frame. Inside, there was a modern new dashboard and steering column. Rear-wheel antilock brakes were added, and a 21 US gal (79 L/17 imp gal) fuel tank was now optional on extended-cab models.
The 2.0 L engine was discontinued, and the 2.3 L now had a distributorless ignition system with two spark plugs per cylinder, giving it a 14 hp (10 kW) boost. The three-speed automatics were dropped, leaving only the A4LD. The new 160 hp (119 kW) 4.0 L Cologne V6 was added to the option list for all models in 1990. The 145 hp (108 kW) 3.0 L Vulcan V6 was introduced to replace the 2.9 L Cologne in rear-wheel drive trucks later in 1990. With the new engines, the only manual transmission available was the 5-speed M5OD-R1.
The Ranger GT was discontinued, although Ford did build a prototype for 1990 powered by a 3.0 L SHO V6.
First Generation/Origins (1983-1988)
Ford began development of the Ranger in 1976, focusing on quality and fuel efficiency. The intent was to build a truck that was as capable as the full-size F-Series, but in a more economical package. The compact Ranger had styling similar to the full-size Ford pickups, used a similar architecture, and was offered with four-wheel drive. The ability to haul a four-foot-wide (1.2 m) sheet of plywood is a common standard for trucks. In the compact Ranger, however, the space between the wheel wells was less than four feet; Ford designed the box with provisions to allow hauling of a standard sheet of plywood.[5]
The Ranger was introduced in mid-1982 for the 1983 model year. Available engines were the 72 hp (54 kW) 2.0 L and 86 hp (64 kW) 2.3 L OHC four-cylinders, a four-cylinder 59 hp (44 kW) 2.2 L Mazda/Perkins diesel, and a 115 hp (86 kW) 2.8 L Cologne V6. In 1985, a Mitsubishi-built 2.3 L turbodiesel with 86 hp (64 kW) replaced the Mazda diesel engine, and in 1986, the 2.8 L engine was replaced with a 140 hp (104 kW) 2.9 L Cologne V6. The SuperCab was introduced in 1986, offering an extra 17 inches (432 mm) of storage space behind the front seats, with a pair of jump seats available as an option. Many interior parts such as steering wheels and window cranks were shared with other Fords such as the Escort.
Mid-year 1986 saw the introduction of the Ranger GT. Only available as a standard cab short bed, it had the 2.9 L Cologne V6 with either a 5-speed Toyo Kogyo manual transmission or an optional A4LD automatic transmission putting power to a Traction-Lok differential with a 3.73 gear ratio. Inside, the truck was equipped with special bucket seats, full instrument cluster, and an optional center console. Front and rear sway bars were installed, and 14x6 aluminum wheels completed the package. A long bed option was added for 1987, and a new ground effects package was introduced in 1988
Worldwide
If the vehicle is sold in other markets worldwide, then this is the section to mention that information. Also, mention if the <MODEL> goes by another name in these other markets.
Design quirks and oddities
Refer to any pop-culture tidbits about the vehicle in this section.
Awards
List out notable awards that the model has recieved while in production. Boldface the company or organization that gives out the award, and Italicize the name of the award.
See Also
External links
News & References
Community Sites & Online Forums