Ford Pinto
Ford
Production
1971-1980
Class
Subcompact
Body Style
2-Door Coupe
3-Door Hatchback
3-Door Wagon
Length
169"
Width
69.4"
Height
48.3"
Wheelbase
94.2"
Weight
2000-2300 lbs
Transmission
3-Speed Manual, RWD
4-Speed Manual, RWD
3-Speed Automatic, RWD
Engine
1.6L (98 cid) I4 (1971-1973)
2.0L (121 cid) I4 (1971-1973)
2.3L (140 cid) I4 (1974-1980)
2.8L (171 cid) V6 (1975-1979)
Power
75-98 hp
Similar
Mercury Bobcat
Once described as "a car nobody loved, but everybody bought", Ford debuted the Pinto in 1971 as its first domestic-built subcompact. The Pinto was introduced alongside its arch-rival Chevrolet Vega that same year, as well as the Dodge Colt, to do battle with other such subcompacts as the Toyota Corolla and Volkswagen Beetle. The Pinto, like its competition, was built to a price with a minimum of frills and proved insanely popular in its first several years, but it, like the Chevrolet Vega, was also not without controversy, although for different reasons (see separate entry below). Also like the Vega, despite the Pinto's popularity, they have all but completely disappeared from the U.S. roads. A Pinto is more likely to be seen these days as a tubbed-out 800 horsepower drag car on a drag strip than as a daily driver on a public road due to its light weight and rear-drive design.
The Pinto soldiered on throughout the 1980 model year without much change until it was superceded by the all-new Escort in 1981.
Here's a quick rundown:
1971-1980
Edit
After relying on the unpopular English-built Ford Cortina to carry Ford's subcompact banner, Ford finally decided to produce their own domestically-built subcompact model, hence the Pinto. The Pinto's body was wider than the other subcompacts which gave it a bit of a "bathtub" look and feel to some. The Pinto was offered in 3 different models - a base 2-door fastback "sedan", a 3-door hatchback (known as the Runabout), and a 3-door station wagon. It was offered with a diminutive 1.6L (98 cid) X-flow I4 of British descent, or a larger 2.0L (121 cid) OHC I4 of German descent. A 3-speed and 4-speed manual transmissions were available on the 1.6 engine, while a 4-speed manual or a 3-speed automatic transmission was available on the 2.0 engine. These engines trailed the Chevy Vega in power, but they proved more durable since they were both cast-iron blocks instead of the Vega's aluminum block design. The wagon was available in top-of-the-line Squire guise that included simulated woodgrain body panels.
1972 models had virtually no change, but an interesting "Sprint" package was available which had a 2-tone white and blue paint scheme (and white and blue interior as well) that was also available on the Mustang and Maverick. This was available either on the 2-door or the 3-door Runabout, and would last only this year.
There were virtually no changes to the 1973 model either, the most visable being a re-enforced front bumper that added approximately 1 inch in length to the car, but the Pinto was a bonafide hit nonetheless, averaging over an astounding 400,000 annual sales.
Changes for 1974 included larger front and rear bumpers which unfortunately added unwanted weight. To alleviate this, a larger OHC 2.3L (140 cid) I4 was now the large engine option (incidentally the exact same displacement as its Chevy Vega rival, but, again, with a more conventional cast iron block), as the pokey 1.6L engine was dropped. This would also be the last year for the 2.0L OHC. A 4-speed manual or 3-speed automatic was available. The 2-door, 3-door Runabout and 3-door wagon continued as before.
In 1975, some models got catalytic converters that mandated the use of unleaded gas. A German-built 2.8L (171 cid) V6 became optional this year. Mercury introduced a Pinto clone this year, calling it the Bobcat. The Bobcat offered a little fancier trim, larger taillights and a Lincoln-esque larger and taller grille and different parking lights. The Bobcat naturally shared the Pinto's drivetrain choices, as well as the 3-door hatchback and wagon - the 2-door "sedan" model was not offered in the Bobcat line. The Bobcat's top-of-the-line woodgrain-clad wagon model, like other Mercurys of the time, was called Villager.
1976 models got an eggcrate grille with separate parking lights but was otherwise identical to the 1975s. Bobcats carried on with no appreciable changes.
1977 Pintos got a minor facelift that included deeply tunneled headlights and a more swept-back grille and parking lights that were vertically divided. Taillights on the 2/3-doors were slightly larger and now separated the brake/running lights and reverse lights. Pinto wagons got a new unique "Cruising Wagon" option, most of which were gray (although some were bright orange - more colors became available in later years) with multi-colored rainbow stripes that ran down the side of the car and up on the blanked-off quarter windows. A small bubble window was placed in the side panels, the Cruising Wagon was meant to resemble a small conversion van (which were wildly popular in the 1970s). This package would not be offered on the Bobcat.
1978 models continued with very little change, and although it wasn't quite as popular as in years past, it was still racking up a substantial 200,000+ annual sales. All models and drivetrain choices continued as before.
In 1979, the Pinto/Bobcat twins both got a substantial facelift, which included a new hood, fenders, grille and rectangular headlights - their largest body change since their introduction. The Bobcat lost its unique Lincoln-esque nose, however, and now was almost a carbon copy of the Pinto. There were major changes inside as well, starting with an all-new updated dashboard, seats and door panels. A new stripe-and-decal Rallye package became available in an attempt to convey a little sportiness in the line. Despite these long overdue changes, though, the Pinto was now seriously starting to lose steam in the sales department, as sales were now way down compared to years past. Its age was clearly beginning to show, and more modern competition from the Dodge Omni/Plymouth Horizon and redesigned Dodge Colt were very likely contributors to the Pinto's sales downfall. In 1980, Ford dropped the optional V6 engine, leaving the 2.3L I4 as the sole engine choice for the Pinto and Bobcat for its final year.
1980 models were identical to the 79s, and this would be the Pinto and Bobcat's last. Pinto sales dipped below 100,000 for the car's first time. An all-new Ford Escort (a name Ford previously used on its European subcompact models) and Mercury Lynx would replace the Pinto and Bobcat respectively in 1981.
Main Competitors
Edit
Safety Issues
Edit
Contributed from Wikipedia
Through early production of the model, it became a focus of a major scandal when it was alleged that the car's design allowed its fuel tank to be easily damaged in the event of a rear-end collision which sometimes resulted in deadly fires and explosions. Critics argued that the vehicle's lack of a true rear bumper as well as any reinforcing structure between the rear panel and the tank, meant that in certain collisions, the tank would be thrust forward into the differential, which had a number of protruding bolts that could puncture the tank. This, and the fact that the doors could potentially jam during an accident (due to poor reinforcing) made the car a potential deathtrap.
Ford was aware of this design flaw but allegedly refused to pay what was characterized as the minimal expense of a redesign. Instead, it was argued, Ford decided it would be cheaper to pay off possible lawsuits for resulting deaths. Mother Jones magazine obtained the cost-benefit analysis that it said Ford had used to compare the cost of an $11 repair against the cost of paying off potential law suits, in what became known as the Ford Pinto Memo. The characterization of Ford's design decision as gross disregard for human lives in favor of profits led to major lawsuits, criminal charges, and a costly recall of all affected Pintos. While Ford was acquitted of criminal charges, it lost several million dollars and gained a reputation for manufacturing "the barbecue that seats four."[1]
The most famous Ford Pinto product liability case resulted in a judicial opinion that is a staple of remedies courses in American law schools. In Grimshaw v. Ford Motor Co., 119 Cal. App. 3d 757 (4th Dist. 1981) [1], the California Court of Appeal for the Fourth Appellate District reviewed Ford's conduct, and upheld compensatory damages of $2.5 million and punitive damages of $3.5 million against Ford. It also upheld the judge's reduction of the punitive damages from the jury's original verdict of $125 million. Of the two plaintiffs, one was killed in the collision that caused her Pinto to explode, and her passenger, 13-year old Richard Grimshaw, was badly burned and scarred for life.
However, a 1991 law review paper by Gary Schwartz [2], argued that the case against the Pinto was less clear-cut than commonly supposed. Only 27 people ever died in Pinto fires. Given the Pinto's production figures (over 2 million built), this was no worse than typical for the time, and far less than the "hundreds" claimed by the consumer safety advocates whose allegations are largely responsible for the reputation of the vehicle. Schwartz argued that the car was no more fire-prone than other cars of the time, that its fatality rates were lower than comparably sized imported automobiles, and that the supposed "smoking gun" document that plaintiffs claimed showed Ford's callousness in designing the Pinto was a document based on National Highway Traffic Safety Administration regulations about the value of a human life rather than a document used to design the Pinto.
Due to the alleged engineering, safety, and reliability problems, Forbes Magazine included the Pinto on its list of the worst cars of all time.
In Popular Culture
Edit
An orange 1977 Pinto was driven by Kate Jackson's character Sabrina Duncan in the late-1970s hit TV-series Charlie's Angels.
An orange mid-70s Pinto wagon was driven in the 1980 film The Blues Brothers by the Illinois Nazis.
In the 1984 comedy film Top Secret!, the Pinto's reputation is played for comic effect.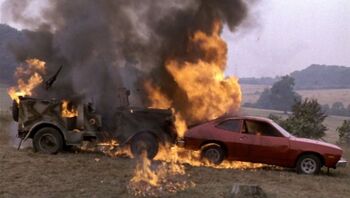 In the 1991 movie The Silence of the Lambs, Jodie Foster's character Clarice Starling drives a powder-blue mid-1970s Pinto.
Dolly Parton's character drives a late-70s Pinto in the beginning of the 1992 film Straight Talk.
In the 1994 movie Speed, Keanu Reeves' character asks Sandra Bullock's character if she can handle driving the bus. She replies "yeah sure, it's just like driving a really big Pinto" referring to the fact that Pinto's were known to explode.
Cite error: <ref> tags exist, but no <references/> tag was found
Community content is available under
CC-BY-SA
unless otherwise noted.