The Ford Mustang is an American automobile, originally based on the Ford Falcon compact. The first production Mustang, a white convertible with red interior rolled off the assembly line in Dearborn, Michigan on March 9, 1964. Introduced to the public at the New York World's Fair on April 17, 1964, and via all three American television networks on April 19, it was the most successful product launch in automotive history, setting off near-pandemonium at Ford dealers across the continent. The original Mustang inspired the term pony car and prompted many imitators. The Mustang's combination of sporty design, low price, and overall performance allowed it to sell over one million units in its first 18 months on the market. After a number of different generations and redesigns, the Mustang remains available today.
See Autopedia's comprehensive Ford Mustang Review.
Recent Changes
Edit
The Ford Mustang is redesigned for 2015. The Ford Mustang 2015 will have a new Ecoboost 2.3 engine to offer better fuel economy 21 city/32 hwy. Starting MSRP for Mustang GT 2015 is $32, 000. All specs at all-car-pictures.com.
2012 also brings a new version of Ford's legendary Cobra Jet turn-key drag racer. Based on the 2010 model, the 2012 Cobra Jet features a new 5.4-liter V8 engine with a 2.3-liter TVS supercharger or an optional 4.0-liter Whipple supercharger. Other updates include Manley H-beam connecting rods, Strange Engineering brakes, a double keyed crankshaft snout, and black anodized wheels with Goodyear tires. Production will be limited to 50 units and pricing starts at $91,900.[1]
For 2012, Ford has unveiled the the hard core Mustang Boss 302S to offer enthusiasts an affordable way to road race. Built on the 302 and developed by Ford Racing engineers, the 302S boasts a 440 hp 5.0-liter V8, coupled to a six-speed transmission from the standard car. Power is sent to the rear wheels through a T2 Torsen differential, while the suspension was beefed up with two-way adjustable coil-over dampers and Ford Racing anti-roll bars. 4-piston Brembo brakes provide stopping power. The Boss 302S comes with a complete aero kit, including a heat extracting fiberglass bonnet, adjustable front splitter and huge carbon fiber rear wing. Every car will come with a graphics package mimicking the original 1969 Boss 302. The cabin was stripped of any components deemed unnecessary and fitted with a roll cage, race seat with 6-point belt, quick release steering wheel and AIM data acquisition system with GPS. Built at Ford's Flat Rock plant in Michigan, the racing-flavored 302S will be available in the second quarter of 2011. MSRP has been set at $79,000.
For 2011, the Boss is back. Slotted in between the GT and the Cobra, the Mach 1 gives justice to its Trans-Am heritage. Fitted with the 5.0 litre (302 cid) V8 that has been tuned to produce 440 hp and 380 lb-ft of torque, the race-bred successor to the original Boss 302 manages to outlap the BMW M3 at Laguna Seca. But the new Mach 1 doesn't just boast a power bump. Ford has taken serious efforts to improve the car's dynamic abilities as well. The front suspension has been lowered by 11mm while the rear suspension by 1mm. Then they fitted uprated springs, stiffer bushings, thicker rear sway bar and standard 5-way adjustable shocks/struts as well as a limited slip differential (or optional Torsen LSD). The gearbox to which the Boss engine is attached to has been given closer ratios operated via a short-throw shifter. For weight reduction, 11 lb of sound deadening was removed from the interior. Braking is handled by the GT's 14-inch vented discs and Brembo 4-piston calipers. However, special pads have been fitted to the rear calipers. Obviously, being a special Mustang, the Mach 1 comes with a unique livery cast in either Competition Orange, Kona Blue Metallic, Race Red, Performance White or Yellow Blaze Tri-Coat Metallic and offset with black or white roof panel with matching C-stripe. It also sports unique 19 inch black alloys wrapped in Pirellis. A new front lip spoiler has also been fitted to help generate front aerodynamic downforce and improve cooling. But that's not all. Besides the Mach 1, Ford also created the very limited edition Laguna Seca Boss 302. Essentially a track-focused version of the Mach 1, the Laguna Seca nevertheless owes more to Ford Racing's Boss 302R with which it shares its beefed-up chassis and aerodynamics. For history buffs, Laguna Seca is the track where Parnelli Jones won the 1970 Trans-Am season opener in a Boss 302. [2]
For the 2010 Daytona 500, the 2011 Mustang officially doing the job of pace car. Ford also intends to produce a limited run of 50 units of the car for public consumption. Each will feature a Daytona 500 paint scheme, specially painted wheels, a unique interior, and several parts from the Ford Racing catalog including the suspension, strut tower brace and mufflers.[3]
To celebrate the 40th anniversary of Parnelli Jones' 1970 Trans-Am championship, Ford has unveiled a special edition 50 unit black-striped yellow Mustang dubbed Boss 302R and Boss 302R1. Both are track-only racing cars that feature a 5.0 32-valve Ti-VCT V8, a six-speed manual transmission, roll cage, race seats, five-point belts, data-acquisition equipment, racing shocks and springs as well as Brembo brakes and special tires. the 302R is done up to Trans Am spec and retails for $79,000 while the 302R1 is eligible to race in the Grand-Am Continental Tire Sports Car Challenge series and comes kitted with a sealed, high-output motor, better cooling, close-ratio transmission, a seam-welded body, Koni dampers, upgraded ABS system, tuned exhaust, a special one-piece drive shaft and a $129,000.[4]
At the 2009 LA Auto Show, Ford unveiled the 2011 Ford Mustang V6 which has been given a heart transplant in the form of a new 3.7 litre DOHC 24-valve Duratec V6 with Twin Independent Variable Camshaft Timing (Ti-VCT) (in place of the 210 hp 4.0 litre mill) which now produces 305 hp and 280 lb-ft. of torque while returning 30 mpg. In addition, the base 'Stang gets a pair of fresh 6-speed gearboxes, a new V6 performance package and improved interior tweaks.[5]
At the 2009 SEMA, Ford unveiled the follow up Mustang Cobra Jet (FR500CJ) packing a supercharged (a 4 litre Whipple blower) 5.4-liter V8 calibrated to and rated at 475 horsepower. Only 50 units are slated for production so expect to sell out as quickly as it can blitz a 1/4 mile dragstrip (which is 8.5 seconds). The base price is $77,000 maxing out at $95,000 with all options including the aluminum engine.[6]
On June 22, 2009, Lee Iacocca, father of the Mustang, launched a special edition version bearing his name. The 2009 1/2 Ford Mustang Iacocca Silver 45th Anniversary Edition, is a coach-built model designed by Michael Leone and built by the legendary Gaffoglio Family Metalcrafters. It carries no resemblance with the current gen model, though, looks strikingly similar to the 2005 Mustang Concept that relaunched the iconic Mustang look. The car also has no connection with Ford save for the performance enhancements provided by Ford Racing. Power comes from a 320 hp 4.6 litre V8 that can be optioned out with a supercharger that will increase output to 400 hp. Only 45 units will be made and sold exclusively at Galpin Ford in SoCal.[7]
Ford continues to sell about 150,000 Mustangs annually. Many view the 1964-1973 models as American automotive icons the equal of the 1955 to 1957 full-size Chevrolets and the Corvette. Thanks to continued interest in the marque, restoring Mustangs is a popular hobby. Mechanical parts are as close as the corner auto parts store, Ford dealer or wrecking yard with most out-of-production parts available as highly accurate reproductions.
Even the very first production Mustang is still around. Originally purchased new by Stanley Tucker, an airline pilot from St. John's, Newfoundland, Ford offered him Mustang number one million in exchange in 1966; he chose a new, made-to-order Mustang instead. Number one is currently on display at the Henry Ford Museum in Dearborn, Michigan, and a photo of the car can be viewed at their website.
With the conversion of the River Rouge Plant to F-150 trucks in Dearborn, Michigan on May 10, 2004, a plant that built Mustangs from the very beginning, production has been moved to the AutoAlliance International plant in Flat Rock, Michigan. The last car off the Dearborn line was a bright red 2004 Mustang GT convertible. On hand for the closing ceremonies was the aforementioned first production Mustang, also built at Dearborn.
Styles and Major Options
Edit
The Ford Mustang is available in either a coupe or a convertible body style with 5 corresponding trims in either category:
Standard
Deluxe
Premium
Deluxe GT
Premium GT
NASCAR Edition
Super Snake
The Standard, Deluxe and Premium trims all come equipped with a 4.0L V6 210-hp engine, and the Deluxe GT and Premium GT come with a 4.6L V8 300-hp engine.
In 2011, NASCAR announced that the Ford Mustang will be their main Ford Race Car for the 2012 NASCAR Nationwide Series. There have been rumors that in the 2013 NASCAR Sprint Cup Season, The Mustand will replace the Taurus.
See also: 2013 Ford Mustang and Boss 302 get styling, packaging updates
Today's actual prices for the Ford Mustang can be found at CarsDirect.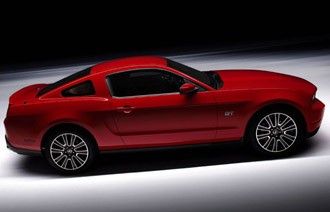 Mustang Coupe Trim
V6 Base
V6 Premium
V6 Base Convertible
V6 Premium Convertible
GT 5.0 Base
GT 5.0 Premium
GT Base Convertible
GT Premium Convertible
MSRP
$22,995
$26,695
$27,995
$31,695
$29,995
$33,895
$35,495
$38,695
Invoice
$Price1
$Price2
$Price3
$Price4
$Price5
$Price6
$Price7
$Price8
Convertible
Edit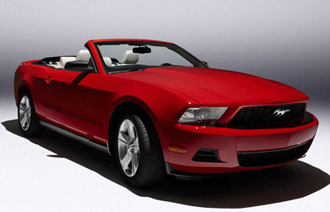 Gas Mileage
Edit
Trim
3.7 Manual
3.7 Auto
4.6 Manual
4.6 Auto
MPG
18/29
19/30
17/25
17/23
Engine and Transmission
Edit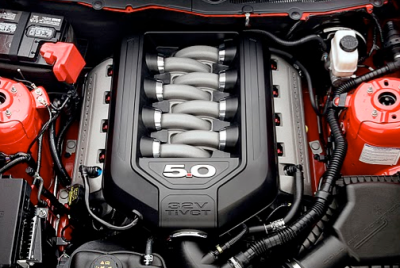 Specifications, details, graphs, pictures and other information regarding the powertrain is placed in this section.
Performance
Edit
Please make sure to write information of the vehicle's performance in a third-person point of view. This section should include information about the car's acceleration figures, handling, braking, etc.
If using information gathered from Road Test articles from a reputable automotive source, then please make sure to cite the quote.
Reliability
Edit
The Ford Mustang recieved an overall review of 4.7 stars out of 5 stars on v6_standard Autos.com.
The spirit of the Mustang lives on, as many comsumers are impressed with the handling and agility of the sporty little pony. With an even smoother ride and a beautifully redesigned interior, the Mustang is ranked second overall amongst Sporty Cars on Autos.com's auto reviews.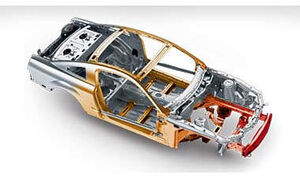 Safety features on the Mustang include the following:
Side door intrusion beams
3-point lap shoulder safety belts
LATCH (Lower Anchors and Tether for CHildren)
Ford personal safety system
Power 4-wheel disc brakes
Security features included on the Mustang include the following:
SecuriLock Passive Anti-Theft System (PATS)
an optional Active Anti-Theft System is also available, including perimeter inclination and intrusion alarms
Sixth-Generation
Sixth-Generation Teaser
Other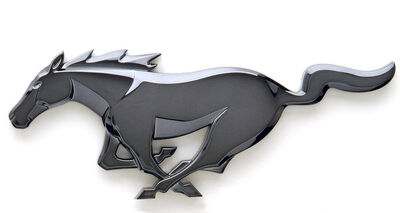 The Ford Mustang comes in the following exterior colors:
Black
Performance White
Torch Red
Screaming Yellow
Satin Silver
Red Fire
Legend Lime
Windveil Blue
Vista Blue
Tungsten Grey
Lava Red Metallic
The Ford Mustang comes in the following interior colors:
Medium Parchment
Light Graphite
Dark Charcoal
Main Competitors
Edit
Currently, Ford has no plans to offer a hybrid version of the Mustang. They will continue to offer the Ford Escape Hybrid and are planning to create a Ford Focus hybrid model due out in 2008.
Unique Attributes
Edit
Surprisingly, for all its style and well-marketed sporty design, the Mustang was based heavily on familiar, yet simple components. Much of the chassis, suspension, and drive train was derived from the Ford Falcon and Ford Fairlane. The car had a unitized platform-type frame from the 1964 Falcon, and welcoming box-section side rails, including five welded crossmembers. Although hardtop Mustangs were the majority in sales, durability problems with the new frame led to the unusual step of engineering the (necessarily less rigid) convertible first, which ensured adequate stiffness. Overall length of the Mustang and Falcon was identical, at 181.6-inches (4613 mm), although the Mustang's wheelbase at 108 in (2743 mm) was slightly shorter. With an overall width of 68.2-inches (1732 mm), it was 3.4-inches (86 mm) narrower, although wheel track was nearly identical. Shipping weight, about 2570 lbs. (1170 kg) with six-cylinder engine, was also similar. A full-equipped, V8 model weighed about 3000 lbs. (1360 kg).
One interesting feature is the customizable color configuration for the Mustang's instrument panel. Drivers may select from over 125 colors to accent their dashboard displays and add a personal touch to their Mustangs.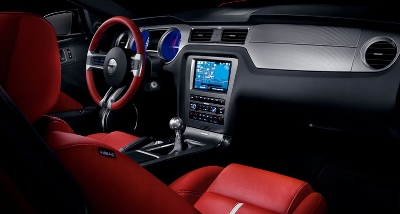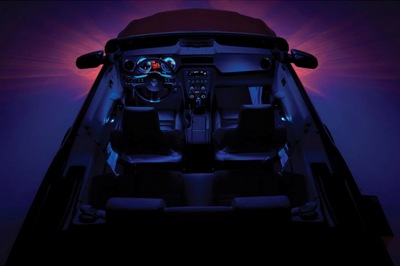 This section should include information on the interior's design, build quality, ergonomics, space (head and legroom, front and rear), features, stowage compartments and overall comfortability and livability. Add pictures wherever applicable and keep information in a third-person point of view.
Resale Values
Edit
Much of the appeal (and the high profit) in such a low-priced car came from the options list. Ford has made much money on Mustang Production. Ford utilized this to their advantage. The Mustang's long list of optional equipment list enabled buyers to fully customize their cars to their tastes and budgets. It also resulted in typical transaction prices hundreds of dollars above the base price, making the Mustang profitable not only for the dealer but also for the manufacturer.
As such, resale values on the Mustang remain high, and car enthusiats and collectors will often pay higher values for well maintined, classic versions of the muscle car.
Criticisms
Edit
There is no option for side curtain airbags on the Ford Mustang.
There are no lights, storage compartments, or cupholders in the backseat.
The optional colored gauges in the dash may be too dim in the daylight hours.
Rear visibility is poor.
Bally manual gearshifts.
Live rear axle
Generations
Edit
Current Generation (2015-Present)
Edit
The sixth generation Mustang was unveiled on December 5, 2013, in Dearborn, Michigan, New York, Los Angeles, California; Barcelona, Spain, Shanghai, China; and Sydney, Australia. The internal project codename is S-550.
Changes include widened body by 1.5 inches, 1.4 inches lower body, trapezoidal grille, and a 2.75-inch lower decklid, as well as new colors. The passenger volume is increased to 84.5 cubic feet, and three engine options are available: 2.3 L EcoBoost 310 hp four-cylinder, 3.7 L 300 hp V6, or 5.0 L Coyote 435 hp V8, with either a Getrag six-speed manual or six-speed automatic transmission with paddle shifters. The newly introduced smaller 2.3 L EcoBoost I4 engine is developed to reach high tariff global markets like China.
The 2015 Mustang features a new independent rear suspension (IRS) system, developed specifically for the new model.
The 2015 Mustang became the first version that was factory designed as a right hand drive export model to be sold overseas through Ford new car dealerships in right hand drive markets. During this model year, left hand drive versions were expanded to new export markets.
Export-spec MY2016 RHD Mustang GT
Export-spec MY2016 RHD Mustang EcoBoost's interior
Rear Euro-size license plate bracket on export-spec MY2016 RHD Mustang
In February 2015, the Mustang earned a 5-star rating from the National Highway Traffic Safety Administration (NHTSA) for front, side, and rollover crash protection.
In May 2015, Ford issued a recall involving 19,486 of the 2015 Ford Mustang with the 2.3 L EcoBoost turbocharged four-cylinder engine with a production date between February 14, 2014, and February 10, 2015 that were built at the Flat Rock Assembly Plant. As of June 2015, 1 million Mustangs and GTs were affected by a recall of airbags made by Takata Corporation. This was after Takata announced that it was recalling 33.8 million vehicles in the U.S. for airbags that could explode and send metal pieces flying at drivers and passengers.
For 2018 the mustang gets a facelift with a new facia, new set of headlamps and power rated at 460 hp. The V6 variant was removed leaving the V8 engine the only engine option for the facelifted mustang. A 10-speed automatic transmission option is new as well.
Sixth Generation (2010-2014)
Edit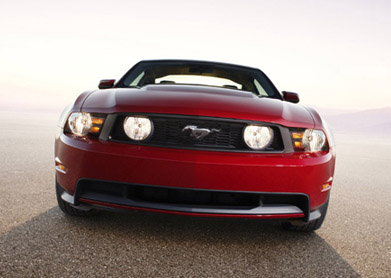 For 2011, Ford revised all the current model Mustang engines. The new V6 is a smaller 3.7 L aluminum block engine weighing 40 lbs lighter than the older version, and produces a much more powerful 305 hp (227 kW) and 280 lb-ft (380 N-m) of torque. The old 4.6 L 24V V8 has been replaced by a new 5.0L 32V V8. This new engine will have 412 hp (307 kW) and 390 lb-ft (530 N-m) of torque. The engine features advanced technologies such as TI-VCT; however direct injection will not be part of the package. The GT500 will be upgraded to an aluminum block 5.4L engine, with 55- hp (410 kW) and 510 lb-ft (690 N-m) of torque. It has 10 more hp and retains the same torque.
For 2010, Ford unveiled a redesigned Mustang prior to the 2008 Los Angeles International Auto Show. The 2010 Mustang remains on the D2C platform and mostly retains the previous-year's drivetrain options. The Mustang received a thoroughly revised exterior, with only the roof panel being retained, that is sculpted for a leaner, more muscular appearance and better aerodynamic performance (coefficient of drag has been reduced by 4% on V6 models and 7% on GT models).
The V6 for base Mustangs remains unchanged, while the Mustang GT's 4.6 L V8 has been revised to specifications similar to that of the 2008-2009 Mustang Bullitt's 4.6 L V8, resulting in 315 hp (235 kW) at 6000 rpm and 325 lb·ft (441 N·m) of torque at 4250 rpm. Other mechanical features for the 2010 Mustang include new spring rates and dampers to improve ride quality and control, standard traction control system and stability control system on all models, and new wheel sizes. For the Mustang GT, two performance packages were made available. Other new features and options for the 2010 Mustang include Ford SYNC, dual-zone automatic climate control, an updated navigation system with Sirius Travel Link, a capless fuel filler, and a reverse camera system to aid in backing up. The SYNC, navigation, and the reverse camera are not available on the basic V6 coupe.
The 2010 model year Mustang was released in the spring of 2009.
There are currently 10 models available for the 2010 Mustang:
V6 Coupe (MSRP: $21,395)
V6 Premium (MSRP: $24,395)
V6 Convertible (MSRP: $26,395)
GT: (MSRP: $28,395)
V6 Premium Convertible (MSRP: $29,395)
GT Premium (MSRP: $31,395)
GT Convertible (MSRP: $33,395)
GT Premium Convertible (MSRP: $36,395)
GT500 (MSRP: $46,725)
GT500 Convertible (MSRP: $51,725)
Fifth generation (2005–2009)
Edit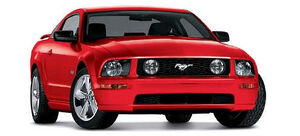 At the 2004 North American International Auto Show, Ford introduced a completely redesigned Mustang (code named "S-197") on an all-new D2C platform for the 2005 model year. Exterior styling was designed by Sid Ramnarace, drawing inspiration from 1960s Mustangs. The car featured an aesthetic that Senior Vice President of Design J Mays referred to as "retro-futurism."
The base Mustang uses a 210-hp (156 kW) Ford Cologne V6 engine. The GT has a 300-hp (224 kW) 4.6L 3-valve Modular V8 with variable valve timing. It retains the traditional but controversial live rear axle, and offers improved handling and ride. Modern production facilities and computer aided design have allowed the new Mustang to have 100% more structural rigidity over its predecessor, and have greatly increased build quality as well as fit and finish. One particularly interesting feature is optional changeable color gauges.
Shortly after its launch at the North American International Auto Show in January, Ford started production of the Mustang convertible, available with either the V6 or V8 engine. The 2005 Mustang convertible was designed from the ground up to deliver a more rigid body structure without additional weight. Ford engineers designed a z-fold top that gives it a finished appearance with the top lowered.
The new Mustang was an immediate sales success for Ford—half of all "sports" cars sold in the United States are now Mustangs.
The 2006 model year offered a new "Pony Package" for the popular V6 model, which included upgraded suspension, Bullitt-style wheels, wider tires, unique grille treatment with road lamps, rear deck spoiler, special door striping and special emblems.
Dozens of new aftermarket products are being released for the new Mustangs. The V6 Mustang had scarce aftermarket support in the past, but that all changed with the S-197 Mustang, which now has an array of V6 aftermarket support. Carroll Shelby has built special editions of the V6 with Paxton Superchargers and a 350 hp rating.
On June 13, 2007, Ford unveiled a convertible version of the 2008 Ford Mustang GT called the Shelby GT (Edited: The Shelby GT500 is a 500 hp setup, not the Shelby GT. Totally Different). Power is raised to 319 hp and 330lb.-ft. of torque thanks to the Ford Racing Power Upgrade Package. The car sports a new fascia complete with billet grille and a sportier looking airdam as well as a roll hoop arching across the rear seats.
On November 7, 2007, Ford unveiled the much-anticipated 2008 Ford Mustang Bullit Edition on the Internet. The vehicle, which any gearhead knows, pays homage to the classic 1968 Steve McQueen flick "Bullit". It is motivated by a modified version of the 4.6-liter V8 engine now producing 315 hp and 325-lbs/ft of torque @ 6,500 RPM and has a limited production run of 7,700 units. Retro style alloy wheels are wrapped in 235/50ZR 18 BF Goodrich rubber while the interior is adorned in Charcoal Black leather and Satin metallic trim. According to Ford, pricing will start at $31,075.[10][11][12]
The Summer of 2008 will see Ford debuting a Panoramic Glass Roof option for the Mustang as a factory-installed equipment. The glass roof, acording to Ford, is made of tinted privacy glass that reduces infrared rays and allows the vehicle to cool-down 50 percent faster. A built in manual roller blind is included to allow the sun to be completely blocked out. The roof option will be available for both the V6 and GT models and is set at $1,995. [13][14]
Fourth generation (1994-2004)
Edit
For 1994, the Mustang underwent its first major redesign in 15 years. The new design, code named "SN-95" by Ford, was still based on the "Fox" platform, but featured dramatically new styling by Patrick Schiavone that incorporated some stylistic throwbacks to earlier Mustangs. The car remained rear-wheel drive. It greatly revived the popularity of the brand. The base model came with a 3.8L V6 engine rated at 145-hp (108 kW) while the GT featured the "5.0" 4.9L V8, which now utilized the 5.0L Thunderbird intake manifold. The successful Cobra model also returned, with its GT-40 equipped 5.0L engine, now rated at 240-hp (179 kW). Larger brakes, a different transmission, and suspension modification followed. The Mustang was named Motor Trend magazine's Car of the Year for the third time in 1994.
In 1996, Mustang fans were expecting the 5.8L (351 in³) V8 to make its return to the regular production. However, this is not what they got. The 5.0 GT engine was replaced by a 215-hp (160 kW) 4.6L SOHC "Modular" V8 engine. This engine had been introduced in Lincoln models, and was part of Ford's plan to "modernize" its engine lineup. The engine has two valves per cylinders, one for intake and one for exhaust. Despite being SOHC, it was not much of a revver, and didn't make much power past 5000rpm. The Cobra version was updated that year with a high-revving 305-hp (227 kW) dual over head cam configuration of the 4.6L V8. The Cobra's block, cast by Teksid of Italy, was an aluminum, cross-bolted block. The heads can flow a staggering amount of air when race-prepped as well. Also in 1996, the 3.8L V6 was bumped to a 150 hp (112 kW) rating. In 1998 the SOHC 4.6L V8 power was increased to 225-hp (168 kW) with a more aggressive computer and larger exhaust tail pipes. The shock-tower brace on the GT model was removed as a cost saving measure, but aftermarket braces became available. This was also the last year of the "Round Body Mustang." 1998 was also the only year that the "Sports" packaged was offered. It included unique black stripe (regardless of car color) on the hood which extended over to the wheel wells.
A refreshed model with Ford's "New Edge" styling themes came in 1999. Gone were many of the soft lines of the early SN-95s. Moreover, bite was added to the Mustang's bark. Although it was still humbled by the Corvette-engine Camaro in performance, it was more practical and sold well. In 1999, Mustang GT's power increased to 260-hp (194 kW) at 5250 rpm and a healthy 302 ft·lbf (409 N•m) of torque at 4000 rpm; redline was at 6000 rpm. Power suffered at the low end on this engine in comparison to the earlier SOHC models, but it more than made up for it at higher RPM due to the new "performance improvement" heads, cams, and intake manifold. On the V6 models, split-port induction replaced single-port induction, which increased the base model's power to 190-hp (142 kW). While the Cobra claimed 320-hp (239 kW), some magazines and owners contradicted it. 5.0 Mustangs and Super Fords claimed that it actually exceeded the torque rating, but didn't quite match the horsepower rating. There were recalls for the 1999 model year Cobras, which were given intake and exhaust improvements, putting power at 320-hp to match the original claim. As a result, the Cobra was not produced in 2000 (except the limited Cobra R) and the company developed new parts to replace the missing power. These changes were incorporated into the 2001 model year Cobra.
Power came from re-designed heads and cams. As a "modular" family, earlier 4.6L SOHC's can swap out their heads with "Power Improved" heads as offered through the Ford Parts Catalog. Due to a different combustion chamber and pistons, the compression gets bumped to well over 10:1, and requires premium fuel. The Cobras received similar improvements, as a switch was made from "B" style heads as used in the early 32-valve DOHC Modulars to "C" heads (aka Tumbleports). Redline was set at 7000 rpm for the DOHC Cobra. The Cobra also received an independent rear suspension, which was also modular.
Special Cobra R versions were available in limited editions in 1993, 1995, and 2000. Made as race cars, they were stripped of air conditioning, radios, and back seats. Unlike the early R's, one did not need a racing license to buy one of these race Cobras. The suspensions were finely tuned, and in 1995 and 2000 the Cobra R's had increased displacement engines (5.8L and 5.4L, respectively) that made these cars extremely potent track machines. The 1995 Cobra R used a 5.8L V8 with GT-40 induction and a flat tappet camshaft, and was conservatively rated at 300-hp. The 2000 Cobra R utilized a modular iron block and the best cylinder head/intake system yet for the modular motors, flowing staggering numbers even in stock form. Ford tagged the motor with ratings of 385-hp (287 kW) and 385 ft·lbf (522 N•m) torque. Actual horsepower was well over 400.[citation needed] It received a Tremec T-56, 6-speed transmission, the same transmission used in the Chevrolet Corvette, Camaro, and the Dodge Viper. Minor exterior enhancements such as the addition of a front splitter and rear wing added down force and stability at speed. The Cobra used a side exiting exhaust system, utilizing actual headers and three (yes, 3) Borla mufflers. It also used "smoked" headlights, which made their way onto all Mustangs the following year.
In 2001, Ford offered a special version of its GT with the "Bullitt" nameplate. It was reminiscent of the 1968 390 fastback model driven by Steve McQueen in the movie of the same name. The car was slightly lowered and had name brand shocks with the addition of short length sub-frame connectors which improved the handling. Many lauded the improvements and called it the best handling production Mustang ever. Moreover, a new intake design and mufflers added put the horsepower at 265, later revised to 270. More telling is the torque curve, which was vastly improved over the base GT models, 90% of its 302 ft·lbf available from 2000 rpm. These special intake manifolds also responded very well to superchargers. 17 inch "American Torq-Thrust," wheels reminiscent of the originals were also used on this car and made optional on GT's wrapped in 245/45ZR performance rubber by Goodyear. The Bullitt featured a hood scoop that first appeared on the 1999 35th anniversary package Mustang GT's, as well as new side scoops. These were later added to the regular Mustang GT's, as mentioned below. Other special features on the Bullitt included aluminum pedals and shifter, retro-styled gauges and seats, red brake calipers with the Mustang logo on them, and the removal of the spoiler regularly found on Mustang GT's, all for a cleaner look. The Bullitt Mustang was offered in only three colors: Dark Highland Green (like Steve McQueen's original Bullitt Mustang), True Blue, and Black.
In 2001, a hood scoop similar in design to the 35th anniversary scoops, and non-functional side scoops were added to GT models, and made optional on the V6 as part of a "Pony Package." Smoked headlights from the Cobra R and a new deck wing replaced the old chrome look headlights and the sweeping wing.
As electronic engine management and emissions technology developed, so too did performance. The lone remaining 1960s muscle car marques; Mustang, Camaro and Firebird, all grew in power and handling better than the cars that preceded them. With the end of production of the Camaro and Firebird lines in 2002, only the Mustang remains as the sole survivor of the pony car era.
Debuting in Spring 2002 as a 2003 model, the Cobra returned, this time with vastly increased power and handling. Dubbed during development as the "Terminator" Cobra, it received a T56 6-Speed transmission coupled with a supercharged 4.6L DOHC V8. Due to the reduced power handling capability of the new WAP aluminum blocks, these new Cobras used the GT's cast iron engine block. Power was rated at 390-hp (290 kW). Muscle Mustangs & Fast Fords and other Ford-themed magazines have performed dyno tests on several Cobras that put down rear-wheel horsepower numbers in excess of 380, which would suggest actual flywheel power to be around 450. This amount of power meant that the 2003 Cobra was capable of mid-12-second quarter-mile times right off the showroom floor.
Also returning in 2003 was the "Mach 1" nameplate. The original 1969 and 1970 Mustang Mach 1s were (and remain) some of the most popular Mustangs ever, so Ford decided to try to keep interest in the Mustang high until the release of the S-197 with yet another special-edition Mustang. The Mach 1 used a non-supercharged version of the Cobra's 4.6 DOHC V8 which utilized cams from the Lincoln Navigator motor, and it was conservatively rated at 305-hp. Other special features included "retro" interior styling, with seats made to look like the "comfortweave" seats in the original Mach 1s, old-style gauges, and aluminum pedals and shifter. Outside, the Mach 1 featured a striping package and blacked-out spoiler designed to mimic the original Mach 1, "Magnum 500" styled 17-inch wheels, and a "Shaker" hoodscoop. The "Shaker" hoodscoop was special, and so named because it was attached to the engine and stuck out through a hole in the hood, and would move with the torque of the motor. Ford utilized the same casting for the new "Shaker" that they had for the 1969 model year. The Mach 1 was also produced for 2004.
In 2004, Ford produced a special 40th Anniversary Edition of the Mustang. Available in both Standard and GT editions, it consisted of "40th Anniversary" badging, special metallic red paint with gold stripes, enhanced interior, and some "special" collectable items for the owner. It also marked the end of this design of the Mustang, as 2005 ushered in an all-new model.
Third generation (1979-1993)
Edit
The Arab oil embargo, skyrocketing insurance rates, and aforementioned US emissions and safety standards that destroyed the straight-line performance of virtually every car of the period, certainly didn't help.
Chrysler
ended production of the
Barracuda
and its stable mate, the
Dodge Challenger
, in 1974. Then
GM
nearly discontinued the
Camaro
and
Firebird
that same year. However, on the momentum of the Mustang II's success, and under the direction of
Ford
's new styling chief, Jack Telnack, a totally new Mustang hit the streets for 1979. This "next generation" 1979 model (based on the Fox platform), gave much to its successors for nearly the next 25 years, along with thousands of upgrades, improvements, and restyling over that time.
In 1982, Ford reintroduced a high-performance Mustang GT which opened the door for an entirely new era of the muscle car. Wringing a then-respectable 157-hp (134 kW) from its "5.0L" (actually 4.94L, 302 in³) Windsor V8 and backed by a four-speed transmission, aggressive tires, and stiff suspension, magazine ads of the period shouted, "The Boss Is Back". Over the years, power and torque gradually increased, peaking in 1987 at 225-hp (168 kW) in the GT. In 1993, a new Cobra model was introduced, with more subdued styling than the GT. The Cobra used Ford's new GT-40 high performance engine equipment, and was rated at a very conservative 235. Actual horsepower is estimated to be closer to 300. There was an R model Cobra in 1993 that used the same 302 in³ motor as the regular Cobra. However, there was talk of a Cobra R with a turbocharged 351 in³ V-8 with 400 hp. This was not to be however.
In 1987, the Mustang received its first redesign in eight years, incorporating both interior and exterior changes. Although this would be the last major redesign for years, popularity of the Mustang remained high due to its low cost and high performance. The "5.0" Mustangs, cars that gave birth to an entire aftermarket performance industry, remain extremely popular today.
Second generation (1974-1978)
Edit
The 1974 introduction of the Mustang II earned Ford Motor Trend magazine's Car of the Year honors again and actually returned the car to more than a semblance of its 1964 predecessor in size, shape, and overall styling. Though Iacocca insisted that the Mustang II be finished to quality standards unheard of in the American auto industry, the Mustang II suffered from being not only smaller than the original car, but heavier and slower as well. Available as a hardtop or three-door hatchback, the new car's base engine was a 2.3L SOHC I4, the first fully metric engine built in the U.S. for installation in an American car. A 2.8 L V6 was the sole optional engine, meaning the popular V8 option would disappear for the first and only time in 1974, and Ford was swamped by buyer mail and criticized in the automotive press for it.
Since the car was never meant to have a V8, it became a mad scramble to reengineer the car in order to reinstate the 302 in³ (5.0L) V8 option in time for the 1975 model year. Like the car that preceded it, the Mustang II had its roots in another compact, the Ford Pinto, though less so than the original car was based on the Falcon. The car sold well, with sales of more than 400,000 units its first year. It is also worth noting that four of the five years of the Mustang II are on the top-ten list of most-sold Mustangs. Despite innovations such as rack-and-pinion steering and a separate engine sub-frame that greatly decreased noise, vibration, harshness , and we have to remember this was during the oil embargo so it was made to get better mpg. Also in 1976 the Cobra option was added for the three door hatchback. Maybe this wasnt the best Mustang but it saved the Mustang in the oil crisis so if they hadnt made this car the Mustang would have died in the 70's
First Generation/Origins (1964.5-1973)
Edit
Some major changes to the Mustang occurred at the start of 1965 model year production, a mere five months after its introduction. First was an almost complete change to the engine lineup. The 170 in³ (2.8 L) I6 engine made way for a new 200 in³ (3.3 L) version which had 120 hp (89 kW) at 4400 rpm and 190 ft·lbf (258 N•m) at 2400 rpm. Production of the 260 in³ (4.2 L) engine ended with the close of the 1964 model year. With a new, two-barrel carbureted 200 hp (149 kW) 289 in³ (4.7 L) engine taking its place as the base V8, people started to excited. A 225 hp (168 kW) four-barrel 289 in³ (4.7 L) was next in line, followed by the unchanged "Hi-Po" 289. The DC generator was replaced by a new AC alternator on all Fords and the now-famous Mustang GT was introduced. Available was a four-barrel engine with any body style. Additionally, reverse lights were added to the car in 1965. Originally, the Mustang was available as either a hardtop or convertible. During the car's early design phases, however, a fastback model was strongly considered. The Mustang 2+2 fastback made its inaugural debut with its swept-back rear glass and distinctive ventilation louvers.
A machine built for the ages, Carroll Shelby converted (with Ford Motor Company's blessing), a special model designed with only two things in mind; winning races and beating Chevrolet's Corvette. Designated simply as the "GT-350", these purpose-built performance cars started as "Wimbledon White" fastbacks with black interiors. The fastbacks were shipped from the San Jose, California assembly plant and fitted with a Hi-Po 289, four-speed manual transmission, and included front disc brakes. Also shortened hoods and rear seats with identifying trim were among other visual variations. These few cars were converted to street, road racing, and drag cars in Shelby's plant at Los Angeles International Airport.
Modifications to both the street and racing versions included: side-exiting exhausts, Shelby 15 in (380 mm) magnesium wheels (though some early cars were fitted with the factory steel wheels), fiberglass hoods with functional scoops, relocated front control arms, (to reduce understeer and neutralize handling), quicker steering, Koni shock absorbers, a Detroit Locker rear end with Ford Galaxie drum brakes, metallic brake linings at all four corners, rear-mounted batteries, rear anti-sway bars with supped-up front anti-sway bar, dash-mounted gauges, a fiberglass parcel shelf and spare tire holder where the rear seat was intended to be. Among other engine modifications, considerable overhaul boosted output to 306 hp (228 kW). Hot Rod Magazine recorded a 0-60 time of 5.7 seconds.
When Ford stiffened the car's basic body structure, they included a front angled brace intended for the export models and so-called "Monte Carlo" bar; triangulating the under-hood shock absorber towers. Though Shelby's influence on the car diminished as Ford's grew, the 1965 to 1970 GT-350 and its "big-block" brother, the 1967 to 1970 GT-500 are among the most sought-after, and valued automobiles in the world; so too are the high-performance models offered over the years by other automotive tuners following in Shelby's footsteps.
The 1966 Mustang debuted with only moderate trim changes, and a few new options such as an automatic transmission for the "Hi-Po," a new interior and exterior colors, an AM/eight-track "Stereosonic" sound system, and one of the first AM/FM monaural radios available in any car. The 1967 model year would see the first of the Mustang's many major redesigns with the installation of big-block V8 engines in mind. The high-performance 289 option now took a supporting role on the option sheet behind a massive 335 hp 390 in³ (6.4 L) engine direct from the Thunderbird, which was equipped with a four-barrel carburetor. Stock 390/4speed equipped Mustangs of the day were recording ¼ mile times of mid 13's, with trap speeds of over 105 mph. A drag racer for the street took a stand during the middle of the 1968 model year, as the 428 Cobra Jet (7.0 L) officially rated at 335 hp (250 kW), but in reality producing well in excess of 400 hp. 1968 also was the first year of the 302 V8 (5.0L) which would see service in various forms until 1995 in the Mustang. 1969 saw the introduction of both the car's third body style and a hand-built muscle car intended solely to satisfy the homologation rules of NASCAR, the Boss 429.
Available in 1969 and 1970 only, with a standard Mustang SportsRoof (the new corporate name for the fastback) and the new Mach 1 muscle car version's deluxe interior, the Boss 429 sported none of the garish decals and paint schemes of the day. Only a hood scoop and 15 in (380 mm) "Magnum 500" wheels fitted with Goodyear "Polyglas" tires, with a small "BOSS 429" decal on each front fender, hinted that most powerful Ford V8 of all time was fitted under the hood. Ford intentionally underrated the Boss 429 for advantages both in racing as well as insurability at 375 hp (280 kW) and 450 ft·lbf (610 N•m) of torque. Even with racing touches straight from the factory such as aluminum heads with hemispherical combustion chambers, along with a combination of O-rings and seals in place of head gaskets, it was believed that yet another 75 to 100 hp (50 to 75 kW) was on tap once the single four-barrel carburetor, intake, the restrictive factory exhaust system, and engine speed governor were either replaced or removed. While power steering was a "mandatory option" on the Boss 429, neither an automatic transmission nor air conditioning was available. In the case of the latter, there simply wasn't enough room under the hood. It should be noted that due to the extremely free breathing capabilities of this huge motor, it wasn't necessarily the best choice for a street car. The Boss 429 made its power in a higher RPM range than most other big block street cars, and of course street racing was prevalent in the day. Owners of these could often be surprised by "lesser" cars of the day in stop light drag racing.
Also available during that two-year period was another homologation special for the up-and-coming sport of Trans-American sedan racing. The Boss 302 was Ford's attempt to mix the power of a muscle car with the handling prowess of a sports car. The automotive press gushed over the result, deeming it the car "the GT-350 should have been." Boasting a graphic scheme penned by Ford designer Larry Shinoda, the "Baby Boss" was powered by an engine that was essentially a combination of the new-for-1968 302 in³ (4.9 L) V8 and topped with cylinder heads from the yet to be released new-for-1970 351 in³ (5.8 L) "Cleveland". This combination meant that the Boss 302 was good for a conservatively rated 290 hp (216 kW) through its four-speed manual transmission. Ford originally intended to call the car Trans Am, but Pontiac had beaten them to it, applying the name to a special version of the Firebird. In the ¼ mile the Boss 302 could post very similar times to the Boss 429, oddly enough, despite the smaller displacement and an incredibly free-breathing induction system in the car. It should be noted that the blocks from these cars are incredibly strong, and Ford Racing plans on selling new Boss 302 blocks in the near future.
Now based on the mid-sized Ford Fairlane/Mercury Comet instead of the compact Falcon, the Mustang grew larger and heavier with each passing year culminating with the 1971-73 models; designed under the supervision of Ford's new product design manager, Semon "Bunkie" Knudsen, originally of General Motors. Knudsen's turn at the helm would see the last high-performance big-block Mustang, 1971's 375 hp (280 kW) 429 Super Cobra Jet. Unfortunately, that very same body style was designed for the sole purpose of big-block installation versions, and was limited to a maximum of 351 in³ (5.8 L) in 1972 and 1973, due almost entirely to extremely strict U.S. emission control regulations. Two more high-performance engines were introduced in 1972, the 351 "HO" and 351 Cobra Jet. Both cars were excellent performers, but at nowhere near the level of the Boss cars and original Cobra Jet. Car companies switched from "gross" to "net" horsepower and torque ratings in 1972, making it difficult to compare horsepower and torque ratings. Very much a different car than in 1964, Ford was deluged with mail from fans of the original car who demanded that the Mustang be returned to the way it had been.
The Industry Reacts
Edit
In its first two years of production, three Ford Motor Company plants in San Jose, California; Dearborn, Michigan; and Metuchen, New Jersey produced nearly 1.5 million Mustangs, a record unequalled before or since. It was a success that left General Motors utterly unprepared and the Chrysler Corporation only slightly less so. Chrysler had just introduced a car only a few weeks before that would be a competitor, the Plymouth Barracuda. Though the "'Cuda" would grow into one of the most revered muscle cars of all time, it started out at as just a Plymouth Valiant with a hastily grafted fastback rear window. As for GM, they were certain that they had a Mustang fighter in their rear-engine Corvair Monza, but sales figures didn't even come close. The Monza was a fine performer, but boasted a six-cylinder, not competing to the Mustang's available eight-cylinder. It took GM until the 1967 model year to counter with the Chevrolet Camaro and Pontiac Firebird. Even Lincoln-Mercury joined the fray in 1967 with the introduction of an "upmarket Mustang" (and subsequent Motor Trend Car of the Year), the Mercury Cougar. The Cougar name had originally been given to the Mustang during the development phase. In 1968 American Motors (AMC) would introduce the Javelin and later, the 2-seat high-performance AMX. This genre of small, sporty, and often powerful automobiles was unofficially dubbed the "pony car" as a tribute to the car that started it all. The 1968 Mustang fastback gained pop culture status when it was used to great effect as Steve McQueen's car of choice in the crime thriller Bullitt. The Mustang was pitted against the Dodge Charger in the film's famous car chase through the streets of San Francisco.
Worldwide
Edit
The Ford Mustang has been sold in Australia to support sales of the Ford Falcon. It was first sold from 1965 to 66 with only 209 units sold and converted to right hand drive. The Mustang was sold again in 2001 as the Mustang Cobra but sales were far below expectations. Other Mustangs sold in Australia were grey imports.
Special Editions and Modified Mustangs
Edit
Past Performance Versions
Edit
Shelby Mustang (GT-350 and GT-500)
Mach 1
Boss 302
Boss 429
Boss 351
1969 Twister Special Mach 1
GT/CS California Special
M81 Mclaren
Indy 500 Pace car edition — 1979
GT Enduro — 1982
Ford Mustang SVO — 1984–1986
7-Up Mustang — 1990
Bullitt Mustang — 2001
Ford Mustang SVT Cobra — 1993–2004, except 2000 and 2002 (Australia only)
Ford Mustang SVT Cobra R — 1993, 1995, 2000
MACH 1 Special Edition — 2003–2004
Mustang GTR - 2005-present (concept)
Parnelli Jones Saleen Mustang 2006
Shleby GT500 Mustang 2007
Current Third-Party Tuner Versions
Edit
The Ford Mustang GT named as Best Muscle Car in Car and Driver's 10 Best in 2006.
The Mustang made the Car and Driver 10 Best list five times: 1983, 1987, 1988, 2005 and 2006.
The SN-95 Mustang won Motor Trend's Car of the Year award in 1994. Interestingly, the oft-derided Mustang II also won the Car of the Year award in 1974.
Ford Motor Company's car line won the Car(s) of the Year award in 1964, the Mustang's first year of production.
The new Mustang was also nominated for the North American Car of the Year award for 2005 and won the Canadian Car of the Year award that year.
Ford Mustang In Pop Culture
Edit
Ford Mustang In Gaming
Edit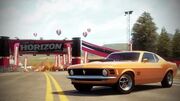 The Mustang has appered in the follwing games:
Grand Turismo Series
Forza Motorsport Series
Need For Speed Series
External Links
Edit
General information
Edit
News and References
Edit
Owners clubs and online forums
Edit
Community content is available under
CC-BY-SA
unless otherwise noted.