Ford Mondeo
Ford
aka
Mercury Mystique
Ford Contour
Production
1993-Present
Class
Mid-Size Family Car
Body Style
4-Door Sedan
5-Door Wagon
5-Door Hatch
Length
188.1 in
Width
74.2 in
Height
59.0 in
Wheelbase
112.2 in
Weight
1610 kg (TDCi)
Transmission
6-speed Powershift dual-clutch, FWD
Engine
2.0 litre Ecoboost Inline-4
2.2 litre Duratorq TDCi Inline-4
Power
237 hp @ N/A rpm
N/A lb-ft of torque @ N/A rpm

197 hp @ N/A rpm
N/A lb-ft of torque @ N/A rpm
Similar
similar (competition)
Designer
Martin Smith
The Ford Mondeo is a large family car sold by the Ford Motor Company in various markets throughout the world. The name "Mondeo" is derived from the Latin for world, mundus. Although classed as a Large Family Car in Europe (Mid-Size), it is classed as Full size in the American market
See Autopedia's comprehensive Ford Mondeo Review.
MY 2011 sees the Mondeo's first mid-cycle facelift. The changes are subtle and mostly relegated to the front which now features a larger trapezoidal lower grille, reworked fog lights and active shutters behind the grille to restrict air-flow at higher speeds or colder temperatures to reduce turbulence and aerodynamic drag. The biggest news comes from under the bonnet which will be occupied by either a new 2.0 litre Ecoboost Inline-4, mated to Ford's 6-speed dual-clutch Powershift gearbox, that develops 237 hp and returns 20% better fuel economy and 179 grams per kilometer of CO2 emissions or a reworked 2.2 litre diesel inline-four that now puts out 197 hp. Sales for the updated Mondeo will begin in the fall of 2010. [1]
At the 2008 Paris Motor Show Ford unveiled a bespoke personalisation service for the Mondeo called the Mondeo Individual Programme. The venture entails extensive modifications to the interior (in the form of hand-stitched Nappa and grained leather) as well as unique 18-inch alloy wheels and iridescent 'Mystique Silver' livery broken down into four 'themes': Beige/Dark Beige for the Ghia, Light Beige/Ebony for the Ghia and Titanium and, Tan/Ebony and Ebony for the Titanium.[2]
For MY 2009, Ford introduced a sportier variant to the Mondeo, dubbed Mondeo Titanium X Sport. It serves as the flagship model to the Mondeo range and receives significant visual tweakes that make it appear closer to the Mondeo prop car used in the 2006 James Bond flick, Casino Royale, albeit in black. Underhood, the Titanium X Sport sports a new 2.2-litre TDCi engine which produces 35PS more than its 2.0-litre sister. Translation: 0-62 mph (0-100kph) in 8.4 seconds and top speed is rated at 139 mph. The new engine also means efficiency with CO2 emissions of 165 g/km and fuel economy averaging at 45.6 mpg. The top range Mondeo will also retain the 2.5-litre turbo petrol option. Pricing starts from £23,355 (5 door) and £26,605 (estate) for its intended audience: the United Kingdom. [3]
Mondeo Edge Features
Electronic Stability Programme (ESP)
Ford Easy Fuel capless refuelling
Thatcham approved security
Air conditioning
Cruise control
CD/radio
'Quickclear' heated windscreen
'Follow-me-home' lighting
Trip computer
Leather steering wheel
Intelligent Protection System including driver's knee airbag
Mondeo Zetec Features additional to Mondeo Edge
16" alloy wheels
Air conditioning with dual-zone EATC
Front fog lights
2-way power driver's seat adjust
Power front and rear windows
Leather gear shift
Mondeo Ghia Features additional Mondeo Zetec
17" alloy wheels
Sony 6CD
Auto headlights and rain sensing wipers
Power front and rear windows
Power fold door mirrors and puddle lamps
Front and rear floor mats
Ambient interior lighting
Wood-effect interior trim details
Unique 'Ghia' front grille
Chrome upper door line
Rear compartment air conditioning vents
Mondeo Titanium Features additional to the Mondeo Zetec
17" 15-spoke alloy wheels
FordConvers+ instrument cluster with colour display
Rear seat air conditioning vents
Sony 6CD audio system
Power-operated, heated and folding door mirrors with puddle lamps
Sports seats
Front passenger's seat lumber adjustment
Auto-dimming rear-view mirror
Titanium' finish interior trim details
Leather-wrapped handbrake
Front interior ambient lighting
Front footwell lights
Brushed finished front door opening scuff plates
Front and rear carpet mats
Blue glass
Silver painted upper and lower grilles, lower grille with chrome surround
Chrome finish on upper doorline
Mondeo Titanium X Features additional to Mondeo Titanium
'FordPower' starter button
Alcantara trim with heated front seats
Halogen Adaptive Front Lighting System
Variable heated front heats
Auto lighting and rain-sensing wipers
For current styles and features for the Ford Mondeo in Australia, see the Trim levels for Australian Ford Mondeo.
Add more fields as necessary.
Saloon Trims
2.0 l Ecoboost
6-speed PowerShift Dual Clutch
2.0 l Duratorq TDCi
6-speed Manual
2.0 l Duratorq TDCi (140 hp)
6-speed Manual (w/ Powershift)
2.0 l Duratorq TDCi (163 hp)
6-speed Manual (w/ Powershift)
MSRP
£22,095
£18,995
£19,245 (£20,745)
£19,895 (£22,395)
Invoice
$Price1
$Price2
$Price3
$Price4
Estate Trims
2.0 l Ecoboost
6-speed PowerShift Dual Clutch
2.0 l Duratorq TDCi
6-speed Manual
2.0 l Duratorq TDCi (140 hp)
6-speed Manual (w/ Powershift)
2.0 l Duratorq TDCi (163 hp)
6-speed Manual (w/ Powershift)
MSRP
£23,195
£20,095
£20,345 (£21,845)
£21,995 (£23,495)
Invoice
$Price1
$Price2
$Price3
$Price4
Add more fields as necessary.
As seen on the FuelEconomy.gov website, the City/Highway MPG averages are as follows:
Trim
2.0 l Ecoboost
6-speed PowerShift Dual Clutch
2.0 l Duratorq TDCi
6-speed Manual
2.0 l Duratorq TDCi (140 hp)
6-speed Manual (w/ Powershift)
2.0 l Duratorq TDCi (163 hp)
6-speed Manual (w/ Powershift)
MPG (UK) Urban / Extra Urban / Combined
26.4/39.2/36.6
44.1/61.3/53.2
44.1 (39.2)/61.3 (60.0)/53.2 (50.4)
44.1 (39.2)/61.3 (60.0)/53.2 (50.4)
Specifications, details, graphs, pictures and other information regarding the powertrain is placed in this section.
Please make sure to write information of the vehicle's performance in a third-person point of view. This section should include information about the car's acceleration figures, handling, braking, etc.
If using information gathered from Road Test articles from a reputable automotive source, then please make sure to cite the quote.
The Mondeo has been praised for reliablity, and rightly so. Saying that, some petrol 01- 07 models had problems with inlet manifolds which were costly to replace if outside warranty. The new for 07 model has had a few small recalls: pcm update, problems with the airbag module caused by mobile phones and wheel caps that spin and can damage the tyre valves.
RECALL ALERT: Ford Australia is forced to recall all diesel Mondeos built between 2008-2009 because of the problem with the brake booster. The booster can be interrupted and result in a harder pedal feel and a longer stopping distance. Ford Focuses are also affected under the same build date. [4]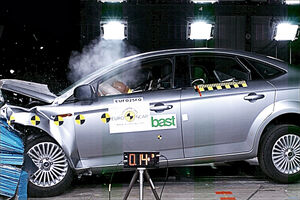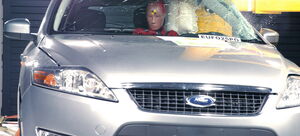 The 2008 Ford Mondeo obtained a 5-star rating and 35 points for passenger protection (4-star and 39 points for child occupant protection) from EuroNCAP, however, pedestrian protection scored only a 2-star rating and 18 points. [5]
Chill Metallic
Morello Metallic (Maroon)
Panther Black Metallic
Sea Grey Metallic
Stardust Silver Metallic
Tango Metallic (Orange)
Ink Blue Metallic
Thunder Metallic (Greenish Grey)
Colorado Red
Frozen White
Interior trim options
Minute in Infinity Blue and Twill in Ebony
Napoli Leather in Ebony (includes heated front seats)
Ribbon in Ebony & Twill in Ebony
Alcantara Perforated & Napoli Leather in Ebony
Luggage capacity
Seats up (Wagon): 542 litres
Seats down (Wagon): 1733 litres
Add more fields as necessary.
<MODEL> Year
Year X
Year X-2
Year X-3
Year X-4
Resale Value
$
$
$
$
First Generation:1993-1996
[
edit
|
edit source
]
A large proportion of the high development cost was due to the Mondeo being a completely new design, sharing very little, if anything, with the Ford Sierra. Using an all-new platform, the Mondeo featured new manual and automatic transmissions and sophisticated suspension design, which Ford hope would give it class-leading handling and ride qualities, and subframes front and rear to give it executive car refinement. The automatic transmission featured electronic control with sport and economy modes plus switchable overdrive.
Safety was a high priority in the Mondeo design with a driver's side airbag, side-impact bars, seat belt pretensioners, and ABS (higher models) as standard features. Other features for its year included adaptive damping, self-leveling suspension (top station wagon models), traction control (V6) and heated front windscreen, branded Quickclear.
The interiors were usually well appointed, featuring velour trim, an arm rest with CD and tape storage, central locking (frequently remote), power windows (all round on higher models), power mirrors, flat-folding rear seats, etc. Higher specification models had leather seats, trip computers, electric sunroof, CD changer and alloy wheels.
During its development, Ford used the 1986 Honda Accord and Nissan Primera as the class benchmarks that the CDW27 had to beat.
Athough an official picture was launched at the end of 1992 and the mondeo, also had an aticle showing fords future (autocar magazine) in 1992, the Mondeo was launched in March 1993. Available as a four-door saloon, a five-door hatchback and a five-door estate, it was produced at Ford's plant in the Belgian city, Genk.
Intended as a world car, it replaced the Ford Sierra in Europe, the Ford Telstar in a large portion of Asia and other markets, while the Contour and Mercury Mystique replaced the Ford Tempo and Mercury Topaz in North America. Unlike the Sierra, the Mondeo is front-wheel drive in its most common form, with a rarer four-wheel drive version available for the Mark I car only. Instigated in 1986, the design of the car cost Ford US$6 billion. It was one of the most expensive new car programs ever. The Mondeo was significant as its design and marketing was shared between Ford USA in Dearborn, and Ford of Europe. Its codename while under development reflected thus: CDW27 signified that it straddled the C & D size classes and was a "World Car".
The car was launched in the midst of turbulent times at Ford of Europe, when the division was haemorrhaging hundreds of millions of dollars [citation needed] and had gained a reputation in the motoring press for selling products which had been designed by accountants rather than engineers. The fourth generation Escort and Orion of 1990 was the zenith of this cost-cutting/high price philosophy which was by then beginning to backfire on Ford, with the cars being slated for their sub standard ride and handling, though a facelift in 1992 had seen things improve a little. The Sierra had sold well, but not as well as the all-conquering Cortina before it, and in Britain it had been overtaken in the sales charts by the newer Vauxhall Cavalier. Previously loyal customers were already turning to rival products and by the time of the Mondeo's launch, the future of Europe as a Ford manufacturing base was hanging in the balance. The new car had to be good, and it had to sell. Initial pricing in Britain was ambitious to say the least being around £2000 model for model than the Cavalier. The UK car market was just beginning to emerge from the early 1990's recession. Black Wednesday when sterling was ejected from the ERM had happened only a few months earlier. In this climate the Mondeo was handicapped by these high prices. Within weeks of launch prices where realigned and shortly after the car followed other Ford products with aggressive discounting, a tactic that ultimately devalued the product and lead to the low rent, reps car image the Mondeo has to this day.
Despite being billed as a world car, the only external items the Mondeo shared with the Contour were the windscreen, front windows, front mirrors and door handles. Even the interior was slightly different. The CDW27 project turned out not to be a true world car in the sense that the original Ford Focus was; one design for the world.
Second Generation: 1996-2000
[
edit
|
edit source
]
Referred to as the Mk II Mondeo, a major facelifted version launched in October 1996 saw three of the Mondeo's biggest criticisms addressed, namely its bland styling, the bad performance of the headlights, and the cramped rear legroom. The lowering of specification levels around that time (air-conditioning and alloy wheels became optional on the UK Ghia models) may have indicated a desire by Ford to cut costs and recoup some of the huge sums invested in the original design. These specification levels were improved again in 1998 as the Mondeo approached replacement.
The facelift saw almost every external panel replaced, leaving only the doors and roof the same as the original Mk 1 model. Even the extractor vents on the rear doors were dispensed with. The most notable change was the introduction of a version of Ford's then new corporate 'oval' grille. The saloon version also featured very distinctive rear lights which sat atop of the rear wings. Unlike the iterations seen on the heavily facelifted Scorpio and Mk 2 Fiesta during the previous year, this facelift was well-received.
The interior was also mildly revised though the basic dashboard achitecture was the same as before.
The 2.0 litre Zetec engine was thoroughly revised which, while producing less power than before, was far more refined and smoother which was something the original engine lacked at high revs.
In Europe, the Mondeo was instantly declared a class leader, and was elected Car of the Year in 1994.
Ford briefly sold a version using the 2.0 L Zetec engine and four-wheel drive, available until 1996 on cars with Si and Ghia trim only. The timing was not ideal though as four-wheel drive had already become synonymous with large SUVs such as the Land Rover Discovery and the bottom dropped out of the four-wheel drive sedan market. People who would tolerate the knock on performance and economy preferred to graduate to a full-blown SUV rather than a sedan with good all-round traction; especially since SUVs had become fashionable at the time.
In Europe, the Mondeo is considered large, but in other markets such as the United States and Australia, it had not fared well, as there were larger models that had stronger brand loyalty and offered better value for money. Ford claimed that it was a 'world car', but in a letter to Autocar magazine in the UK, a Ford dealer retorted 'What world was it designed for?' Because of this, the Contour and Mystique proved unpopular with American buyers. While the Contour sold at an average rate, the Mystique bombed. The Mondeo Mk 3 was much larger than the Mk 1/2 version but was not sold in North America, where Ford now offers the Fusion.
There is however, another theory advanced by some motoring journalists: that because the Contour and Mystique were not created in the United States, it suffered from a lack of enthusiasm from inside Ford's North American operations. Those same theorists point to the fact that the BMW 3 Series — arguably a "world car" in the sense one version is sold globally — does quite well in the United States and it is the same size as the Contour and Mystique.
The Mondeo fared badly in Australia, where, similarly, there was a much larger local model, the Falcon, and was dropped in 2001. Ford Australia withdrew completely from the medium-sized segment of the Australian market, arguing that it was in decline. The wagon version, the first medium-sized Ford of its kind to be sold in Australia since the Cortina, was dropped in 1999. It struggled against Japanese models such as the Honda Accord and Subaru Liberty, as well as the Holden Vectra, also imported from Europe, although unlike the Mondeo, briefly assembled locally.
By contrast, the Mondeo (like the Cortina long before it) was a success story in New Zealand, the Mk III model in particular being voted Car of the Year in 2001 by Autocar New Zealand and National Business Review. In addition, many earlier model Mondeos, imported used from Japan were also sold locally (Japan was also a good market for the Mondeo, a rare feat in a country with a high amount of domestic automobiles).
In Australia, the 1995-2001 Ford Mondeo was assessed in the Used Car Safety Ratings 2006 as providing "significantly better than average" protection for its occupants in the event of a crash.
In its final year in China, the Ford Mondeo M2000 gained a front fascia not dissimilar from the outgoing Mercury Mystique's, but had Ford badges. Its rear end was identical to that of the European models.
Third Generation: 2000-2006
[
edit
|
edit source
]
Launched in October 2000, and seen as the second generation model, this Mondeo was considerably larger than its predecessor. Although Ford abandoned its New Edge design theme for the Mondeo Mk II, it still borrowed some styling cues from the Focus Mk I, giving it an overall effect which many critics felt was more restrained and mature than the Focus if much less distinctive. Two of the old car's biggest weaknesses, the modest rear legroom and uncompetitive diesel version were addressed by a longer wheelbase and the new Duratorq diesel engine.
Following the standard setting interior of the Volkswagen Passat Mk IV in 1996, Ford paid a great deal of attention to the Mk II's interior and was the first mainstream manufacturer to react to the new standard set by Volkswagen. Ford dispensed with the rounded American style interior of the Mk I and developed a more sober 'Germanic' design which not only seemed more sophisticated but, more importantly, was of a higher quality due to the use of more expensive materials.
As with its predecessor, passive safety was a major selling point of the 2000 Mondeo. With an even stronger bodyshell, Ford introduced its so-called "Intelligent Protection System" (IPS), which used an "intelligent" array of sensors based on a neural network to decide the best combination of safety devices (traditional front passenger airbags, side airbags and curtain airbags) to deploy for a given crash situation. To enhance active safety, all models were fitted with anti-lock brakes and electronic brake distribution, with electronic stability program (ESP) available as an option.
The Mondeo established itself as Britain's most popular in its sector and held this position every year from 2001 onwards, though this size of car has fallen slightly in popularity during the 2000s. This version of the Mondeo has never come higher than sixth in the SMMT's official list of the top selling cars in the UK each year. In 2003, it came tenth in the list.
Current Generation: 2007-Present
[
edit
|
edit source
]
The third generation Mondeo (codename: CD345) was officially unveiled in 5-door production form in late 2006. Based on the EUCD platform developed with Volvo, the platform is the same used in the new large MPVs Galaxy and S-MAX, but not the North American Ford Fusion or the Mazda 6 in Japan. It will also be used for several Volvos, for the new Land Rover Freelander, and even for the new Jaguar X-Type, though the latter may not be replaced.
Although the third production model, after the Mk II Galaxy and S-MAX, to adopt Ford's current 'kinetic' design language, the Mondeo's design theme was first seen on the Iosis concept shown at the 2005 Frankfurt Motor Show which gave an indication to the look of the Mk III Mondeo. The new car, in estate bodystyle, was pre-launched in 'concept' form at the Paris Motor Show on 30 September 2006.
The new platform will allow for the use of Volvo's five-cylinder petrol engine, already featured in the Focus ST and S-Max. The petrol engines will include a 1.6-litre, a new 1.8-litre SCi engine with direct petrol injection and 130 bhp, the 2.0-litre (145 bhp), 2.5-litre five cylinder turbo with 220 bhp. Performance orientated versions of the Mondeo ST, will come with engines supplied from Jaguar and Volvo - with a 2.3 litre 240 HP petrol and 2.2 litre 275 HP diesel units
The new Mondeo will use the new electro-hydraulic steering system, first used on the C-MAX, that sharpens the steering response and helps to save fuel
A product placement promotional initiative made the Mk IV Mondeo James Bond's car for one incidental scene in Casino Royale, introducing the new model to global audiences in November 2006 on the launch day of the movie. Ford Group models have been prominent in the Bond franchise since 2002's Die Another Day, which featured an Aston Martin, a Jaguar convertible, and a Ford Thunderbird.
As with the previous model, it is expected that the Mk IV Mondeo will not be sold in the US or Canada because Ford currently sells the same-class Fusion which was only launched in 2005. The possible unavailability has caused much consternation amongst some of those residents who have seen the latest Mondeo, citing that the Ford car range outside the US and Canada is far superior in many respects and often better looking. The new 2007 Mondeo is already on sale. The 2007 Mondeo will also mark the Mondeo's return to the Australian market[, due to a resurgence in popularity of medium-sized cars in the last few years. This is in no small part the result of high fuel prices making people reconsider purchasing large cars like the Ford Falcon. The all-new Mondeo went on sale recently and sold 8800 units in its month of launch. The fresh design, the good qualities and the excellent opinion of magazines about the new sedan have contributed to this number.
In Australia, the first generation Mondeo replaced the Telstar as the new medium sized car to take on the likes of the Toyota Camry, Mitsubishi Magna and all other medium cars on sale. Released in 1995, it only came with a Zetec 2.0L engine in liftback, sedan and wagon styles but it wasn't a sales success and it was dropped in 2001. But in 2007, the Mondeo was back on sale and the TDCi had won Australia's Best Mid-size Car Over $28,000.
In 2009, Ford Australia replaced the Falcon station wagon with the wagon version of the Mondeo competing with Holden's Sportwagon.
Design quirks and oddities
[
edit
|
edit source
]
The 2007 Ford Mondeo was Awarded Auto Express' Car Of The Year.
2007 RACV Australia's Best Mid-size Car Over $28,000
Top Gear Car of the Year 2007
2010 Drive Best Medium Car
Community content is available under
CC-BY-SA
unless otherwise noted.