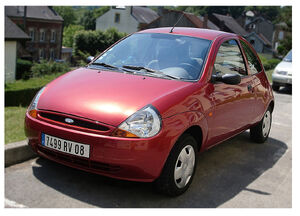 The Ford Ka is a small city car originally launched by Ford in 1996 to compete with cars such as the Mini One, Seat Arosa, and Smart ForTwo (formerly City Coupe). The European version is produced in Spain, whereas the Latin American version is produced in Brazil. In 2008, the first generation Ka was replaced with a second generation which shares its platform with the Mazda 2.
First Generation 1996 - 2008
Ford Ka
Ford
aka
N/A
Production
1996-present (Hatchback)
2003-2006 (Convertible)

Class
City Car
Body Style
3-door, 5-seat, Front-Engined Hatchback
2-door, 2-seat, Front-Engined Convertible and Coupe-Cabriolet
Length
142.501 in (Hatchback)
Width
64.201 in (Hatchback)
Height
53.901 in (Hatchback)
Wheelbase
96.401 in (Hatchback)
Weight
861.8 kg (Hatchback)
Transmission
5-speed

manual

Engine
1.3 L Endura E I4 (to 2002)

1.3 L Duratec I4 (from 2002)

Power
60 PS / 59 bhp / 44 kW @ 5000 rpm

105 Nm / 77 ft.lb / 10.7 kgm @ 2500 rpm

Similar

Mini One




Seat Arosa


Smart ForTwo - (formerly

Smart City Coupe

)
Designer
Claude Lobo (Ka)

Pininfarina (StreetKa)
The car was introduced on 11 September 1996 as a small and low-cost addition to the Ford range. It was based on the Mark IV Ford Fiesta platform, but with a completely different exterior design. The design borrowed a lot from Ghia's "Saetta" show car, a roadster designed by Filippo Sapino. The Ka evolved from concept vehicles to production with minor changes. The large, one piece, moulded bumpers and wheel arches made the vehicle more durable and easier to repair. The vehicle was manufactured on the existing Fiesta production line in Almussafes, Valencia, minimising new model investment costs. The Chief Program Engineer was Kevin O'Neill. The designer of the car was Chris Svensson of Sunderland, who had designed a similar-shaped car when at the Royal College of Art in 1992.
When the Ka was introduced to the public it provoked mixed reactions, due to its original and strikingNew Edge design, overseen by Jack Telnack and executed by Claude Lobo.
Besides the styling, the Ka, like its sister cars Fiesta and Puma, was lauded in the motoring press for its handling. Under Richard Parry-Jones' supervision, the suspension and steering settings allowed for hard cornering and high levels of grip, providing strong handling characteristics.
At launch, Ka was produced as a single model, with a number of production options including air conditioning, power steering, height-adjustable driver's seat, adjustable position rear seat with head restraints, passenger airbag, central locking and power windows. An anti-lock braking system option was added in January 1997.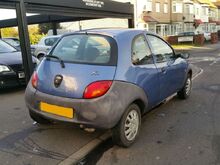 Aside from corrosion,the main drawback was the 1,300 cc OHV four-cylinder Endura-E engine, a design dating to the 1950s Kent engine used in the Ford Anglia. Although not very modern, it provided enough torque to allow relaxed if not spirited driving. In 2002, the Endura-E was replaced by the overhead cam Duratec engine, with claims of improved fuel efficiency and increased refinement, mostly caused by taller gearing on the non-air conditioned models.
For the first three years of production, all models had black plastic bumpers to minimise parking damage to paintwork in city conditions. These bumpers contained a stabiliser to prevent UV degradation which made them unsuitable for painting because the paint would not adhere properly. However, it became clear that many owners wanted body-coloured bumpers, so they were introduced in 1999 using
different bumper mouldings (without the stabiliser).
The Ka has proved highly profitable for Ford despite its low selling price, largely due to its low development costs. In 2006, Ford sold 17,000 examples of the Ka model in the United Kingdom. As with other Ford models, insufficient anti-corrosion treatment during manufacture and the use of non-galvanised steel results in premature surface and structural corrosion becoming established on cars used in more northern, damp climates.
In Australia, the Ka was introduced in October 1999 and was sold until 2002. It was unsuccessful - fewer than 2,000 were sold per year. This was partly due to the lack of an automatic transmission, which is favoured by a large proportion of Australian car buyers. The Ka was also sold in New Zealand between 1999 and 2004, and was replaced by the newer Fiesta.
Styles and Major Options
The first generation Ka's 12 year production span produced both hatchback and convertible models. From 1996 through to 2008, a hatchback and convertible were produced, along with a concept version billed the e-Ka which demonstrated the use of lithium-ion technology.
Both 1.2 petrol and 1.3 diesel engines are also available, along with 'Individual' styling packs featuring unique vinyl and colour combinations.
European Hatchback
The European version of the Ford Ka was launched for the 2008 model year, and is manufactured in Tchcy, Poland. The design closely follows Ford's current kinetic design philosophy, and a host of features previously reserved for the Focus and Mondeo such as ESP and reverse parking sensors have been brought forward to the new model.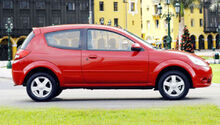 Latin American Hatchback
The Latin American version of the Ford Ka is built in Brazil and features styling adapted from the European car, albeit easily distinguishable. The car is based on the Mk5 [Ford F
iesta|Fiesta] and, along with the 3 door variant, a 5 door variant may soon be offered.[1]
StreetKa
Discontinued in 2006, the StreetKa was the convertible model in the range, and came only with the 1.6 taken from the Fiesta. Sales figures were pinned as the main reason for the halting of production. Various special edition models including the StreetKa Red and the Winter Edition were released to try and boost sales.
First Generation 1996 - 2008
In 2008,the European Ka was replaced with a model developed and produced for Ford by Fiat S.p.A in conjunction with Fiat's own 500 vehicle. The car is built in Fiat's Tychy, Poland, factory alongside the Fiat 500, Fiat Panda and Lancia Ypsilon.
Ford Ka
Ford
aka
N/A
Production
Production 2008–2016 (Hatchback)
Class
City Car
Body Style
3-door hatchback
Length
3,620 mm (142.5 in)
Width
1,658 mm (65.3 in)
Height
1,505 mm (59.3 in)
Wheelbase
2,301 mm (90.6 in)
Weight
861.8 kg (Hatchback)
Transmission
5-speed

manual

Engine
1.2 L Duratec (FIRE) I4

1.3 L Duratorq (MultiJet) I4

Power
69 PS / 68 bhp / 51 kW @ 5500 rpm

102 Nm / 75 ft.lb / 10.4 kgm @ 3000 rpm

Similar

Mini One




Seat Arosa


Smart ForTwo - (formerly

Smart City Coupe

)
Designer
N/A
Despite the wholly different architecture underneath, the new Ka maintains the curved styling features of the original, while bringing the look in line with Ford's Kinetic Design philosophy. It retains the wheel-at-each-corner stance of the previous model. Ford promises a cabin featuring 'expressive colours'. This mostly refers to the multichoice interior styling that is provided for the second time in Ford, right after the success of the Fiesta's interior design. In addition, the interior can be equipped with accessories such as a Bluetooth phone connection, wireless voice control, a USB port, a CD Radio, MP3, an AUX connector, steering wheel audio controls and a speaker system consisting of six speakers, a subwoofer and an amplifier.
Now in it's second generation, the Ka is available in 5 trim levels:
Studio
Style
Style +
Zetec
Zetec TDCi
Recent Changes
Though not set to officially debut until the 2008 Paris Motor Show, Ford, as early as the first of August 2008, has released images of its forthcoming second generation Ka. Interestingly, despite the lack of released info as of this writing, it is confirmed that the new Ka will share the same underpinnings as the Fiat Nuova 500 and will be built in the same plant in Poland.[2]
.
Gas Mileage
Add more fields as necessary.
As seen on the Ford.co.uk website, the combined cycle MPG averages are as follows:
Trim
1.2i Duratec petrol
1.3 TDCi Duratorq diesel
MPG
55.4
67.3
Engine and Transmission
The new Ka comes with a choice of two engines, a 1.2 litre petrol with 69 PS (51 kW) of power and 102 N·m (75 lbf·ft) of torque and a 1.3 litre TDCi diesel engine with 75 PS (55 kW; 74 hp) of power and 145 N·m (107 lb·ft) of torque. Both engines come with sub-120 g/km CO2 emissions (119 for the petrol and 112 for the diesel). Both engines are supplied from Fiat.
Safety
The second generation Ka has received 4 stars for adult occupant protection, 3 stars for child occupant protection and 2 stars for pedestrian protection from the Euro NCAP. [3]
Photos
Colors
The colours for the Ford Ka are:
Blush (purple)
Crystal (white)
Dive (blue)
Midnight (black)
Moonlight (grey)
Piste (light silver)
Scuba (light blue)
Strobe (dark grey)
Sunrise (red)
Resale Values
As of March 2009
Ford Ka Mk1 1.3i 1996-2008
2000
2002
2004
2006
2008
Resale Value
£829
£1124
£1845
£2584
£3669
Controversy
In 2006, two commercials advertising the Ford SportKa proved controversial when it received complaints for its content. The first commercial included a pigeon flying away, and being whacked and killed by the bonnet of the car. The second advertisement saw the SportKa opening its sunroof, to let a cats head in. The sunroof then closes and beheads the cat. After many complaints, these advertisements were taken off air and they were not shown again.
Worldwide
In Australia, the Ford Ka was sold to take the spot left behind by the Festiva. But with limited amount of features, an unrefined engine, cramped interior and only a 5 speed Manual, it's been discontinued and replaced by a Ford Fiesta. There are no plans on bringing the Ka back mainly because there's no automatic transmission available.
Design quirks and oddities
The second generation Ford Ka will star as main Bond Girl Olga Kurylenko's ride of choice in the 22nd James Bond flick Quantum of Solace.[4]
In the What Women Want survey conducted by the RACV in 2003, the Ka is the most popular choice among women buying Fords.
External Links