Not to be confused with Ford Galaxy.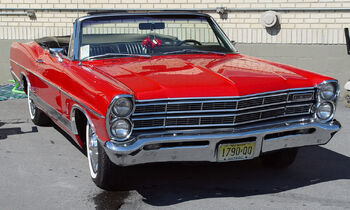 The Ford Galaxie was a car built and manufactured by Ford through 1960s to 1970s.
Recent Changes
Edit
Mention any minor facelifts or major changes made to the vehicle here.
Styles and Major Options
Edit
Certain vehicles come in different trim levels or body styles. Features and major options should be mentioned here.
Add more fields as necessary.
MODEL Trims

Trim1

Trim2

Trim3

Trim4

MSRP

$Price1

$Price2

$Price3

$Price4

Invoice

$Price1

$Price2

$Price3

$Price4
Gas Mileage
Edit
Add more fields as necessary.
As seen on the FuelEconomy.gov website, the City/Highway MPG averages are as follows:
Trim

Trim1

Trim2

Trim3

Trim4

MPG

c/h

c/h

c/h

c/h
Reliability
Edit
Warranty options and scheduled maintainence information should be mentioned here.
This section should reference points on safety ratings and features of the vehicle.
Add Photos of the vehicle here.
Please make sure not to use copyrighted photos.
List the colors that the particular <MODEL> is offered in.
Main Competitors
Edit
Create links to other <MAKE> <MODEL> pages in this section.
Hybrid Models
Edit
If there are hybrid versions of this vehicle manufactured, then please elaborate a little bit on it here.
1961 Ford Galaxie was the last year of the tail-fins.
Resale Values
Edit
Add more fields as necessary.
<MODEL> Year

Year X

Year X-2

Year X-3

Year X-4

Resale Value

$

$

$

$
Criticisms
Edit
Please make sure to keep critiques in a third-person point of view. If using criticisms from a reputable automotive source, then please make sure to cite the quote.
Generations
Edit
Fourth generation (1969–1974)
Edit
Headrests were new on the Galaxie. A station wagon was also new to the Galaxie. In 1970 the XL model was dropped. In 1973 the Galaxie was looked more heavier and bulkier.
Third generation (1965–1968)
Edit
Suspension on the Galaxie changed. In 1966 the Galaxie now had seatbelts. But in 1968 more safety features were added. Also in 1968 the grille was changed.
Second generation (1960–1964)
Edit
The second generation Galaxie had a more modern look than in the first generation. In 1961 the Galaxie's bodywork had been redone. In 1962 the Galaxie was larger than a Super Duty Pontiac. So in late 1962 the Galaxie was put on a diet. In 1963 the Galaxie changed its looks to be in NASCAR. Also in 1963 the Galaxie had its first 1/2 model.
First Generation/Origins (1959)
Edit
The Skyliner model had a retractable hardtop. But the retractable hardtop was complicated and expensive. That made the retractable hardtop become discontinued in 1959.
Worldwide
Edit
If the vehicle is sold in other markets worldwide, then this is the section to mention that information. Also, mention if the <MODEL> goes by another name in these other markets.
Design quirks and oddities
Edit
Refer to any pop-culture tidbits about the vehicle in this section.
List out notable awards that the model has recieved while in production. Boldface the company or orgainization that gives out the award, and Italicize the name of the award.
External Links
Edit
Please include any external sites that were used in collaborating this data, including manufacturer sites, in this section.
Community content is available under
CC-BY-SA
unless otherwise noted.