Ford Fusion (North America)
Ford
aka
Lincoln MKZ
Mercury Milan
Production
2006 - Present
Class
Mid-size Family Car
Body Style
4-door, 5-seat Sedan
Length
190.2 in
Width
72.2 in
Height
57.2 in
Wheelbase
106 in
Weight
3577 lb
Transmission
5-Speed Manual
5-Speed Automatic
6-Speed Automatic
6-Speed Manual
Engine
2.5 litre DOHC Inline-4 + electric motor
3.0 litre DOHC V6
3.5 litre DOHC V6
Power
175 hp @ N/A rpm
172 lb-ft of torque @ N/A rpm

240 hp @ N/A rpm
228 lb-ft of torque @ N/A rpm

263hp @ N/A rpm
249lb-ft of torque
Similar
Honda Accord
Hyundai Sonata
Toyota Camry
Chevrolet Malibu
Designer
Designer (lead designer if it was a team effort)
The American Ford Fusion is a mid-size car based on the Ford CD3 platform. The Fusion went on sale in October 2005 as a 2006 model, and is a replacement for the largely discontinued Ford Taurus. It is manufactured at Ford's Hermosillo, Mexico plant (Job 1 date of August 1, 2005). Companion versions entitled the Mercury Milan and the Lincoln Zephyr were launched simultaneously. At the 2005 Detroit Auto Show, a hybrid version was announced for the 2008 model year. Ford's Fusion advertising campaign is entitled Life in Drive.
See Autopedia's comprehensive Ford Fusion Review.
Recent Changes
For 2010, the Fusion gets its first extensive mid-cycle facelift as well as the introduction of the Ford  Fusion Hybrid. The new look is much more aggressive and can be best characterized as a combination between the Ford Interceptor Concept and Ford of Europe's "Kinetic" styling philosophy. Inside, the car benefits from uprated materials and better design and a selection of more powerful and more efficient Duratec engines.[1][2][3]
Fusion Sport
Fusion Hybrid
For 2008, The Fusion SE and SEL receives a Sports Appearance Package option. [4]
Styles and Major Options
Certain vehicles come in different trim levels or body styles. Features and major options should be mentioned here.
Pricing
Add more fields as necessary.
MODEL Trims
Fusion S
Fusion SE
Fusion SEL
Fusion Sport
Fusion Hybrid
MSRP
$19,270
$20,545
$23,975
$25,825
$27,270
Invoice
$Price1
$Price2
$Price3
$Price4
$Price5
Gas Mileage
Add more fields as necessary.
As seen on the FuelEconomy.gov website, the City/Highway MPG averages are as follows:
Trim
Trim1
Trim2
Trim3
Trim4
MPG
c/h
c/h
c/h
c/h
Engine and Transmission
Specifications, details, graphs, pictures and other information regarding the powertrain is placed in this section.

Performance
Please make sure to write information of the vehicle's performance in a third-person point of view. This section should include information about the car's acceleration figures, handling, braking, etc.
If using information gathered from Road Test articles from a reputable automotive source, then please make sure to cite the quote.
Reliability
As a brand new model, the Ford Fusion cannot yet be guaged for reliability.
Safety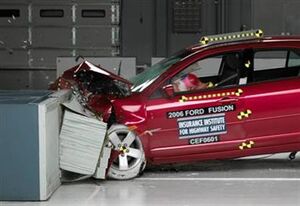 The NHTSA gave the Fusion good marks for its safety tests. For front-impact, rollover, and rear side-impact tests, the Fusion received 4-Star ratings, and for its front side-impact test, it received a 5-Star rating. Some of the standard features found on the Fusion include:
Front and rear anti-roll bars
Front- and side-impact airbags
Supplemental overhead side-curtain airbags
Occupancy sensors
Side-impact bars
Photos
Colors
Colors for the Fusion will vary by trim. You can view a complete list at CarsDirect.com. Here are some of the available combinations:
Exterior
Alloy
Black Clearcoat
Merlot Clearcoat Metallic
Oxford White Clearcoat
Tungsten Silver Clearcoat Metallic
Interior
Camel
Charcoal Black
Medium Light Stone
Main Competitors
Hybrid Models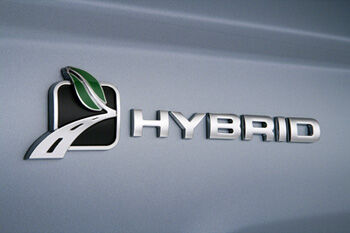 See also Ford Fusion Hybrid for more details
Unique Attributes
Interior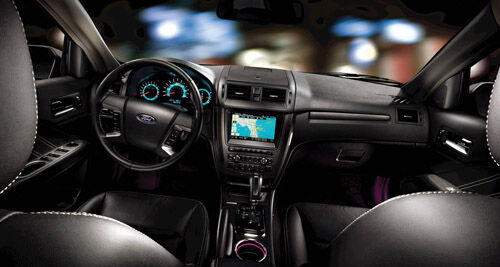 Resale Values
Kelley Blue Book states that the Fusion will have a less than spectacular resale value. Specifically, "although a great initial bargain, the Fusion's only downside is its average resale value. While the Ford Fusion should do about as well as its domestic competitors, top Japanese-brand models will return higher resale values over time."
<MODEL> Year
Year X
Year X-2
Year X-3
Year X-4
Resale Value
$
$
$
$
Criticisms
"...the driver needs some positive control over the six-speed automatic transmission to make this car truly fun-to-drive. There are moments when the tranny is hunting for a gear when it should be confidently downshifting for a corner or upshifting at the torque peak." - The Car Connection
"The Fusion suffers a bit in that it doesn't offer anti-lock brakes, traction control or side airbags as standard features, and stability control is not offered at all..." - Los Angeles Times
Current Generation: (2013-Present)
The second generation Fusion was unveiled at the 2012 North American International Auto Show as a 2013 model. The redesigned Fusion is built on the Ford CD4 platform and is an example of Ford's global car strategy "One-Ford", with design led by Ford of Europe, started with the Focus and then the extension of Fiesta production, which both came into North America in 2012. As a One-Ford project, Ford of Europe Head of Advanced design team Chris Hamilton was commissioned as lead designer based in Detroit, under the guise Exterior Chief Designer for Ford/Lincoln, with design support led from Ford of Europe studios in Germany and the United Kingdom. Test and development of localized versions was undertaken in both North America and Europe, resulting in different engine choices, automatic gearboxes, suspension settings and tires.
Like the previous generation Fusion, the final assembly takes place atHermosillo Stamping & Assembly, Hermosillo, Sonora, Mexico. Due to strong sales of the redesigned 2013 year model, additional capacity was added in Flat Rock Assembly Plant, Michigan. The hybrid version and the Fusion Energi plug-in hybrid will continue to be assembled in Mexico. The Mexican assembly plant won the prized MIT, Worlds Best Automobile Plant award. In Europe and other international markets, the engine range is similar, but the 2.5 will only be available in North America. In international markets, a three-cylinder 1.0L 123 bhp EcoBoost, claimed to produce just 125g/km of CO2 emissions; and theFord Fusion Energi plug-in hybrid is expected to be released between 2014 and 2015.
The second generation Fusion was built with a 122 mm (4.8 in) longer wheelbase than the outgoing model's CD3 platform, is 28 mm (1.1 in) bigger overall, 18 mm (0.7 in) wider, and 31 mm (1.2 in) taller. In contrast to the frontdouble wishbone suspension of the first generation Fusion, at front areMacPherson struts, and at rear is a multi-link rear suspension. Despite larger exterior dimensions, some aspects of the interior have shrunk, including the trunk, which fell slightly from 467 to 453 L (16.5 to 16.0 cu ft).
The 2013 Fusion is available in S, SE, and Titanium trim levels. Ford assembled five different powertrains for the second generation, including two hybrid variants. All available engines are four-cylinder offerings, dropping the previous model's 3.0L V6 as the top tier engine choice, as part of Ford's push to phase out the aging Duratec 30, as well as the Sport package's 3.5L V6 as a performance option.
The second generation Fusion introduced several driver assistance technologies based on sensors, cameras and radar. Safety features includeLane Keeping System; adjust vehicle speed to changing traffic conditions through adaptive cruise control with Forward Collision Warning; active park assist paired with a backup camera; and Blind Spot Information System (BLIS) with cross-traffic alert, which consists of sensors in both rear quarter-panels that are able to detect traffic in a driver's blind spot, providing both audible and visual warnings if traffic unseen by the driver is detected. BLIS technology enables rear cross-traffic alert, aiding drivers backing out of parking space where visibility is obstructed.[51][52] Other safety features include Ford Sync, second-row Inflatable Safety Belts, Auto Start-Stop, electric power-assisted steering, and Intelligent All-Wheel Drive.
For the 2014 model year the chief improvement was new 1.5-liter four-cylinder engine option.
Models
S The base model, offering a 2.5L Duratec I4 engine, manual or automatic transmission, an A/M-F/M color screen stereo with single-disc CD/MP3 player, and USB and auxiliary input jacks and SIRIUS Satellite Radio, the Ford SYNCSystem, four speakers, cloth seating surfaces, sixteen-inch steel wheels with plastic wheel covers, and keyless entry with a switchblade-style key.
SE Adds six speakers, seventeen-inch alloy wheels, and a power front driver's seat.
Titanium (replacing the SEL) Adds leather seating surfaces, heated front seats, dual power front seats, the MyFord Touch System with an A/M-F/M HD Radio radio, a single-disc CD/MP3 player, SD card slot, USB, A/V, and auxiliary input jacks, push-button start, keyless access, a Sony 390-watt premiumsurround sound system, and eighteen-inch alloy wheels.
Hybrid Is offered in the same three trims.
Sport Available starting from the 2017 model year, the inline-4 is replaced by the 2.7 Ecoboost 325-hp V6 engine, adds a black mesh grille, 19-inch wheels, a decklid spoiler, and dual exhaust pipes.
Engines
Year
Engine
Displacement
Power
Torque
Fuel Economy (City/Highway/Combined)
2013–2016
Duratec 25 I4
2.5 L (152 CID)
175 hp (130 kW) @ 6000 RPM
170 lb·ft (230 N·m) @4500 RPM
22/34/26 (6F 6-Speed Automatic)
2014-
1.5 EcoboostTurbochargedI4
1.5 L (92 CID)
181 hp (135 kW) @ 6000 RPM
185 lb·ft (251 N·m) @ 2700 RPM
23/36/28 (6F35 6-Speed Automatic)
25/37/29 (6F35 6-Speed Automatic) w/start-stop
2013-2014
1.6 EcoboostTurbochargedI4
1.6 L (97 CID)
179 hp (133 kW) @ 5700 RPM
184 lb·ft (249 N·m) @ 2500 RPM
25/37/29 (6-speed Ford B6 manual)
2013
23/36/28 (6F35 6-Speed Automatic)
24/37/28 (6F35 6-Speed Automatic) w/start-stop
2013-
2.0 EcoboostTurbochargedI4
2.0 L (122 CID)
240–245 hp (179–183 kW) @ 5500 RPM
270–275 lb·ft (366–373 N·m) @ 3000 RPM
22/33/26 (FWD) (6F 6-Speed Automatic)
22/31/25 (AWD) (6F 6-Speed Automatic)
2013-2016
Duratec 20 I4
2.0 L (122 CID)
141 hp (105 kW) @ 6000 RPM
129 lb·ft (175 N·m) @ 4000 RPM
44/41/42 Hybrid CVT, Ford HF35
188 hp (140 kW) peak systemhorsepower
177 lb·ft (240 N·m) peak systemtorque
2017–
2.7 EcoboostTurbochargedV6
2.7 L (164 CID)
325 hp (242 kW) @ 5750 RPM
380 lb·ft (515 N·m) @3000 RPM
17/26/20 (6F55 6-Speed Automatic)
Hybrid
The new 2013 line-up also includes a next-generation hybrid version, and aplug-in hybrid version, the Ford Fusion Energi. The Ford Fusion became the first production sedan to offer these three options. Sales of the gasoline-powered and hybrid version began in the US in October 2012. Sales in Europe and Asia, as Ford Mondeo, are expected to begin in 2013. Deliveries of the Fusion Energi began the U.S. in February 2013. Sales of the Mondeo line-up, including the hybrid model, began in Germany in August 2014.
For the second generation Fusion Hybrid the nickel-metal hydride batteriesused in the hybrid first generation were replaced with lithium-ion batteries. The 2013 model year is more fuel efficient than its predecessor, with a US Environmental Protection Agency (EPA) rating of 47 mpg-US (5.0 L/100 km; 56 mpg-imp) with the same rating for combined/city/highway cycles. This rating is also the same Ford achieved for the 2013 Ford C-Max Hybrid, as both hybrids share the same engine and drivetrain. These ratings allowed the 2013 Fusion Hybrid to outperform the 2012 Toyota Camry Hybrid LE by 4 mpg-US(59 L/100 km; 4.8 mpg-imp) city and8 mpg-US (29 L/100 km; 9.6 mpg-imp) highway, and to become the most efficient midsize hybrid sedan in the U.S. as of September 2012. The Duratec 2.5, and EcoBoost 1.5, 1.6 and 2.0 are sourced from Chihuahua, Mexico, Craiova, Romania, Bridgend, Wales, andValencia, Spain, respectively. The 6F and HF35 automatic transmissions are sourced from Ford's Van Dyke Transmission Plant in Sterling Heights, Michigan, while the B6 manual is produced at the GETRAG FORD Transmissions GmbH facility in Halewood, United Kingdom.
2017 facelift
Ford updated the Fusion for the 2017 model year. The facelifted version was first unveiled at the 2016 North American International Auto Show on January 11, 2016.
First Generation: (2006–2012)
The Fusion was originally to be called the Ford Futura, but Ford lost a trademark lawsuit to the Pep Boys auto parts store, which has a line of tires under the Futura brand. American trademark law generally considers a name abandoned if the owner does not use it for three calendar years, and the long history of the name in the Ford line did not impress the court. Ironically, the Futura name is actually still used by Ford Australia, as a trim line for the Falcon. Another choice of name was "Falcon", but that would have caused much confusion with the long-running Australian Ford Falcon. Still that didn't prevent Ford from duplicating the name of the European Fusion, a mini-Multi-Purpose Vehicle (MPV) based on the Ford Fiesta, slotted between the Fiesta and the Focus.
With its launch, the Fusion debuted Ford's new three-bar grille design, which is expected to become the company's trademark look for the rest of the decade. Production volume is projected at 160,000-200,000 per year.
Changes to the CD3 platform from the Mazda6 include stretching it by 30 mm (1.2 in) in width and 55 mm (2.2 in) in length, strengthening it, and modifying the suspension for a more compliant ride. Like the Mazda, the Fusion uses the Mazda-designed 2.3 L Duratec 23 I4 and Ford-designed 3.0 L Duratec 30 V6. All wheel drive and the new Duratec 35 will be options for 2007.
The Fusion is reminiscent of the Mitsubishi Galant and Pontiac G6. The Fusion shares some interior parts such as part of the console and seats with the otherwise unrelated European Mondeo. Both automatic and manual transmissions are available (the latter only with the I4 engine).
The Fusion also became the new body shape for Ford automobiles in NASCAR beginning in 2006, replacing the Ford Taurus. This is the first time that Ford has introduced a new model that went racing in NASCAR at the same time as its launch since the Ford Torino in 1968. It debuted at the 2006 Daytona 500, and won its first race a week later in California.
According to Ford, consumer response to the Fusion has exceeded their expectations. The car fits in a line of sedans by Ford (smallest to largest):
Worldwide
Readers may also be interested to know that a car by the name of the Ford Fusion is also sold in Europe. This is a very different vehicle though. First of all it is only a B-Segment size, based on the European Ford Fiesta. It is a hatchback, although Ford would like potential buyers to think that is in a mini-MPV.
Being based on the Fiesta, the engine options are fairly limited, consisting of the usual 1.4 L and 1.6 L petrol engines, and the 1.4 L and 1.6 L diesel engines. Automatic transmission is only available with the 1.4 L petrol engine. The car is generally not very well liked by European motoring journalists. It is effectively a higher, less stylish and more expensive Fiesta with few advantages other than its more commanding driving position.
Considering this, I wonder why Ford of America decided the Fusion name was a good one for what seems like a perfectly good product.
Design quirks and oddities
Awards
The Fusion was nominated for the North American Car of the Year award for 2006.
See also
Mid-Size Cars

Hurra Torpedo

- Band Sponsored by the Ford Fusion
Future engines in the works include: 1. A 2.3 V4 hybird 2. Also a turbo charged V4 engine
External links
News and References
Enthusiast Sites and Discussion Forums