Ford Figo
Ford
aka
Mk.IV Ford Fiesta
Production
2010-present
Class
B-Segment
Body Style
how many doors+how many seats+what type of body
Length
length - type here
Width
Width - type here
Height
Height - type here
Wheelbase
wheelbase - type here
Weight
Weight - you get the point
Transmission
transmission + drive
Engine
engine
Power
N/A hp @ N/A rpm
N/A lb-ft of torque @ N/A rpm
Similar
similar (competition)
Designer
Designer (lead designer if it was a team effort)
Use the following MODEL TEMPLATE as the foundation for the Autopedia's Model page:
Start off with a brief Introduction to the particular MODEL. Please DO NOT use the same Introduction text from the <MODEL> Review page, but rather paraphrase ideas relevant to grasp an overall scope of the vehicle.
See Autopedia's comprehensive Ford Figo Review.
Recent Changes
Edit
Mention any minor facelifts or major changes made to the vehicle here.
Styles and Major Options
Edit
Certain vehicles come in different trim levels or body styles. Features and major options should be mentioned here.
Add more fields as necessary.
MODEL Trims
Trim1
Trim2
Trim3
Trim4
MSRP
$Price1
$Price2
$Price3
$Price4
Invoice
$Price1
$Price2
$Price3
$Price4
Gas Mileage
Edit
Add more fields as necessary.
As seen on the FuelEconomy.gov website, the City/Highway MPG averages are as follows:
Trim
Trim1
Trim2
Trim3
Trim4
MPG
c/h
c/h
c/h
c/h
Engine and Transmission
Edit
The heart of the four wheeler, Ford Figo, is located under the front hood. The variants of the Ford Figo are fitted with all new powerplants. The petrol variants of the Figo are powered by 1.2L, 1196cc engine. The engine type comprises of four cylinder, DOHC, SEFI and front wheel drive. The base variant incorporates five speed manual transmission. The 1.2L petrol engine pumps out 71 PS of peak power at 6,250 rpm while it generates 102 Nm of top torque at 4,000 rpm.
On the other hand, the diesel engine of Ford Figo is loaded with higher displacement that is 1399cc. The 1.4L Duratorq diesel engine comprises of four cylinders, SOHC, common rall and front wheel drive. Like the petrol variant, the base variant of the car has a five-speed gearbox. The diesel mill of Ford Figo is capable of generating a maximum power of 69 PS at 4,000 rpm and a peak torque of 160 Nm at 2,000 rpm.
This engine currently powers Ford Ikon and Ford Fiesta and has garnered popularity because of its high performance and excellent economy. Five speed manual transmission and power steering make Ford Figo a smooth performer on the road. As per the details available at Ford Figo
Performance
Edit
Ford Figo Having driven mutliple cars with 1.2L engine, we did not expect much from Figo. But Figo thrown a surprise! Tuned to drive in city condition, Figo 1.2L is tractable. It's not rev friendly as Maruti's K-series engines but pulls effortlessly. Mid range performance is also commendable. Expect the top end performance to be decent.
Chassis and suspension set-up ensures sporty driving dynamics. Figo sports disc brakes at the front and drum at the rear. ABS with EBD makes the Figo a contemporary and safe hatch to play. But under hard braking we found wheels lock-up at some instance. Ford Figo review
Reliability
Edit
Warranty options and scheduled maintenance information should be mentioned here.
This section should reference points on safety ratings and features of the vehicle.
Add Photos of the vehicle here.
Please make sure not to use copyrighted photos.
List the colors that the particular <MODEL> is offered in.
Main Competitors
Edit
Maruti Swift, Hyundai i10, Hyundai i20, Chevrolet Beat, Volkswagen Polo. Apart from these popular models cars going to hit the Indian roads this year are Toyota Etios Liva, New Ford Fiesta.
Hybrid Models
Edit
If there are hybrid versions of this vehicle manufactured, then please elaborate a little bit on it here.
Unique Attributes
Edit
If there are any features of this vehicle that sets it apart from other vehicles in its class, then mention those unique attributes here.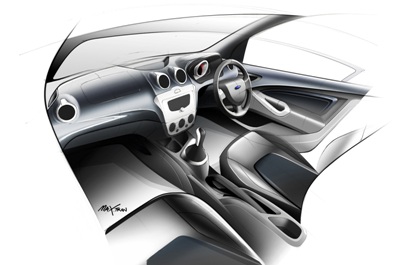 This section should include information on the interior's design, build quality, ergonomics, space (head and legroom, front and rear), features, stowage compartments and overall comfort and livability. Add pictures wherever applicable and keep information in a third-person point of view.
Resale Values
Edit
Add more fields as necessary.
<MODEL> Year
Year X
Year X-2
Year X-3
Year X-4
Resale Value
$
$
$
$
Criticisms
Edit
Please make sure to keep critiques in a third-person point of view. If using criticisms from a reputable automotive source, then please make sure to cite the quote.
Generations
Edit
Fill in as many as appropriate. Add more if necessary and pictures wherever applicable.
Please make sure NOT to use copyrighted pictures.
Current Generation: (YYYY–present)
Edit
Fifth generation (YYYY–YYYY)
Edit
Fourth generation (YYYY–YYYY)
Edit
Third generation (YYYY–YYYY)
Edit
Second generation (YYYY–YYYY)
Edit
First Generation/Origins (YYYY–YYYY)
Edit
Worldwide
Edit
If the vehicle is sold in other markets worldwide, then this is the section to mention that information. Also, mention if the <MODEL> goes by another name in these other markets.
Design quirks and oddities
Edit
Refer to any pop-culture tidbits about the vehicle in this section.
List out notable awards that the model has received while in production. Boldface the company or organization that gives out the award, and Italicize the name of the award.
External Links
Edit
News and References
Enthusiast Sites and Discussion Forums
Community content is available under
CC-BY-SA
unless otherwise noted.