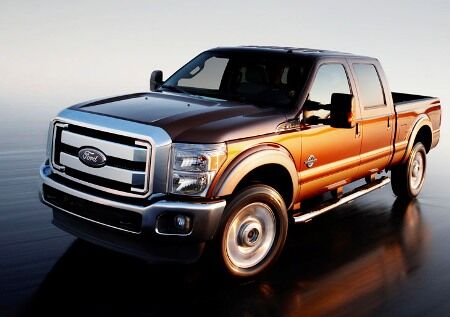 The F-Series is a series of trucks from Ford Motor Company that have been sold for over 5 decades. The most popular variant of the F-Series is the F-150, a full-size pickup truck. It has been the best-selling vehicle in the world for 36 years and the best-selling truck in the United States (and possibly the world) for 36 years. Analysts estimate that the F-Series alone makes up half of the Ford Motor Company's profits in recent years.
The first F-series truck from Ford was introduced in 1948, replacing the company's previous car-based pickup line. It was a modern-looking truck with a one-piece windshield and integrated headlights. The F-series was available as three models:
F-1 - half-ton
F-2 - three-quarter-ton
F-3 - Heavy Duty (HD for short)
With the 2007 Model Year, Ford is currently in its 11th Generation of the F-Series.
See Autopedia's comprehensive Ford F-150 Review.
Recent Changes
For 2011, Ford officially drops the 5.4 litre V8 from the SVT Raptor lineup in favor of the 6.2. Ford is also officially introducing the four-door SVT Raptor SuperCrew which adds a full 12 inches to the two-door. Other new things for the supertruck include a new paint called Ingot Silver Metallic, black accent graphics and standard 4.2-inch LCD display. [1]
For 2011, Ford updates the Harley-Davidson Edition with the same 6.2-liter V8 found on the 2010 SVT Raptor. The new engine pumps out 411 hp and 434 lb.-ft. of torque, providing a maximum towing capacity of 9,300 lb. It is hooked up to a 6-speed automatic transmission as standard with manual gearshift functionality available as an option. As before the Harley-Davidson is available only in Tuxedo Black and Ingot Silver paint jobs but inside it now features equipment upgrades including a standard voice-activated Navigation System with an 8-inch touch screen, a power moonroof, a rear view camera, second-row heated seats, special ambient lighting and a remote start system.[2]
For 2011, the Ford Super Duty gets a new schonz. It also gets a new diesel mill called the "Scorpion" 6.7 litre Power Stroke V8 which can also run on B20 biodiesel and a new 6.2 litre petrol V8. Both engines are attached to the 6R140 heavy-duty TorqShift six-speed automatic transmission that features manual SelectShift control and a Tow Haul option with integrated exhaust braking.[3]
For 2010, Ford unveiled the 14th iteration of the F150 Harley Davidson. It will be available only in "Lava Red" or "Tuxedo Black". [4]
For 2010, Ford released the Off-Road-oriented F-150 SVT Raptor R. The 7 in wider behemoth sports an SVT-tuned 5.4 litre 24 valve Triton V8 which develops 320 horses and 390 lb.-ft. of torque (528 Nm). A 6.2 liter 16 valve V-8 (16 valves instead of 24 valve for better torque charictaristics) producing 400 HP and 400 FT-LB of torque is promised to appear soon. The vehicle is awash with evidence of its intentions - the front bumper, for example, has been clipped down and now prominently displays a massive skid plate, the hood is bristled with heat extractors, the new front and rear suspension built by Fox Racing Shox has been built to give 11.2 inches and 13.4 inches of travel, respectively and the wheels are wrapped in heavy duty BFGoodrich All-Terrain TA/KO 315/70-17 tires. [5][6]
The Harley Davidson edition F150 changed from a Supercab configuration to a Supercrew. An FX2 sport model became available on certain models, and features a billet grille, model specific 18 or 20 inch wheels, and a unique interior. A tire pressure monitoring system and rear seat entertainment system are also newly available for 2007
For 2008, in anticipation of both Ford and Harley Davidson's 105th Anniversaries, the F-150 Harley Davidson gets a refresh.
On September 2008, after having sold over 33 million examples in its lifetime, Ford unveiled a 60-unit limited edition version of the F-150, dubbed "Ford F-150 60th Anniversary", in commemoration to the 60th anniversary of Ford' most successful model.[7]
Styles and Major Options
FX4 and Lariat models with bucket seats use a floor-mounted shifter, while all other configurations have a standard column shifter. An optional overhead console uses interchangeable modules so owners can add whatever features they find most useful. Regular cab F-150 models have handy reverse-opening access doors for getting to the storage area behind the seat.
Click here to see all OPTIONS and FEATURES
Models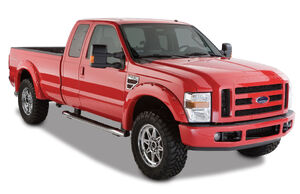 F-150 XL
F-150 STX
F-150 XLT
F-150 FX2
F-150 FX4
F-150 Lariat
F-150 King Ranch
F-150 Harley Davidson
Pricing
4x2 Regular Cab (7 styles) range in MSRP from $18,220 to $25,065
4x2 Extended Cab (11 styles) range in MSRP from $23,315 to $33,065
4x4 Regular Cab (9 styles) range in MSRP from $23,065 to $30,515
4x4 Extended Cab (14 styles) range in MSRP from $26,315 to $33,065
4x2 Crew Cab (6 styles) range in MSRP from $29,565 to $37,150
4x4 Crew Cab (9 styles) range in MSRP from $33,325 to $40,150
Gas Mileage
As seen on the FuelEconomy.gov website, the City/Highway MPG averages for the 2006 Ford F-Series are as follows:
Trim

MPG

15/20 mpg

16/20 mpg

15/19 mpg

14/19 mpg

14/18 mpg

14/18 mpg

14/19 mpg (gasoline)
11/14 mpg (E85)

14/18 mpg (gasoline)
10/13 mpg (E85)
Engine and Transmission
The F150 engine family sees four new additions in its line up for 2011.
3.7 liter Duratec V6 (built in Cleveland, Ohio)
300 hp & 275 lb-ft of torque
6100 lb of towing
E85 compatibility
Forged steel crankshafts
Piston-cooling jets
10,000 mile oil change interval
5.0 liter DOHC V8 (built in Windsor, Ontario)
360 hp & 380 lb-ft of torque
9800 lb of towing
E85 compatibility
Oil cooler
Forged steel crankshafts
Piston-cooling jets
10,000 mile oil change interval
6.2 liter SOHC V8 (built in Romeo, Michigan)
411 hp & 434 lb-ft of torque
11300 lb of towing
3.5 liter EcoBoost V6 (built in Cleveland, Ohio)
Performance
Please make sure to write information of the vehicle's performance in a third-person point of view. This section should include information about the car's acceleration figures, handling, braking, etc.
If using information gathered from Road Test articles from a reputable automotive source, then please make sure to cite the quote.
Reliability
MSN Autos reports that the F150 has "Infrequent problems reported, all with low repair costs" in 6 out of 7 categories. The only problem is in the accessories category, with an occasional failure of the brake shift interlock. This is a minor problem and an easy one to fix, so as such, the F150 earns 5 out of 5 in the reliability category.
RECALL ALERT: On June 05, 2008, Ford issued a recall affecting 605,684 Ford F-150s and Lincoln Mark LTs built between MY2005-2006 and equipped with 5.4L 3-Valve V8s due to a faulty brake booster vacuum supply hose which may swell and lose retention force, a condition that could allow the hose to become detached from the fitting during an intake manifold backfire. Once this happens, the vehicle's power assist braking will be gone though Ford is quick to note basic braking will still be available. The recall is set to begin on July 7, 2008 and Ford urges all owners to have their vehicles turned in for repairs to their local dealer. [8]
RECALL ALERT: On May 12, 2009, Ford issued a recall affecting 8,735 2009 Ford F-150s due to a faulty brake lamp which may not engage when the brake pedal is depressed very mildly. The recall begins on May 13, 2009 and Ford urges owners to visit their local Ford dealer for inspection and replacement. Owners can contact Ford at 1-866-436-7332 or online at www.ownerconnection.com. This recall is filed under NHTSA Campaign ID Number 09V150000 N/A. [9]
RECALL ALERT: Ford F-250s and F-350s built from 1988-1991 had an ignition fault that can short circuit. The short circuit can overheat the wires and potentionally cause a fire in the steering column. [10]
Safety
Four-wheel antilock disc brakes are standard across the board, and traction control is optional on 2WD V8models. New for 2007, a tire pressure monitoring system is now standard on all models. Unlike some of its competitors, the F-150 does not offer side airbags or stability control. Frontal impact testing by the NHTSAresulted in a perfect five-star rating. In offset-frontal crash testing conducted by the IIHS, the Ford F-150 earned a rating of "Good," the highest available, and a "Best Pick" designation.
Photos
2009 Ford F-150
2010 Ford F-150 Harley-Davidson
Colors
Dark Shadow Grey
Bright Red
Bright Red/Dark Shadow Grey
True Blue/Dark Shadow Grey
True Blue
Black/Dark Shadow Grey
Black
Silver/Dark Shadow Grey
Silver
Oxford White/Dark Shadow Grey
Oxford White
Arizona Beige
Dark Toreador Red
Medium Wedgewood Blue
Aspen Green
Royal Red
Dark Blue pearl
Tuxedo Black
Main Competitors
Off-roading
The F-150 has been one of the most dependable off-roading trucks for many years. They are commonly fitted with suspension/body lifts to accommodate bigger tires and to allow more ground clearance.
Like it's cousin the Ford Bronco, older versions came standard with the robust Ford 9" axle. Their straight-axle setup and powerful engines made them ideal for plowing through mud. As such they have become very popular in mud bogging. After-market rear axle differential lockers are usually installed as well, and more demanding owners often swap out their 302/351 engines for a larger one with more torque like the Ford 429 or Ford 460. Common axle swaps for heavy off-road use include the Dana 70 and the Ford 10.25".

Resale Values
According to Kelley Blue Book, "The F-150 is expected to retain a better-than-average residual value, with the SuperCab models at the top of the chart, followed by the SuperCrew and then the Regular Cab. Over a five-year period, the F-150's projected residual value is expected to rate higher than the Chevrolet Silverado 1500 Classic and Dodge Ram, and be on par with the Nissan Titan but below the Toyota Tundra."
Current Generation (2009–Present)
Past Generations
First generation (1948–1952)
Engines:
1948-1950 - 226 in³ (3.7 L) straight-six, 96 hp (71 kW) Was not an option on F1 but the standard engine for the F2-F6 models.
1948-1952 - 239 in³ (3.9 L) Flathead V8, 100 hp (74.6 kW)
1951-1952 - 215 in³ (3.5 L) straight-six, 101 hp (75.3 kW)
Second generation (1953–1956)
The F-series was redesigned for 1953 with a more integrated look. The pickups also acquired their familiar names: F-100, F-250, and the heavy-duty F-350. Interior amenities were new, including a dome light, lighter, arm rests, and sun visors.
Engines:
Third generation (1957–1960)
The truck was restyled again in 1957 with the hood now merging with the fenders. In the back, the traditional separate-fender body was now called flareside, while a new smooth-sided look was styleside. Four wheel drive, now a common feature, was a new addition to the truck in 1959.
Engines:
1958-1960 - 223 in³ (3.7 L) straight-6, 137 hp(102 kW)
1958 - 272 in³ (4.5 L) Y-block V8, 173 hp (129 kW)
1959-1960 - 292 in³ (4.8 L) Y-block V8, 186 hp (139 kW)
Fourth generation (1961–1966)
The truck was completely redesigned for 1961 with a wider look, and styleside trucks got an integrated cab and box. Power was over 200 hp with the 1965 refresh of the powertrain. In 1965, the Twin I-Beam was introduced. The front leaf springs were replaced by coil front suspension. Also, in 1965 a four-door crew cab model was released. The 1965 and 1966 trucks have a "TWIN I-BEAM" emblem on the front fender.
Engines:
Fifth generation (1967–1972)
Another refresh came in 1967 along with a now-familiar name: the upscale Ranger trim line. A powertrain refresh. A 4-door crew cab version was introduced in 1969, still a popular option. The top trim for 1970 was named Ranger XLT.
The fifth generation F-Series is also locally produced in Brazil.
Engines:
1967-1972 - 240 in³ (3.9 L) straight-6
1967-1972 - 300 in³ (4.9 L) straight-6
1967 - 352 in³ (5.8 L) FE V8
1968-1972 - 360 in³ (5.9 L) FE V8
1968-1972 - 390 in³ (6.4 L) FE V8
1970-1972 - 302 in³ (4.9 L) Windsor V8, 220 hp (164 kW)
Sixth generation (1973–1979)
The truck was redesigned in 1973 with an automatictransmission option. Other changes included the 1974 introduction of the extended cab "SuperCab" version. A luxury Lariat trim was introduced for 1978. That same year, the F-series became the best-selling vehicle in America, a position it has continued to hold since.
Engines:
1973-1977 - 240 in³ (3.9 L) straight-6
1973-1977 - 300 in³ (4.9 L) straight-6
1973-1977 - 352 in³ (5.8 L) FE V8
1973-1976 - 360 in³ (5.9 L) FE V8
1973-1977 - 390 in³ (6.4 L) FE V8
1973-1977 - 302 in³ (5.0 L) Windsor V8
1973-1979 - 460 in³ (7.5 L) 385 V8, 225hp
1977-1979 - 351 in³ (5.8 L) Modified V8, 163 hp (122 kW)
1977-1979 - 400 in³ (6.6 L) Modified V8, 169 hp (126 kW)
1978-1979 - 300 in³ (4.9 L) straight-6, 114 hp (85 kW)
Seventh generation (1980–1986)
The next major redesign came in 1980. The new truck had a squarer look, with sharp lines and flat panels. The Ranger trim line was dropped in 1982, since that name was to be applied to the new Ford Ranger compact pickup. Trim options were now XL, XLT, and XLT Lariat. The big-block V8 was dropped for 1980, but added again in 1983 along with a Diesel option. The base model was renamed to the now-familiar F-150 for 1984. In 1985 fuel injection became optional in the 5.0L. In 1986 this became the only 5.0L offered.
Engines:
1980-1986 - 300 in³ (4.9 L) straight-6, 1bbl, 120hp
1980-1985 - 302 in³ (5.0 L) Windsor V8, 2bbl, 133hp
1985-1986 - 302 in³ (5.0 L) Windsor V8, EFI, 185 hp
1980-1982 - 351 in³ (5.8 L) Modified V8
1980-1984 - 351 in³ (5.8 L) Windsor V8, 2bbl, 136hp
1983-1986 - 351 in³ (5.8 L) Windsor V8, 4bbl, 210 hp
1980-1982 - 400 in³ (6.6 L) Modified V8, 2bbl, 136hp
1983-1986 - 460 in³ (7.5 L) 385 V8, 4bbl, 245 hp (183 kW)
1983-1986 - 420 in³ (6.9 L) Diesel V8, IDI, 170 hp (127 kW)
Eighth generation (1987–1991)
The 1987 refresh was evolutionary. The design was more streamlined, and maintenance items were made simpler. Rear antilock brakes were now standard, the first truck to boast this. The manual transmission was revised with five speeds in 1988, and the flareside box was dropped. For 1987 the 4.9L had standard fuel injection; for 1988, the 5.8L and 7.5L also gained fuel injection, with 1988 being the first year no carbureted engines were offered. 1988 also saw the replacement of the 6.9L diesel with a 7.3L International Harvester IDI diesel.
Four wheel drive improvements included the addition of automatic locking hubs for the F-150 in 1989, and for the rest in 1991. The 5.0 L truck also had an optional "Touch Drive" electronic transfer case.
Engines:
Ninth generation (1992–1996)
The 1992 truck was much more rounded and aerodynamic in appearance, and the flareside returned until 1996. The Lightning appeared in 1993. A CD player option was new for 1994, as was a driver's-side airbag and "CHMSL" third brake light. Following the lead of the Explorer, an Eddie Bauer trim line was added for 1994 and continued utill 1996.
There is a lot of mis-information about the 1992-1996/97 Ford F-350 and F-250 truck build options. Ford did make a 4x4, dual rear wheel (DRW ie. Dually) truck from the factory. There was not a short bed option on the F-350, or a super cab option for the F-350 in 1992-1996/97, only regular cab and crew cab long bed trucks. There is a rare F-250HD version that is a super cab, dual rear wheel truck. There also was not an F-250 crew cab, with the long bed option, only a F-250 crew cab, short bed.
There were no F-250 or F-350 trucks made in 1998, so during the re-tooling process, Ford made a run-over of F-250 and F-350 trucks for 1997 and 1998. However, at this time (1997), Ford made a new and different body style for the F-150, and discontinued the Ford Bronco.
Also at this time, Ford and Centurion Vehicles of White Pigeon, Michigan teamed up, to make the first Excursion like vehicle. It was a Ford F-350 crew cab, with the rear half of a Ford Bronco, on a Ford regular cab long bed frame. Known as a C-350 or C-150. There was no C-250 Centurion. [11]They were made in few production numbers, and now concidered a rare, collectible vehicle.
Ford trailed rival General Motors trucks for much of the ninth generation, though sales steadily rose each year. 500,000 F-Series trucks were sold in 1992, but this rose to nearly 800,000 by 1996, and the Ford had overtaken the combined Chevrolet and GMC pickup sales for the first time in a decade.
Engines:
Tenth generation (1997–2003)
Ford took the aero styling to its conclusion for 1997 with an extremely round nose on the new F-series. The "Super Duty" F series did not yet exist, so an F-250 was offered which was an F-150 with heavier duty axles and suspension, along with odd 7 lug wheels. With the arrival of the Super Duty, this F-250 "light duty" was offered as the "7700" package for the F-150 (noted on the tailgate emblem). A wide variety of body options were available: regular cab and SuperCab, standard or flareside boxes, and short and long beds. A new Lightning was introduced in 1999, and Harley-Davidson and King Ranch versions were also created. In 2001 the SuperCrew cab was introduced.
The super-duty F-250 and F-350 were retained on the old chassis until 1999.
Sales of the F-150 surged in the tenth generation to 750,000 to over 900,000 in 2001 as the General Motors and Dodge products lagged. Ford's sales dropped, however, for the final years of this generation as the redesigned Dodge trucks were released.
The F-150 was Motor Trend magazine's Truck of the Year for 1997.
1997 also marked introduction of Ford's modular Single Overhead cam (SOHC) engines into F-150.
Engines:
Eleventh Generation (2004-2008)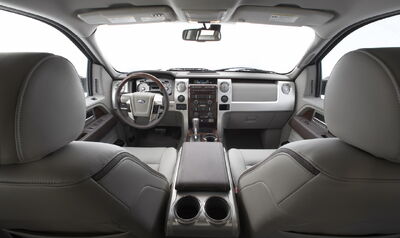 In 2004, Ford redesigned the F-Series using the new P2 platform. Initially, only Ford's 4.6 L Triton and new 3-valve 5.4 L 3V Triton V8 engines and automatic transmissions were offered on the new luxurious trucks. Work-oriented versions with an available 4.2 L Triton V6 and manual transmission will debut for 2005.
The previous F-150 was continued in production until the summer of 2004 as the Heritage model.
The new F-150 won the North American Truck of the Year Award and was Motor Trend magazine's Truck of the Year for 2004. It also beat the three-time winning Chevrolet Silverado for Car and Driver magazine's Best Pickup Truck for 2004 and 2005. Additionally, over 912,000 F-150s were sold in 2004, giving it a single-year sales record.
The F-150 will have a new Harley-Davidson trim line in 2006 with an available all-wheel drive, while the Super Duty will have an available Amarillo package or the Chrome package for the Lariat.

Super Duty
For 2005 the "Super Duty" model was redesigned. These included a new grille, new interior, and factory installed trailer brake controller and upfitter switches. The engines were also upgraded, with the new 3 valve 5.4L V8 and 6.8L V10 putting out 300 and 362 horsepower, respectively. The Powerstroke Diesel was also modified, boosting torque from 560ft/lb to 570ft/lb, but horsepower stayed at 325.
The truck was going to be completely redesigned for the 2007 model year, but it was recently announced that quality issues will push it back to a 2008 model. The new 2008 model will introduce a new 6.4 L twin-turbo Power Stroke Diesel V8 to the replace the problematic 6.0 L Power Stroke Diesel V8. The engine is said to produce 350 hp (260 kW) and 650 ft·lbf (880 N·m), beating the DaimlerChrysler's Cummins ISB I6 on both power and torque, but just shy of beating the 360 Hp/ 660lb torque of the General Motors Duramax.
Future Models
2008 Ford Superduty Photos
Criticisms
Not much interior storage space.
No side curtain or side-impact airbags.
Ford F Series In Pop Culture
On an NBC TV Show: Stars Earn Stripes, a Ford F150 has been used twice.
Awards
2004 North American Truck of the Year ·
2004 Truck of the Year, Motor Trend Magazine ·
2004 Detroit News Truck of the Year ·
The Year's Best Pickup, USA Today ·
2004 Truck of Texas (Texas Auto Writer's Association) ·
Truckin' Magazine Truck of the Year ·
Popular Science 2003 Best of What's New Grand Award ·
Top Pick of 2004 Trucks, AMI Auto World Magazine ·
Money® Magazine Best New Truck for 2004 ·
Kelley Blue Book Best Redesigned Vehicle for 2004 ·
American Woman Road & Travel Top 10 Award - Pickup Truck, Most Athletic ·
FAMA Magazine Truck of the Year ·
Auto Journalists' Association of Canada (AJAC) Best New Pickup Award for 2004 ·
Top Ten Tow Vehicles, Go Boating Magazine ·
2004 People's Choice Truck of the Year
Car and Driver Magazine 2004 Five Best Trucks - Best Pickup.
Auto Interiors Show 2004 Truck Interior of the Year
AutoBytel Editors' Choice 2004 Truck of the Year
See Also
External Links
References
Ford reveals 2008 F-150 Harley-Davidson from Autoblog [12]
Notes