Ford Explorer
Ford
aka
Lincoln Aviator
Mercury Mountaineer
Production
1991-Present
Class
Mid-size SUV
Body Style
5-door, 7-seat SUV
Length
193.4 in
Width
73.7 in
Height
72.8 in
Wheelbase
114.0 in
Weight
4500 lb
Transmission
6-Speed Automatic, FWD/AWD
Engine
2.0 litre Ecoboost Inline-4
3.5 litre V6
Power
237 hp @ N/A rpm
250 lb-ft of torque @ 1750-4000 rpm

290 hp @ N/A rpm
255 lb-ft of torque @ N/A rpm
Similar
Jeep Grand Cherokee
Designer
The Ford Explorer is a mid-size sport utility vehicle sold mostly in North America built by the Ford Motor Company since 1990 and still in production as of 2009. It is manufactured in Louisville, Kentucky (it was also assembled in Hazelwood, Missouri until the plant closed on March 10, 2006). It has been the best-selling vehicle midsize SUV in the United States each year since its introduction, and is one of the vehicles instrumental in turning the SUV from a special-interest vehicle into one of the most popular vehicle types on the road. The Ford Explorer continues to be a simple and reliable Mid-Size SUV that appeals to all age groups.The Ford Explorer won Truck of the Year in 1986.
The Explorer has also been involved in controversy, after a spate of fatal rollover accidents involving Explorers fitted with Firestone tires. Most of the time, the Explorer had competed with the Nissan Pathfinder and the Toyota 4Runner. Both two-door Explorer Sport and four-door models of Explorer have been sold. Part-time four wheel drive is an available option, and since 1995 this has been a 'shift on the fly' system with full protection against being engaged at too high a speed.
A specially modified Special Service Vehicle version is also available from Ford Fleet for law enforcement.
See Autopedia's comprehensive Ford Explorer Review.
Recent Changes
Edit
Following the debut of the new gen Explorer, Ford followed up with the Law Enforcement-only Explorer Interceptor as part of their Ford Police Interceptor Utility program. [1]
For 2011, Ford announced the next-generation 2011 Explorer. First and foremost, the new Mid-size SUV sheds its body-on-frame foundations for unibody ones. Styling-wise, it borrows heavily from the design language of the Ford Taurus with a bit of "kinetic" elements from Ford of Europe thrown in. It also seemingly has excellent interior quality to match. In terms of toys, the MyFord Touch system will be standard on up-level XLT and Limited Explorers; the base Explorer comes equipped with a non-touch version dubbed simply MyFord. Also, the new Explorer gets a Land Rover-like Terrain Management System. Underneath the clamshell hood, powertrain choices will initially entail a normally aspirated 3.5-liter V6 and the new 2.0-liter EcoBoost inline-four, both of which return a 30-percent boost in mileage over the current mills. The optional Ecoboost is said to produce 237 hp and 250 pound-feet of torque from 1,750-4,000 rpm while the standard V6 makes 290 hp and 255 lb-ft of torque. Both engines are paired with a six-speed automatic transmission. Unfortunately, despite the power increase and better economy, towing capacity has dropped significantly; on the V6 the 5,000lb towing capacity is 200 less than the outgoing V6 and a whopping 2000lb less than the V8 while the turbocharged four-banger's towing is limited to a mere 2000 lb. On the safety front, the new Explorer features a host of alphabet soup safety nannies to keep occupants safe including Roll Stability Control (RSC), in addition to regular Stability Control, which utilizes body roll sensors to keep it upright, Curve Control, radar-based adaptive cruise control which is also allied to the collision warning system (warns the driver with warning lights and pre-charges the brakes for quicker response, the industry first rear seatbelt airbag system allied to pressure sensors on the side of the vehicle which registers the collision well before current industry-standard accelerometers and, finally, a Cross-Traffic Alert system that uses radar sensors in the rear corners to look sideways as the vehicle is backed out of a parking space. Pricing for the base FWD V6 starts at $28,190, almost $2,000 less than the outgoing model. The top-trim Limited 4WD is $39,190 (plus destination) and the fully loaded all-wheel drive model goes up to a heady $48,075. [2][3][4][5]
The 2006 Explorer has a slightly altered exterior yet as NewCarTestDrive states, "is the same overall length as the previous model, but it sits on a (two-inch) longer wheelbase and a much wider track, making it more stable and more comfortable." The XLS trim was discontinued after the 2006 model year.
For the 2009 model year, the Explorer also became equipped with the Ford Sync, a navigational system, and a trailer sway control. Also, the XLT Sport Package was added.
Styles and Major Options
Edit
The Ford Explorer is available in either a 210-horsepower V6 or a 292-horsepower V8 with either a 4.0L or a 4.6L engine, respectively. The Explorer comes in a 4x2 or a 4x4, in the following trims:
XLT
Eddie Bauer
Limited
Add more fields as necessary.
MODEL Trims
Base
XLT
Limited
MSRP
$28,190
$31,190
$37,190
Invoice
$Price1
$Price2
$Price3
Gas Mileage
Edit
Add more fields as necessary.
As seen on the FuelEconomy.gov website, the City/Highway MPG averages are as follows:
Trim
2.0 litre Ecoboost
3.5 litre Ti-VCT
Trim3
Trim4
MPG
18.2/26
17/25
c/h
c/h
Engine and Transmission
Edit
Specifications, details, graphs, pictures and other information regarding the powertrain is placed in this section.
Performance
Edit
Please make sure to write information of the vehicle's performance in a third-person point of view. This section should include information about the car's acceleration figures, handling, braking, etc.
If using information gathered from Road Test articles from a reputable automotive source, then please make sure to cite the quote.
Reliability
Edit
Warranty options and scheduled maintenance information should be mentioned here.
The accolades say it all: Ford Explorer for 2009 received the highest government crash test rating for all four crash seating positions (driver and right front passenger for frontal crash, and front and rear seating positions for side-impact).[6] However, the popular SUV received only three out of five stars for the Rollover rating. [7]
The Ford Explorer comes in a variety of colors. The 2009 Explorer models are available in the following colors:
Dark Blue Pearl
Mineral Grey
Red Fire
Pueblo Gold
Silver Birch
Dark Stone
Black
Oxford White
Dark Cherry Metallic
All of the above colors come with a Camel interior. Dark stone and the eddie bauer interior is also available but only is available for the limited and eddie bauer trims.
Main Competitors
Edit
The Ford Explorer competes with several different Mid-Size SUVs, including the following:
Ford has no plans to create a hybrid version of the Explorer, as they have already saturated a good portion of the SUV market with the popular Escape Hybrid.
Unique Attributes
Edit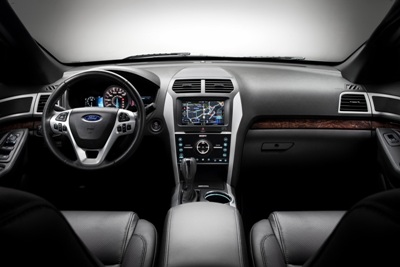 Like other SUVs on the market, the Ford Explorer not only comes in different trims, but also shares its chassis with the compnay's other Make/Model counterparts. Currently, the Explorer shares its chassis with the Lincoln Aviator (Discontinued) and Mercury Mountaineer.
This section should include information on the interior's design, build quality, ergonomics, space (head and legroom, front and rear), features, stowage compartments and overall comfort and livability. Add pictures wherever applicable and keep information in a third-person point of view.
Resale Values
Edit
Add more fields as necessary.
<MODEL> Year
Year X
Year X-2
Year X-3
Year X-4
Resale Value
$
$
$
$
Criticisms
Edit
In May 2000, the National Highway Traffic Safety Administration (NHTSA) contacted Ford and Firestone about the high incidence of tire failure on Ford Explorers fitted with Firestone tires. Ford investigated and found that several models of 15 in (381 mm) Firestone tires (ATX, ATX II, and Wilderness AT) had very high failure rates, especially those made at Firestone's Decatur, Illinois plant.The failures all involved tread separation—the tread peeling off followed often by tire disintegration. If that happened, and the vehicle was running at speed, there was a high likelihood of the vehicle leaving the road and rolling over. Many rollovers cause serious injury and even death; it has been estimated that over 250 deaths and more than 3,000 serious injuries resulted from these failures.
Ford and Firestone have both blamed the other for the failures, which has led to the severing of relations between the two companies. Firestone has claimed that they have found no faults in design nor manufacture, and that failures have been caused by Ford's recommended tire pressure being too low and the Explorer's design. Ford, meanwhile, pointed out that tires manufactured by the Goodyear Tire and Rubber Company to the same specification had a spotless safety record when installed on the Explorer. Ford's conclusions were confirmed by NHTSA in their report into the tire failures, published in October 2001.
Many outside observers tend towards blaming both parties; Firestone's tires being prone to tread separation and failure, and the Explorer being especially prone to rolling over if a tire fails at speed compared to other vehicles. However, a subsequent NHTSA investigation of real world accident data showed that the Ford Explorer was no more likely to roll over than any other SUV. A product recall was announced, allowing the Ford Explorer owners to change the affected tires for others.A large number of lawsuits have been filed against both Ford and Firestone, some unsuccessful, some settled out of court, and a few successfully. Lawyers for the plaintiffs have argued that both Ford and Firestone knew of the dangers but did nothing, and that specifically Ford knew that the Explorer was highly prone to rollovers. Ford denied these allegations.Car and Driver magazine tested a first-generation Explorer with a built-in rollcage and a special device that would flatten the tire at the push of a button. The Explorer did not flip in any of the numerous tests , and that was mostly because the driver managed to stay calm. Everyday Explorer drivers taken by surprise by a tread separation or loss of tire pressure in high speed traffic situations may have panicked and swerved violently, resulting in a significant portion of reported rollovers.
In December 15 2009, a 22 year old owner of a 2002 Explorer experienced a cruise control fault. At 12.40 PM, the driver was heading towards the Burke Rd turn off in Melbourne, Australia and realised that he couldn't cancel the cruise control so he continued along the Eastlink tollway towards Frankston. Police were called and brought out lights-and-sirens to bring the Explorer into control and as the driver had put on the brakes firmly, it came to a halt outside the Monash University. Ford Australia and Victoria Police started an investigation on the Explorer to determine the fault and a recall hasn't been planned at this stage but 6 other drivers had experienced this problem. [8]
Generations
Edit
Current Generation (2011-present)
Edit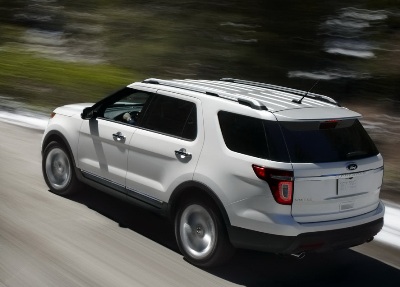 Third Generation mid cycle facelift (2006-2010)
Edit
The Explorer and Mountaineer are updated for 2006 on a new frame, produced by Magna International rather than Tower Automotive. It was upsized, because the Ford Freestyle slotted between the Escape and the Explorer for 2005. Along with this new, stronger base are a new interior, redesigned rear suspension, and power-folding 3rd-row seats. A tire-pressure monitoring system and electronic stability control will be standard. Power running boards (like those on the Lincoln Navigator) that retract when the vehicle is in motion are an option.
However, unlike previous Explorers, there will be no right-hand drive version engineered. Ford Australia has a capable local equivalent instead, being the Australian designed and developed Ford Territory. The new Explorer is marketed in Japan in a left-hand drive configuration, as LHD vehicles are considered prestigious there.
A 210 hp (157 kW) 4.0 L V6 will be the base engine, with the 292 hp (218 kW) 24-valve V8 taken from the Mustang as the top choice. A six-speed automatic transmission is available with this engine as well.
Despite slow sales, the new Ford Explorer Sport Trac was added to the Explorer line in early 2006 for the 2007 model year. Unlike its predecessor, sold through 2005, it will feature the V8 engine as an option, and will be based on the new, larger Explorer platform. AdvanceTrac® with Roll Stability Control™ will be standard in the Sport Trac.
A special 2007 SVT model called the Sport Trac Adrenalin was to use a supercharged version of the 4.6 L Modular V8, with 390 hp (291 kW) and featuring 21-inch wheels. It was to be a successor to the F-Series Lightning pickup. However, it was cancelled in a cost cutting move, as part of The Way Forward. [9] [10]
The Explorer will receive another upgrade in 2011 when Ford unveils a fifth generation in 2010, which is expected to replace the Taurus X. "2011 Ford Explorer reportedly to be built in Chicago on Taurus X platform" From Autoblog.com (March 31, 2009)
Third Generation (2002-2005)
Edit
The 4 door Explorer and companion Mercury Mountaineer were redesigned entirely in 2002, losing all kinship with the Ranger and the continued Explorer Sport/Sport Trac. The 2-door Explorer Sport was replaced by the Ford Escape in 2001. Engines were either the SOHC 4.0 L V6 (210 hp/157 kW) or a 4.6 L 239 hp (178 kW) V8, with the 203 hp (151 kW) 4.0 L V6 still available on the Explorer Sport. A third-row seat became available for the first time, bringing total passenger capacity to 7. Both manual and automatic 5-speed transmissions and 2, 4, and all-wheel drive were available. Trim lines were the base Sport Value, Sport Choice, XLS, Sport Premium, XLT, Eddie Bauer, and top of the line Limited. AdvanceTrac® with Roll Stability Control™ were standard for 2005.
All three trucks use code U6 (for 4x2), U7 (for 4x4), and U8 (for AWD) in the 5th, 6th, and 7th positions of the VIN.
Second Generation (1995-2001)
Edit
The Explorer saw significant exterior, interior and suspension updates in 1995. The former "Twin Traction Beam" (TTB) front suspension was replaced with a more car-like independent front suspension. The Explorer lineup now consisted of two models: 2-door Explorer Sport and the 4-door Explorer. Two more trim lines were added as well, the Limited was a higher end 4-door, while the Eddie Bauer trim level was replaced with Expedition on 2-door Explorers (1995 only, the name would be reused on the 1997 Ford Expedition). A 210 hp (157 kW) 4.9 L "5.0" V8 engine was added for 1996 along with real all wheel drive on the Eddie Bauer and Limited in 1997. A more-powerful SOHC 205 hp (153 kW) engine came as an option in 1997 along with an optional 5-speed automatic. A Mercury twin, the Mercury Mountaineer was added in 1997 as well.
The 1995 Explorer was the first production vehicle to use a neon center high mount stop lamp. This was replaced with more conventional lamps when the liftgate was refreshed in 1998. Another facelift came in 1999, at which time the XLS name replaced XL as the base model .
2001 saw the introduction of the Explorer Sport Trac, which put a small pickup bed behind the four normal SUV doors.
"The 2-door Explorer Sport was replaced by the Ford Escape in 2001." This is not true I own a ford Explorer Sport 2 door and it is a 2002 model. Therefore this source is not correct.

First Generation (1991-1994)
Edit
The Ford Explorer was released in March 1990 as a 1991 model, replacing the Bronco II, which was almost exactly identical to the original Explorer. Like its predecessor, it was based on the Ford Ranger compact pickup truck and was equipped with a 4.0 L 155 hp (116 kW) V6 engine and 4-speed automatic transmission. There were both 2-door and 4-door bodystyles with available rear or four wheel drive.
Explorers came in 4 trim levels: Base XL, XLT, Sport (the two-door version), and the upscale Eddie Bauer Edition. A 5-speed manual transmission was added, for the Sport, for 1992, and the engine lost 10 hp (7.5 kW). 15 hp (11 kW) was added for 1993 for a total of 160 hp (119 kW). The Limited version was also added for 1993. Available only in the 4-door style, it was even more upscale than the Eddie Bauer version. It featured automatic headlights, foglamps, an automatic transmission as standard equipment, an auto-dimming rear view mirror, a center roof console with compass and outside thermometer, special wheels, and a special grille. A variant of the Explorer Sport was sold by Mazda as the Mazda Navajo, which won Motor Trend magazine's Truck of the Year award but was discontinued two years later.
Modified Explorers, with a new paint job and glass roof among other features, appeared in the 1993 blockbuster film "Jurassic Park" as tour cars.

Worldwide
Edit
If the vehicle is sold in other markets worldwide, then this is the section to mention that information. Also, mention if the <MODEL> goes by another name in these other markets.
Design quirks and oddities
Edit
Refer to any pop-culture tidbits about the vehicle in this section.
The Explorer was nominated for the North American Truck of the Year award for 2006.
Ford Explorer: named 2006 Best-in-Class SUV by NEMPA
The Ford Explorer was named the 2006 AutoByTel Editors' Choice Award Winner for SUV of the Year.
Detroit Free Press names 2006 Explorer "Truck of the Year"
External Links
Edit
Ford Explorer official websites: U.S.A.
News and References
Enthusiast Sites and Discussion Forums
Community content is available under
CC-BY-SA
unless otherwise noted.