300px
Fiat Bravo
Fiat
aka
Fiat Ritmo
Production
2007-present
Class
Family Hatchback
Body Style
Five-door hatchback
Length
4336 mm
Width
1792 mm
Height
1498 mm
Wheelbase
2600 mm
Weight
1205 kg - 1260 kg
Transmission
6-speed manual
Engine
1.4 petrol
1.4 T-Jet petrol
1.9 Multijet diesel
Power
90 hp @ 5500 rpm
94 lb-ft of torque @ 4500 rpm
120 hp @ 5000 rpm
152 lb-ft of torque @ 1750 rpm
120 hp @ 4000 rpm
188 lb-ft of torque @ 2000 rpm
Similar
Ford Focus (International)
Honda Civic
Renault Megane
Opel Astra
Volkswagen Golf
Designer
Frank Stephenson
The Fiat Bravo and it's sibling the Fiat Brava are small family cars produced by renowned italian budget car manufacturer Fiat. The original models were produced from 1995 to 2002, and the new Bravo was introduced in 2007. The Fiat Stilo succeeded the Bravo/Brava range, only to be replaced once more with a car under the Bravo nameplate. Confusingly, the new generation model will not expand to encompass a three door Brava.
Recent Changes
On January 23rd, 2008 news of a 1.6 Multijet diesel was announced. Advantages over the larger 1.9 Multijet diesel include:
A 25% increase in torque, and a significantly reduced consumption figure.
Pickup in 5th gear is almost 4 seconds quicker.
Substantial acoustic comfort with 5% better noise values.
Furthermore, it brings some remarkable records to the family hatchback segment:
It is the first Euro5-compliant car, well ahead of the legal deadline.
It is one of the only cars in the segment with a 6-speed manual gearbox.
Torque figures are the highest in relation to the displacement in any power category up to 200 bhp.
Unique 35,000 km service intervals reduce maintentance costs by 25%.
Styles and Major Options
The new generation Bravo will remain five-door only, unlike it's predecessor the Stilo. Currently the hatchback is the only available variant, although a Multiwagon is expected. An extensive safety system has been purposefully engineered to achieve maximum EuroNCAP test results, and a range of luxurious options often associated with executive cars are available.
Pricing
Bravo Engines

1.4

1.4 T-Jet

1.9 Multijet

OTR

£10995

£12895

£13795
Gas Mileage
As seen on the Official Fiat website, the combined MPG figures are as follows:
Engine
1.4
1.4 T-Jet
1.9 Multijet
MPG
42.2
42.2
53.3
Reliability
It's predecessor, the Stilo, had notorious problems in this area. Fiat's management was in turmoil at the time of it's development and release, and faults extended throughout the electrics and engine. However, Fiat's recent design renaissance seems to have brought with it a much needed improvement. Siblings such as the Panda and Grande Punto have managed to keep up with the rest of the group, and only time will tell if the Bravo follows suit.
Safety
The Bravo recently recieved a five-star rating in it's EuroNCAP test thanks to a number of safety features which come as standard:
Front airbags with dual stage Smart system
Front sidebags
Front seatbelts with pre-tensioners, load limiters and fastening sensors
The test revealed minimal frontal impact to the driver, although the passenger recieved marginal damage to the thigh. The driver also faired well in the side impact test, with the most damage only being 'adequate' on the scale. Pedestrian impact results showed that the bonnet area carries a moderate risk.
Photos
Colors
1.4 -
Glory white
Active -
Cool jazz blue
Crossover black
Digital grey
Epic grey
Minuet blue
Symphony blue
Tango red
Techno grey
Dynamic -
Cool jazz blue
Crossover black
Digital grey
Epic grey
Minuet blue
Spiritual ivory
Symphony blue
Tango red
Techno grey
Sport -
Crossover black
Digital grey
Maranello red
Maserati blue
Tango red
Techno grey
Main Competitors
Alfa Romeo 147
Audi A3
BMW 1-Series
Citroen C4
Dodge Caliber
Ford Focus (International
Honda Civic
Hyundai i30
Kia C'eed
Mazda 3
Mercedes-Benz A-Class
Nissan QashQai
Opel Astra
Peugeot 308
Renault Megane
Seat Leon
Toyota Auris
Volvo C30
Volkswagen Golf
Criticisms
Criticism of the Bravo is generally centered around the Stilo mechanics. The Daily Telegraph's Honest John goes on to say: "I'd never actually driven a Stilo, which contributed its underpinnings to the new car. But if that's what a Stilo was like I can fully understand its lack of success. The chassis has no brio at all. Steering is light, feel-free and unresponsive. The gearchange is slow and cumbersome."
Channel 4's online car segment '4car' like the spacious interior, handsome styling and the turbocharged 1.4-litre engine, but they discredit the ride as being "lumpy" when the optional 18 inch rims are specced.
Generations
First Generation/Origins (1995–2002)
Replacing the successful but ageing Tipo, the Bravo/Brava came with an all new range of engines. The base model used a 1.4 L 12-valve engine producing 80 bhp. Three other petrol engines were available: the 103 bhp 1.6 L 16-valve; the 113 bhp 1.8 L 16-valve engine and the top of the range 2.0 L 20-valve R5 unit used in the HGT model, which produced 147 bhp and which could take the car to a maximum speed of 135 mph (217 km/h). Two turbodiesel engines were also available: both were 1.9 L four cylinder units, one producing 75 bhp and the other making 100 bhp. Bravo/Brava was voted European Car of the Year on its launch. In 1996 the Bravo/Brava chassis spawned saloon and estate versions, badged Fiat Marea, which won praise for its large boot. Another car based on the Bravo/Brava underpinnings was launched in 1998: the curious looking Fiat Multipla, a six-seater mini MPV.
Second Generation (2007–present)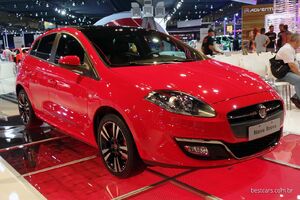 Designed by a team led by Frank Stephenson in house, the Fiat Bravo was first showcased for the press in Rome in January 2007, and again at Geneva later on. It took just 18 months to get from conception to production, a feat many manufacturers would struggle to even concieve. Austrian automotive company Magna Steyr has engineered big part of the car's body and internal fittings. CAD engineering and computer simulations were used in a very large scale with this model and the design was made in very fast schedule.
Worldwide
Australia's version of the Bravo will be titled the Fiat Ritmo as Mazda Australia already owns the rights to the Bravo name.
Awards
The original Bravo/Brava won the 1996 Car of the Year award, and the new generation model achieved a 5-star EuroNCAP rating.
The Bravo won the Most Beautiful Small/Medium sedan in the World for 2007.
See Also
External Links