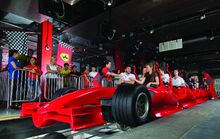 Template:Infobox amusement park Ferrari World is a Ferrari themed amusement park on Yas Island in Abu Dhabi.[1] The central park is situated under a Template:Convert/m2[2] roof making it the largest indoor amusement park in the world.[3] Ferrari World officially opened on 4 November 2010.[4] The theme park is home to Formula Rossa, the world's fastest roller coaster.[5]
The iconic roof of Ferrari World was designed by Benoy Architects.[6] It is modelled after the side profile of a Ferrari GT. Ramboll provided the structural engineering, masterplanning and urban design, geotechnical engineering and the façade engineering.[7] The roof has a total surface area of Template:Convert/m2 with a perimeter of Template:Convert/m. The theme park, measuring Template:Convert/m2, is located under this Template:Convert/m high roof. These factors make Ferrari World the largest indoor theme park in the world.[1]
A Ferrari logo adorns the roof of the building and measures Template:Convert/m by Template:Convert/m—the largest Ferrari logo ever created.[3][8] 12,370 tonnes of steel has been used to support this roof.[1] The centre of the roof is marked by a 100 m (328 ft) glazed funnel.[6] The structure was declared complete on 29 October 2009 with the park due to open one year later.[1][9]
Attractions
Edit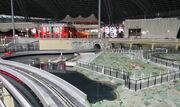 Jack Rouse Associates, a Cincinnati based visitor experience design firm, was responsible for the design of most of the park's 20 rides.[1][10] On 20 July 2010, Ferrari World announced the names of all of the opening day attractions.[11]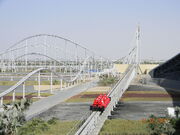 Shopping and dining
Edit
Guests can purchase merchandise from several retail outlets throughout the park including the largest Ferrari Store in the world and a Ferrari boutique capable of creating personalised souvenirs. The food and beverage outlets aim to provide a true Italian dining experience.[24]
New attractions
Edit
A new dark ride attraction is being developed by Ferrari World under the leadership of Mr. George Walker, Art Director, that will feature an entirely new roller coaster. The ride is being made by Dynamic Attractions of Vancouver Canada and is expected to open in 2015.
References
Edit
External links
Edit
Wikimedia Commons has media related to: [[Commons:Category: Category:Ferrari World
Ferrari World

]]
Template:Ferrari World Attractions
Community content is available under
CC-BY-SA
unless otherwise noted.