Ferrari LaFerrari
Ferrari
aka
F70, F150
Production

2013-2015 (Coupé, 500 examples)

2016-2018 (Aperta, 210 examples)

Class
Supercar
Body Style

2-door, Berlinetta

2-door spider (Aperta)

Length
4701 mm (185.1 in)
Width
1991 mm (78.4 in)
Height
1115 mm (43.9 in)
Wheelbase
2649 mm (104.3 in)
Weight
1255 (2767 lb)
Transmission
7-speed dual clutch automated manual, RWD
Engine
6.3 L V12, electric motor, HY-KERS System
Power
963 hp @ 9000 rpm
663 lb-ft of torque @ 6,750 rpm
Similar
Lamborghini Veneno
McLaren P1
Designer
Flavio Manoni
The Ferrari LaFerrari (aka F70) is the successor to the legendary Enzo. It was unveiled at the 2013 Geneva Motor Show. It is being produced through 2013 with only 499 being built each costing $1.3 Million, even though Ferrari had more than 1,000 orders for the car. On August 31st, 2016, Ferrari announced that a 500th LaFerrari will be sold to benefit the people of central Italy affected by the earthquake of the 24th of August. 
Background
The LaFerrari was designed using F1-inspired aerodynamics and is the first Ferrari to feature a hybrid system. This is the fastest road car Ferrari has ever made, since it lapped at Fiorano in under 1:20, faster then the Enzo and F12 Berlinetta. 
Engine
The LaFerrari uses a 6.3 Liter (6,262 cc) V12 that pushes out 789 Horsepower and a hybrid motor adding an extra 163 Horsepower and a peak torque of 663 pound feet. The hybrid system is attached to a F1 dual-clutch gearbox. This car has a top speed of 217 mph (349 km/h) and a 0-60 time in less than 3 seconds. The car's HY-KERS Systems combies the V-12 with 2 electric motors— one to power the driven wheels and the second drives the ancillaries
More Perfomance Stats
0-124 mph (200 km/h): 7 sec.
0-186 mph (300 km/h) 15 sec.
1/4 Mile Time: 9.72 sec.
Redline: 9,250 RPM
Power-to-Weight Ratio: 2.91 lb/hp
Weight Distribution: 41%/59%
Colors
There are 3 Colors available
Red (Rosso Corsa)
Yellow (Giallo Modena)
Black (Nero)
Other Facts
This Ferrari was not designed by Pininfarina, making it the first Ferrari since the 1973 Dino 308 GT4 not to have Pininfarina design. This decision is a rare exception to the collaboration between Ferrari and Pininfarina that began in 1951..
The body computer system is developed by Magneti Marelli Automotive Lighting.
LaFerrari Aperta (2016)
The convertible variant of the LaFerrari was revealed in July 2016, three months before its official debut at the 2016 Paris Auto Show. Like past convertible Ferrari models, it may use the Aperta label to denote its retractable roof. According to Ferrari, all units have already been sold to customers via invitation. Only 209 LaFerrari Apertas Will be made.
Ferrari FXX K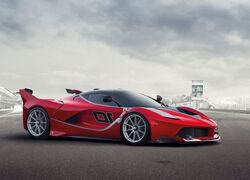 The FXX K is a track-only version of the LaFerrari, and is part of Ferrari's experimental XX program. It has a tuned 
version of the LaFerrari's V12, rating at 1,036 bhp and 663 ft lb of torque, and has the same HY-KERS hybrid drivetrain. 
The car has a top speed of 350 km/h (217 mph).
Gallery
References used for article
http://www.topspeed.com/cars/car-news/ferrari-has-more-than-1-000-requests-for-the-laferrari-ar149224.html http://www.topspeed.com/cars/car-news/ferrari-working-on-an-exclusive-version-of-the-laferrari-ar154743.html
http://www.topspeed.com/cars/car-news/ferrari-claims-there-won-t-be-a-super-laferrari-after-all-ar154828.html
http://www.topspeed.com/cars/ferrari/2014-ferrari-laferrari-ar128704.html
http://en.wikipedia.org/wiki/LaFerrari
http://twinrev.com/cars/Ferrari-LaFerrari-vs-Bugatti-Veyron
http://www.laferrari.com/en/design/ (for colors)