The Ferrari FXX-K is a high performance race car and prototype built by automobile manufacturer Ferrari in Maranello, Italy and designed by architect Flavio Manzoni director of Centro Stile Ferrari. The FXX-K is based on
Ferrari FXX-K
Ferrari
aka
FXX K
Production
2015-2017

40 units produced

Class
Track day car

Development prototype

Body Style
2-seat berlinetta
Length
4,896 mm (192.8 in
Width
2,051 mm (80.7 in)
Height
1,116 mm (43.9 in)
Wheelbase
2,650 mm (104 in)
Weight
1,495 kg (3,296 lb) with fluids

1,165 kg (2,568 lb) dry

Transmission
seven-speed paddle-shift dual-clutch automatic transmission
Engine
6.3 L naturally aspirated 1,036bhp F140 V12, electric motor & KERS
Power
1036 hp
Similar
LaFerrari
Designer
{{{Designer}}}
the street-legal LaFerrari. Production of the FXX-K began in 2015 and ended in 2017. 40 units were produced.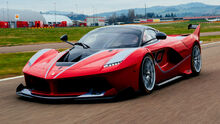 Overview
The name 'FXX-K' is actually Ferrari's research and development program based around a laboratory car which is based on Maranello's first hybrid, the LaFerrari. The K in the new car's name is referring to the kinetic energy recovery system (KERS) which is used to maximize performance. The FXX-K will not be used in competing and was developed to be completely uncompromising. It uses a range of modern innovations that will ensure maximum performance anywhere.
Specifications
The FXX-K produces a total of 1036 horsepower, of which 848 are delivered by the V12 ICEand 188 hp by the electric motor, with a maximum torque of over 900 Nm. The V12 enginehas been tuned for track use as well as the HY-KERS system. The FXX-K has extremely effective downforce generation and the result is a downforce of 540 kg (1,190 lb) at 200 km/h (120 mph).
Ferrari FXX K Evo
The FXX-K Evo was unveiled at the Ferrari Finali Mondiali 2017 on 28 October 2017 at Stazione Leopolda in Florence during the Ferrari 70th Anniversary celebration. It was presented in an unusual light gray color with the number 70 on the doors.
Gallery
Community content is available under
CC-BY-SA
unless otherwise noted.