The Ferrari Enzo (originally Enzo Ferrari) is a 12-cylinder Ferrari supercar named after the company's founder, Enzo Ferrari. It was built in the year 2003 using Formula One technology, such as a carbon-fiber body, F1-style sequential shift transmission, and carbon-ceramic brake discs. Also used are technologies not allowed in F1 such as active aerodynamics. After a downforce of 775 kg (1709 lb) is reached at 186mph the rear wing is actuated by computer to maintain that downforce.
The Enzo's V12 engine is the first of a new generation for Ferrari. It is based on the architecture of the V8 found in sister-company Maserati's Quattroporte, using the same basic architecture and 104 mm bore spacing. This design will replace the former architectures seen in V12 and V8 engines used in most other contemporary Ferraris. The 2005 F430 is the second Ferrari to get a version of this new powerplant.
In 2004, Sports Car International named the Enzo Ferrari number three on their list of Top Sports Cars of the 2000s.
Every four years Ferrari plans on coming out with a new version of the Enzo (not necessarily being called the Enzo). The new model of the Enzo comes equipped with a carbon fiber front bumper, and instead of having mirrors it has cameras(the views are displayed on a navigation system in the center console.
Motor Trend Classic named the Enzo as number four in their list of the ten "Greatest Ferraris of all time".
Production
The Enzo was initially announced at the 2002 Paris Motor Show with a limited production run of 349 units and priced at US$643,330. The company sent invitations to existing customers, specifically, those who had previously bought the Ferrari F40 and Ferrari F50. All 349 cars were sold in this way before production began. Later, after numerous requests, Ferrari decided to build 50 more Enzos, bringing the total to 399.
On November 8, 2005, Ferrari announced that it would build one additional Enzo, bringing the total to 400. The car, chassis #ZFFCZ56B000141920, was auctioned by Sotheby's Maranello Auction on June 28, 2005 to benefit survivors of the 2004 Tsunami for €950,000 (US$1,274,229), almost twice its list price. This sum was presented to Pope Benedict XVI, while Formula One driver Michael Schumacher gave the Pope a steering wheel to commemorate the donation. This wheel included a plaque which read, "The Formula 1 World Champion's steering wheel to His Holiness Benedict XVI, Christianity's driver."
Enzos typically trade above $1,000,000 at auction.[1]
Three prototype "mules" were built, M1, M2, and M3. Each was bodied to look like a 348, even though the mules were built in 2000. The third mule was offered for auction alongside the 400th Enzo in June, 2005, bringing €195,500 (US$236,300).
Specifications
Engine
Main article: Ferrari Dino engine#V12
The Enzo is a mid-engined car with a 43.9/56.1 front/rear weight distribution. The engine is Ferrari's F140 65° V12 with 4 valves per cylinder, dual overhead cams and variable valve timing. Bosch Motronic ME7 fuel injection is used and the engine is naturally aspirated. It displaces 5998 cm³ (366 in³) and produces 660 PS (651 hp/485 kW) at 7800 rpm and 657 N·m (485 ft·lbf) at 5500 rpm. The redline is 8000 rpm.
Transmission
The transmission is a 6-speed automated manual with paddles controlling an automated shifting and clutch mechanism, with LED lights on the steering wheel telling the driver when to change gears with a shift time of just 150 ms[1] . The Enzo uses 483 mm (19 in) wheels and has 381 mm (15 in) Brembo disc brakes.
| Gear | Ratio |
| --- | --- |
| 1 | 3.15:1 |
| 2 | 2.18:1 |
| 3 | 1.57:1 |
| 4 | 1.19:1 |
| 5 | 0.94:1 |
| 6 | 0.76:1 |
| Final drive | 4.9:1 |
Performance
The Enzo can accelerate to 100 km/h (62.5 mph) in 3.7 seconds and can reach 100 mph in 6.6 seconds. The ¼ mile (0.4 km) time is 10.8 seconds and the top speed is estimated at 218 mph. It is rated at 8 mpg (29.4 L/100 km) in the city and 12 mpg (19.6 L/100 km) on the highway.
Colors
There are two avalable colors:
Uniqueness
It is now the most expensive Ferrari today.With its high performance,combined with its exclusive amount of units made,the Enzo is listed one of the most expensive cars in the world.It is also a Ferrari with the highest top speed,which can travel up to 225 mph.The name itself was named after the founder of Ferrari company,Enzo Ferrari instead of using the name F60.It is very rare in the automotive history for a car named after the founder of the company.It is one of the first Ferrari road cars that use paddleshift gearbox.It is probably the first Ferrari with papercut scissor door (Also called Lambo door).
Owners/Famous people seen driving an Enzo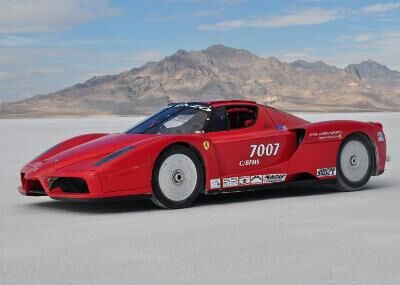 Notable owners of the (or famous people seen driving an) Enzo include:
Paul Allen, Microsoft co-founder[2]
Sheik Hamad bin Hamdan of Abu Dhabi, also owns a Maserati MC12[3]
Juan Barazi, Danish racing driver - Drives in Le Mans. The car is silver
Erik Larsen, Danish radar-weapons manufacturer. Stores it at the official dealership in Copenhagen
Rene Rasmussen, Danish racing driver and owner of a plumbing company. The car is rosso
Gerald Barnes, Owner of Ferrari Maserati Southern California, and clothing importer. s/n 134278 Rosso Dino/Nero
Sh. Abdulla bin Hamad Al Khalifa, Son of King Hamad, Brother of fellow Enzo owner Sh. Salman, sold the car for BD1 Million
Tawfiq Al A'ali, Son of Bahraini construction mogul Ahmad Mansour Al A'ali, said to have bought the car from Sh. Abdulla bin Hamad Al Khalifa for BD1 Million approx. $2.6 Million
Nicolas Cage, American Actor. Owned two Enzos over different period of time, both have since been sold.
Tom Celani, owner of Motor City Harley Davidson, Farmington Hills, Michigan, one of the largest motorcycle dealerships in the USA. s/n 130918
Eric Clapton, guitarist, took delivery of the first Enzo imported to the UK. Parisian police also stopped Clapton when he was reportedly doing 145 mph on a highway in Paris while driving his Enzo.[2]
Joe Cole, Football player for England and FA Premier League club Chelsea F.C.

Luis Perez Companc

, Argentine rally driver.
Richard Coyle, Blazn' Digital Media LLC. Wealth accumulated through various controversial websites.
Jamel Debbouze, a French-Moroccan actor.
Ben Brooke, An Anglo-German Hedge Fund manager who owns the last British registered Enzo in Red with Grey interior.
Ryan Grasell, Bought the 278th Enzo; fatally crashed it on his second day by running into a Ford Thunderbird.
Michael Varnay, Bought the 277th Enzo; ironically, also owned the Ford Thunderbird Ryan Grasell fatally crashed into.

Gary Irwin Eisenberg

, Noted Ferrari Collector. Fatally crashed his Enzo in California.[3]
Stefan Eriksson, Swedish criminal and former executive of Gizmondo Europe, reportedly owned two though a property of the company, red and black. The red Enzo was destroyed in a street racing/

drunk driving

incident. The Enzo was traveling on the

Pacific Coast Highway

at 162 mph (261 km/h) according to Los Angeles Sheriff's Department when the driver lost control and hit a pole. Both Enzos were involved in a bank repossession by the Bank of Scotland and were illegally imported to the United States.[4]
Sergei Fedorov, NHL player. s/n 130689 Now owned by LV Eric, Las Vegas NV.
Torsten Frings, Owner of black Enzo, and German International soccer star.
Lindsay Fox, Australian transport magnate, owner of the only Enzo with a yellow roof.
Michael Fux, foam mattress manufacturer, New Jersey. s/n 133024

James Glickenhaus

, film director and stock magnate, New York, had Pininfarina to convert an unregistered Enzo into a modern Ferrari P4/5[4]
Armen Gugasian, former owner of Newport Autosport, exotic car dealership located in Newport Beach, California. s/n 134595 rosso corsa/rosso

Yoshiyuki Hayashi

, Famous Japanese Ferrari Collector
Preston Henn, owner of Fort Lauderdale Swap Shop in Florida and former race driver. Henn loaned his Enzo to the editors of Motor Trend for use in their 2004 top-speed test. The car was driven to 211 miles per hour in this test.
Tommy Hilfiger, clothing designer. Hilfiger is believed to have a partial stake in the Ferrari dealer in Montreal, Quebec, and thus, his car is registered in Canada. s/n 133026
Ricky Ponting, Australian Cricket Captain
Suleiman Kerimov, Russian billionaire and member of parliament, crashed his unidentified friend's black Enzo on November 26, 2006 in France.[5]
Jason Kay, aka, "Jay Kay," front man of the band Jamiroquai. His Car is Black with dark green interior. s/n 132051
Chris Kelly, Premier Motorcars of Sioux Falls, South Dakota, Red/Red.
Marc Andrew Mendoza, Mitsuwa Corporation of San Jose, California, s/n 133821.
Sheikh Salman bin Hamad Al Khalifa, Crown Prince Of The Kingdom of Bahrain. Known to be the only in the kingdom.
Frits Kroymans, Ferrari importer for The Netherlands.

Charles Kwan

, reknown Hong Kong racing veteran.
Aaron Kwok, one of the Four Heavenly Kings of Cantopop.
Torsten Jansson, Swedish entrepreneur.
Cody Liebel, CEO, C-Note Records, hip-hop music label. Owns two Enzos. (Yellow and Red) s/n 133505 (Red)
Mika Häkkinen, a former Formula 1 driver, is reported to have bought an Enzo back in 2007 and has been seen to still drive one in 2010.
Richard Losee, philanthropist, Named the MM Enzo [8] for "most miles" included red-custom doors that had the wrap-around roof section and side windows removed creating a targa-style top on his car.[9] Registered in Provo, Utah, the car was destroyed on August 2, 2006 at the

Utah Fast Pass Road Rally

while traveling at nearly 200 mph on a closed-off section of rural highway. This Enzo was also featured multiple times in

Road & Track

magazine. Richard let the magazine perform various performance tests on it. Used heavily for charity work, Richard's Enzo had more than 30,000 miles. In 2010, news has surfaced that Mr. Losee has rebuilt his crashed Enzo albeit turning it into a twin-turbocharged 1000 hp Salt Flats LSR. He has made subtle modifications to the styling to help manage the aerodynamics for its new purpose such a new nose, ridges on the roof, lower ride height, closed off wheel openings, speed rated tires and a parachute. The carbon fibre body panels, used to replace those damaged in the 2006 accident, were purchased from James Glickenhaus after he converted his own Enzo into the P4/5. On October 9, 2010, at the SCTA World Finals, the MM Enzo established a new Land Speed record in the Blown Fuel Modified Sports class with a two run average of 237.871 mph.http://www.rslracing.com/

Speed Week

[10].
Nick Mason, Pink Floyd drummer. His example was featured and driven on the UK TV show Top Gear. s/n 137445
The Matsuda Collection, one of the largest private collections of Ferraris outside Europe and the US.
John Menard and Paul Menard, father and son of Menard's Hardware Superstores. A chain of hardware stores located regionally in the Midwestern United States. John Menard negotiated the purchase of 3 Enzos for a reported price of $2.2 Million dollars. The third yellow Enzo was given to family friend and Nascar driver

Robby Gordon

.
Frank Mountain, British based American property tycoon and amateur racing driver. (the car was side-swiped by a bus on the way to a Top Gear Magazine photoshoot with the Maserati MC12, the chassis cracked down the middle)
Stephen Najim, Bought the 22nd Enzo in Fresno, California, USA; also owns Maseratti MC12, and Ferrari FXX
Ian Nazareth, Sole importer for Ferrari in India and the Indian Sub-Continent. Multiple Ferrari owner and also involved in the Ferrari FXX program.
Pope John Paul II was given the 400th Enzo model by the factory. He sold the car at a Ferrari auction in Maranello, where it was bought by Donald W. Wallace, whose first Enzo is the second Enzo to be involved in a crash.
Roger Penske, motorsport legend, owns Ferrari dealership in partnership with Steve Wynn. The dealership is located at the Wynn Las Vegas resort. s/n 131881

Bernd Pischetsrieder

, Chairman of the Volkswagen Group, ironically his company own Lamborghini. As companies, Ferrari and Lamborghini have been in heated competition for over forty years.
Loris Požar, owner of a slot machine company from Slovenia
William J. Pulte, Owner of Pulte Homes. Car and Driver used his Yellow Enzo for their story.
Zahir Rana, Owner of bright yellow Enzo, and ZR Auto in Calgary, AB, Canada.
Michael Riemer, Hi-Tech entrepreneur. Owns three Enzos. One Yellow (Giallo Modena), one Red (Rosso Corsa), and one Black (Nero).
Brian Ross, One of North America's largest Ferrari Collector's and Commercial Real Estate Entrepreneur. Also dealership owner (Vancouver, BC). Lives in Warren, Ohio.
Dr Anil K Roy, owner of Nanotech.
Justin Rubert, Owner of a Casino in San Juan, Puerto Rico.
Fahed Al-Saad Al-Sabah, Member of the Kuwaiti Royal Family, Son of the Ex-Emir of Kuwait Sheikh Saad Al-Abdullah Al-Sabah.
Hamed Salem Al-Sabah, Member of the Kuwaiti Royal Family, Grandson of the late Emir of Kuwait Sheikh Jaber Al-Ahmed Al Sabah. Student at AUK (American University of Kuwait).
Daniel Sadek — real estate investor turned film producer will featured his Enzo in the movie, Redline. Ironically, although he purposely destroyed his Porsche Carerra GT for a shot in the film, the Enzo was destroyed after completion by Redline's star actor, Eddie Griffin, after he understeered into a concrete "jersey wall" at a movie P.R. event in California days before the Redline premier. YouTube video
Peter Schorno, Swiss slot machine manufacturer.
Michael Schumacher, former Formula 1 driver for Scuderia Ferrari. Also owns the only Enzo based Ferrari FXX painted in all black with a single racing stripe. [2]
Teemu Selänne, NHL player.
Shum Ka Wai, founder and chairman of I.T Limited, a fashion group in Hong Kong
Stefano Sidoli, Milanese entrepreneur, killed in the crash of his Enzo.
Daniel Sielecki, Argentine Bussinesman. s/n 129761 rosso corsa/rosso
Rod Stewart, Rock Star. s/n 136497[2]
Page Stevens, Buisnessman: Owner Stevens Marine / Alumaweld boats Red Enzo among many other Ferraris and various supercars.

Mohammed Ben Sulayem

, Middle East rally champion with a very large collection of exotic cars.

Jean Todt

, Boss of Scuderia Ferrari and CEO of the road car branch of Ferrari. Owns a red Enzo.
Ron Tonkin, Owner Tonkin Auto Group and Ron Tonkin Gran Turismo America's oldest Ferrari dealer. Owns many other Ferrari's Including 288GTO, F-40 and F-50.
Giannis Vardinogiannis, Greek oil businessman and Panathinaikos FC shareholder, owns Ferrari dealership.
Donald W. Wallace, founder and chairman of the board of Lazydays RV SuperCentre bought Enzo no. 400 (formerly owned by Pope John Paul II) at the Ferrari Auction in Maranello. This will be his second Enzo. Wallace's first Enzo was the second Enzo involved in a wreck, reports claim his son was at the wheel.
Willi Weber, manager of Michael Schumacher. s/n 133021
Frank Warren, Boxing Promoter - Car recently written off in collision with bus
Bruce Weiner, former owner of Double Bubble Gum
Greg Whitten, software engineer, one of the very first employees at Microsoft. Author of GW-BASIC. s/n 131632
Pharrell Williams, music producer (The Neptunes), singer/rapper, frontman of the band N*E*R*D. Co-founder of the music label Star Trak.
Steve Wynn, multi-billionaire casino magnate. Wynn's Enzo, Black w/ Tan interior, was recently offered for sale through Ferrari of Orange County. (Southern California) s/n 133118
Niki Lauda, Former Formula 1 driver and World Champion.
Axl Rose, legendary rock star, leader of band Guns N Roses
50 Cent, American rapper. Owns a yellow Enzo claimed to have been purchased for over US$1 million.
Enzo in Indonesia
Rumour says that there are only 2 units of Ferrari Enzo sold in Indonesia.1 unit of Enzo was found in the 2009 Jakarta International Motorshow.It could be possible that it is the second Enzo that is sold in Indonesia. Several videos on You Tube also shows the Enzo found in Indonesia.
In popular culture
The Enzo was featured on the cover of Project Gotham Racing 2, in the game Forza Motorsport 1, 2, 3, and 4. Test Drive Unlimited and Project Gotham Racing 3, also in Charlie's Angels: Full Throttle. It has also been a Hot Wheels 1:18 and 1:64 die-cast model and a 1:24 plastic model by Tamiya and Revell, as well as 1:10 scale Lego Technic and 1:17 scale Lego models. It was also featured on the West Coast Customs website. The Enzo now features along with other Ferrari's In the Sega game OutRun 2 and its followup, Outrun 2006 Coast 2 Coast.
The British automotive program Top Gear tried unsuccessfully to obtain an Enzo from Ferrari to test and review. However, an offer was made by Pink Floyd drummer Nick Mason to let the show use his Enzo, but only if Top Gear plugged his new book, Inside Out: A Personal History of Pink Floyd. Host Jeremy Clarkson did not only drive the Enzo, but also managed to plug Mason's book several times during the segment. The show's test driver,

The Stig

then drove it, with a lap time of 1.19.0, which made it the fastest car the show had tested at the time. It is now currently equal tenth with the Lamborghini Murcielago LP670-4 SV behind the Gumpert Apollo, Ascari A10, Koenigsegg CCX, Noble M600, Pagani Zonda Roadster F, Caterham Seven R500, Bugatti Veyron, Pagani Zonda C12 F and the Maserati MC12 respectively.
An animated version of the Enzo appears in the Ah! My Goddess TV series alongside a Mercedes-Benz SLR McLaren. Series creator Kosuke Fujishima is a known lover of cars and motorcycles, including Ferraris.
In Twisted Metal: Head-On, the vehicle Crimson Fury resembles an Enzo Ferrari.
Theres a 1/12th Collectors Edition by Tamiya. It comes in a big collectors box with an authentic Ferrari hologram. Its mostly a plastic body with die cast metal parts. It comes partially assembled and you get to put the body panels and wheels on yourself. It comes in red, black or yellow. Kyosho now makes a copied version of this with a full metal body.
The Ferrari Enzo, has been bought by many famous celeberties.
Enzo Based Cars
Ferrari FXX
Main article: Ferrari FXX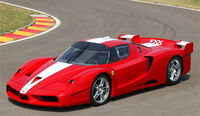 See Ferrari FXX for complete details.
As the result of the Enzo, Ferrari have decided to use some of the technology developed for it in a small-scale program to get more feedback from certain customers for use in future car design as well as their racing program. The core of this program is a car called the Ferrari FXX. It is loosely based on the Enzo's design with a highly-tuned 6.2 litre version of the Enzo's engine putting out roughly 588 kW (789 hp/800 PS). The gearbox is new as well as the tires (custom-designed for this car by Bridgestone) and the brakes (developed by Brembo). In addition, the car is fitted with extensive data-recording and telemetry systems to allow Ferrari to record the car's behavior. This information will be used by Ferrari to develop their next supercar.
Like the Enzo, the car will be sold to specially selected existing clients of Ferrari only; the initial price is €1.3 million. Unlike the Enzo, the clients will not take delivery of the car themselves. Rather, it will be maintained by Ferrari and available for the client's use on various circuits as arranged by Ferrari and also during private track sessions. The car is not expected to be street-legal or suitable for road use.
Ferrari P4/5 by Pininfarina
See Ferrari P4/5 for complete details.
Pininfarina had wanted to do a special one-off Enzo Ferrari based hyper-car and was looking for a backer. After sending out feelers to its clients, American Ferrari collector, James Glickenhaus eventually agreed to back the project by commissioning the car as a modern homage to great Ferrari sports racing cars such as the 330 P3/4, 512 S, 312 P, and 333 SP on the last unregistered US-spec Enzo chassis.[5] "The Glickenhaus Car" will officially be called Ferrari P4/5 by Pininfarina[6] and retains the Enzo's drivetrain and VIN.[7] The car was unveiled at the 2006 Pebble Beach Concours d'Elegance and appeared in the September issue of Car and Driver. The "photos" previously shown in AutoWeek and Octane magazines were not close to what the car looks like. After its unveiling at Pebble Beach, the P4/5 will return to Europe for high speed testing, press days, and an appearance at the Paris Auto Show in September.
Maserati MC12
See Maserati MC12 for complete details.
The Maserati MC12 is a mid-engined supercar derivative of the Enzo developed by Maserati while under control of Ferrari. It was developed specifically to be homologated for racing in the FIA GT Championship, with a minimum requirement of 25 road versions to be produced before the car could be allowed to compete. Maserati built 50 units, all of which were presold to selected customers. A further variation, the MC12 Corsa is a track day car, similar to the Ferrari FXX.
The Maserati MC12 has the same engine, chassis and gearbox as the Enzo but the only externally visible component from the Enzo is the windshield.[8][9] The MC12 is slower accelerating (0-100 km/h in 3.8 s) and has a slower top speed (330 km/h) than the Enzo due to engine tuning.[10]
Maserati Birdcage 75th
See Maserati Birdcage 75th for complete details.
The Maserati Birdcage 75th was a concept car that was based on the MC12 and created by automobile manufacturer Maserati and designed by Pininfarina. It was first introduced at the 2005 Geneva Auto Show and was named to honor the classic Maserati Birdcages of the past and to also honor Pininfarina's 75th anniversary.

Unofficial comparison races of 2005
In 2005, Ferrari conducted races with several other famous track and roadcars, to match and compare the Enzo's performance and overall handling and lap times on track. The races took place on the Autodromo Nazionale Monza racing circuit, where to date, the Scuderia Ferrari 2004 F1 model holds the lap time record, of 1:21.046, by Rubens Barrichello.
A total of 20 cars were raced along with the Enzo, driven by Fernando Alonso Díaz. The Enzo timed at best, 1:50.021, by 10 laps on the track overall. Ferrari claimed the races unofficial but released the lap times and overall scoring to the public in 2007. Other races afterwards were conducted too, but the results haven't been published by Ferrari yet.
BMW, Mercedes-Benz, Ford, Lamborghini, Chevrolet, Dodge, Porsche and Bugatti were invited for the friendly comparison races and all accepted the invitations, in 2003. In 2004 the drivers were chosen by each company. Full list of the drivers invited were never published by Ferrari.
The results were as followed.
Victories for the Enzo
Listed by lap time:
Losses for the Enzo
Listed by lap time:
Gallery
See Also
References
External links