Ferrari 612 Scaglietti
Ferrari
aka
F133
Production
2004 - 2011
Class
Grand tourer
Body Style
2-door, 4-seat Berlinetta
Length
4902 mm (193.0 in)
Width
1956 mm (77.0 in)
Height
1344 mm (52.9 in)
Wheelbase
2949 mm (116.1 in)
Weight
1725 kg (3803 lb)
Transmission
6-speed Manual
6-speed

F1 Superfast

Paddle Shifter
Engine
5.7 litre (5748 cc) Tipo F133E V12
Power
533 hp @ 7250 rpm
434 lb-ft of torque @ 5250 rpm
Similar
Ferrari 599 GTB FioranoFerrari 599XX
Designer
Pininfarina under Frank Stephenson
The Ferrari 612 Scaglietti is a Gran Turismo car produced by Ferrari between 2004 and 2011. It is a large two door coupe with a 2+2 seating arrangement. The 612 Scaglietti was designed to replace the smaller Ferrari 456M. The 612 Scaglietti was replaced by the FF.
The 612 Scaglietti shares its naturally aspirated 5.7 L (5748 cc) V12 engine with the 575M Maranello. The Tipo F133E engine produces 540 CV (533 hp/397 kW) at 7250 rpm and 588 N·m (434 ft·lbf) at 5250 rpm with a compression ratio of 11.2:1. The car is capable of 199 mph (315 km/h) and has a 0-60 mph time of 4.2 seconds. It comes with two six speed transmission options: a conventional manual or the F1A paddle shift system, a much refined version of the F1 system in Ferrari 360 Modena.
The 612 is Ferrari's second all-aluminium vehicle, the first being the 360 Modena. Its space frame (developed with Alcoa) is made from extrusions and castings of the material, and the aluminium body is welded on. The chassis of the 612 will form the basis of the new 599 GTB, the replacement for the current V12 575M sports car.
It is produced at Ferrari's Carrozzeria Scaglietti plant, the former home of the car's namesake coachbuilder in Modena, Italy. The design, especially the large side scallops, pays homage to a unique early 1960s Ferrari car built to film director Roberto Rossellini's personal taste for his wife, actress Ingrid Bergman.
Recent Changes
Bose Audio, in conjunction with Ferrari, has released a new multimedia Satnav/Radio system to be standard on all future 612 Scagliettis.
For Ferrari's 60th Anniversary in June 2007, Ferrari unveiled the 60-car limited-edition 612 Sessanta. Only available with the F1 gearbox and either Grigio scuro or Rubino Micalizzato color schemes, unique features include the underbody painted in Ferrari's technical black and the headlights and rear-bumper getting silver highlights. Other additions to the exterior include an electro-chromic panoramic roof panel with three transparency positions, new monolithic and forged 19in wheels, a unique grille and special '612 Sessanta' badging. The car is also optioned with Ferrari's carbon-ceramic braking system with black colored calipers as standard.
Styles and Major Options
Pricing
Add more fields as necessary.
MODEL Trims
Trim1
Trim2
Trim3
Trim4
MSRP
$Price1
$Price2
$Price3
$Price4
Invoice
$Price1
$Price2
$Price3
$Price4
Gas Mileage
Add more fields as necessary.
As seen on the FuelEconomy.gov website, the City/Highway MPG averages are as follows:
Trim
Trim1
Trim2
Trim3
Trim4
MPG
c/h
c/h
c/h
c/h
Engine
The 612 Scaglietti shares its engine with the Ferrari 575 Superamerica. The engine has compression ratio of 11:1.
| Engine type | Power, torque @ rpm |
| --- | --- |
| 5,748 cc (350.8 cu in) V12(Tipo F133F) | 540 PS (397.2 kW; 532.6 hp) @7250, 589 N·m (434 lb·ft) @5250 |
The 612 comes with 6-speed manual or the 6-speed F1A semi-automaticpaddle shift system, a much refined version of the F1 system in the 360.
Performance
It has a top speed of 320 km/h (198.8 mph) and has a 0–100 km/h acceleration time of 4.2 seconds.
Reliability
RECALL ALERT: On June 3, 2008, Ferrari issued a recall affecting 366 Ferrari 612 Scagliettis produced between 2005-2007 and equipped with the paddle-actuated F1 transmission. According to Ferrari's Official release,
"A NONCONFORMING CLUTCH SENSOR IN THE TRANSMISSION COULD MALFUNCTION UNDER NORMAL OPERATING CONDITIONS DUE TO THE HEAT PRODUCED BY THE VEHICLE. SUCH SENSOR MALFUNCTION MAY INHIBIT THE PROPER FUNCTION OF THE CLUTCH ASSEMBLY MAKING THE SHIFTING OF THE GEARS VERY DIFFICULT. THE VEHICLE SYSTEM IMMEDIATELY DETECTS THE CLUTCH SENSOR FAILURE AND CAUSES THE WARNING LIGHT TO ILLUMINATE."
The malfunction may render the vehicle inoperable and, possibly, result in a crash. Ferrari promises to replace the clutch sensor as well as the cable holder and magnet which are related to the error. Dealers have been instructed to contact owners and owners, themselves, may contact Ferrari directly at 1-201-816-2600. [1]
Safety
This section should reference points on safety ratings and features of the vehicle.
Phfio
Colors
Main Competitors
Create links to other <MAKE> <MODEL> pages in this section.
Hybrid Models
N/A
Unique Attributes
The front of the vehicle is reminiscent of the Ferrari 599 GTB.
Interior
This section should include information on the interior's design, build quality, ergonomics, space (head and legroom, front and rear), features, stowage compartments and overall comfortability and livability. Add pictures wherever applicable and keep information in a third-person point of view.
Resale Values
Add more fields as necessary.
<MODEL> Year
Year X
Year X-2
Year X-3
Year X-4
Resale Value
$
$
$
$
Criticisms
Please make sure to keep critiques in a third-person point of view. If using criticisms from a reputable automotive source, then please make sure to cite th0e quote.
Special Editions
612 Sessanta
The 612 Sessanta (Italian for "sixty") is a limited (60 unit) version commemorating 60th anniversary of the company. It included 19-inch forged aluminum wheels, black chrome exhaust tips, the automated manual F1 gearbox, three-position electrochromic glass roof, steering wheel with start/stop button, Bose entertainment unit and two-tone paint.
Colour choices included:
Grigio Scuro (dark grey, from Ferrari's Colori Classici '50-'60 vintage color palette)/Nero (black) with Grigio Scuro side line
Rubino Micalizzato (ruby red mica)/Nero Daytona (metallic black) with Rubino Micalizzato side line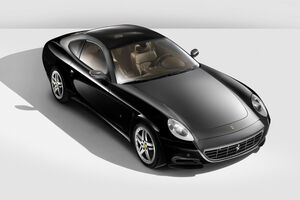 612 Kappa
The 612 Kappa is a one-off built for Peter S. Kalikow. The 612 Kappa has an all-aluminum body-shell, and it stands out from the 612 production counterparts in using the rear taillights found on the Enzo and F430, chromed headlight bezels, and a sunroof that uses electrochromic glass to vary the amount of opacity in the glass.
612 Wallpaper* Edition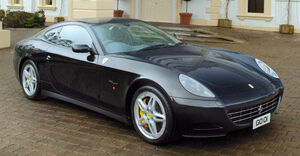 In August 2006, a one-off 612 Scaglietti was cutomized by design and lifestyle magazine Wallpaper*. The bespoke car is part of Ferrari's Carrozzeria Scaglietti Personalization Program, which allows customers the opportunity to totally revamp the interior. Recently, the car took delivery to its new owner, Paul Hill.
Mechanically, the car picks up the 612 Scaglietti F1 designation and is equipped with the HGTC handling pack.
Unique Features
2-tone Nero and Blu Pozzi paint
Daytona leather seats
Embossed labels on the aluminum kick plates and glove box lid
Custom-made leather pocket.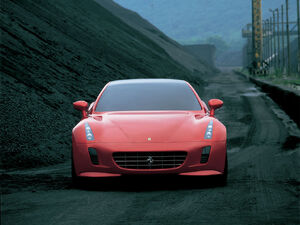 The Ferrari GG50 is a one-off fully-working concept car designed and built by legendary car designer Giorgetto Giugiaro to celebrate his 50th anniversary in the business - the longest of any living automotive designer.
Worldwide
If the vehicle is sold in other markets worldwide, then this is the section to mention that information. Also, mention if the <MODEL> goes by another name in these other markets.
Design quirks and oddities
Refer to any pop-culture tidbits about the vehicle in this section.
Awards
None
See also
External links