Ferrari 599 GTO
Ferrari
aka
Ferrari 599 GTB Fiorano
Ferrari 599XX
Production
2011-2012
599 units only
Class
Hypercar
Body Style
2-door, 2-seat Front-Engined Berlinetta
Length
length - type here
Width
Width - type here
Height
Height - type here
Wheelbase
wheelbase - type here
Weight
3295 lb (1495 kg)
Transmission
6-speed Manual
Engine
6.0 litre V12
Power
661 hp @ N/A rpm
457 lb-ft of torque @ N/A rpm
Similar
similar (competition)
Designer
Designer (lead designer if it was a team effort)
The Ferrari 599 GTO is a limited volume hypercar produced by Ferrari based on the 599 GTB Fiorano chassis and, essentially, the road-going version of the 599XX programme.
Ferrari claims the 599 GTO is their fastest road car ever, able to lap the Fiorano test circuit in 1 minute 24 seconds, one second faster than the Ferrari Enzo. Its engine produces 670 PS (493 kW; 661 bhp) at 8250 rpm, with 620 N·m (460 lb·ft) of torque at 6500 rpm[1]. [1] It also weighs 220 pounds (100 kg) less than the standard GTB.[2]
Production is limited to 599 cars.
Recent Changes
Edit
None
Styles and Major Options
Edit
Certain vehicles come in different trim levels or body styles. Features and major options should be mentioned here.
Add more fields as necessary.
MODEL Trims
Trim1
Trim2
Trim3
Trim4
MSRP
£300,000
$Price2
$Price3
$Price4
Invoice
$Price1
$Price2
$Price3
$Price4
Gas Mileage
Edit
Add more fields as necessary.
As seen on the FuelEconomy.gov website, the City/Highway MPG averages are as follows:
Trim
Trim1
Trim2
Trim3
Trim4
MPG
c/h
c/h
c/h
c/h
Engine and Transmission
Edit
Type: V12 - 65°
Bore & stroke : 92 x 75.2 mm (3.62 x 2.96 in)
Unitary displacement: 499.9 cc (30.51 cu in)
Total displacement: 5999 cc (366.08 cu in)
Compression ratio: 11.2:1
Maximum power: 500 kW (670 CV) at 8250 rpm
Maximum torque : 620 Nm (457 lbs/ft) at 6500 rpm
Transmission : F1 6-speed + reverse
Performance
Edit
The 599 GTO sprints to 100 km/h (62 mph) in under 3.35 seconds and reach top speed of over 335 km/h (208 mph).
If using information gathered from Road Test articles from a reputable automotive source, then please make sure to cite the quote.
Reliability
Edit
Warranty options and scheduled maintenance information should be mentioned here.
This section should reference points on safety ratings and features of the vehicle.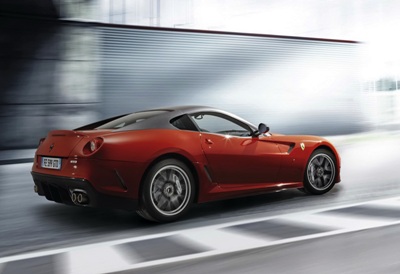 Add Photos of the vehicle here.
Please make sure not to use copyrighted photos.

Rosso Corsa (Light Red)
Rosso Scuderia (Darker Red)
Giallo Mugello (Yellow)
Nera (Black)
Main Competitors
Edit
Hybrid Models
Edit
N/A
Unique Attributes
Edit
The GTO (Gran Turismo Omologata) moniker instantly calls to mind two Ferraris that have entered the collective imagination as symbols of performance. After the 1962 250 GTO, which swept the boards in GT racing categories in the 1960s and is now a highly prized collector's car, came the iconic 1984 GTO, which basically invented the entire modern supercar genre.The 599 GTO is the latest GTO.Ferrari has only given this name to 3 cars and each GTO was based on a circuit car.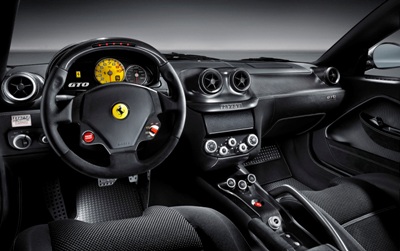 The car's sportiness has increased inside due to the absence of carpet and other luxuries.Interior is filled with carbon fibre and alcantara.
Resale Values
Edit
Add more fields as necessary.
<MODEL> Year
Year X
Year X-2
Year X-3
Year X-4
Resale Value
$
$
$
$
Criticisms
Edit
Please make sure to keep critiques in a third-person point of view. If using criticisms from a reputable automotive source, then please make sure to cite the quote.
Generations
Edit
Fill in as many as appropriate. Add more if necessary and pictures wherever applicable.
Please make sure NOT to use copyrighted pictures.
Worldwide
Edit
Out of the 599 units made 125 of them were produced for the united states.
Design quirks and oddities
Edit
Refer to any pop-culture tidbits about the vehicle in this section.
None
References
Edit
↑ 1.0 1.1 "08.04.2010 NEW MODEL: FERRARI 599 GTO". www.italiaspeed.com/2010/cars. http://www.italiaspeed.com/2010/cars/ferrari/04/599gto/0804.html

. Retrieved 2010-04-09

.

 
External Links
Edit
News and References
Enthusiast Sites and Discussion Forums
Community content is available under
CC-BY-SA
unless otherwise noted.