Ferrari 599XX
Ferrari
aka
'Laboratorio Technologico'
Production
2010/2011
Class
Track use car
Body Style
2-door, 2-seat FR layout Coupe
Length
4665 mm (184 in)
Width
1962 mm (77 in)
Height
1336 mm (53 in)
Wheelbase
2750 mm (108 in)
Weight
1793 kg (3953 lbs)
Transmission
6 speed manual

6 speed electrohydraulic manual

Engine
6.0 L Tipo F140 C V12
Power
720 hp @ 9000 rpm
448 lb-ft of torque
Similar
Ferrari 599 GTO
Designer
Designer (lead designer if it was a team effort)
The Ferrari 599XX is a circuit use supercar, built by Ferrari essentially as a 'rolling laboratory' for developing future road car technology and is based on the 599 GTB. The car was unveiled at the 2009 Geneva Auto Show.
Ferrari announced at the 2010 Beijing International Auto Show that the 599XX had completed the Nordschleife circuit at the Nürburgring in a time of 6 minutes and 58.16 seconds - the fastest time ever recorded for a production-derived sports car.[1][2]
The programme has also produced a road legal result in the form of the Ferrari 599 GTO.
Recent Changes
Edit
In late 2011 the Ferrari 599XX Evo was released.
Styles and Major Options
Edit
Certain vehicles come in different trim levels or body styles. Features and major options should be mentioned here.
Add more fields as necessary.
MODEL Trims
Trim1
Trim2
Trim3
Trim4
MSRP
$Price1
$Price2
$Price3
$Price4
Invoice
$Price1
$Price2
$Price3
$Pri
Engine and Transmission
Edit
The car's rev limiter is raised to 9000 rpm, with the engine rated for 730 PS (540 kW; 720 hp) at 9000 rpm. Weight is reduced by cutting the weight of the engine unit components, and use of composites and carbon-fibre body parts, carbon-fibre brake pads. A new gearbox shift strategy is introduced to cut overall gear change time to 60 ms. Aerodynamics were retuned to give more downforce (280 kg (617 lb) at 200 km/h, 630 kg (1,389 lb) at 300 km/h). The car also includes 29/67 R19 front and 31/71 R19 rear tires with 19 x 11J wheel rims at the front and 19 x 12J at the rear.
Performance
Edit
Please make sure to write information of the vehicle's performance in a third-person point of view. This section should include information about the car's acceleration figures, handling, braking, etc.
If using information gathered from Road Test articles from a reputable automotive source, then please make sure to cite the quote.
Reliability
Edit
Warranty options and scheduled maintainence information should be mentioned here.
This section should reference points on safety ratings and features of the vehicle.
Add Photos of the vehicle here.
Please make sure not to use copyrighted photos.
There is currently one color avalable:
Main Competitors
Edit
Create links to other <MAKE> <MODEL> pages in this section.
Hybrid Models
Edit
N/A
Unique Attributes
Edit
If there are any features of this vehicle that sets it apart from other vehicles in its class, then mention those unique attributes here.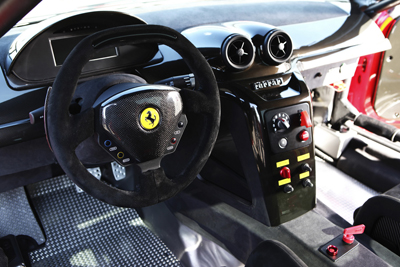 This section should include information on the interior's design, build quality, ergonomics, space (head and legroom, front and rear), features, stowage compartments and overall comfortability and livability. Add pictures wherever applicable and keep information in a third-person point of view.
Resale Values
Edit
Add more fields as necessary.
<MODEL> Year
Year X
Year X-2
Year X-3
Year X-4
Resale Value
$
$
$
$
Criticisms
Edit
Please make sure to keep critiques in a third-person point of view. If using criticisms from a reputable automotive source, then please make sure to cite the quote.
Worldwide
Edit
If the vehicle is sold in other markets worldwide, then this is the section to mention that information. Also, mention if the <MODEL> goes by another name in these other markets.
599XX In Pop Culture
Edit
The 599XX is featured in Forza Motorsport 3.
The 599XX was also featured in Forza: Horizon.
List out notable awards that the model has recieved while in production. Boldface the company or organization that gives out the award, and Italicize the name of the award.
References
Edit
↑ "Record of the Ferrari 599XX at the Nürburgring announced in Beijing". Ferrari.com. http://www.ferrari.com/English/News/GT/Pages/Home.aspx

. Retrieved 2010-04-23

.

 
External Links
Edit
Please include any external sites that were used in collaborating this data, including manufacturer sites, in this section.
News and References
Enthusiast Sites and Discussion Forums
Community content is available under
CC-BY-SA
unless otherwise noted.