Ferrari 512
Race Car
Category
Racing Cars
Constructor
Ferrari
Chassis
Suspension (front)
Suspension (rear)
Engine
5.0 litre 48-valve V12
Power
N/A hp @ N/A rpm
N/A lb-ft. of torque @ N/A rpm
Transmission
Fuel
Tyres
Notable entrants
Notable drivers
Debut
1970
Races competed
Race victories
Constructors' Championships
Drivers' Championships
Pole positions
Fastest laps
Designer
Designer (lead designer if it was a team effort)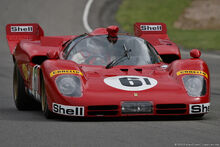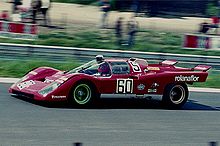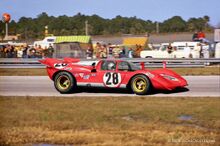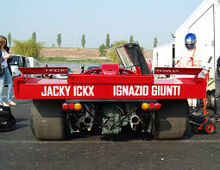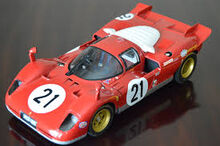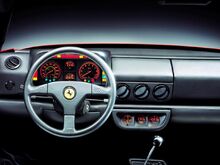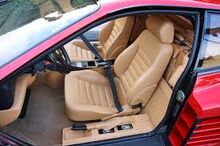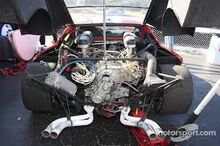 Ferrari 512 S is the designation for 25 sports cars built in 1969-'70, with five-litre 12-cylinder ("512") engines, related to the Ferrari P sports prototypes. The V12-powered cars were entered in the 1970 International Championship for Makes by the factory Scuderia Ferrari and private teams. Later that year, modified versions resembling their main competitor, the Porsche 917, were called Ferrari 512 M (for modificata). In the 1971 International Championship for Makes, the factory focused on the new Ferrari 312PB and abandoned the 512 which was only entered by privateers. From 1972 onwards, the 512 (as the 917) was withdrawn from the world championship following a change in the regulations, and some 512s in private hands were entered in CanAm andInterserie races.
Complete Racing Results
Edit
(key) (results in bold indicate pole position)
Year
Team
Engine
Tyres
Drivers
1
2
3
4
5
6
7
8
9
10
11
12
13
14
15
16
17
Points
WCC
YYYY
(Constructor)
(Engine)
(Tyre code)
Notes and references
Edit
External links
Edit
Community content is available under
CC-BY-SA
unless otherwise noted.