Ferrari 500
Race Car
Category
Formula Two
Constructor
Ferrari
Chassis
Longitudinal with cross members
Suspension (front)
Independent, double wishbones, transverse semi-elliptic spring, Houdaille dampers.
Suspension (rear)
De Dion axle, transverse semi-elliptic spring, Houdaille dampers.
Engine
2.0L ,Four cylinder inline ,Front ,Longitudinal
Power
165 hp @ 7000 rpm (185 hp @ 7500 rpm in 1953)
N/A lb-ft. of torque @ N/A rpm
Transmission
Rear-wheel drive, 4-speed, multi-disc clutch
Fuel
150 litres
Tyres
Front/Rear: 5.25-16/6.00-16
Notable entrants
Notable drivers
Alberto Ascari
Debut
1952
Races competed
Race victories
Constructors' Championships
Drivers' Championships
Pole positions
Fastest laps
Designer
Designer (lead designer if it was a team effort)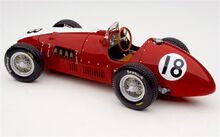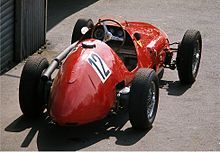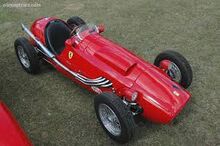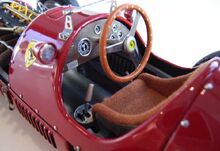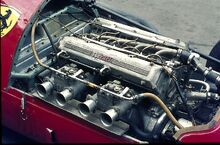 The Ferrari 500 was a Formula 2 car designed by Aurelio Lampredi. This Ferrari was a rear wheel drive with 4 speed transmission. It had 185 brake horsepower at 7,500 rpm. For 1952, the FIA announced that Grand Prix races counting towards the World Championship of Drivers would be run to Formula 2 specification rather than to Formula 1, after the withdrawal of Alfa Romeo from the sport. Ferrari were the only team to have a car specifically designed for the new formula. The car was powered by a in line four cylinder engine which was mounted behind the front axle, improving weight distribution. Alberto Ascari used the car to win his first world championship, winning all but one race with the simple 500. The race he missed was due to the fact he was driving the 4.5 litre Ferrari at the Indianapolis 500, however Ferrari won the race he was absent from as well. The following season, Ascari won his second world championship, and Ferrari won all but the final race, which was won by Juan Manuel Fangio, back in racing after an accident which had damaged his neck.
Ascari won 9 straight races in the 500, a world championship record which still stands today. The 500 won all but one race it was entered in, making it the second most statistically successful car in the history of the FIA world championship, after McLaren MP4/4 which failed to win only one of its 16 races.
For the 1954 season and the return to Formula One engine regulations, Ferrari 500 chassis which were worked on were modified for the new regulations with the 2.5 litre 625 engine and would win two more races, one each in 1954 and 1955, although was not quite fast enough compared to the Mercedes-Benz W196 and Maserati 250F. Despite two new models appearing during this period the 625 was not completely replaced until 1956 when Ferrari began using the D50 chassis Ferrari purchased along with the Lancia Formula One team.The Ferrari was very light . The 4 cylinder engine was able to produce 170HP, enough to race the car that weighed 1590 lbs.
(key) (results in bold indicate pole position)
Year
Team
Engine
Tyres
Drivers
1
2
3
4
5
6
7
8
9
10
11
12
13
14
15
16
17
Points
WCC
YYYY
(Constructor)
(Engine)
(Tyre code)
Community content is available under
CC-BY-SA
unless otherwise noted.