The Ferrari 458 Italia is a mid-engined supercar produced by the Italian sports car manufacturer Ferrari. The 458 Italia replaces the Ferrari F430.[1] The car was replaced by the Ferrari 488.
The 458 Italia was officially unveiled at the 2009 Frankfurt Motor Show on 15 September 2009,[2]and cost around £170,000 (Base MSRP of $230,675 for US market).
Recent Changes
Edit
Ferrari unveiled the new Ferrari 458 Spider at the 2011 Frankfurt Motor Show. The 458 Spider features an aluminium hard-top retractable roof which weighs 25 kilograms (55 lb) and can be retracted in 14 seconds.[1]
A few months after the launch of the road-spec 458 Italia, Ferrari announced the track-focused 458 Challenge. Taking over where the F430 Scuderia left off, this new car retains the same engine and power output as the standard car but changes the gear ratios and recalibrates the dual-clutch F1 gearbox to improve torque at lower revs. Handling has also been tweaked with a modified suspension set-up with solid aluminium bushings, stiffer springs, single-rate dampers and a ride height lowered by 30mm all round. It rides on new centre-nut 19-inch racing wheels shod in beefier Pirelli slicks. Further upgrades come in the form of Brembo CCM2 brakes and significan weight reduction. As of this writing, no figures have yet been released, but the 458's body panels have been reduced in thickness and are made lightweight materials, such as carbon-fibre and Lexan. According to Ferrari, these changes slash the car's lap time around Fiorano track by two seconds, resulting in a new lap record of just 1'16.5", while generating lateral forces of up to 1.6G. [2][3] UPDATE: The 458 Challenge held its world premiere at the 2010 Bologna Motor Show.[4][5]
Styles and Major Options
Edit
There are two known styles of this car. The first is a Street Legal Edition of the car. There is also a Racing Edition version for Pro Sports Car Drivers
Engine and Transmission
Edit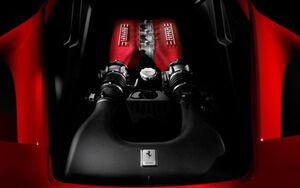 The 458 Italia is powered by a 4,499 cc (4.499 L; 274.5 cu in) V8 engine derived from a shared Ferrari/Maserati design, producing 570 PS (420 kW; 560 hp) at 9,000 rpm (redline) and 540 N·m (400 lb·ft) at 6,000 rpm[3] with 80% torque available at 3,250 rpm. The engine features direct fuel injection, which is a first for Ferrari mid-rear engine setups in its road cars.
Transmission
Edit
The standard transmission is a Getrag dual-clutch 7-speed transmission, similar to the Ferrari California. There is no traditional manual option, making this the second road-car after the Enzo not to be offered with Ferrari's classic gated manual.
Performance
Edit
The 458 is powered by a direct-injected 4.5 litre aluminium V8, pumping out 562 horsepower and 398 lb-ft of torque. The redline is pegged at a lofty 9,000 rpm. Eighty percent of the Italia's torque is available at 3,250 rpm, thanks the new engine's 12.5:1 compression ratio. It will accelerate from 0-60 (mph) in under 3.5 seconds with a top speed of 202 mph.
The car's suspension will feature double wishbones at the front and a multi-link set-up at the rear, coupled with E-Diff and F1-Trac traction control systems, designed to improve the car's cornering and longitudinal acceleration by 32% compared to its predecessors.
The brakes include a prefill function whereby the pistons in the calipers move the pads into contact with the discs on lift off to minimise delay in the brakes being applied. This combined with the ABS has reduced 100–0 km/h (62-0 mph) braking distance to 32.5 metres (107 ft).[4]
The adaptive magnetorheological dampers were co-developed with Delphi.
The 458 Italia will use Bridgestone Potenza S001 tires.[5]
458 Speciale (2013-2015)
Edit
The 458 Speciale is the top performing 458 Italia. Distinctions of the Speciale are the new forged wheels, vented bonnet, finned side sills, taller rear spoiler and redesigned bumpers, which include active aerodynamics designed by Ferrari Styling Centre in cooperation with Pininfarina; front and rear movable flaps balance downforce and cut drag at speed. The engine was revised, with power increased to 445 kW (597 hp) at 9,000 rpm, 540 N·m (398 lb·ft) of torque at 6,000 rpm. Electronic systems were updated too, introducing side slip angle control (SSC) to improve car control on the limit. SSC performs instant-to-instant analysis of the car's side slip, comparing it with the target value and then optimising both torque management (via integration with F1-Trac traction control) and torque distribution between the two wheels (via integration with the E-Diff electronic differential). The weight/power ratio (1,290 kg dry, 1,395 kg at the kerb, 90 less than the standard 458) is equal to 2.13 kg/cv, sprints from 0 to 62 mph (100 km/h) in just three seconds (0–125 mph or 0–200 km/h in 9.1 seconds with a response time of just 0.060 seconds). Ferrari declared a Fiorano test track lap time of 1:23.5, only 0.5 seconds slower than the F12berlinetta. Lateral acceleration now reaches 1.33 g.
The vehicle was unveiled in 2013 at the Frankfurt Motor Show.
The 
458 Speciale A
 is a spider variant of the 458 Speciale. The 'A' stands for 'Aperta', which is Italian for 'open' – and it is limited to only 499 examples. Just like the closed-top Speciale, the Aperta has a 4.5 liter naturally aspirated V8 which produces 597 horsepower and 398 pound feet (540 N·m) of torque. 0–100 km/h (62 mph) takes only 3.0 seconds and it is capable of a top speed of 320 km/h (199 mph). t is the most powerful, street-legal, naturally aspirated V8 Ferrari has ever launched in a spider variant.
Reliability
Edit
RECALL ALERT: Ferrari has issued a recall affecting all 1,148,458 Italias built since launch up to July 30, 2010 over a fire risk caused by an adhesive used to attach a heat shield under the rear fender which can ignite under high temperatures, leading to a larger fire in the engine bay. This problem has already immolated 5 such 458s (out of 11 incidents) and has prompted Ferrari to design a new heat shield that attaches with rivets, negating the need for the adhesive. 458 owners are urged to call a dealer to schedule an appointment for the free fix as soon as possible. [6][7]
The Ferrari 458 Italia hasn't been crash tested. Safety features include anti-lock breaks, stability control, front impact airbags, side impact airbags, pretensioners, a security system, etc.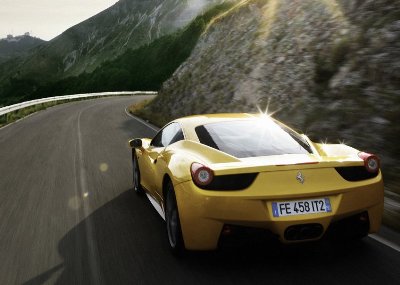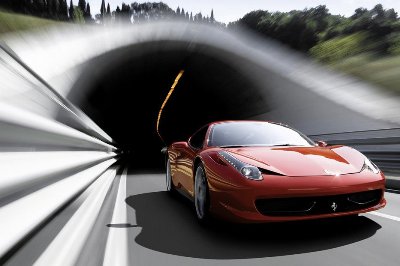 Add Photos of the vehicle here.
Please make sure not to use copyrighted photos.

Red
Yellow
Black
Yellow / Blue Race Edition
Main Competitors
Edit
Unique Attributes
Edit
The body was designed by Pininfarina, as with all recent Ferrari models. The car's exterior styling and features were designed for aerodynamic efficiency, producing a downforce of 140 kg at 124 miles per hour (200 km/h). In particular, the front grille features deformable winglets that lower at high speeds, in order to offer reduced drag.[6] The car's interior was designed using input from former Ferrari Formula 1 driver Michael Schumacher, including a new steering wheel design which incorporates many features and controls as opposed to them being on the dashboard, similar to racing car designs.
According to British car magazine AutoCar, the 458 Italia's design has drawn inspiration from the Enzo Ferrari and its Mille Chili concept car.[7] It has been designed to be Ferrari's sportiest V8-engined car, to distinguish itself from the recently launched Ferrari California.[7]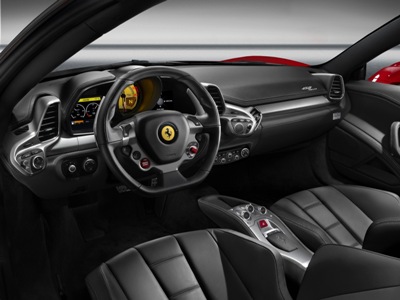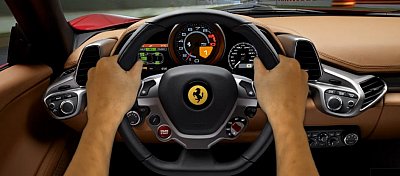 This section should include information on the interior's design, build quality, ergonomics, space (head and legroom, front and rear), features, stowage compartments and overall comfortability and livability. Add pictures wherever applicable and keep information in a third-person point of view.
Criticisms
Edit
On the 6th episode of the 15th season of Top Gear, Jeremy Clarkson opined that the "[458 is] better than an F40. I never thought I'd say that" and that it is "one of the all-time greats".
Generations
Edit
Fill in as many as appropriate. Add more if necessary and pictures wherever applicable.
Please make sure NOT to use copyrighted pictures
.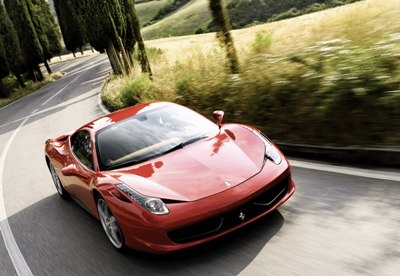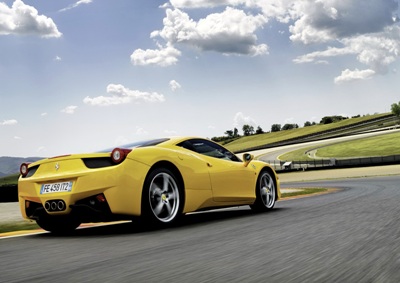 Worldwide
Edit
If the vehicle is sold in other markets worldwide, then this is the section to mention that information. Also, mention if the <MODEL> goes by another name in these other markets.
In the 2011 film Transformers: Dark of the Moon, an Autobot spy called Dino transforms into a red Ferrari 458 Italia and speaks in an Italian accent.
Design quirks and oddities
Edit
Refer to any pop-culture tidbits about the vehicle in this section.
"Performance Car of the Year" by Auto Express[8]
2011 Motor Trend best drivers car
References
Edit
↑ "2010 Ferrari 458 Italia Preview". JB car pages. http://www.jbcarpages.com/ferrari/458italia/2010/.

 

↑ "Ferrari Unveils 458 Italia at Frankfurt Motor Show". Automoblog.net. http://www.automoblog.net/2009/09/15/ferrari-unveils-458-italia/.

 

↑ "2010 Ferrari 458 Italia Specs". JB car pages. http://www.jbcarpages.com/ferrari/458italia/2010/specs/.

 

↑ "Ferrari 458 Italia". Inautonews. http://www.inautonews.com/ferrari-458-italia

. Retrieved 2009-07-28

.

 

↑ "Bridgestone to supply Potenza S001 tires for the Ferrari 458 Italia". egmCarTech. 2010-01-07. http://www.egmcartech.com/2010/01/07/bridgestone-to-supply-potenza-s001-tires-for-the-ferrari-458-italia/

. Retrieved 2010-02-05

.

 

↑ "Ferrari's new 458 Italia revealed!". Auto Express.co.uk. http://www.autoexpress.co.uk/news/autoexpressnews/239182/ferraris_new_458_italia_revealed.html.

 
External Links
Edit
News and References
Enthusiast Sites and Discussion Forums
Community content is available under
CC-BY-SA
unless otherwise noted.