Ferrari 328
Ferrari
aka
None
Production
1985-1989
Class
Sports car
Body Style
2-door Berlinetta

Targa

Length
4,255 mm (167.5 in)
Width
1,730 mm (68.1 in)
Height
1,128 mm (44.4 in)
Wheelbase
2,350 mm (92.5 in)
Weight
1,263 kg (2,784 lb)
Transmission
5-speed manual
Engine
3.2 L Tipo F105CB V8
Power
N/A hp @ N/A rpm
N/A lb-ft of torque @ N/A rpm
Similar
Ferrari 308 GTB
Designer
Leonardo Fioravanti at Pininfarina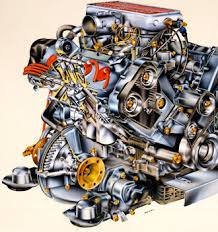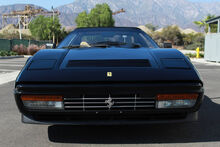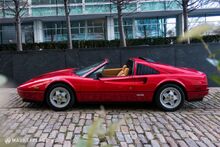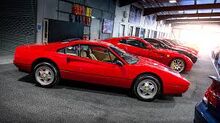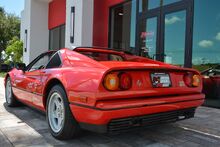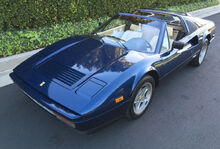 The Ferrari 328 GTB and GTS was the successor to the Ferrari 308 GTB and GTS. While largely based on the 308 GTB and GTS respectively, small modifications were made to the body style and engine, including an increase in engine displacement to 3.2 L (3185 cc). 7,400 Ferrari 328s were produced by the time the model was replaced by the new 348 in 1989, bringing the total for the 308/328 generation to nearly 20,000. The 328 is considered by some Ferrari enthusiasts to be one of the most reliable Ferraris; unlike some models, most engine maintenance can be performed without lifting the engine from the vehicle.[1]
The GTB referred to the Gran Turismo Berlinetta (coupé) body while the GTS was a Gran Turismo Spider (targa top). In 1985, the 328 retailed from $58,400-$62,500 ($115,300-$123,400 in 2008 dollars) in the United States. This price included a gas-guzzler tax.
See Autopedia's comprehensive Ferrari 328 Review.
The Ferrari 328 uses a 3.2 litre V8, 4 Valve per cylinder layout. It has 270hp and 231 lb ft of torque. Its top speed is 166mph and reaches 60mph in 5.5 seconds and 100 in 13.00.
Performance
Edit
For the 328 GTB
0-60 mph: 5.5 seconds approx.
Top speed: 166 mph
For the 328 GTS
0-60 mph: 5.9 Seconds
Top speed: 163 mph
GTS/GTB Turbo
Edit
From 1986 to 1989 Ferrari also produced a special home market 328 that could negate the tax concessions imposed on cars with a displacement of more than two-litres. Designated GTB Turbo and GTS Turbo, the most fundamental changes were focused around a new engine. Displacement was 1991 cc with a bore and stroke of 66.8 mm x 71 mm, output peaking with 254 bhp at 6500 rpm. Whereas 208 Turbo's had used KKK turbochargers, these new 328-based cars used an IHI unit running at 1.05 bar of boost.
Top speed was 157 mph and zero to sixty took less than six seconds. The only visual differences between these two-litre Turbo's and regular 328's were their NACA ducts positioned just in front of each rear wheelarch, redesigned engine covers (in order to accommodate the Behr intercooler) and a ventilated rear bumper.
External Links
Edit
Please include any external sites that were used in collaborating this data, including manufacturer sites, in this section.
Cite error: <ref> tags exist, but no <references/> tag was found
Community content is available under
CC-BY-SA
unless otherwise noted.