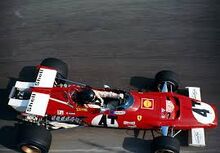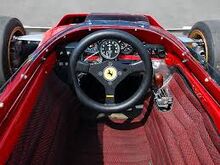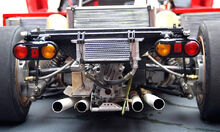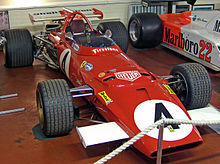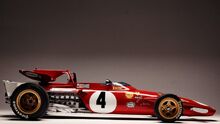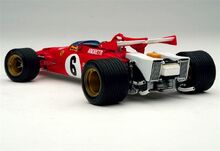 The Ferrari 312B was a series of Formula One racing car models, designed and built by Scuderia Ferrari. It was the successor to the Ferrari 312 and was used from 1970 until early 1975. Several versions were made: the 312B, 312B2 and 312B3.
The early 1970s saw the return of success to the Scuderia; the unlucky Chris Amon left, while Jacky Ickx returned and was joined by Clay Regazzoni. A flat-12 engine, colloquially referred to as a "boxer" (although not a real boxer engine), was developed for use in the new Ferrari 312B, giving a lower center of gravity.
During the design's first season, in 1970, Ickx battled with Lotus's Jochen Rindt and won 3 Grands Prix, while the emotional 1970 Italian Grand Prix was won by Clay Regazzoni, following the death of Rindt in practice the day before the race. In the remaining races, Ickx could not pass Rindt's point score for the drivers title, and Lotus won the Constructors Championship ahead of Ferrari.
1971 started with a win by new signing Mario Andretti at South Africa, followed later by another GP win for Ickx at Zandvoort. Ferrari ultimately came second in the Constructors Championship, as Jackie Stewart and Tyrrell dominated the season.
In 1972, Ferrari could not keep up with the progress of the competition, dropping to 4th at the end of the year. Ickx won the 1972 German Grand Prix at his favorite track, the Nürburgring, but this was to be his last GP win. The sports cars season was a success for Ferrari though, with the Ferrari 312PB based on the F1 car.
In 1973 the Ferrari 312B2 was no longer competitive, and Ickx only managed one 4th place, at the opening GP of the season. In addition to the sports cars, which were beaten by the French Matra, the F1 program of the Italian team was outclassed, and they even skipped some F1 races, notably the Nürburgring. This was not acceptable to Ickx, because the Nürburgring where the German Grand Prix was being held that year was his favorite race track. As a result, he left the team halfway through the season in order to contest the 1973 German Grand Prix at the 'Ring in a McLaren, where he took 3rd place behind the Tyrrells of Stewart and François Cevert.
Ferrari signed BRM drivers Niki Lauda and Clay Regazzoni to rebuild the team in 1974. A new model, the 312 B3, based on a prototype called "snow plough"[1] was introduced.
The car was succeeded by the 312T, which was introduced for the 1975 Formula One season.
↑ Acerbi, Leonardo (2008). Il nuovo Tutto Ferrari. Nada.

 
Tremayne, David & Hughes, Mark (1998). "The Concise Encyclopedia Of Formula One, Paragon.
Community content is available under
CC-BY-SA
unless otherwise noted.