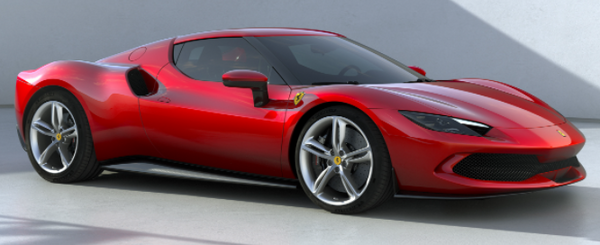 The Ferrari 296 GTB (Type F171) is a plug-in hybrid sports car designed by the Italian automobile manufacturer Ferrari, which is scheduled to be released in 2022. It was unveiled on 24 June 2021.
History
The 296 GTB was presented as the first "real Ferrari with six cylinders" on 24 June 2021. Previously, such models were offered as the Dino until 1974. The sports car is scheduled to go on sale in 2022. The 296 in the model name stands for the displacement and the number of cylinders, the GTB stands for Gran Turismo Berlinetta.[4][5]
Engine
The 296 GTB is powered by a 3.0L 120° V6 twin-turbo engine that has a maximum output of 488 kW (654 hp; 663 PS) at 8,000 rpm, in combination with a 123 kW (165 hp; 167 PS) electric motor. The system output is given as 610 kW (818 hp; 829 PS). A high-voltage accumulator positioned under the floor with an energy capacity of 7.45 kWh (26.8 MJ) enables an electrical range of 25 km (16 mi). The sports car accelerates to 100 km/h (62 mph) in 2.9 seconds, the top speed is specified as over 338 km/h (210 mph) thanks to a super light weight of 1470 kilograms.[5]
Variants
Assetto Fiorano[edit]
The Assetto Fiorano is a high-performance version of the 296 GTB.