Ferrari 159 S
Ferrari
aka
159
159 S
159 Sport
Production
1947 (2 produced)
Class
Sports car
Body Style
Single or two-seater sports saloon
Length
3350 mm (131.8 in)
Width
1470 mm (57.9 in)
Height
1120 mm (44.1 in)
Wheelbase
2420 mm (95.3 in)
Weight
750 kg (1654 lb)
Transmission
5-speed, Rear-wheel drive
Engine
1.9L Colombo V12 (60°)
Power
125 bhp @ 7000 rpm
Similar
Maserati A6G.CS
Designer
Gioacchino Colombo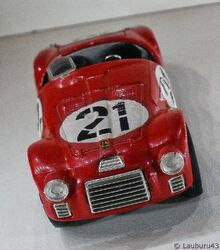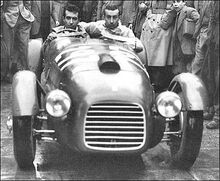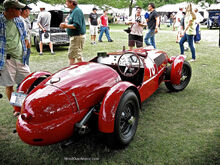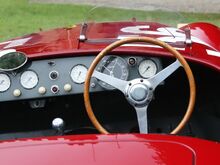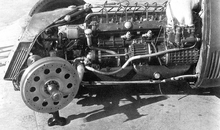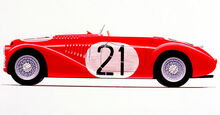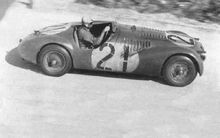 The 159 S was designed to be the successor to Ferrari's first vehicle, the 125. Unlike its predecessor, which won six of 14 races earlier in 1947, the 159 had a short racing life and was quickly converted into the 166 SC for the following racing season.
Like the 125, the 159 used a steel tube-frame chassis with longitudinal and cross members and had a double wishbone suspension with transverse leaf springs in front with a live axle in the rear. However, Gioacchino Colombo's V12 engine was enlarged from 1.5 L (1497 cc/91 in³) in the 125 to 1.9 L (1903 cc/116 in³) for the 159. This engine produced 125 hp (93 kW) at 7,000 rpm, retaining the three double-choke Weber 30DCF carburettors of its predecessor. Both cars sported five-speed manual transmissions and retained the Fiat tradition of mounting the engine in-block with the gearbox or transmission.
Community content is available under
CC-BY-SA
unless otherwise noted.