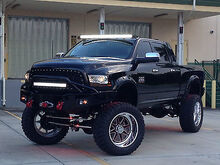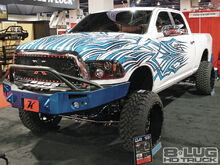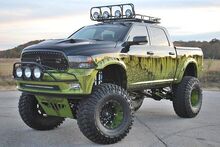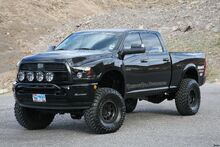 The Ram is a fullsize pickup truck from Chrysler's Dodge brand. The name was first used in 1981 on the redesigned D Series, though it came from the hood ornament used in the 1930s and 1940s trucks.
The Ram was Motor Trend magazine's Truck of the Year for 1994, and the Ram Heavy Duty won that award for 2003.
The Ram is built at Saltillo Truck Assembly in Saltillo, Coahuila, Mexico, Saint Louis Assembly North in Fenton, Missouri, and Warren Truck Assembly in Warren, Michigan.
See Autopedia's comprehensive Dodge Ram 1500 Review.
Quick Year-to-Year Changes
[
edit
|
edit source
]
2003 - On SLT models, the "SLT" badges are moved from the bottom of the C-pillars to the right side of the tailgate. "Sport" badges on Sport models are eliminated altogether. The famed 5.7L (345 cid) Hemi V8 debuts as a mid-year option with the 545RFE 5-speed automatic transmission as a mandatory option.
2004 - Special edition Rumble Bee, Daytona, GTX and SRT-10 models debut, the latter with the 8.3L (505 cid) 500 hp V10 and 6-speed manual transmission.
2005 - The DODGE nameplate on the tailgate is eliminated, replaced with a rams-head symbol below the tailgate latch. Quad-Cab versions of the Daytona, GTX, Rumble Bee and SRT-10s are added, the latter with a mandatory 4-speed automatic borrowed from the 2500/3500 Cummins diesel engine series.
2006 - A restyled front end which some derided as being too Dakota-like. One notable new version is the Mega Cab, featuring a 6-foot cargo box and 20 inches of extra cab space, allowing seating for six with rear recliners. Also, a full screen mapping in-dash navigation system in a restyled dashboard is now an option. The Rumble Bee, Daytona and GTX models are discontinued, but the SRT-10s hang on for one more year. Another change for 2006 is Chrysler's Multi-Displacement System on the Hemi V8 engine in the Ram. A new center console with built-in cup holders and side pockets is a new option on Quad Cabs. Inferno Red became a new extra-cost color. The standard cab SRT-10 received an all new center console that contained a shorter, more direct 6-speed shifter. Also Inferno Red and Mineral Gray became available on the SRT-10 in addition to Black, replacing Flame Red and Bright Silver. "Sport" badges reappear on the Sport models, now on the tailgate. The optional 20" rims got a new 5-spoke design, and were now available in polished as well as chrome.
2007 - Taillights are redesigned to look more like the Durango's. The ultra-hot SRT-10 is unfortunately discontinued.
2008 - Dodge unveiled the Dodge Ram Mega Cab Resistol Edition.[1]. The 4.7L (285 cid) V8 gets a most welcome power boost to 303 hp. Side door badges no longer read RAM 1500, the now say simply RAM. Big Horn editions now get a unique tailgate badge.
2011 - The Ram lineup grows with the upscale Laramie Longhorn edition. Available in 1500, 2500 and 3500 trims, the Longhorn is distinguished from other Rams with a variety of two-tone color schemes, including the model-specific sagebrush green and white gold. Further differences include an interior in full leather with real woodgrain trim throughout, flap-closure pockets on the front seatbacks with a metal buckle and magnetic clasp, unique cowboy-themed seat piping and Longhorn badging both inside and out. [2]
There are an overwhelming number of decisions to make when purchasing a Dodge Ram. Dodge has seemingly left no possibile combination of features unexplored, so if you're considering one of these, plan on spending some quality time with the brochure.
The Dodge Ram 1500 comes in three different body styles: the Regular Cab, Quad Cab, and new Mega Cab. The difference between the body styles has mostly to do with cabin space and truckbed length. The Regular Cab has only a front bench seat, the Quad Cab has a back seat with independent doors, and the Mega Cab boasts the largest back seat of any pickup.
Each of the styles is then available in a number of different trims. The Regular Cab is available in ST, SLT, Sport, or TRX Off-Road trims, and the Quad Cab is available in all of those as well as a Laramie trim. The Mega Cab, however, is only available in SLT and Laramie trims.
Some of the features on the ST, the most basic trim, include rear wheel anti-lock brakes, 17" steel wheels, AM/FM stereo with in-dash CD, air conditioning, and front airbags. With the SLT, you get a more powerful engine, front-seat center armrest/console, 17" cast aluminum or chrome wheels, remote keyless entry, and floor mats. The Laramie gets a 5.7L 345hp engine, five-speed automatic transmission, leather trimmed seating, dual zone temperature control, and power adjustable pedals. The Sport has body-colored grille with chrome accents, a body-colored rear bumper, fog lamps, 20" chrome clad wheels, and SIRIUS satellite radio. Lastly, the TRX Off-Road version comes with unique color shocks, a body-colored grille, TRX4 Off-Road decals, fog lamps, and also SIRIUS Satellite Radio.
Today's actual prices for the Dodge Ram 1500 can be found at CarsDirect.
| 2006 Dodge Ram 1500 Trim | MSRP | Invoice |
| --- | --- | --- |
| 1500 ST 4x2 Regular Cab 120.5 in. WB | $21,150 | $18,769 |
| 1500 ST 4x2 Regular Cab 140.5 in. WB | $21,435 | $19,014 |
| 1500 SLT 4x2 Regular Cab 120.5 in. WB | $24,250 | $21,435 |
| 1500 SLT 4x2 Regular Cab 140.5 in. WB | $24,535 | $21,680 |
| 1500 Laramie 4x2 Regular Cab 120.5 in. WB | $29,320 | $25,795 |
| 1500 Laramie 4x2 Regular Cab 140.5 in. WB | $29,605 | $26,040 |
| 1500 ST 4x2 Quad Cab 140.5 in. WB | $25,220 | $22,319 |
| 1500 ST 4x2 Quad Cab 160.5 in. WB | $26,285 | $23,235 |
| 1500 SLT 4x2 Quad Cab 140.5 in. WB | $27,740 | $24,486 |
| 1500 SLT 4x2 Quad Cab 160.5 in. WB | $28,020 | $24,727 |
| 1500 Laramie 4x2 Quad Cab 140.5 in. WB | $31,720 | $27,889 |
| 1500 Laramie 4x2 Quad Cab 160.5 in. WB | $31,800 | $27,958 |
| 1500 SLT 4x2 Mega Cab 160.5 in. WB | $32,060 | $28,337 |
| 1500 Laramie 4x2 Mega Cab 160.5 in. WB | $37,155 | $32,718 |
| 1500 ST 4x4 Regular Cab 120.5 in. WB | $25,405 | $22,478 |
| 1500 ST 4x4 Regular Cab 140.5 in. WB | $25,745 | $22,771 |
| 1500 SLT/TRX4 Off Road/Sport 4x4 Regular Cab 120.5 in. WB | $27,820 | $24,555 |
| 1500 SLT/TRX4 Off Road 4x4 Regular Cab 140.5 in. WB | $28,160 | $24,848 |
| 1500 Laramie 4x4 Regular Cab 120.5 in. WB | $32,890 | $28,915 |
| 1500 Laramie 4x4 Regular Cab 140.5 in. WB | $33,230 | $29,208 |
| 1500 ST 4x4 Quad Cab 140.5 in. WB | $29,355 | $25,900 |
| 1500 ST 4x4 Quad Cab 160.5 in. WB | $29,685 | $26,184 |
| 1500 SLT/TRX4 Off Road/Sport 4x4 Quad Cab 140.5 in. WB | $30,960 | $27,281 |
| 1500 SLT 4x4 Quad Cab 160.5 in. WB | $31,290 | $27,564 |
| 1500 Laramie 4x4 Quad Cab 140.5 in. WB | $34,940 | $30,683 |
| 1500 Laramie 4x4 Quad Cab 160.5 in. WB | $35,070 | $30,795 |
| 1500 SLT 4x4 Mega Cab 160.5 in. WB | $35,280 | $31,141 |
| 1500 Laramie 4x4 Mega Cab 160.5 in. WB | $40,375 | $35,523 |
As seen on the FuelEconomy.gov website, the City/Highway MPG averages are as follows:
16/21

N/A

16/21 5.9L I6 Cummins manual

20/26

N/A

15/19

14/18

14/19

14/18

14/19

14/18

12/15

12/15

9/11

9/11

9/15

N/A

9/12

N/A
The major recent model available for reliability ratings, the 2003 version, was given a Green rating in all major categories by Automotive Information Systems. A Green rating signifies "Minimal Problems," and the categories inspected include Engine, Transmission, and Accessories, among others.
RECALL ALERT: On March 23, 2009, Dodge announced a recall alert affecting 72,138 MY 2008 and 2009 Dodge Rams due to an inadequately waterproofed windshield wiper motor that could fail due to water penetration. The recall is file under the NHTSA Campaign ID Number 09V084000.[3]
In safety tests performed by the NHTSA, the Ram 1500 performed extremely well. Front-Impact tests for both the driver and passenger sides yielded 5-star ratings, while tests for rollover earned the Ram 4-star ratings for both its 2WD and 4WD models.
Some of the standard safety features are:
In addition, overhead curtain airbags are available on all trims, and the availability of items such as a security system and ignition disable are standard for most trims and only optional for the rest.
2009 Dodge Ram
Colors will vary according to trim, and a full list can be viewed at CarsDirect.com. Here are some of the available colors:
Exterior
Black Clearcoat
Flame Red/Bright Silver Metallic
Light Khaki Metallic
Mineral Gray/Bright Silver Metallic
Patriot Blue Pearlcoat/Bright Silver Metallic
Interior
Dodge announced a mild hybrid version of the Ram, dubbed the Contractor's Special, in 2003. However, the schedule for delivery slipped as Dodge backed away from the vehicle. The press currently reports that the hybrid Ram will be available only for fleet purchasers and will not enter mass production. It offered an AC electrical outlet panel for running an entire jobsite worth of power tools.
Also A Dodge Ram Hybrid with the Two Mode Hemi Hybrid (co developed with GM, BMW, and Mercedes)will be released in 2010 along with Dodge Durango, and Chrysler Aspen models currently available.
Autos.com has the Ram 1500 tied for 2nd in its Resale category for Full-Size Trucks. This ranking is a bit misleading, however, as the Ram 1500 shares this honor with 9 other trucks, while 1st place itself is shared by 6 trucks. As reported by Kelley Blue Book, "the Dodge Ram 1500 holds its value just slightly better than average, with HEMI-powered short-bed models at the top of the projected residual values list. The Ram is expected to hold its value better than the Chevrolet Silverado by a few percentage points, but not as well as the Nissan Titan."
"Frame's stiffness makes the ride quality limitations of rear leaf springs more obvious." — The Car Connection
"Engines could be better. The big 5.9-liter V-8 is crude." — USA Today
"Needs lots of room to park." — Carpoint.com
"Those who like the idea of a big truck but commute through the suburbs on a daily basis may want to try something a bit smaller, such as the mid-size Dodge Dakota." - Kelley Blue Book
Current Generation: (2009–present)
[
edit
|
edit source
]
The fourth-generation Dodge Ram was introduced at the 2008 North American International Auto Show in Detroit. The latest generation was sold as the 2009Dodge Ram 1500 starting in Fall 2008. The 2500, 3500, 4500 and 5500 models were added to the lineup. In 2010, the Ram Trucks brand were separated from the Dodge.
Chrysler attempted to keep the Ram competitive in the market through various developments for the 2009 model, including a new four-door cab style offering, new suspension, a new hemi engine option, and the Rambox, a new storage system that allows secure storage in the trucks bed walls. Later models have the Rambox system tied in with the remote keyless system.
Since 2011, Ram 2500/3500 models were marketed as having a "class-executive" manual transmission option, as General Motors and Ford discontinued manual transmissions for North American models in 2006 and 2010 respectively. The manual transmission was available until the end of this generation's production in 2018.
The Ram 1500, Ram Mega Cab, Ram 2500/3500, DX Chassis Cab (Mexico Market), Ram 4500/5500 are assembled at FCA's Saltillo Assembly Plant in Coahuila, Mexico; The Ram 1500 (DT) is assembled at Sterling Heights Assembly (SHAP) in Sterling Heights, Alabama. The Ram 1500 (DS) was previously assembled at Warren Truck Assembly in Warren, Michigan. The Ram 1500 (DS) was previously assembled at Warren truck Assembly in Warren, Michigan.
The Mega Cab option was deleted on the 1500 model, replaced by a true four-door crew cab. Other cab options are regular cab and Quad Cab. The Mega Cab option remains on the heavy-duty models, along with crew cab. Improvements made from the previous generation mean the rear seats are now able to recline.
Third Generation (2002-2008)
[
edit
|
edit source
]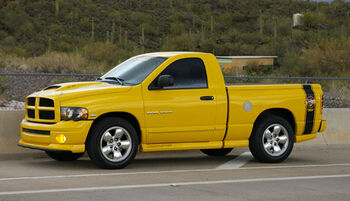 The third-generation Ram 1500 debuted for 2002 (the 2500 and 3500 versions would carry on for one more year with the previous bodystyle). This represented a major update including all new frame, suspension, power teams, interiors, and sheetmetal. It included an even larger grille, and special models kept interest up as most competitors had adopted the Ram's separate-fender look. The Cummins ISB Diesel was on the Ward's 10 Best Engines list for 2004. The four wheel drive light duty trucks (1500 series) lost their live axles in trade for an independent front suspension, but the heavy duty (2500 and 3500 series) retained the live axles for maximum durability and load capacity.
The redesigned DR trucks reignited sales, with 400,000 sold in 2002 and nearly 450,000 sold in 2003, a new high point for the Ram name. At the same time, both Ford and GM trucks were declining from a 2001 peak over 900,000 to the 850,000 area. But the Ram's sales could not keep up with the eleventh-generation F-150 and the strong Nissan Titan in 2004 and 2005, with 400,543 Rams sold that year. The Toyota Tundra had never posed much of a threat, but a much larger 2007 model may erode Dodge sales further.
SRT-10 This version is a regular or quad-cab body with the Dodge Viper's V10 engine, massive Pirelli 22" rimmed tires, custom lowered suspension, unique bucket seats, full body kit, and a spoiler. The 2004 version was available only in a single cab with a 6 speed manual transmission with a Hurst shifter. For 2005, Dodge debuted a Quad Cab version of the Viper V10 powered truck. It now has a 48RE four speed auto transmission that was taken from the Heavy Duty Rams with the Cummins engine. In 2004, the truck won the Guinness record of "World's Fastest Production Pickup Truck" of 154.587mph (247,3 km/h).
Power Wagon - Introduced for 2005 on the 2500 series, the Power Wagon comes with the 5.7 L new Hemi engine, locking differentials, disconnecting anti-roll bars, oversized off-road tires and a winch.
Daytona - Introduced for 2005, the Ram Daytona features 20 in chrome wheels, custom paint, the Hemi engine, and a tall rear spoiler reminescent of the famous Dodge Charger Daytona from the late 1960s.
Rumble Bee - The Rumble Bee edition was mainly a trim package on the Hemi Ram. It was only available on regular cab/short-box pickups and included lower body cladding, a hood scoop, and a specially-trimmed interior. On the rear of the box was a stripe with a "Rumble Bee" picture, meant to be reminiscent of the Super Bee.
GTX - In 2004-2005, this package was very similar to the Rumble Bee in that it shared the Hemi engine, 20" wheels, hood scoop and specially-trimmed interior, but didn't have the lower body cladding and the stripes were different. These were available in Mango Green, Hemi Orange and Plum Crazy Purple, all with black tonneau cover and unique black-accented stripes and decals. In 2004 this was available only in a standard cab but a Quad Cab version became available in 2005.
Thunder Road 2003-Present The Thunder Road has unique 20" Wheels and Trim inside and out. Comes in Regular Cab and Quad Cab, and has a unique Thunder Road Badge. The Thunder Road is a trim package for the Hemi Rams.
Model
Years
Engine
Power
Torque
1500
2002-2005
3.7 L PowerTech V6
215 hp (160 kW) at 5200 rpm
235 ft·lbf (319 N·m) at 4000 rpm
2002-2005
4.7 L Magnum V8
235 hp (175.2 kW) at 4400 rpm
300 ft·lbf (407 N·m) at 3500 rpm
2002
5.9 L Magnum V8
245 hp (183 kW)
335 ft·lbf (454 N·m) at 3000 rpm
2003-2005
5.7 L (346 in³) Hemi V8
345 hp (257 kW) at 5400 rpm
375 ft·lbf (508 N·m) at 4200 rpm
2500/3500
2002-2005
5.9 L Cummins ISB Diesel I6
325 hp (242 kW) at 2900 rpm
610 ft·lbf (827 N·m) at 1600 rpm
SRT-10
2004-2005
8.3 L Viper V10 V10
500 hp (373 kW)
525 ft·lbf (712 N·m)
Second generation (1994-2001)
[
edit
|
edit source
]
The Ram line was redesigned for 1994 and was an instant hit. It featured a semi truck-look front end with separate fenders and an oversized grille; but it was the 8.0 L V10 engine and its 450 ft.lbf (610 Nm) of torque that was noticed by serious users. Models were now the 1500 (half-ton), 2500 (¾-ton), and 3500 (one-ton).
A natural gas version of the 5.2 L engine debuted for 1995, as well as an extended-cab version. In 1998, Dodge introduced the "Quad-Cab", which used rear-hinged pillarless doors in the back for a wide cab opening on its extended-cab. The Cummins ISB engine, introduced in 1999, was an unusual multi-valve pushrod engine.
The redesigned 1994 Ram was a tremendous sales success, with sales rocketing from only 70,000 units in 1993 to 240,000 in 1994, 280,000 in 1995, and nearly 400,000 in 1996. Sales of this generation peaked at just over 400,000 in 1999 before declining against the redesigned Ford and GM trucks. By 2000, the Ram was back to 350,000 sales.
First Generation/Origins (1981-1993)
[
edit
|
edit source
]
The first-generation Ram trucks, introduced for 1981, kept the previous generation's model designations: "D" meant rear wheel drive while the "W" Power Ram meant four wheel drive. Like other domestic makers, Dodge used 150 to mean a half-ton truck, 250 to indicate a ¾-ton, and 350 for one-tons. Standard cab, "Club" extended cab, and crew cab versions were offered along with 6.5 ft and 8 ft bed lengths and "Utiline" and "Sweptline" styled boxes. Externally, the first-generation Rams were facelifted versions of the previous generation Dodge D Series pickups (known as the Adventurer) dating back to 1972 with wraparound taillights and square headlights.
100 models were added for 1984, replacing the previous "Miser" trim on low-output manual transmission Slant-6 trucks. A "Ram-Trac" shift-on-the-fly transfer case was added for 1985, and both the crew cab and Utiline flared bed were dropped for 1986. Also for 1986, a new crosshair grille appeared. The 5.2 L engine received electronic fuel injection for 1988.
The engines were updated for 1989. The Slant-6 was dropped in favor of a 3.9 L fuel injected V6 with 25% more power. The 5.9 L V8 also received fuel injection that year for 20 hp (15 kW) more power. Rear anti-lock brakes were also made standard.
The Ram 100 models were renamed "150S" for 1990, and the exterior was redesigned the next year. The engines wore the "Magnum" name \from 1994 until present.
The D Series trucks sold poorly compared to the Ford F-Series and the General Motors C/K trucks, with just under 100,000 units sold most years of their production.
A Cummins turbodiesel option was added for big (400 ft.lbf / 542 Nm) torque needs. This engine, part of the Cummins B Series, is the largest straight-6 engine ever produced for a passenger vehicle. These early B Series engines have been known to go 350,000 miles before their first overhaul.
Years
Engine
Power
Torque
1981-1988
3.7 L (225 in³) Slant-6 I6
95 hp (71 kW)
1981-1987
5.2 L (318 in³) LA V8
125 hp (104 kW)
1981-1988
5.9 L (360 in³) LA V8
170 hp (127 kW)
1988-1991
5.2 L (318 in³) LA V8
140 hp (104 kW)
1989-1991
3.9 L (238 in³) LA V6
125 hp (93 kW)
1989-1992
5.9 L (360 in³) LA V8
190 hp (142 kW)
1989-1993
5.9 L (360 in³) Cummins B5.9 diesel I6
160 hp (119 kW)
1992-1993
5.2 L (318 in³) Magnum V8
230 hp (172 kW)
1992-1993
3.9 L (238 in³) Magnum V6
180 hp (134 kW)
1993
5.9 L (360 in³) Magnum V8
230 hp (172 kW)
The predecessor to the Ram.
The Ram's ancestor.
Design quirks and oddities
[
edit
|
edit source
]
1994 Motor Trend Truck of The Year
Truck Of The Year - Truckin'
2006 4x4 Of The Year - 4-Wheel and Off-Road
2006 Pickup Truck of the Year - Four Wheeler (RAM SLT TRX4)
News & References
Community Sites & Online Forums
Community content is available under
CC-BY-SA
unless otherwise noted.