Dodge Daytona
Dodge
Production:
1984-1993
Class:
Compact
Body Style:
3-Door Hatchback
Length:
177.9"
Width:
69.3"
Height:
52.3"
Wheelbase:
97"
Weight:
2800-3100 lbs
Transmissions:
3-Speed Automatic, FWD
4-Speed Automatic, FWD
5-Speed Manual, FWD
Engines:
2.2L (135 cid) I4 (1984-1986)
2.2L (135 cid) I4 Turbo (1984-1990, 1992-1993)
2.5L (153 cid) I4 (1986-1993)
2.5L (153 cid) I4 Turbo (1989-1993)
3.0L (181 cid) V6 (1990-1993)
Power
94-224 hp
Similar
Chrysler Laser
Platform
K
The Dodge Daytona, taking a hallowed muscle car name from the past, debuted for 1984 along with its identical Chrysler Laser twin. These cars, were based on a modified K platform, but the wheelbase had been shortened from 100.1" to 97" creating the "G" body. Chrysler fancied the Daytona and Laser twins to be alternatives to such heavyweights as the Chevrolet Camaro, Pontiac Firebird and the Ford Mustang, even the Porsche 944 in some of its advertising (which it did resemble somewhat in its side profile). It also competed favorably with sporty 2+2 cars such as the Nissan 200SX and the Toyota Celica. At the time of Daytona's introduction, Dodge had already had a 2+2 sports car on the market, the Charger. But Chrysler was convinced that the Daytona would appeal to a different, perhaps more sophisticated crowd than the Charger did, so they figured the intramural rivalry would be minimal. Whether or not that's really true is unknown, but the Daytona and Laser did offer a viable alternative to those who wanted a good looking, relatively sporty American-made 2+2 coupe that was fairly quick yet actually got decent gas mileage, something a comparable Camaro or Mustang wasn't able to offer.
Here's a rundown from year to year:
The Daytona's and Laser's premier year (known internally as the G24 coupes), they were the first sporty 2+2 coupes that were based on the venerable K-car. The Daytona had three trim lines: base, Turbo, and Turbo Z. The Turbo model was also on Car and Driver's Ten Best list in 1984. The Daytona Turbo and Turbo Z models (along with Laser XE and XT models) had a turbo 142 hp 2.2L I4. The top-of-the-line Daytona Turbo Z and Laser XT models sported ground effects all around. Standard analog dashboards had a speedo, tach, voltmeter, oil pressure and turbo boost gauge (on turbo models), and a digital dash was available as an option. Transmissions were either a 5-speed manual or a 3-speed automatic, available on either engine. Daytonas and Lasers were virtually indistinguishable from more than 10 feet away - the biggest differences were that the higher-end Daytonas had a wraparound rear spoiler whereas the Lasers had a raised decklid spoiler. Standard engine was the 94 hp 2.2L I4 on base Daytonas and Lasers. T-bar roofs (T-tops) were an option on all models, just like the Camaros and Mustangs of the era. 49,347 Daytonas were produced.
In 1985 the 2.2 Turbo engine got a minor power boost to 146 hp, along with some new color choices. Also in 1985 the Turbo Z became a model instead of a package. 47,519 Daytonas were produced. 1986 Daytonas and Lasers received the mandatory Center High Mounted Stop Lamp. A new Chrysler-built 100 hp 2.5L I4 engine was available as an option. A t-roof was now a option also. Daytonas could have the Carroll Shelby Competition Series (C/S) package, which consisted of different rims, sport shocks and beefed sway bars, along with "C/S" badges on the fenders. The Turbo model was dropped. Daytona Turbo Z and Laser XT models had modified ground effects that were even deeper and lower this year than before. Stereo sound systems were revised (an AM stereo could now be had), but engine and transmission choices remained the same as last year. 44,366 Daytonas were produced.
The Chrysler Laser would be dropped in 1987 (the Laser name, however, would reappear on a Mitsubishi-made Plymouth sport coupe in 1990), and the Daytona saw its first major restyling. Exposed quad headlamps were replaced with dual pop-ups (perhaps as a tribute to its 1969 namesake), and the taillights were larger and upright instead of forward-sloped as before. Exterior and interior dimensions, however, remained the same. Dashboards were also restyled. The base 2.2L I4 was dropped this year, and the 2.5 would become the standard engine on the base coupes. A Shelby Z version became available, with an intercooled 174 hp turbo 2.2L I4 as standard, and became known as the Turbo II (the 146 hp version, or now Turbo I, continued on lesser models). The C/S package was replaced by the Pacifica package, which was largely the same package as the previous C/S.
The C/S package returned in 1988 after a one year absence, but this time it was available only on the base model, and there were two versions: the AGB version, which had the Turbo I engine and could be had with either 5-speed manual or 3-speed automatic, or the AGR version, which had the Turbo II engine and 5-speed only and more go-fast goodies. Infinity sound systems became available this year also, as well as a driver's side airbag with integrated cruise control buttons. All other models remained the same. Since Dodge had discontinued the Charger last year, the Daytona now became Dodge's lone sporty coupe, but the Daytona nonetheless received some heady new competition this year from Ford with its new Probe and Chevrolet with its new Beretta sport coupes. In 1989, the Daytona reached its sales peak of 70,000 units this year, its best ever in spite of new competition. This year, yet another turbo engine became an option, the 150 hp turbo 2.5L I4. The Turbo Z model was dropped, and the Pacifica model now became the ES model, and had the 2.5 turbo engine as standard, along with a turbo "bulge" on the hood. All other engine and transmission choices, along with the base, Turbo and Shelby Z models, were the same as before.
For 1990, the Mitsubishi-built 141 hp 3.0L V6 became available, the first time a 6-cylinder engine was available on a Daytona. A 4-speed automatic transmission became available too on the V6 only. T-tops were no longer available, but the interior received a major makeover this year, including a new wraparound dash (which eliminated the digital dash option), and new door panels. ABS became available on the ES and Shelby models. Yet another turbo engine (for those keeping score, that now made a total of 4) became available, an intercooled 2.2L I4 with Variable Nozzle Turbo (VNT) that was now known as the Turbo IV, but its hp rating was the same as the Turbo II's 174. Despite the worthwhile changes, the Daytona saw a major sales drop this year to around 38,000 (a near 50% decrease). There were many reasons for this, not the least of which was the introduction of the new Mitsubishi Eclipse, Eagle Talon and Plymouth Laser 2+2 sport coupes which were a joint venture with Mitsubishi called Diamond Star Motors. The joint venture gave Chrysler an updated platform with Turbo power, front and all wheel drive, and the ability to bring these cars to market inexpensively compared to developing their own all new platform.
1991 saw the last year of the Shelby model, which in turn was replaced by the IROC model (International Race of Champions). The IROC name had previously been used on the Chevrolet Camaro, but GM lost the rights to use the name at the end of calendar year 1989, so Dodge now carried the IROC banner with the Daytona. The turbo 2.2L I4 engines were dropped (temporarily) - the turbo 2.5L engine was now known as Turbo I. The IROCs were available with the turbo 2.5 or 3.0 V6. The C/S package held on for one more year, but it too would be gone by the end of this year. Sales were now down to around 18,000 units.
The Daytonas got another facelift in 1992, eliminating the expensive (and occasionally trouble-prone) pop-up headlights in favor of exposed flush units (a change that was also made on the Mitsubishi Eclipse/Eagle Talon/Plymouth Laser triplets this year in preparation for anticipated government daytime running light mandates that never came). The base and turbo 2.5L engines, along with the 3.0L V6 carried on, but the Daytonas got one final shot-in-the-arm in its twilight years in the form of a new IROC R/T model. These had a new 224 hp DOHC turbo 2.2L I4 that incorporated a head design from Lotus, and was known as the Turbo III. This was available only with a 5-speed manual transmission, and was the same engine borrowed from the Dodge Spirit R/T. Predictably it gave quite blistering performance (torque steer tendencies not withstanding) that even remains quite respectable today... but refined it was not. An advanced powertrain in the same basic 1984 platform made this a car fast but handling was lacking compared to modern designs in Dodge (stealth) and competitor's showrooms, which may explain why only about 300 IROC R/Ts were sold.
The 1993 Daytona would be its 10th and final season. Base models finally got ABS as standard equipment and air conditioning became standard on all models. The IROC R/T returned for one more year, but only 180 were sold. Less than 10,000 Daytonas were made this year. It had been a good run, but the Daytona was in need of a complete redesign to stay competitive and Chrysler was unable or, more than likely, unwilling, to invest in an all new platform for a sport coupe. In the end, Chrysler tapped its relationship with Mitsubishi for the 1995 Avenger, a captive import which would be based largely on Mitsubishi's upcoming newly redesigned 1995 Eclipse.
The Daytona name, however, would reappear as a special-edition 2004-2005 Ram 1500 pickup, as well a special-edition Dodge Charger R/T in 2006-2010.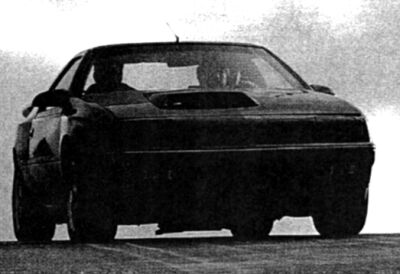 The Daytona Decepzione was a one-off prototype built in 1989 and developed during Chrysler's 6-year tryst with Lamborghini that produced the Dodge Viper's V10 engine as well as the Lamborghini Diablo. The car was powered by the Lamborghini Jalpa's 3.5 litre V8 and painted a menacing Knight Rider-like black. It also featured an enormous hoodscoop fitted off-center to feed air to the Lamborghini V8's quartet of twin-barrel 42mm Weber downdraft carburettors. All 255 of Italian horsepower and 235 lb-ft of torque was transmitted to the tarmac via a Getrag 5-speed Manual gearbox and a four-wheel-drive system developed especially for the car.
Community content is available under
CC-BY-SA
unless otherwise noted.