The B-Body Dodge Charger was offered from 1966-1978, when it was replaced by the Dodge Magnum. The Charger started out as basically a fastback version of the Coronet with a few unique individual touches that set it apart from its more pedestrian offspring. The Charger would be redesigned in 1968 and still be based on the Coronet, but it now had a design all its own and would ultimately become one of Mopar's most successful and gorgeous designs ever made. In 1971, Dodge dropped the Coronet 2-door and the Charger became more or less a personal-luxury version of the Coronet - there were still some hot versions available, but its personality had definitely been toned-down. From 1975-1978, the Charger had unfortunately lived out its last few years as a watered-down Chrysler Cordoba clone before being replaced by the short-lived B-Body Dodge Magnum (B-body) in 1978.
The Charger had a rich and colored racing history, including numerous Winston Cup Championships, a long driving record under the greats such as Richard Petty, Buddy Baker, David Pearson and many others. Over the years the Charger was offered with a very wide range of engines, running from the reliable old slant six up through the mighty greats such as the 426 Hemi, and 440 six-pack cars.
Dodge Charger
Chrysler Corporation
Production
1966-1978
Class
Intermediate
Body Style
2-Door Coupe
Length
204"
Width
75"
Height
54"
Wheelbase
117"
Weight
3400-3700 lbs
Transmission
3-Speed Manual, RWD
4-Speed Manual, RWD
3-Speed Automatic, RWD
Engine
5.2L (318 cid) V8 (1966-1967)
5.9L (361 cid) V8 (1966)
6.3L (383 cid) V8 (1966-1967)
7.0L (426 cid) Hemi V8 (1966-1967)
7.2L (440 cid) V8 (1967)
Power
230-425 hp
Similar
Dodge Coronet
Plymouth Belvedere/Sattelite
Platform
B
1st Generation (1966-1967)
[
edit
|
edit source
]
1966 Dodge Charger was the first in a long line of outstanding (and some not so outstanding) Chargers. The styling cues of the '66 Charger were mainly carried over from the '65 Charger Concept car (not to be confused with the '64 concept car, a completely diferent design). Essentially, it was a fastback version of the 1966 Coronet, with minor changes such as a new grille with hidden headlights, full-width taillamps, etc. It contained a simple unibody structure with an unequal length control arm front suspension that used torsion bars as a springing medium and a solid rear axle on semielliptical leaf springs in the back. It was offered only as a hardtop, code XP29. With a host of options including electroluminescent dash, quad buckets and five different engines, the Charger was a moderate success. Powerplant options ran from mild-to-wild, starting with the 230 hp 5.2L (318 cid) V8, 265 hp 5.9L (361 cid) V8, 335 hp 6.3L (383 cid) V8, and the almighty 425 hp (426 cid) V8 Hemi. All engines except the Hemi had the 3-speed manual transmission as standard, with the 4-speed manual (standard on the Hemi) and 3-speed automatic as an option on all engines. As Hemi powered versions began beating up brand X on the streets and tracks, David Pearson would win the Grand National Championship for his first time, behind the wheel of a Charger. The Dodge Boys would close the year with a special "birthday" package option consisting of a lower body stripe and conical hub caps. Total unit production 1966: 37,344.
Although the '67 Charger was virtually identical to the '66, there were a few significant changes nonetheless. First off, the 361 V8 was dropped, and the larger 375 hp 7.2L (440 cid) V8 debuted, but other drivetrain choices continued. Inside, the center console no longer ran between the front and rear seats; it now ran only between the front seats, although the rear seats still retained their bucket design and still folded down. Trim was upgraded, with new exterior chrome moldings and fender-mounted turn signals. Despite this year's improvements, sales dropped an eye-opening 50% this year to around 15,000 units. Normally these sort of low sales figures would be a death-knell of a car's existence, but Chrysler had an all-new Charger on the horizon for 1968 that would soon turn the Charger's fate around.
Dodge Charger
Chrysler Corporation
Production
1968-1970
Class
Intermediate
Body Style
2-Door Coupe
Length
208"
232" (Daytona)
Width
76.6"
Height
53.2"
Wheelbase
117"
Weight
3500-3800 lbs
Transmission
3-Speed Manual, RWD
4-Speed Manual, RWD
3-Speed Automatic, RWD
Engine
3.7L (225 cid) I6 (1968-1970)
5.2L (318 cid) V8 (1968-1970)
6.3L (383 cid) V8 (1968-1970)
7.0L (426 cid) Hemi V8 (1968-1970)
7.2L (440 cid) V8 (1968-1970)
7.2L (440 cid) 3x2 V8 (1970)
Power
145-425 hp
Similar
Dodge Coronet
Plymouth Belvedere/Sattelite
Platform
B
Designer
John Herlitz
Bill Brownley
2nd Generation (1968-1970)
[
edit
|
edit source
]
The Charger was completely new for 1968, and this generation's success as one of the best-looking and distinctive cars ever built still endures today and continues to appreciate (emotionally and monetarily) every year. The Charger was of course still based on the Coronet, but it ditched its ungainly (and unpopular) fastback body in favor of a more conventional "coke-bottle" design (very popular for the time) and a "flying butress" rear window design previously made famous by GM's A-body muscle cars (Chevrolet Chevelle, Pontiac GTO, etc). Although the Charger remained a Coronet underneath, they shared no exterior body panels other than the front windshield, and featured a longer, lower hood line and a wind spoiler that was an integral part of the rear deck. The front grille was now blacked-out and was recessed. Headlights were still hidden, but they were now hidden by conventional raising doors instead of the flip-type of the previous generation. Taillights were dual round units styled much like a Chevrolet Corvette's inside a flat-black tail panel. Even the gas cap was race-car inspired, being a chrome flip-top design placed atop the driver's side rear quarter panel for quick and easy fillups. The Charger was originally designed with the flip-top gas cap on both sides of the car, but that idea was scrapped due to production costs. The hood and doors both had dual scallop inserts (which housed the optional turn signals on the hood) that helped set off the new distinctive design.
Trim levels were base and the all-new sporty R/T (Road/Track), a package that debuted on the Coronet a year earlier. Engines for base were the 230 hp 318 and 383 V8 in 2- or 4-bbl (290 and 330 hp) configurations, but the 145 hp 3.7L "Slant-6" was available as a $50 "credit option". The R/T had the 375 hp 440 "Magnum" V8 as standard with the holy-grail 425 hp 426 Hemi as an option. 3-speed manual transmissions were standard on the Slant-6, 318 and 383-2 V8s, with a 4-speed manual optional and standard on the 383-4, 440 and 426 Hemi. A 3-speed automatic was optional on all engines. Slant 6, 318 and 383-2 Chargers had single exhaust, while the 383-4, 440 and 426 Hemi had duals. R/T models could have a rear "bumblebee" stripe that consisted of 2 small parallel stripes that wrapped around the trunk and quarter panels.
On the inside, all Chargers had full instrumentation (including a clock) as standard with a tachometer as optional (some had the now-very desirable tach/clock combo, known as the "tic-toc-tach"). Rear seats no longer folded down and its dashboard no longer had unique backlit night-lighting, but that was apparently no matter to new Charger buyers, as sales jumped to an astounding 96,100 models this year - an incredible feat considering just the year before there were some in the automotive press (and general public) ready to write this car's epitaph and deliver its eulogy.
After being on the market 2 years, the Charger had finally arrived, and a true legend was born.
After a successful debut year, Dodge didn't change anything big on the Charger in 1969, but it did make some fairly small ones, such as a divided grille (with 3 small "gills" on each side of the divider) and new larger-length taillights that eliminated the previous Corvette-inspired units. To many, the new taillights made the car look much more aggressive when viewed from the rear, and they looked especially good in the standard flat-black concave tail panel. Reverse lights were now on the lower valance panel. Side marker lights (actually reflectors) were now larger and rectangular instead of the small round ones used from last year. The ultra-cool flip-top gas cap now had the word "FUEL" on it. Drivetrain choices remained the same as last year. Inside, the seat patterns differed from last year's, and front seats now had adjustable headrests. Interior door lock buttons were relocated from the rear of the door to more towards the front. Models with the center console option got a slightly revised design, and the dash's surface was now a subtle grain pattern instead of slightly-ridged as before. There was a new Special Edition, or SE, luxury option package that included upgraded interior and exterior trim such as special exterior badging, chrome-trimmed pedals, woodgrain dash, hood-mounted turn signals among a few other small details. The SE could be had on either the base or R/T. The R/T's optional bumblebee stripe was revised this year, it was now one large stripe instead of 2 small ones.
The Charger R/T was more popular than ever, but overall Charger sales dipped a little this year to less than 90,000 units. 2 other Charger models were produced this year, the Charger 500 and Charger Daytona (see separate entry below for information on those models).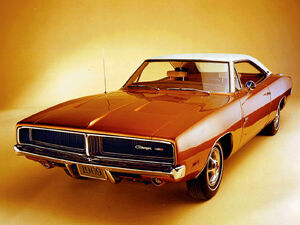 Dodge designed the Charger, first and foremost, to be a success on the NASCAR track. Although the deeply-recessed grille and tunneled rear window design looked great on the street, they unfortunately wreaked havoc on the car's high-speed aerodynamics - not a good thing for a race car. Dodge had been getting sand kicked in its face by Ford with its Torino for the last few race seasons, and Dodge had had enough - they were determined to turn the tide. Dodge introduced the (very) limited-edition Charger 500 as a quick answer. The 500 differed from the stock Charger by having the R/T's 440 and 426 Hemi V8s with either a 4-speed manual or 3-speed automatic for both, and had unique styling touches, starting with a flush grille borrowed from the 1968 Coronet and exposed quad headlights (some thought this gave the Charger 500 a pedestrian 1968 Ford Galaxie look to it), and the rear window was now flush instead of tunneled. Front A-pillars gained chrome flush pillars that eliminated drag around the windshield and front windows. Other distinctive cues included a "500" cutout within the rear bumblebee stripe on both sides of the car where the "R/T" cutout normally would have gone, as well as a subtle chrome 500 badge underneath the passenger-side taillight. These changed helped... but by the time the 500 was introduced, Ford had already employed many of the same tricks to its Torino with its equally NASCAR-inspired Torino Talladega model (revised front end, slicker tail design, etc.), and as such Ford was still kicking Dodge's tail up and down the NASCAR track, so Dodge went back to the drawing board one more time. Sales figures for the 500 are speculative, ranging anywhere from a mere 392 to a whopping 505 models sold.
Going to so much trouble and expense for so few cars indicated just how badly Dodge wanted revenge.
And so... the Charger Daytona was born. The Daytona, like the 500, shared the R/T's drivetrain choices, but the Daytona turned out to be one of the more outrageous car designs of the 1960s. The 500's flush grille was trashed in favor of a special drooped steel nose that extended the car's length by 1.5 feet and a tall 24" adjustable rear wing for downforce, but the 500's flush rear window was retained. There were also two small reverse facing scoops added atop each front fender for extra tire clearance. Headlights were hidden again, but they now flipped up much like a Corvette's headlights instead of being hidden by doors like the stock Charger.
A radical design such as this required some quick radical changes. For example, the stock bumper jack could no longer be used to change a front tire, since the nose couldn't support the weight of the car and would likely collapse if tried. A frame scissor jack had to be substituted (much like one used on today's cars). Since the trunk lid was much smaller due to the flush rear window, a regular spoiler couldn't be used if it was to generate the rear downforce that Dodge considered necessary. And if the trunk lid was to be raised more than a mere 2 feet, a taller spoiler had to be used, so Dodge raised the spoiler to clear the trunk lid (did they ever). One thing was for sure though; the design screamed TAKE THAT, FORD! And take it it did, as the Charger Daytona was the first stock car to lap at more than 200 mph, successfully beating Ford as its own game on the oval.
While most of the automotive press considered the Daytona to be innovative and daring, much of the general public, however, wasn't as impressed, considering such a contraption frightfully ugly and avoiding it in droves. As a result, most of the 502-508 Daytonas built ended up languishing on dealer's lots well into the 1970 (and even 1971) model years and being heavily price-discounted.
Today, on the other hand, a stock numbers-matching Daytona (and 500, to a lesser extent) can easily command a six-figure price tag, especially an ultra-rare Hemi model.
The Charger underwent several minor changes this year, inside and out. Starting with the outside, the front end was revised with new fenders shared with the 1970 Coronet (the same fenders incidentally used on the '69 Daytona), and a new chrome loop bumper now surrounded the nose. The grille was no longer divided in the middle, but its all-new grille was split, dividing the top and bottom portion. The taillights remained the same, but the taillight panel was now body-colored and flat-black only in the middle between the taillights, and were now both encircled by a single chrome strip. The side markers contained actual lights now instead of being merely reflectors. R/Ts got new simulated door scoops with R/T emblems. The 500 designation was now relegated to a trim-level, being slotted in between the base and R/T models. The SE package continued and could be had on the base, 500 and R/Ts. The outrageous Daytona model was gone too, but there was a very (very) limited-edition "Daytona Conversion Package" offered that had the '69 Daytona's fiberglass nose cone and tall rear spoiler, but it still retained the stock Charger's tunneled rear window. A mere total of 3 were sold.
Engine choices remained mostly the same as before, starting with the unpopular 225 Slant-6, the much more popular 318, 383-2 and 4-bbl on base, 500 and SE models. The R/Ts still had the 440 and 426 Hemi V8s, but this year the 390 hp 440 "Six-Pack" (3x2) V8 was offered, an engine that debuted in the Coronet Super Bee a year prior. Inside, a bench seat became standard for the first time in the Charger line, and the now-optional front buckets were now the high-back type, eliminating the low-back with adjustable headrests. Like all Chryslers this year, the ignition switch was relocated to the steering column from the dash, and the glove-box was now hinged at the bottom. All radios except the optional AM/8-Track now used conventional round knobs instead of the previous thumbwheels. Base and R/T models lost their standard door map pockets, and the clock was now optional. Interior door panels were revised as well. Big-block V8 4-speed models got the new ultra-cool pistol grip shifter.
Sales for the 1970 Charger fell again to just under 50,000 units, with R/T sales coming in at just over 10,000. The new-for-1970 Dodge Challenger was a likely culprit for the decline in Charger sales. This would be the final year for the Charger's classic timeless design, and as a true muscle car in general, as it would be redesigned in 1971.
Main Competitors (1966-1970)
[
edit
|
edit source
]
Dodge Charger
Chrysler Corporation
Production
1971-1974
Class
Personal Luxury
Body Style
2-Door Coupe
Length
205"
Width
77.1"
Height
53"
Wheelbase
115"
Weight
3500-3900 lbs
Transmission
3-Speed Manual, RWD
4-Speed Manual, RWD
3-Speed Automatic, RWD
Engine
3.7L (225 cid) I6 (1971-1974)
5.2L (318 cid) V8 (1971-1974)
5.5L (340 cid) V8 (1972-1973)
5.9L (360 cid) V8 (1974)
6.3L (383 cid) V8 (1971)
6.6L (400 cid) V8 (1972-1974)
7.0L (426 cid) Hemi V8 (1971)
7.2L (440 cid) V8 (1971-1974)
7.2L (440 cid) 3x2 V8 (1971)
Power
150-425 hp
Similar
Plymouth Satellite
Platform
B
3rd Generation (1971-1974)
[
edit
|
edit source
]
The Charger "matured" a bit in this generation, basically becoming a 2-door personal-luxury car to the Coronet (much like the Chevrolet Monte Carlo was to the Chevelle). This generation Charger adopted Chrysler's new "fuselage" styling theme, becoming much more rounded and swoopy on the sides. It retained some of the previous generation's "coke-bottle" theme, but it was less pronounced and less, shall we say, "hippier". Some in the automotive press criticized Chrysler for making the new Charger look more like a Pontiac than a Dodge, and the AMC Gremllin-style upswept rear quarter window design wasn't to everyone's taste, but even though the Charger was shedding its previous bad-boy image, it could still be equipped to battle other muscle cars of the era, even though by this time the muscle car market was on the decline.
Models were now base, 500, SE, and R/T. Since the Coronet Super Bee was gone, the Super Bee model was now offered in the Charger line, slotted just below the R/T (see separate Super Bee entry for more information). The Slant-6 was still the base engine in the basest-of-base models, but for all intents and purposes the 318 was the true base powerplant, with the 383 available in 2- or 4-bbl guises in the base, 500 and SE just like the last generation. The 383-4 was standard in the Super Bee, the 440 was optional and standard in the R/T. The 440 Six-Pack and 426 Hemi were optional in both the Super Bee and R/T. The R/T used the same hood and tape side treatment as the Super Bee, but the R/T had two additional stripes on each door simulated vents. Hidden headlights were now optional, and Super Bees and R/Ts could have a special "endura" package that included body-colored front and rear bumpers. Sales increased from last year to 82,681 models.
The Super Bee and R/T models were gone this year as well as the ground-pounding 440 Six-Pack and 426 Hemi V8 engines (although some early 1972 Charger brochures and dealer literature showed those engines as still available, but they really weren't). All engines were now rated net horsepower vs. gross, resulting in hp drops across the board. The 383 V8 was also dropped, replaced with a low-compression 190 hp 6.6L (400 cid) V8 with a 2- or 4-bbl carb. Base engine was still the good ol' 318, but the high-performance small-block 5.5L (340 cid) V8 became standard in the new Rallye model (which effectively replaced both the Super Bee and R/T models). Base and SE models continued, but the 500 was dropped. SE models now had their own rear quarter windows, a very slim upright formal design. A detuned 280 hp 440 V8 was still around, no longer the fire-breather it once was. Grilles and taillights were different from last year's. Sales dipped a bit to 75,594.
A slightly restyled nose that eliminated the hidden headlight option was one of the detail changes for the '73 Charger. Taillights were changed again, they were now vertically sectioned. Styling was cleaned up a little, the rear quarter windows eliminated their upswept design in favor of a more conventional design on all but the SE models, which got their own new triple-opera-window treatment and also got their own canopy-style vinyl roof. Base, SE and Rallye models continued, the mostly-ignored 225 Slant-6 was still standard on the base, the SE had the 318 as standard (which was also standard on the Rallye this year), the 340 continued on the Rallye only. The 400 and 440s were still available, so the big-blocks weren't dead (yet). Although the Charger by now was becoming less like a GTO and more like a Monte Carlo, it could still be a respectable performer for its day if equipped properly. The public was evidently taking to the Charger's newfound mission, as sales topped 119,318 cars this year, the highest the B-body Charger would ever see.
A black 1973 Dodge Charger can currently be seen in a prominent role on the USA Network series Burn Notice.
Changes on the 1974 Charger were nil, other than the 340 V8 being discontinued on the Rallye model and replaced with the 5.9L (360 cid) V8, and it was available on all models. All other engines continued otherwise. Front and rear bumpers had new larger "bumperettes" to comply with the new stricter federal bumper standards, but that was pretty much the only visual change. Sales weren't as strong as last year, but the Charger still sold in fairly substantial numbers. This would be the final year for the 3rd generation Charger, and in many eyes, it would be the last "real" Charger - period. There would be an all new Charger in 1975, but unfortunately it wouldn't necessarily be a better or more desirable Charger.
Main Competitors (1971-1974)
[
edit
|
edit source
]
Dodge Charger
Chrysler Corporation
Production
1975-1978
Class
Personal Luxury
Body Style
2-Door Coupe
Length
216"
Width
76"
Height
52"
Wheelbase
115"
Weight
3500-3900 lbs
Transmission
3-Speed Automatic, RWD
Engine
5.2L (318 cid) V8 (1975-1978)
5.9L (360 cid) V8 (1975-1978)
6.6L (400 cid) V8 (1975-1978)
Power
150-190 hp
Similar
Chrysler Cordoba
Platform
B
4th Generation (1975-1978)
[
edit
|
edit source
]
Well if the "bad-boyness" hadn't been completely depleted from the last generation Charger, it certainly was with this generation's offering. The Charger of this generation was no longer a 2-door version of the Coronet (for now), but now reduced to a diluted Chrysler Cordoba clone. The Charger had a different grille and taillights from the Cordoba and had the 318 V8 as standard, but other than that they were identical. While the Cordoba turned out to be a huge sales success for Chrysler, Chargers, despite being nearly the same car, languished on dealer's lots by comparison and were largely ignored. Perhaps if Dodge let the Charger name die after 1974 and this model had another name that didn't remind buyers of the mighty street-dominators of the late-1960s, it might have been a bigger seller - but who knows? Dodge even resurrected the Charger Daytona name in 1976-1977, although it was merely a two-tone paint and decal package by now, adding further insult to injury among some enthusiasts. The Charger continued into the early 1978 model year pretty much untouched, when it was replaced by the Dodge Magnum (B-body), which itself was cancelled a mere 2 years later, spelling the end of the now-legendary Chrysler B-body platform for good.
See the 1st Generation Chrysler Cordoba entry for mode detailed information about the 4th generation Charger.
To further muddy the waters, so to speak, for 1976 only, there were actually two different Charger models. The Cordoba-style Charger had the SE and Daytona models, but that year, the 2-door Coronet (nee Monaco) was briefly known as a Charger also, being the "base" Charger and Charger Sport. The latter two models were of course identical to the previous year's Coronet coupe, and had the 3.7L (225 cid) I6 as standard, with the 318, 360 and 400 V8s optional. The Slant 6 and 318 could have a 3-speed manual or automatic transmission, while the 360s and 400s were automatic only. The main styling difference between a Charger and Charger Sport were the latter's louvered rear quarter window and vertically-split taillights. After 1976, the Charger and Charger Sport would become simply the Monaco coupe.
Main Competitors (1975-1978)
[
edit
|
edit source
]
The Charger name would reappear in 1981 as a performance option package for the Dodge Omni 024 coupe, and would become a model on its own in 1983. See separate Dodge Charger (L-body) entry for more information on that model.
After the L-body Charger was laid to rest after 1987, Dodge pulled the Charger name out of the drawer once again and placed it on an all-new full-size rear-drive 4-door sedan model in 2006, a model based on a Mercedes-Benz E-Class platform. Although some considered the Charger name on a 4-door sedan a bit of a sacriledge (although it wasn't really any worse than putting the Charger name on a front wheel drive economy car like Dodge did in the 1980s), it's nonetheless become a great sales success for Dodge, becoming a legend in its own right. See separate Dodge Charger entry for more information on that model.
Community content is available under
CC-BY-SA
unless otherwise noted.