Dodge Challenger (2008)
Dodge
aka
SRT Challenger (2013-2014)
Production
2008 - present
Class
Muscle Car
Body Style
2-door, 4-seat Coupe
Length
197.7 in
Width
75.7 in
Height
57.0 in
Wheelbase
116.0 in
Weight
4140 lb
Transmission
Tremec TR-6060 6 Speed Manual, RWD
5 Speed Automatic (W5A580), RWD
Engine
SE
3.5 litre V6

R/T
5.7 litre (345 cid) V8

SRT8
6.1 litre (370 cid) V8
Power
SE
250 hp @ N/A rpm
250 lb-ft of torque @ N/A rpm

R/T Manual
375 hp @ N/A rpm
404 lb-ft of torque @ N/A rpm

R/T
370 hp @ N/A rpm
398 lb-ft of torque @ N/A rpm

SRT8
425 hp @ N/A rpm
420 lb-ft of torque @ N/A rpm
Similar
Ford Mustang
Chevrolet Camaro
Designer
Brian Nielander
Jeff Gale
The Dodge Challenger is a retro-futuristic Pony/Muscle car manufactured by American carmaker Dodge since 2008 as a response to the popularity of the equally retro-futuristic 2005-2009 Ford Mustang. The Challenger competes with the resurrected 2010 Chevrolet Camaro and usher in a new age of muscle cars in America.
See Autopedia's comprehensive Dodge Challenger (2008) Review.
On December 21, 2010, Chrysler releases a Dodge Challenger Sox and Martin Collector Series Hemi Cuda[1]
For 2011, Dodge launched the 1492 unit limited edition Challenger SRT8 392. Employing a new 6.4 litre V8 with variable valve timing and cylinder deactivation, power has increased to 470 horsepower and 470 lb-ft of torque while fuel efficiency has improved 15-20 percent. But the 392 is more than just a muscle car and Chrysler has taken the effort to improve the car's handling with reworked suspension (ie. firmer shocks), quicker steering ratio, more negative camber than before and unique a chin spoiler up front that helps channel air to the vehicle's radiator and provide additional downforce at higher speeds. [2][3]
In commemoration of the 40th Anniversary of the Challenger, Dodge has unveiled 400 unit limited edition variations of the R/T and SRT8 muscle car finished in Furious Fuchsia. Other touches include optional set of Pearl White performance seats with Furious Fuchsia stitching and Bright White A-line body-side R/T stripes + functional hood scoop on the R/T Classic. Base price for the 2010 Dodge Challenger R/T Classic in Furious Fuchsia Pearl Coat comes in at $35,140 with the SRT8 model at $45,150 (both prices include $725 destination) and cars will hit dealerships in March.
At the end of March 2009, Dodge unveiled the SE Rallye Package for the Challenger. Essentially a base model SE kitted with stripes, an R/T-style chrome fuel door, black-accented 18-inch wheels, and a rear decklid spoiler, the SE Rally package is more significant because it will introduce the the 5-speed AutoStick to the V6 models, eliminating the 4-speed slushbox that came before. Prices for the SE Rallye starts at $26,490. [4]
For model year 2009, Dodge has revealed a Drag Race Package for the Challenger. Changes from the stock SRT8 from which it will be based include a crash diet course that sheds 1000 lbs. Up front motivation will come in two forms: the 6.1 litre or 5.7 litre HEMI or 5.9-liter Magnum Wedge in either manual or automatic. Pricing is expected to begin in the mid $30K range.[5]
The Challenger is currently available in one trim: SRT8. Future trims will be available with a 5-speed automatic transmission and a 6-speed manual. Three different engines will offered, dependent upon trim, and many options are different from level to level. Some of the standout standard features are listed below:
18" Aluminum Wheels
SIRIUS Satellite Radio
Leather Trimmed Bucket Seats, Steering Wheel, and Shift Knob
8-Way Power Driver's Seat
20" Aluminum SRT Design Wheels
Leather Trimmed Seats w/Preferred Suede
Body Color Mirrors, Fascias, and Rear Spoiler
High Performance Suspension and Steering
Mini Trip Computer and Vehichle Info Center
Add more fields as necessary.
MODEL Trims
SE
SE Rallye
R/T
R/T Plus
R/T Classic
SRT8 392
MSRP
$24,670
$26,670
$29,670
$31,170
$32,970
$42,555
Invoice
$Price1
$Price2
$Price3
$Price4
$Price5
$Price6
Add more fields as necessary.
As seen on the FuelEconomy.gov website, the City/Highway MPG averages are as follows:
Trim
SE
R/T
SRT8
MPG
17/25
16/25
13/19
Specifications, details, graphs, pictures and other information regarding the powertrain is placed in this section.
Add more fields as necessary.
MODEL Trims
SE
R/T
SRT8
0-60
7.3 sec
5.1 sec
4.6 sec (MT), 4.7 sec (AT)
1/4 Mile
15.6
13.6 sec
13.1 sec(MT), 13.1 (AT)
All Dodge Challengers purchased new from a licensed Dodge dealership include the Dodge Lifetime Limited Powertrain Warranty. The warranty covers engine and transmission parts for the life of the vehicle for the first registered owner. It is not transferable.
The Challenger received 5-star crash ratings for both front and side impact testing by the NHTSA. [6]
On December 2007, official teaser shots of the production Challenger SRT8 have surfaced on the internet.[7]
R/T Classic
SRT 392
A complete list of colors for the Challenger can be found on Dodge.com.
Some of the available colors are:
Exterior
Bright Black Crystal Pearl
Inferno Red Crystal Pearl
Bright Silver Metallic
High-Performance Red
Deep Water Blue Pearl
Stone White
HEMI Orange Pearl (2008-2009)
B5 Blue (2009-present)
Detonator Yellow (2010)
Plum Crazy Purple (2010)
Interior
Dark Slate Gray Cloth
Dark Slate Gray Leather
Dark Slate Gray two-tone Leather
Dark Slate Gray leather-trimmed SRT style
There are no hybrid models of the Challenger.
Thanks to its LX-platform basis, the Dodge Challenger is physically a much larger car than the Chevrolet Camaro, Ford Mustang or Hyundai Genesis. In the top-of-the-line SRT8 trim, the Challenger is 600 pounds heavier than the comparable Mustang GT and 300 pounds heavier than the 2010 Camaro SS. At 4,140 pounds the Challenger is only 50 pounds lighter than its Charger sibling despite six inches removed from the chassis. Even so, the SRT8 is capable of a 4.8-second 0-60 sprint and quarter mile time of 13.3 seconds at 109 miles per hour, making it a very quick car.
Its chassis is actually borrowed from Chrysler's previous envolvement with Daimler-Benz. It shares many suspension components and geometry from the E-Class Mercedes as well as its Chrysler siblings 300 and 300C, Dodge Charger, and Dodge Magnum.
This section should include information on the interior's design, build quality, ergonomics, space (head and legroom, front and rear), features, stowage compartments and overall comfortability and livability. Add pictures wherever applicable and keep information in a third-person point of view.
Add more fields as necessary.
<MODEL> Year
Year X
Year X-2
Year X-3
Year X-4
Resale Value
$
$
$
$
Please make sure to keep critiques in a third-person point of view. If using criticisms from a reputable automotive source, then please make sure to cite the quote.
Please make sure NOT to use copyrighted pictures.
Current Generation: (2008–present)
[
edit
|
edit source
]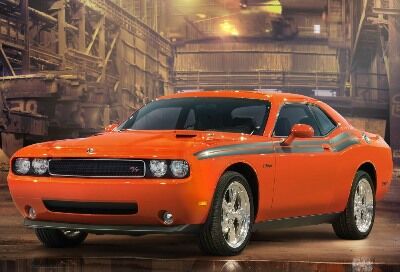 After a huge response to the 2006 Challenger concept, the production model debuted in 2008. For the first year, all of the Challengers were released in the top-of-the-line SRT trim with the 6.1-liter Hemi with 425 horsepower and 420 lb-ft of torque mated to a five-speed automatic transmission. With just 6,400 units released in the U.S. for the 2008 model year, nearly all of that lot was presold after the overwhelming popularity of the 2006 concept. The only colors available for the 2008 model year were Hemi Orange, Brilliant Black, TorRed, and Bright Silver Mettalic. While all LX-platform Challengers, Chargers, 300s, and discontinued Magnums were built in Canada, the country was only alotted a run of 500 cars for the 2008 model year to bring the production total to 6,900.
For 2009, Chrysler filled out the Challenger lineup despite a failing economy. In addition to the existing SRT8, buyers could also have two other flavors of the Challenger, including the mid-range R/T and the SE while Canadians could buy an SXT derivative of the SE package. The R/T featured a 5.7-liter version of the Hemi that was rated at 375 horsepower and 390 pound-feet of torque. Meanwhile, budget-minded SE and SXT buyers were given a 3.5-liter High Output V6 rated at 250 horsepower and 250 pound-feet of torque mated to a four-speed automatic transmissions. Also, SRT8 and R/T owners could also buy a 6-speed manual transmission made by Tremec. Surprisingly, this was the first time a modern Hemi production car was mated to a manual transmission since their debut more than five years earlier.
For 2009, buyers could partake in special edition models, such as the R/T Classic and Spring Special SRT8. The R/T Classic was given 'heritage stripes' package in addition to 20-inch chrome-clad wheels that mimicked classic five-spoke rims from the previous musclecar era. Most R/T Classics were painted in the returning B5 Blue color, a color that was a popular color from Chrysler's heyday in the late 60s and early 1970s. The Spring Special package was a derivative of the R/T Classic in that it was essentially a SRT8 painted in the same B5 Blue color along with blue striping on the seats. Thanks to Chrysler's financial troubles and impending rolling plant shutdowns, the production of 2009 R/T Classics and Spring Specials was extremely limited, with less than 240 examples of Spring Special SRT8s ever made.
Despite pervasive rumors of the contrary, Chrysler returned the mighty Challenger to production after emerging from bankruptcy. For the 2010 model year, the SE got a five-speed transmission in place of an aging four-speed tranny. For the more powerful trim levels, changes to the car were few as colors were the only real differences from the 2009 SRT8 and R/T models. The biggest change was the removal of the iconic Hemi Orange from the Challenger lineup. In its place, B5 Blue was added as a normal production color. Taking B5 Blue's place on the special edition color lineup were two heritage colors: Detonator Yellow and Plum Crazy Purple. Detonator Yellow was limited to the first few months of production while Plum Crazy Purple will be used as the Spring Special option.
The Ram emblem disappeared with the 2011 model year and Challengers received two new engines, the Pentastar, and a 392 Hemi.
The SE and SE Rallye received the new 3.6-liter Pentastar V6 engine producing 305 bhp (227 kW; 309 PS) and 268 lb·ft (363 N·m), dual rear exhaust with bright tips, a five-speed automatic transmission with AutoStick, 18-inch aluminum wheels, advanced brake systems including: four-wheel disc antilock brakes, brake assist, ready alert braking and rain brake support, electronic stability control (ESC), with hill start assist and all-speed traction control, a chrome fuel filler door, Uconnect 130 System with AM/FM radio, CD player, six speakers and auxiliary input jack, steering wheel-mounted audio and speed control, twin hood scoops, touring suspension, remote keyless entry, six airbags, active front head restraints, premium cloth seating, six-way power driver seat with four-way power lumbar adjust, a leather-wrapped steering wheel, air conditioning with automatic temperature control, keyless enter and go with proximity sensor and push button start, power windows, locks & mirrors, a tilt/telescoping steering column and 60/40 folding rear seats that include a rear armrest with cup holders.
In 2011 the Challenger Rallye Package added premium leather interior, received a sport performance suspension and handling package, further upgraded brakes, and unique Foose designed Rallye wheels.
The R/T received revisions including a new bottom grille cutout and an updated suspension.
The new SRT8's chin spoiler was enlarged to create more downforce. It resembles the 1970 Challenger R/T. The SRT8 received a new 6.4-liter Hemi V8. The so-called 392 (although its actual size is 391 cu-in.) was officially rated at 470 hp (350 kW; 477 PS) and 470 lb·ft (640 N·m) of torque. Dodge engineers said they sacrificed peak horsepower ratings for low-end torque, stating a 90 lb-ft increase over the outgoing 6.1-L (370 c.i.d.) Hemi V8 at 2900 rpm. Two transmissions were offered: a 5-Speed Shiftable Automatic and a 6-speed manual. With the revised 6.4-Liter engine, Chrysler engineers cited a quarter mile (~400 m) time of 12.4 seconds at 110 mph (180 km/h) – bettering the outgoing 6.1-Liter Hemi by 0.8 seconds, although that figure has varied wildly between automotive magazines. Car and Driver tested the 392 at 12.9 seconds at 114 mph (183 km/h) while Motor Trend ran it at 13.0 seconds at 111.3 mph (179.1 km/h) and Edmunds' number was far closer to Chrysler's claimed numbers at 12.6 seconds at 112.1 mph (180.4 km/h).
Top speeds of the 2011 Dodge Challenger R/T and 2011 Dodge Challenger SRT8 were both rated at 170 miles per hour (270 km/h). The R/T has a 0 to 60 miles per hour (0 to 97 km/h) acceleration of 5.00 seconds, while the SRT8 accelerates to 60 miles per hour (97 km/h) in 4.50 seconds.
In 2012, the base SE trim was renamed to SXT for consistency with the naming scheme of the remaining Dodge lineup.
For 2013, a Rallye Redline package is available with Dodge Challenger V6 models. Based on the SXT Plus trim, the Rallye Redline package includes unique exterior accents, Black chrome 20-inch wheels with Redline Red accents, performance suspension and brakes, a 3.06 rear-axle ratio and available Radar Red Nappa leather interior.
The Electronic Vehicle Tracking System (EVTS), a GPS-enabled stolen vehicle recovery system, is available.
Changes include:
There are two SRT versions, and no longer named just "SRT-8", but available as the SRT 392 or as the SRT Hellcat.
5-speed automatic transmission replaced by a new 8-speed ZF 8HP automatic transmission,
Power output on the 6.4 liter V8 increased by 15 for a total of 485 horsepower and torque increased by 5 for a total of 475 Ib Ft.
A slightly revamped exterior features a new grille with design cues from the 1971 grill/split tail lights, Quad LED 'Halo Ring" Head lights, LED Tail lights, and a functional hood intake on HEMI models.
Inside, the Challenger gets a 7-inch (780mm) TFT Thin Film Transistordisplay with over one hundred possible configurations, 8.4-inch Uconnecttouchscreen radio with available navigation, and a retro styled gauge cluster.
Six-Piston Brembo High Performance Brakes with Two-Piece 15.4-Inch Vented/Slotted Rotors and 4-Piston brakes rear on SRT models.
This version of the 2015 Dodge Challenger with a supercharged 6.2-liter HEMI engine rated at 707 hp (527 kW) and 650 lb·ft (881 N·m) of torque. This engine is also available in the Dodge Charger SRT Hellcat. The inner driving light on the left front has been removed to allow air to get into the engine resulting in more torque, and the wheel wells are different from the standard SRT to accommodate the 20-inch aluminum wheels. The SRT Hellcat will come equipped with two separate key fobs; use of the "black" fob will limit engine output to 500 horsepower, while the "red" fob will enable the full output capability. The Hellcat has a quarter mile time of 10.85 seconds; this was accomplished with street legal drag tires. On stock tires the Hellcat was able to achieve 11.2 seconds @ 125 mph on the quarter mile. The Challenger SRT Hellcat can accelerate from 0-60 in 3.6 seconds and can brake from 60-0 in 109.0ft. Top speed is 199mph to 202mph. The Challenger Hellcat has a lateral acceleration of 0.94g. The European-spec Hellcat is capable of 0–62 mph (0–100 km/h) in 3.9 seconds, 0–124 mph (0–200 km/h) in 10.7 seconds, and 0–186 mph (0–300 km/h) in 38 seconds (although the speedometer appeared to be inaccurate by 10-15km/h).
The Challenger Hellcat was able to complete its Gingerman Raceway lap in 1:45.8, the Hockenheim Short in 1:14.6, the Motown Mile in 0:56.37. It also completes the Motor Trend figure-8 circuit in 24.7 seconds.
Limited production variants
[
edit
|
edit source
]
In addition to official Dodge concept cars, there have been numerous limited production and street legal variants created by third parties, based on stock cars that have been rebuilt with modified powertrains, suspensions, and interiors. These include the SMS 570 and (supercharged) 570X with up to a claimed 700 bhp (522 kW), the Mr. Norm's Challengers with a claimed 637 or 900 bhp (475 or 671 kW) horsepower, the supercharged SpeedFactory SF600R with around 600 bhp (447 kW), the supercharged Richard Petty Signature Series with a claimed 610 bhp (455 kW), and the Legacy by Petty Convertible Challenger completely customized by Petty's Garage to include a one of a kind front end and NASCAR styled treatments
For the 2017 model year, the one big difference from the redesign in 2015 is the introduction of an all-wheel drive (AWD) version of the SXT Plus, known as the GT AWD. The AWD system includes both an active transfer case and front-axle disconnect system. Reportedly, the system will seamlessly transition between rear-wheel drive (RWD) and AWD with no driver input required.
The SRT Demon is a more powerful wide body version of the Challenger, and also the most extreme. To hype up the Demon, Dodge had been releasing videos about its performance, power, aerodynamics, etc. It later debuted during the 2017 New York Auto Show in April.
The Demon uses an all-new 6.2-liter V8 engine equipped with a 2.7-liter supercharger, which puts out 808 hp (603 kW; 819 PS) with 91 octane gasoline and 840 hp (626 kW; 852 PS) with 100 octane fuel or higher (both outputs are with the red key). Torque stands at 770 lb·ft (1,044 N·m) on 100 octane fuel. The car weighs 98 kg (215 lb) less than the Hellcat, the total being 1,930 kg (4,254 lb). The car will be using a set of road tires by Nitto Tire, called the NT05R. The tires are the 315/40R18 variations at both front and rear. The tires are targeted for the drag strip, but have enough footprint to make it legal for the road. This tire, although an NT05R consumer tire, is a variation built specifically to withstand the power output of the Demon. This makes the Challenger SRT Demon the first production car to contain a set of drag radial road tires. The SRT Demon contains a system that is used specifically for drag racing called transbrake, which is a mechanism that puts the transmission in 1st gear and the reverse gear simultaneously, holding the Demon stationary. This is used along with the car's torque converter to build up hydraulic pressure before launch. This makes the Challenger SRT Demon the first ever production car to contain a trans brake.
The power-to-weight ratio of the SRT Demon is 418 hp (312 kW; 424 PS) per ton on 91 octane gasoline and 435 hp (324 kW; 441 PS) per ton on 100 octane or higher.
It reaches 0–30 mph (0–48 km/h) in 1.0 second, 0–60 mph (0–97 km/h) in 2.3 seconds (2.0s with a rollout), 0–100 mph (0–161 km/h) in 5.1 seconds, and the quarter mile (400 m) in only 9.65 seconds at 140.09 mph (225.45 km/h). This makes the Demon the fastest non-electric production car to reach 0-60 mph (0–100 km/h) and to complete a straight-line quarter mile at its time of announcement. The SRT Demon is also capable of accelerating at 1.8 G's of force at launch, making this the hardest launching production car ever. The Demon can also push the boost to 14.5 psi and redline up to 6500 rpm. With this extreme power, and hard accelerating, the SRT Demon is the first production car to ever perform a wheelie.
Because of the time the car made in the quarter mile and the lack of an NHRA certified roll cage, the NHRA banned the vehicle from competition.
Like the SRT Hellcat, it comes with both red and black key fobs, with the black fob limiting the power output to 500 horsepower. With the red key and the use of 100+ octane gasoline, the Demon can reach its full power potential. For interior features, it originally offers just one driver seat, though for $1.00 each, the passenger and rear seats can be added. Only 3,300 SRT Demons will be produced, with production beginning in the summer of 2017 and release in the fall of 2017, and is expected to be priced at less than US$100,000, as said by Tim Kuniskis.
The interior of the SRT Demon is the same as all other Challenger trims, but with changes that differentiate it to the other trims. The Demon only includes a front driver's seat as standard, and no other seats front or rear in the vehicle. However, the front passenger's seat, as well as a rear bench seat, can both be added back as options for one dollar each. To replace the rear seats, Dodge included rear roll bars, and has a 4-point harness installed on it for the driver seat.[61] The dashboard display and the seats now have the Demon logo on them,[62][63] and includes a performance display on it, as well as on the center console touch screen.
The following list below is a breakdown of how Dodge engineers reduced the curb weight of the 2018 Challenger SRT Demon to 1,930 kg (4,255 lb) over the 2,027 kg (4,469 lb) curb weight of the SRT Hellcat, a difference of 98 kg (216 lb):
Removed front passenger seat and passenger seatbelt (−58 kg (−128 lb) decrease; seats available at a dollar)
Removed rear bench seat, seatbelts, restraints, and front and rear floor mats (−55 kg (−121 lb) decrease)
Removed 16 Harman Kardon audio speakers, factory subwoofer, amplifier, and all electrical wiring (−24 kg (−53 lb) decrease)
Removed rear trunk deck lid cover trim, trunk carpeting, and spare tire cover (−20 kg (−44 lb) decrease)
Used smaller, hollower front and rear sway bars (−19 kg (−42 lb) decrease)
Removed mastic, body deadeners, insulators, and foam (−18 kg (−40 lb) decrease)
Used lightweight, all-aluminum four-piston front and rear brake calipers and 360 mm (14 in) front and rear two-piece brake rotors (−16 kg (−35 lb) decrease)
Installed lightweight aluminum front and rear alloy wheels and open-ended front and rear wheel lug nuts (−16 kg (−35 lb) decrease)
Replaced power-tilting and telescoping steering column with manually-tilting and telescoping steering column (−4 kg (−9 lb) decrease)
Removed front and rear ParkSense parking sensors and ParkSense front and rear park sensor module (−2 kg (−4 lb) decrease)
Specifications of the Challenger SRT Demon are as follows:
6.2-liter supercharged HEMI V8 engine, includes 2.7-liter supercharged (840 hp (626 kW; 852 PS) and 770 lb·ft (1,044 N·m) using 100 octane racing fuel[disambiguation needed] or higher, or 808 hp (603 kW; 819 PS) and 717 lb·ft (972 N·m) using 91 octane premium fuel
8-speed ZF 8HP semi-automatic transmission as standard, with steering wheel mounted shift paddles
Runs on 91 octane premium fuel or 100 octane racing fuel, has a fuel mode that enables the 100 octane (first ever in street-legal production car)
1.8 Gs of lateral G-force at full acceleration
Total curb weight of 1,930 kg (4,255 lb) (98 kg (215 lb) less than SRT Hellcat)
Air conditioning
Uconnect 8.4 in (21 cm) touchscreen audio system (w/ SRT performance pages)
Front and rear fender flares (adds 3.5 in (9 cm) to overall width of car)
Alcantara-wrapped steering wheel (w/ shift paddles mounted on it)
Stitched or embossed Demon emblems on front seatbacks
200 mph (322 km/h) speedometer (w/ Demon-themed TFT reconfigurable instrument cluster)
Factory-installed transbrake System (first ever in street-legal production car)
18 in (46 cm) street-legal, Drag Radial Tires (first ever in street-legal production car)
Factory-installed SRT "Power Chiller" (intercooler that uses the vehicle's air conditioning to cool and thus further compresses air from the supercharger)
"Drag Mode" suspension system (first ever in street-legal production car)
Front passenger and rear bench seat delete with rear roll bar (items can be re-added for a dollar each)
"Torque Reverse on Demand" system (first ever in street-legal production car)
Functional hood scoop (largest hood scoop in any production car)
2-Speaker Audio System (Harman Kardon audio system is optional)
Each Demon purchaser will also receive a Demon Crate with their order, which contains the following items:
Direct-connection powertrain control module (PCM)
Low-restriction air filter
High-octane racing fuel[disambiguation needed] switch bank
Personalized and serialized carbon fiber instrument panel badge
Passenger-side exterior door mirror delete plate
Lightweight hydraulic floor jack (w/ Demon logo)
Torque wrench with associated sockets (w/ Demon logo)
Tire pressure gauge (w/ Demon Logo)
Impact wrench; cordless and rechargeable (w/ Demon logo and charger)
Fender cover (w/ Demon logo)
Tool bag (w/ Demon logo)
"Demon Track Pack System"
Personalized and serialized badge (w/ Demon logo)
The Dodge Challenger SRT Demon is featured in the EMP recovery scene of the 2017 movie The Fate of the Furious.
Limited production variants
[
edit
|
edit source
]
In addition to official Dodge concept cars, there have been numerous limited production and street legal variants created by third parties, based on stock cars that have been rebuilt with modified powertrains, suspensions, and interiors. These include the SMS 570 and (supercharged) 570X with up to a claimed 700 bhp (522 kW), the Mr. Norm's Challengers with a claimed 637 or 900 bhp (475 or 671 kW) horsepower, the supercharged SpeedFactory SF600R with around 600 bhp (447 kW), the supercharged Richard Petty Signature Series with a claimed 610 bhp (455 kW), and the Legacy by Petty Convertible Challenger completely customized by Petty's Garage to include a one of a kind front end and NASCAR styled treatments.
Model Year
Sales
2008.75[51]
7,209: SRT-8
2009[51]
8,625: Base

16,395: R/T

9,834: SRT8

Total: 34,854

2010[51]
24,789: Base

22,877: R/T

10,156: SRT8

Total: 57,822

2011[51]
12,562: Base

8,552: R/T

5,265: SRT8

Total: 26,379

2012[51]
24,197: Base

15,158: R/T

7,210: SRT8

Total: 46,565

2013[51]
17,387: R/T

4,563: R/T Classic

Total: 51,462

2014[52]
Total: 51,611
2015[53]
Total: 66,365
First Generation/Origins (1970-1974)
[
edit
|
edit source
]
see also Dodge Challenger for more details.
If the vehicle is sold in other markets worldwide, then this is the section to mention that information. Also, mention if the <MODEL> goes by another name in these other markets.
Design quirks and oddities
[
edit
|
edit source
]
One Challenger was featured in the Second episode of series 12 of the british motoring show, Top Gear. At first, Chrysler (who own Dodge) refused to lend one to presenter, Richard Hammond, claiming that Top Gear always finds Chryslers as bad cars. In retaliation, Richard had to go out and buy one. During the road trip of San Francisco to Bonneville, while Richard was eating, co-presenter Jeremy Clarkson was able to move the Challenger thanks to the its push-button start from its original parking space to the middle of the road where it held up traffic until a very confused Richard came out and moved it again. On windy mountian roads outside Bonneville, the Challenger did not handle well due to it's sedan-based suspension. On the Bonneville salt flats, Richard Hammond managed to acheive over 140mph in the Challenger at the one-mile mark.
Multiple Hot Wheels diecast cars have been produced that are based on the Challenger.
Dodge Challenger In Gaming
[
edit
|
edit source
]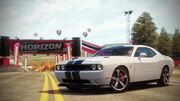 The Dodge Challenger has appeared in the follwing games:
Forza Motorsport 4
Forza Horizon
List out notable awards that the model has recieved while in production. Boldface the company or organization that gives out the award, and Italicize the name of the award.
Community content is available under
CC-BY-SA
unless otherwise noted.