The Dodge Caravan and Dodge Grand Caravan are minivans manufactured by Chrysler LLC (they were sold by the Chrysler Corporation until 1998 and DaimlerChrysler until 2007). They were introduced in 1983 for the 1984 model year along with sister model the Plymouth Voyager (née Chrysler Voyager). The first modern minivans, the Chrysler company minivans are credited with creating the entire market segment for these vehicles. Though there is some debate, the Chrysler triplets did beat the Renault Espace (the first MPV/minivan in Europe, also released in 1984) by a few months, making them the first of their kind.
Since their introduction, the Chrysler minivans have been the best-selling minivans in the United States.
The Dodge Grand Caravan was discontinued mid 2020, ending 36 years of production of the original minivan. Its replacement is the 2020 Chrysler Voyager, an entry level version of the Chrysler Pacifica minivan.
Recent Changes
For 2011, the whole Dodge lineup gets a massive upgrade. The 2011 Grand Caravan receives a receives a vastly improved and quieter interior, better powertrain choices and more aggressive suspension. Outside changes are minor, however, inside the minivan is now swaddled in top-notch materials, better seats and redesigned gauges. Under the hood, Chrysler has fitted its new 3.6 litre Pentastar V6 is available, pumping out 283 horsepower and 260 pound-feet of torque. [1]
Overview
Introduced in November 1983 for the 1984 model year, the first minivan of all time, the Dodge Caravan was based on the Chrysler S platform, an extended derivative of the Chrysler K platform. For the 1987 model year, a longer wheelbase was introduced, which was called the Grand Caravan. It was still based on the Chrysler S platform.
Since the beginning of production in the fall of 1983, over 11 million Chrysler, Dodge and Plymouth minivans have been sold as of mid-2005.
Special anniversary editions of the Chrysler minivans have been issued to mark significant milestones; the first, in 1994, is notable for the "10 YEAR ANNIVERSARY EDITION" badges and special two-tone paint, and was offered on the Dodge SE models. The twentieth anniversary was marked in 2004 with the Anniversary Edition SXT Caravan.
Pricing
Add more fields as necessary.
2020 Grand Caravan Trims
SE
SXT
MSRP
$27,530
$32,995
Invoice
$Price1
$Price2
Gas Mileage
Add more fields as necessary.
As seen on the FuelEconomy.gov website, the City/Highway MPG averages are as follows:
Trim
Trim1
Trim2
Trim3
Trim4
MPG
c/h
c/h
c/h
c/h
Engine and Transmission
Specifications, details, graphs, pictures and other information regarding the powertrain is placed in this section.
Performance
Please make sure to write information of the vehicle's performance in a third-person point of view. This section should include information about the car's acceleration figures, handling, braking, etc.
If using information gathered from Road Test articles from a reputable automotive source, then please make sure to cite the quote.
Reliability
RECALL ALERT: On Dec 15, 2010, Chrysler launched a recall affecting 367,350 2008MY Chrysler Town and Country/Dodge Caravans due to a water leak in the heating and air conditioner drain grommet, which, eventually, can lead to inadvertently deployed airbags. Chrysler and Dodge dealers will replace the faulty part free of charge, starting from February 2011. Owners may contact the automaker at 1-888-327-4236.[2]
Safety
This section should reference points on safety ratings and features of the vehicle.
Photos

Add Photos of the vehicle here.
Please make sure not to use copyrighted photos.
Colors
2001 (4th Gen.)
All Colors:
Aquamarine Metallic Clearcoat
Bright Silver Metallic Clearcoat
Champagne Pearl Clearcoat
Dark Garnet Red Pearlcoat
Inferno Red Tinted Pearlcoat
Light Almond (Pearl Metallic Clearcoat) - Grand Caravan
Onyx Green (Pearlcoat) - Grand Caravan
Patriot Blue Pearlcoat
Shale Green Metallic Clearcoat
Steel Blue Pearlcoat
Stone White Clearcoat
2002
Added:
Removed:
Champagne Pearl Clearcoat
Shale Green Metallic Clearcoat
2003
Added:
Brilliant Black Crystal Pearlcoat
Deep Molten Red Pearlcoat
Midnight Blue Pearlcoat
Satin Jade Pearlcoat
Removed:
Aquamarine Metallic Clearcoat
Steel Blue Pearlcoat
2004
Removed:
Dark Garnet Red Pearlcoat
2005
Added:
Atlantic Blue Pearlcoat
Inferno Red Crystal Pearlcoat
Linen Gold Metallic Clearcoat
Magnesium Pearlcoat
Removed:
Deep Molten Red Pearlcoat
Light Almond Pearl Metallic Clearcoat
Onyx Green Pearlcoat
Satin Jade Pearlcoat
2006
Removed:
Inferno Red Tinted Pearlcoat
2007
Added:
Marine Blue Pearlcoat
Modern Blue Pearlcoat
Silver Steel Metallic Clearcoat
Removed:
Atlantic Blue Pearlcoat
Butane Blue Pearlcoat
Midnight Blue Pearlcoat
Main Competitors
2001
2020
Hybrid Models
If there are hybrid versions of this vehicle manufactured, then please elaborate a little bit on it here.
Unique Attributes
If there are any features of this vehicle that sets it apart from other vehicles in its class, then mention those unique attributes here.
Interior
This section should include information on the interior's design, build quality, ergonomics, space (head and legroom, front and rear), features, stowage compartments and overall comfort and livability. Add pictures wherever applicable and keep information in a third-person point of view.
Resale Values
Add more fields as necessary.
<MODEL> Year
Year X
Year X-2
Year X-3
Year X-4
Resale Value
$
$
$
$
Criticisms
Please make sure to keep critiques in a third-person point of view. If using criticisms from a reputable automotive source, then please make sure to cite the quote.
Generations
Fill in as many as appropriate. Add more if necessary and pictures wherever applicable.
Please make sure NOT to use copyrighted pictures.
Fifth Generation (2008 - 2020)
The minivans are expected to be redesigned in 2007 as 2008 models by Ralph Gilles, who also worked on the Chrysler 300 and Dodge Magnum. A six-speed automatic transmission and a new 4.0 L V6 engine are all but certain to appear, while a diaper changing station is rumored. Also, there may be rear windows that roll down, or a Hemi engine. Chrysler has finalized a deal through which Volkswagen will receive a variant of the Chrysler RT platform van with its own styling and features. It is expected to be produced at Saint Louis Assembly alongside the Dodge and Chrysler vans. Volkswagen says it is not the same as the Chrysler minivans, but still uses the Caravan/Town & Country platform. The plans are to keep the Stow 'n Go seating, maybe even for the front passenger seat, but that is still being decided.
By the look of the front grille and headlights, a bit of family resemblance to the Charger and Magnum is seen. The rear of the new van is squared off, unlike the past two generations, and is quite like the Nissan Quest. The taillights are similar to the current generation, but squared off. The Grand Caravan will be discontinued in mid 2020, after 36 years of production.
Fourth Generation (2001-2007)
This generation's minivans used the Chrysler RS platform. Foldable Stow 'n Go second and third-row seats, available only on the Grand Caravan, were introduced for 2005. These would become a characteristic of Dodge Grand Caravans from then on.
On February 5, 2004, Chrysler held a Stand By Your Van Contest, where 20 contestants had to place one hand on the updated 2005 van. The person whose hand was on the longest would win a brand new Grand Caravan, and would be one of the first consumers to experience the new Stow 'n Go seating. The event was held during the Chicago Auto Show.
This minivan was much larger than before, with more cargo space, and is probably larger than the current Dodge Durango.
The Mitsubishi 3.0 L V6, which no longer met emissions standards in California and the northeastern U.S, was dropped from the engine lineup for 2001. A 3.5 L V6 was also planned for a mid-year introduction for 2001, but this never came to fruition.
The Caravan and Grand Caravan C/V (Cargo Van) also returned to the lineup for 2003 after being dropped in 1995.
Engines
2001-2007 2.4 L

EDZ

I4, 150 hp (112 kW) at 5400 rpm and 165 lb⋅ft (224 N·m) at 4000 rpm (Caravan SE only)
In Canada, the 3.3 L EGA V6 was standard on all models.
Third Generation (1996-2000)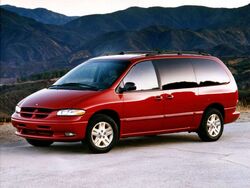 The 1996 redesign used the Chrysler NS platform and included a driver's side sliding door, a first for Chrysler. All wheel drive was reintroduced in 1997. The Caravan was Motor Trend magazine's Car of the Year for 1996. The Caravan was also on Car and Driver magazine's Ten Best list for 1996 and 1997.
Base models of the Caravan were offered in most states with either a 2.4 L four-cylinder or the 3.0 L Mitsubishi V6 engine, except in California and several northeastern states, where the Mitsubishi V6 didn't meet emissions standards. In those locales, the 3.3 L engine was offered as the V6 option from 1997 through 2000. The manual transmission, never popular, was dropped. The 2.4 L four-cylinder engine produced more power than the Mitsubishi 3.0 had in the first two generations.
In 1999 Dodge introduced the Caravan EPIC, an Electric Vehicle. This is the only production EV minivan. After the initial leases expired, Dodge had these vehicles crushed. Only about 10 were saved from this process and remain in private hands.
Engines
Other plans for this model year included three minivan concepts all to be made in the Windsor Assembly Plant, the Dodge Caravan R/T, Voyager XG, and the Chrysler Pacifica. The Caravan R/T was to include the most powerful engine ever for a minivan, rated at 225 hp. It had two Dodge Viper hoodscoops, a brushed aluminum instrument panel, racing-style pedals, and black and white rubber flooring. The Voyager XG was more rugged, and included many outdoor amenities, such as a built-in ice pack. The Chrysler Pacifica was more luxurious, had power leather seats and footrests, overhead bins and lighting, an LHS grille, and roof-long skylights. The skylights were used by the Nissan Quest instead. The Pacifica did come to be in 2003, based on the current Caravan, except that it became a crossover SUV rather than a minivan. It would become a minivan in 2017.
Second Generation (1991-1995)
The 1991 through 1995 the Caravan used the Chrysler AS platform. These were the last minivans that were derived from the Chrysler K platform.
This generation of vans brought additional innovations, such as:
"Quad Command" bucket seating (1991)
Integrated child safety seats (1992), improved design with recliners (1994)
Available anti-lock brakes (1991)
First driver's side airbag in a minivan (1991), made standard (1992), and first dual front airbags (1994)
First minivan to meet 1998 U.S. federal safety standards (1994)
Engines
First Generation (1984-1990)
The first generation Caravans used the Chrysler S platform, which was closely related to the K-cars (Plymouth Reliant and Dodge Aries. There were three trim levels on the first generation Caravan: base, mainstream SE and upscale LE. The Caravan was on Car and Driver magazine's Ten Best list for 1985. Both a three-speed TorqueFlite automatic transmission and a five-speed manual were available with the four-cylinder engines, including the turbocharged 2.5 L (this was a rare combination). A cargo version of the Caravan, called the Mini Ram Van, was also introduced in 1984. It was renamed as the Caravan C/V for 1989, and was discontinued after 1995.
Engines
In Pop Culture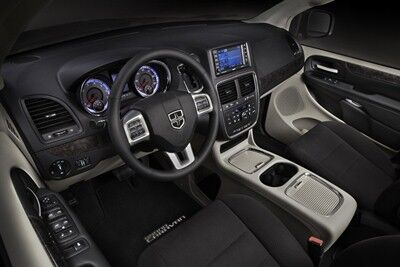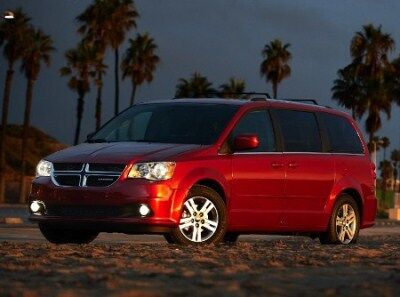 Movies
High School Musical 2- A Grand Caravan is used to pick up Gabriella at the end of the song 'Gotta go my own way'.
American Pie- A Grand Caravan is used.
Drop Dead Gorgeous- Several Caravans are used.
The Family Man- A Caravan is driven.
Mr. & Mrs. Smith (2005)- A Caravan is involved in car chase. Brad Pitt also makes a remark about the van, saying "These power doors come in handy." (It is also noted that a goof in the scene is that the Caravan switches to a Chrysler Town and Country occasionally)
Mrs. Doubtfire - A C/V cargo van is used when the guy delivers food to the house Mrs. Doubtfire (Daniel in disguise) gets burnt on the stove.
Twister- A rival storm chasing team led by the smug Dr. Jonas Miller (Cary Elwes) used a small fleet of black Caravans.
The Jackal- The Jackal (Bruce Willis) drives a Caravan at the beginning and paints it a lot of times.
War of the Worlds - A Dodge Caravan is driven by Tom Cruise.
Television
King of the Hill - Dale Gribble drives one, nicknamed the "Bugabago", and has a giant dead ant on the roof.
Malcolm in the Middle- Lois drives a 1.5 generation with the wood on the side.
The Simpsons - 2 episodes Mel Gibson drives Homer to a studio in a 1999 Caravan; Homer thought it was a Toyota Previa. In another episode, Fat Tony's mob drives to Homer's house in a 3rd generation Caravan. In another episode of The Simpsons, Apu's wife Manjula drove a green Dodge Caravan.
Quintuplets - The Chases compete to be the stars of a commercial for a new Dodge Caravan, which they will get to keep if they win to replace their old 1st generation Dodge Caravan

Minivan production
The long-wheelbase Dodge Grand Caravan with Stow 'n Go seats are built in Windsor, Ontario, Canada at Windsor Assembly (WAP Plant 3) by members of Canadian Auto Workers Local 444. The short wheelbase Dodge Caravan is produced in Fenton, Missouri at Saint Louis Assembly by members of the United Auto Workers Local 110.
See Also
External links
This page uses content from Wikipedia; see Dodge Caravan, which includes these contributors.