De Tomaso Pantera
De Tomaso
aka
Pantera GTS
Pantera L
Production
1971-1996 (7260 produced)
Class
Sports car
Body Style
2-door, 2-seat, Mid-Engined
Coupe
Targa
Length
4013 mm (158 in) (1971)

4270 mm (168 in) (later spec.)

Width
1702 mm (67 in)
Height
1100 mm (43.4 in)
Wheelbase
2500 mm (98.4 in)
Weight
1417 kg (3123 lb) (1971, curb)
1431 mm (3155 lb) (1972)
1474 kg (3219 lb) (1986 GT5-S)
1496 kg (3300 lb) ('91 Pantera 2)
Transmission
ZF 5-speed manual transmission
Getrag 6-speed manual transmission
Engine
5.7 litre (351 in³) Ford Cleveland V8
5.7 litre (351 in³) Windsor V8
5.0 liter (302 in³) Ford V8
Power
330 hp (1971)

310 hp
380 lb-ft of torque @ 3400 rpm (1972)

305 hp
162.0 lb-ft of torque @ rpm ('91 Pantera 2)
Similar
Maserati Bora
BMW M1
Lamborghini Countach
Lamborghini DiabloLamborghini Jalpa
Designer

Tom Tjaarda

of Ghia


Giam Paolo Dallara

(chassis and production)
Marcello Gandini (90's facelift)
The Pantera was a sports car produced by the De Tomaso company of Italy from 1971 through 1996. The word "Pantera" is Latin for "Panther". The car was designed by famed stylist, Tom Tjaarda and replaced the De Tomaso Mangusta. Unlike the Mangusta, which employed a steel backbone chassis, the Pantera was a steel monocoque design, the first instance of deTomaso using the construction technique.
The first 1971 Pantera was powered by a 351 in³ (5.8 L) Ford Cleveland V8 which produced 330 hp (246 kW). This was linked to a ZF five-speed manual transmission. Power-assisted four-wheel disc brakes and rack and pinion steering were also specified. The 1971 Pantera could accelerate to 60 mph (97 km/h) in 5.5 seconds according to Car and Driver.
Late in 1971, Ford began importing Panteras for the American market to be sold through its Lincoln Mercury dealers. The first 75 cars were simply European imports and are known for their "push-button" door handles and hand-built Carrozzeria Vignale bodies. A total of 1,007 Panteras reached the United States that first year.
Several modifications were made for the 1972 model year. A new 4-bolt Cleveland engine was used with lower compression (from 11:1 to 8.6:1) but with more aggressive camshaft timing. Many changes were made internally, including the use of a factory exhaust header.
The "Lusso" (luxury) Pantera L was also introduced in 1972. It featured large black bumpers for the US market as well as a 248 hp (185 kW) Cleveland engine.
The 1974 Pantera GTS featured yet more luxury items and badging.
Ford ended their importation to the U.S. in 1975, having sold roughly 5,500 cars in the United States. de Tomaso continued to built the car, however, in ever-escalating forms of performance and luxury for more than a decade. A small number of Panteras were imported to the US by gray market importers in the 1980s, notably Panteramerica. In all, about 7,200 Panteras were built.
Specifications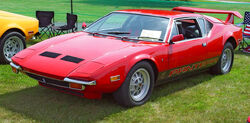 1971 specifications:
Power: 330 hp (246 kW)
Curb weight: 3123 lb (1417 kg)
Wheelbase: 98.4 in (2500 mm)
Front track: 57.0 in (1448 mm)
Rear track: 58.0 in (1473 mm)
Length: 158.0 in (4013 mm)
Width: 67.0 in (1702 mm)
Height: 43.4 in (1102 mm)
Photos
Trivia
Elvis Presley once famously fired a gunshot at his Pantera after it wouldn't start up
Herbie Goes to Monte Carlo (1977) featured a Pantera II, driven by Frenchman Claude Gilbert (Mike Kulcsar) in the Trans-France Race. There were three other Panteras seen in this film. One was brown with few other decals besides a number 11 on hood and doors. A second Pantera was red with a black number 30 against a white square background. A third Pantera seen in the film was black with a number 10 on it. These other Panteras were not seen quite as often as Claude Gilbert's, however.
Tim Horton, NHL player and doughnut shop magnate, was driving a Pantera when he lost control and was killed in 1974.
A yellow De Tomaso Pantera GTS was found in the original Gone in 60 seconds in 1974.
Vince Neil, lead singer for Mötley Crüe was driving a Pantera when he caused the infamous accident that killed Hanoi Rocks drummer Razzle (Nicholas Dingley) and injured two other people.
Former Top Gear presenter Quentin Wilson severely damaged a Pantera when he lost control of it on Copse corner at Silverstone.
A white GT5 rendered in a white background appears on the cover of the Japanese edition of R:Racing Evolution.
Later Panteras were known as bargain Countaches because of their similar add-on spoilers and wheel arches
The word "Pantera" is Italian for "Panther".
The Pantera is featured in Forza Motorsport 3 and Forza Motorsport 4.
Comprehensive list of DeTomaso and Pantera appearances in Film, Television and Video.
External Links