'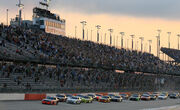 'Darlington Raceway is race track built for NASCAR Racing located near Darlington, South Carolina.
History
Darlington Raceway was built in 1950 by a retired race car driver named Harold Brasington. The first event know as the Southern 500, took place later that year on Labor Day Weekend. Johnny Mantz won the event which featured more that eighty entrents. Racing was basically the same every year with intense finishes and wild crashes. In 2003, the closest finish in NASCAR Sprint Cup Series history took place when Kurt Bush and Rickey Craven fought for the lead. Rickey Craven won the event by 0.004 of a second. In 2012, Jimmie Johnson scored Rick Hendrick's 200th carreer victory at the track.
Struggles
In 2003, ticket sales were very low and Darlington went from having two NASCAR events down to only one. In 2004 the Southern 500 was replaced and the race became known as the Dodge Delears 400. But in 2009, after ticket sales went back up, the race returned to a Labor Day event and was re-named The Southern 500.
Attractions
Darlington Raceway Stock Car Museum: This museum located just a couple of miles from the track and is a museum dedicated to Stock Car Racing Events that took place on Darlington Raceway and other South Carolina race tracks.
Current Events
NASCAR Sprint Cup Series:
Main Event: Showtime Southern 500
NASCAR Nationwide Series:
Main Event: Sports Clips 200
NASCAR Camping World Truck Series:
Main Event: Too Tough To Tame 200
USAC Silver Crown Series
Main Event: Darlington Silver Crown Showdown
Past Events
Izod IndyCar Series:
Main Event: IndyCar At Darlington
Darlington In Gaming
Darlington Raceway has appeared in the follwing games:
NASCAR 98 (First Apperence)
NASCAR 99
NASCAR 2000
NASCAR 2001
NASCAR Thuder 2002
NASCAR Thunder 2003
NASCAR Racing 2003 Season
NASCAR Thunder 2004
NASCAR 2005: Chase For The Cup
NASCAR 06: Toltal Team Control
NASCAR 07
NASCAR 08
NASCAR 09
NASCAR The Game: 2011
NASCAR The Game: Inside Line
Nascar 14
NASCAR 15
NASCAR Heat Evolution
Gallery