Search By Model

2016 Current Models
Kei Cars (City Cars)
Daihatsu Motor Co., Ltd. (ダイハツ工業株式会社 Daihatsu Kōgyō Kabushiki-gaisha) is a Japanese manufacturer of cars, especially compact/small cars. These cars are also known as "kei jidosha" in Japan.
Daihatsu researches hybrid vehicles and two stroke diesel engines.
The name "Daihatsu" is a combination of the first kanji (Chinese character) for Osaka (大) and the first of the word "engine manufacture" (発), put together they are pronounced "daihatsu".
Company history
1907 Hatsudoki Seizo Co., Ltd. founded
1951 Company renamed: Daihatsu Motor Co., Ltd.
1967 Starting cooperation with Toyota Motor Corporation
1992 Daihatsu USA closed in February
1999 Becomes subsidiary of Toyota Motor Corporation
It was reported on 31 March, 2005, that Toyota will pull Daihatsu out of the Australian market, after sales dwindled severely. Sales were down a third so far in 2005, from 816 to just 541 vehicles. This is in spite of the new-car market in Australia growing 7%. Daihatsu will completely wind up sales in March 2006. Daihatsu has been in the Australian market for almost 40 years. The same was thought about Daihatsu´s operations in Chile, where its a well known brand for its `70s models as the Charade or Cuore, after sales of around 10 units in 2004 and 2005 (each year). But Toyota announced it will take the distribution for Daihatsu in Chile, to get back to the glory years of the brand there. There will be many new models as well. Maybe the same can happen in Australia. Daihatsu is quite popular in Venezuela nowadays, with the Terios. Daihatsu has supplied cars under different badges to many different automakers in the past, and also supplies engines and transmissions to Malaysia's #2 carmaker, Perodua, which sells cars in the UK and Malaysia.
Passenger car models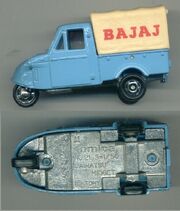 Concept Cars
See Also
Plants
Ikeda (Osaka prefecture), also headquarters
Ryuo (Shiga prefecture)
Tada (Hyogo prefecture)
Oyamazaki (Kyoto prefecture)
Sunter II (Indonesia) - Astra Daihatsu
Cumana, Estado Sucre (Venezuela) - Terios is the only Daihatsu model that is made there.
External Links
Community content is available under
CC-BY-SA
unless otherwise noted.