Daewoo Lacetti
Daewoo
aka

Buick HRV

, Buick Excelle,

Chevrolet Lacetti

, Chevrolet Optra, Chevrolet Nubira,

Holden Viva

, Suzuki Forenza, Suzuki Reno

Chevrolet Cruze
Production
produced from when to when+total units made (optional)
Class
Compact Family Car
Body Style
4-door, 5-seat Sedan
Length
length - type here
Width
Width - type here
Height
Height - type here
Wheelbase
wheelbase - type here
Weight
Weight - you get the point
Transmission
transmission + drive
Engine
engine
Power
N/A hp @ N/A rpm
N/A lb-ft of torque @ N/A rpm
Similar
similar (competition)
Designer
Designer (lead designer if it was a team effort)
Use the following MODEL TEMPLATE as the foundation for the Autopedia's Model page:
Start off with a brief Introduction to the particular MODEL. Please DO NOT use the same Introduction text from the <MODEL> Review page, but rather paraphrase ideas relevant to grasp an overall scope of the vehicle.
Please include the following line at the bottom of this section. Please replace <MODEL> Review with the proper text:
See Autopedia's comprehensive <MODEL> Review.
Recent Changes
For 2009, the Lacetti has been completely refreshed in the form of a badge-engineered Chevrolet Cruze. The new car will be powered by a 114 hp 1.6 litre four pot mated to a five-speed manual gearbox standard or an optional six-speed slushbox. Prices start from KRW 11.5 million. [1]
There has currently been only one facelift to the model since it was released (a slight remodelling of the front bumper and grill) but a new model has been destined for release in the next 2 to 3 years.
Styles and Major Options
Certain vehicles come in different trim levels or body styles. Features and major options should be mentioned here.
Pricing
Add more fields as necessary.
MODEL Trims
Trim1
Trim2
Trim3
Trim4
MSRP
$Price1
$Price2
$Price3
$Price4
Invoice
$Price1
$Price2
$Price3
$Price4
Gas Mileage
Typical fuel consumption is listed in the vehicle manual for a 1.8L inline 4 sedan with 5 speed manual transmission as: City Driving: 9L/100km Highway Driving: 6L/100km
Trim
Trim1
Trim2
Trim3
Trim4
MPG
c/h
c/h
c/h
c/h
Engine and Transmission
Specifications, details, graphs, pictures and other information regarding the powertrain is placed in this section.
Performance
Please make sure to write information of the vehicle's performance in a third-person point of view. This section should include information about the car's acceleration figures, handling, braking, etc.
If using information gathered from Road Test articles from a reputable automotive source, then please make sure to cite the quote.
Reliability
The Lacetti was sold with a standard 3 Year/100,000km limited warranty when sold new from dealerships, however, since the Lacetti is still considered relatively new on the market, not many issues regarding reliability have been easily found in this late stage.
Safety
This section should reference points on safety ratings and features of the vehicle.
Photos
Add Photos of the vehicle here.
Please make sure not to use copyrighted photos.
Main Competitors
The Daewoo Lacetti's main competitors can be easily stated as any small to medium sized car. The Mitsubishi Lancer and Toyota Corolla, however, are considered its main rivals.
Unique Attributes
If there are any features of this vehicle that sets it apart from other vehicles in its class, then mention those unique attributes here.
Interior
This section should include information on the interior's design, build quality, ergonomics, space (head and legroom, front and rear), features, stowage compartments and overall comfortability and livability. Add pictures wherever applicable and keep information in a third-person point of view.
Resale Values
There has been constant criticism regarding the poor resale values of used Daewoos and the Lacetti is considered no different. Although the Lacetti is considered one of Daewoos better made vehicles, many pundits consider that the Daewoo badge itself is to blame and they have been quoted in car reviews as saying "badge snobs beware", saying that the car itself is a class effort but it is the Daewoo badge that let it down as a consumer product.
<MODEL> Year
Year X
Year X-2
Year X-3
Year X-4
Resale Value
$
$
$
$
Criticisms
There have been some criticisms regarding the CD player face plate. Critics have commented on the buttons being to small to be easy to use. Some more criticism relates to the fact that when one releases the accelerator pedal the engine tends to remain at the same revolutions before the pedal was released for a brief moment. Many have commented that other cars experience this similar issue but consider it just a "quirk" of the car.
Generations
Fill in as many as appropriate. Add more if necessary and pictures wherever applicable.
Please make sure NOT to use copyrighted pictures.
Current Generation: (2009–present)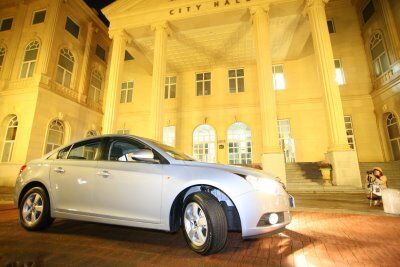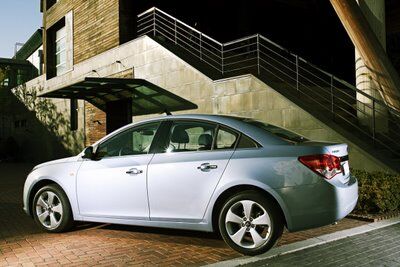 The latest generation Lacetti is a rebadge of the Chevrolet Cruze and powered by a 1.6 litre four-pot that churns out 114 hp and attached as standard to a five-speed manual gearbox. A six-speed automatic transmission is also available as an option. Prices in Korea will start from 11.5 million won.

First generation (2003–2009)
Worldwide
If the vehicle is sold in other markets worldwide, then this is the section to mention that information. Also, mention if the <MODEL> goes by another name in these other markets.
Design quirks and oddities
The British television program Top Gear has been using the Daewoo Lacetti (Badged as a Chevrolet Lacetti in the UK) as the vehicle used by celebrities in the "Star in a Reasonably Priced Car" segment of the show.
The previous car (A Suzuki Liana) was replaced at the start of Series 8 and host Jeremy Clarkson has commented on the fact that the Lacetti is easier to drive and over four seconds faster on a typical lap of the Top Gear circuit.
Awards
List out notable awards that the model has recieved while in production. Boldface the company or orgainization that gives out the award, and Italicize the name of the award.
See Also
External Links