A crossover SUV (also called CUV for Crossover Utility Vehicle) or XUV (not to be confused with GMC's Envoy XUV) is an automobile with a sport utility vehicle appearance but is built upon a more economical and fuel-efficient car-based platform.
History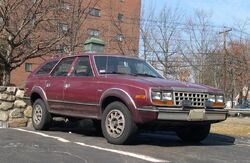 The first of this class of vehicles was the 1957 Moskvitch 410, but more well-known examples are probably the Lada Niva and the AMC Eagle, which debuted in 1977 and 1980 respectively. The Eagle combined Jeep 4×4 off-road functionality with the AMC Concord car-based platform and bodywork. It sold enough to build a small following in sedans, wagons, and short Spirit based bodystyles. It was discontinued in 1988 when Chrysler phased out old AMC heritage designs. The Niva is still in production, and many Eagles are still on the road.
In the 1990s, an SUV and light truck craze took hold of the North American vehicle market, catapulting what once was a small piece of the market that was originally dedicated to farmers and outdoorsmen to vehicles that were being used as family cars, to the extent that by the end of the decade, light trucks accounted for almost 50% of all new vehicle sales, and overwhelmingly the popularity of the SUV segment was responsible for this shift in buying patterns.
Traditionally, SUVs were heavy-duty truck-based appliances, with body-on-frame construction. In response to market demands, automakers had been continually making each successive generation of their SUVs more and more "car-like" but the inherent limitations of this configuration made them poorly suited for their new primary function as family haulers.
Research showed that a vast majority of SUV owners never took their vehicles off-pavement, much less used them for fording streams or climbing boulders, which was their original raison d'etre. An opportunity to provide what this new type of SUV owner actually wanted was seized.
Customers liked the idea of all-weather traction provided by four wheel drive, the ability to haul large items or a good number of people, and enjoyed the "commanding" seating position and sense of security that they believed the mass of an SUV provided, but mostly they liked the illusion of an active, outdoorsy lifestyle that an SUV suggested, and that minivans and station wagons implicitly did not.
The Toyota Camry-based Lexus RX300 was introduced in 1999 and was an instant success. It provided all of the aforementioned attributes that customers were looking for in an SUV, but additionally provided car-like attributes such as a smooth ride, (relatively) good handling, low step-in height and decent gas mileage, all while providing the desired SUV psychological imagery.
A more precise term for "Cross-Over" might be a design that is not a direct modification of an existing car, or truck. "Cross-Over" was applied to the Lexus RX300 to indicate its indeterminate status, and has often been retroactively applied to modified cars such as the AMC Eagle. Much of the Eagle's market would be served when Subaru switched to all AWD cars. Eagleweb is "put off by Subaru's unjust claim" and Automobile Magazine commented "Subaru calls the Outback the "world's first sport-utility wagon," a claim that AMC Eagle owners seem too embarrassed to dispute."
Given the inherent fuzziness of the "Crossover" designation, and automakers' desire to introduce vehicles into this currently "hot" segment, any number of improbable vehicles that are far removed from the original SUV concept are grouped in this category. The designation now signifies almost any non-truck based model that carries some form of SUV styling cues or attributes.
Chrysler, after absorbing AMC would not market cars and wagons like the AMC Eagle until the Chrysler Pacifica (low minivan derivative) and the Chrysler 300C (AWD sedan) of the 2000s. With the Ford 500 (tall sedan) and Ford Freestyle (wagon version of same), and Saturn Vue (SUV derived from small car), all of the Big 3 would have crossover cars or SUVs. The Subaru B9 Tribeca is a dedicated 3-row SUV redesign starting with the Legacy platform, while the popular Honda Pilot is a redesign of the Honda Odyssey minivan, and the Honda Ridgeline is a crossover pick-up truck.
Advantages
Car-based crossover SUVs vehicles have three primary advantages over truck-based SUVs:
Handling - The unsafe handling characteristics of trucks with respect to sudden, evasive maneuvers has been demonstrated and accepted. Their high

center of gravity

, tall tire sidewalls, and long-travel suspensions (designed for heavy cargo and off-road use) make designing a truck-based SUV to be resistant to rollovers extremely difficult. Car-based crossovers ride lower and feature more road-appropriate suspension designs, that while limiting their ultimate off-road utility makes them much more stable and responsive.
Economy - Car-based crossovers are much lighter than their heavy-duty truck-based cousins. They also feature light-duty all wheel drive or even just two wheel drive rather than less-efficient and heavy four wheel drive, and use lighter

unibody

construction as well as coming equipped with more practical "on-road"-oriented tires. As a result, most crossovers get only slightly worse fuel economy than station wagons and sedans based on the same platform owing primarily to the fundamentally less efficient aerodynamics of the SUV shape.
Cost - Light-duty car components can be cheaper to build and in fact, many modern crossovers are based on small economy cars, driving underlying costs lower still.
Continuing proliferation
Given the market's demonstrated insatiable appetite for SUVs and SUV-like vehicles, automakers have been scrambling to imbue the desired characteristics (with varying success) to a wide range of disparate products from station wagons such as the Subaru Outback and the Audi Allroad to minivans like the Pontiac Montana SV6, and the Mazda MPV All Sport, extending even to sedans like the Subaru Outback SUS and Ford Five Hundred and running the gamut from entry-level, inexpensive models like the Honda CRV to the luxurious and pricey Cadillac SRX.
Almost every automaker participating in the North American market has a "crossover" vehicle, and the selection of choices has exploded. A short list of current crossovers with their platform genealogy follows (similar vehicles are grouped together):
See also