Citroën Saxo
Citroën
aka
Type aka here, not up there
Production
1996-2003
Class
denote market class
Body Style
how many doors+how many seats+what type of body
Length
length - type here
Width
Width - type here
Height
Height - type here
Wheelbase
wheelbase - type here
Weight
Weight - you get the point
Transmission
transmission + drive
Engine
engine
Power
N/A hp @ N/A rpm
N/A lb-ft of torque @ N/A rpm
Similar
similar (competition)
Designer
Designer (lead designer if it was a team effort)
The Citroën Saxo is a supermini produced by the French manufacturer Citroën (PSA) from 1996 to 2003. It was also sold in Japan as the Citroën Chanson, as the "Saxo" name had been registered by Honda in that market. It shares many engine and body parts with the Peugeot 106, the major difference being interiors and body panels. It was replaced by the Citroën C2 in the autumn of 2003.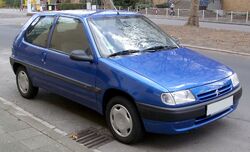 The Saxo received a style makeover at the start of the year 2000, commonly branded as a MK2, with the major differences being more modern styled headlights, bonnets and grilles to replace the ageing square style on the MK1 and Multipoint injection replacing the single point on the 1.1L engines.
PAS became standard on all but the very basic models. More subtle changes were alterations to the rear lights (the indicator sections are more "white") and the engine control unit moved from a single plug to 3 plugs. The old 3 stud wheel layout was also dropped.
There was also a minor facelift during the MK1 phase of the cars production in line with the then current releases by Citroen, moving towards a rounder look.
Certain vehicles come in different trim levels or body styles. Features and major options should be mentioned here.
Add more fields as necessary.
MODEL Trims
Trim1
Trim2
Trim3
Trim4
MSRP
$Price1
$Price2
$Price3
$Price4
Invoice
$Price1
$Price2
$Price3
$Price4
One area in which the Saxo excelled was fuel efficiency. Even the sports models could manage nearly 50 mpg-imp (5.6 L/100 km; 42 mpg-US) at cruising speeds, whilst the 1.1 could manage nearer to 60 mpg-imp (4.7 L/100 km; 50 mpg-US).
This came as no surprise, since its predecessor the Citroën AX in diesel form held the record for the best fuel economy achieved in a production car, 103 miles per imperial gallon (2.74 L/100 km; 86 mpg-US) - a record that stands many years, until 2008 (beaten by Peugeot 308 1.6 HDi with 2.23 litres per 100 kilometres (126.67 mpg-imp; 105.48 mpg-US) - official Guinness record)
As seen on the FuelEconomy.gov website, the City/Highway MPG averages are as follows:
Trim
Trim1
Trim2
Trim3
Trim4
MPG
c/h
c/h
c/h
c/h
Specifications, details, graphs, pictures and other information regarding the powertrain is placed in this section.
1.0 petrol 50 bhp
1.1 petrol 60 bhp
1.4 petrol 75 bhp
1.5 diesel 58 bhp
1.6 VTR petrol 90 bhp (1999 and later 100 bhp)
1.6 VTS (16 valve) petrol 120 bhp
Please make sure to write information of the vehicle's performance in a third-person point of view. This section should include information about the car's acceleration figures, handling, braking, etc.
If using information gathered from Road Test articles from a reputable automotive source, then please make sure to cite the quote.
Warranty options and scheduled maintenance information should be mentioned here.
The Saxo's crash test results from Euro NCAP was only 2 stars, which was a poor effort in year 2000, but comparable to most small cars at the time of the Saxo's release.
Add Photos of the vehicle here.
Please make sure not to use copyrighted photos.
List the colors that the particular <MODEL> is offered in.
If there are hybrid versions of this vehicle manufactured, then please elaborate a little bit on it here.
If there are any features of this vehicle that sets it apart from other vehicles in its class, then mention those unique attributes here.
The equipment list was generally sparse, with budget models having drivers air bag, seat belt pre-tensioners, cassette player, heated rear screen and tinted windows, and early mk1's with keypad immobilisers and a clock in place of a tachometer and 3 stud wheels, much like the AX. Further up the list sunroofs, PAS, Electric windows, ultrasonic alarm, passenger airbag, CD player, tachometer, front fog lights, bodykits, colour coded mirror caps and alloy wheels were added, to name a few.
The 1.6L VTR and VTS Saxo's were the best equipped, with both gaining rear disc brakes as opposed to drum brakes, and ABS as an optional extra on the VTR and standard on the VTS.
Few special models were released throughout the Saxo's life, most notably the "Open Scandal", a Saxo with a full length sliding canvas roof. Other special editions added certain extra's to the lower end model, such as sunroofs or PAS. Notable models are the Westcoast up to 1999 and the furio to 2003, as they incorporated the standard Saxo bodykit found on the VTR and VTS with a more insurance friendly 1.4L engine.
Air-conditioning was never an option on right-hand-drive Saxo's because the blower motor was mounted in the bulk-head on the drivers side. As a result, there was insufficient space available to accommodate the evaporator, except by first ducting the air flow to the passenger side and then at the expense of the glove-box. Although an after-market kit was available that did exactly this, the resultant pressure loss made the system noisy and ineffective. The blower motor could also not be easily relocated, since the windscreen wiper motor was mounted in the passenger side space.
As with many other small cars of the time, the standard stereo system included 5.25" drivers mounted low in the front doors and 4" drivers mounted in the rear quarter panels. This set-up could be easily improved upon by mounting separate tweeters in the A-panel trims, similar to many VW models of the time. The very thin door cards and metalwork did however leave the system very 'thin' sounding, with very poor output in the upper-bass ranges.
Add more fields as necessary.
<MODEL> Year
Year X
Year X-2
Year X-3
Year X-4
Resale Value
$
$
$
$
Please make sure to keep critiques in a third-person point of view. If using criticisms from a reputable automotive source, then please make sure to cite the quote.
Fill in as many as appropriate. Add more if necessary and pictures wherever applicable.
Please make sure NOT to use copyrighted pictures.
Current Generation: (YYYY–present)
[
edit
|
edit source
]
Fifth generation (YYYY–YYYY)
[
edit
|
edit source
]
Fourth generation (YYYY–YYYY)
[
edit
|
edit source
]
Third generation (YYYY–YYYY)
[
edit
|
edit source
]
Second generation (YYYY–YYYY)
[
edit
|
edit source
]
First Generation/Origins (YYYY–YYYY)
[
edit
|
edit source
]
If the vehicle is sold in other markets worldwide, then this is the section to mention that information. Also, mention if the <MODEL> goes by another name in these other markets.
Design quirks and oddities
[
edit
|
edit source
]
Refer to any pop-culture tidbits about the vehicle in this section.
List out notable awards that the model has received while in production. Boldface the company or organization that gives out the award, and Italicize the name of the award.
Please include any external sites that were used in collaborating this data, including manufacturer sites, in this section.
News and References
Enthusiast Sites and Discussion Forums
Community content is available under
CC-BY-SA
unless otherwise noted.