Citroën C3
Citroën
aka
Citroën C3 Pluriel
Production
2002>
Class
Supermini
Body Style
5 dr Hatchback
Length
3940 mm
Width
Width - type here
Height
Height - type here
Wheelbase
wheelbase - type here
Weight
Weight - you get the point
Transmission
transmission + drive
Engine
engine
Power
N/A hp @ N/A rpm
N/A lb-ft of torque @ N/A rpm
Similar
similar (competition)
Designer
Donato Coco
Jean-Pierre Ploué
Use the following MODEL TEMPLATE as the foundation for the Autopedia's Model page:
Start off with a brief Introduction to the particular MODEL. Please DO NOT use the same Introduction text from the <MODEL> Review page, but rather paraphrase ideas relevant to grasp an overall scope of the vehicle.
Please include the following line at the bottom of this section. Please replace <MODEL> Review with the proper text:
To celebrate the 60th anniversary of the iconic 2CV this year, Citroën announced a special edition Pluriel, called the Citroën C3 Pluriel Charleston, at the 2008 Paris Motor Show. Distinguishing the Pluriel Charleston is a two tone black and bordeaux red livery, 15" alloys with red center caps, black gloss veneers, leather upholstery and chrome trim. [1][2][3][4][5][6]
Certain vehicles come in different trim levels or body styles. Features and major options should be mentioned here.
Add more fields as necessary.
MODEL Trims
Trim1
Trim2
Trim3
Trim4
MSRP
$Price1
$Price2
$Price3
$Price4
Invoice
$Price1
$Price2
$Price3
$Price4
Add more fields as necessary.
As seen on the FuelEconomy.gov website, the City/Highway MPG averages are as follows:
Trim
Trim1
Trim2
Trim3
Trim4
MPG
c/h
c/h
c/h
c/h
Specifications, details, graphs, pictures and other information regarding the powertrain is placed in this section.
Please make sure to write information of the vehicle's performance in a third-person point of view. This section should include information about the car's acceleration figures, handling, braking, etc.
If using information gathered from Road Test articles from a reputable automotive source, then please make sure to cite the quote.
Warranty options and scheduled maintainence information should be mentioned here.
This section should reference points on safety ratings and features of the vehicle.
Add Photos of the vehicle here.
Please make sure not to use copyrighted photos.
List the colors that the particular <MODEL> is offered in.
If there are hybrid versions of this vehicle manufactured, then please elaborate a little bit on it here.
If there are any features of this vehicle that sets it apart from other vehicles in its class, then mention those unique attributes here.
The dashboard is thermo-coloured and is highlighted with grey and gloss-brushed aluminium and chrome detailing.
Add more fields as necessary.
<MODEL> Year
Year X
Year X-2
Year X-3
Year X-4
Resale Value
$
$
$
$
Please make sure to keep critiques in a third-person point of view. If using criticisms from a reputable automotive source, then please make sure to cite the quote.
Fill in as many as appropriate. Add more if necessary and pictures wherever applicable.
Please make sure NOT to use copyrighted pictures.
The C3 Mk2 gets a new panoramic windscreen adopted fron the C4 Picasso which expands the driver's vision by up to 80 percent along with slimmer A-pillars and progressive tint.
The whole design of the new C3 is inspired by the DS3 with the pronounced grille and a more agressive headlight treatment. The roof is also flatter. The car has grown 90 mm longer and 43 mm wider and the turning circle has been reduced from 10.7 m to 10.2 m.
Economy wise, the C3 gets a new stop/start system and 5 and 6 speed automated manual gearboxes. In the future, Citroën will release a 3 cylinder engine with CO2 emissions of less than 100 g/km.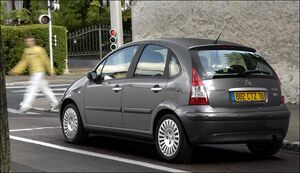 Citroen C3 Mk1 (2002-2010)
Overview
Production: 2002-2010
Assembly: Aulnay-sous-Bois, France,

Porto Real, Brazil (Citroen Brazil),

Barra de Carrasco, Uruguay (Oferol)
Designers: Donato CocoJean-Pierre Ploue
Body and Chassis
Body style: 5-door hatchback

2-door convertible
Related:
Citroen C2
Peugeot 1007
Powertrain
Engine: 1.1 TU1 I4

1.4 TU3 I4

1.4 ET3 I4

1.6 TU5 I4

1.4 DV4 I4 HDi

1.6 DV6 I4 HDi
Transmission: 5-speed manual

5-speed semi-automatic (SensoDrive)

4-speed automatic
Dimensions
Wheelbase: 246 cm
Length: 385 cm (hatchback)

393.4 cm (convertible)
Width: 167 cm (hatchback)

170 cm (convertible)
Height: 149 cm
Weight: 953-1,050 kg
Chronology
Successor: Citroen DS3 Cabrio (for C3 Pluriel)
The Citroen C3 Mk1 was launched at the 2001 Frankfurt Motor Show as well as the 2001 Bologna Motor Show, and began sales in January 2002 as a 5-door hatchback.
If the vehicle is sold in other markets worldwide, then this is the section to mention that information. Also, mention if the <MODEL> goes by another name in these other markets.
Design quirks and oddities
[
edit
|
edit source
]
Refer to any pop-culture tidbits about the vehicle in this section.
2002 European Car Of The Year (Third place)
2003 Winner of the 2003 Most Beautiful Small Sedan in the World.
News & References
Community content is available under
CC-BY-SA
unless otherwise noted.