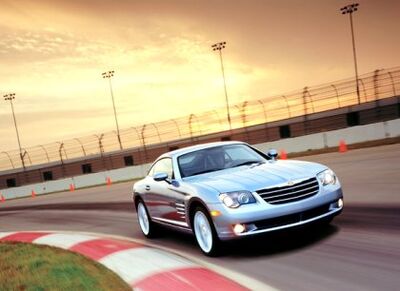 The Chrysler Crossfire is Chrysler's sporty car model. Introduced in 2003, it is based on the previous generation Mercedes-Benz SLK (R170). It seats two people, comes in 8 different colors, and has won an award for it's chic stylishness. The Crossfire's engine has 215 hp. Crossfires start at about 30k.
In November 2007, Chrysler LLC announced that the Crossfire would be discontinued after the 2008 model year. Currently there is no replacement slated for the Crossfire.
Chrysler Crossfire JAB Anstoetz Design Study
[
edit
|
edit source
]
Created in conjunction with fabric designer and manufacture JAB Anstoetz, Chrysler's Crossfire study attempts to export material and textile styles from the world of carpets to the world of cars. It features a light-blue and chocolate-brown toned interior that combines suede and crocodile-leather.
Certain vehicles come in different trim levels or body styles. Features and major options should be mentioned here.
Add more fields as necessary.
MODEL Trims

Standard Coupe

Coupe Limited

Standard Roadster

Roadster Limited

MSRP

$30,070

$35,370

$35,110

$39,720

Invoice

$Price1

$Price2

$Price3

$Price4
3.2 liter SOHC V6 engine with 215 hp and 229 pounds per feet of torque.
Add more fields as necessary.
As seen on the FuelEconomy.gov website, the City/Highway MPG averages are as follows:
Trim

Coupe Manual

Coupe Automatic

Roadster Manual

Roadster Automatic

MPG

15/23

19/25

15/23

19/25
Warranty options and scheduled maintainence information should be mentioned here.
This section should reference points on safety ratings and features of the vehicle.
Add Photos of the vehicle here.
Please make sure not to use copyrighted photos.
List the colors that the particular <MODEL> is offered in.
Create links to other <MAKE> <MODEL> pages in this section.
No hybrid or alternative fuel Crossfires were made from the factory.
Stylistically inspired by 1920's and 30's New York Art Deco, the car boasts cues shared with the famous landmark Chrysler Building in Manhattan, New York. It's straked hood, angular Ferrari Testarossa-like intersecting double plane body and a rear profile narrowing inward into a "boattail" confirm this.
Add more fields as necessary.
<MODEL> Year

Year X

Year X-2

Year X-3

Year X-4

Resale Value

$

$

$

$
Many drivers criticize the Crossfire for it's cramped cabin and lack of rear visibility. Also many folks purchased the Crossfire for the wrong reasons, expecting it to behave like a front wheel drive sub-compact car. They complained that it was hard to drive in the snow and that it was difficult to get in and out of. Those folks are likely the ones that flooded the market with the low mileage used Crossfires when they traded them in for an SUV. Another criticism of the Crossfire was the manufacturer's choice of wheel sizes and tires. If purchased from a dealer, replacement tires can cost a fortune. There are a few lower cost alternatives available, but most dealers won't send you elsewhere to get them.
Fill in as many as appropriate. Add more if necessary and pictures wherever applicable.
Please make sure NOT to use copyrighted pictures.
First Generation/Origins (2003–2008)
[
edit
|
edit source
]
Length: 4058 mm Width: 1940 mm Height: 1315 mm Wheelbase: 2400 mm
If the vehicle is sold in other markets worldwide, then this is the section to mention that information. Also, mention if the <MODEL> goes by another name in these other markets.
Design quirks and oddities
[
edit
|
edit source
]
The design queues of the Crossfire are nothing short of attention grabbing. But it always seems to amaze other drivers when a Crossfire's rear wing deploys as it passes.
Another quirk of the car is the cup holder. It is widely viewed as useless and over-engineered, and has become a joke among owners. Many owners opted to enchange their cup holder for a small storage pocket that can replace it.
List out notable awards that the model has recieved while in production. Boldface the company or orgainization that gives out the award, and Italicize the name of the award.
Community content is available under
CC-BY-SA
unless otherwise noted.