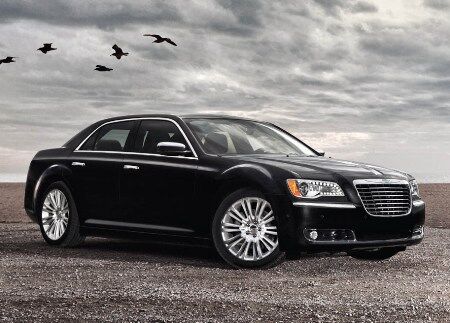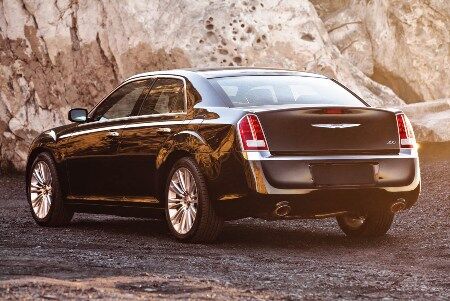 The Chrysler 300 is a near-luxury sedan designed by Ralph Gilles. There have been many vehicles using the name, starting in 1955 and continuing to this day. This page is about the modern Chrysler 300, not the Chrysler 300 letter series cars of the 1950s and 1960s.
See Autopedia's comprehensive Chrysler 300 Review.
Recent Changes
The next generation Chrysler 300 has been leaked on the internet by Motor Trend. Like the Dodge Charger, the Chrysler 300 will be available with two engines. The 3.6-liter V6 will produce 292 hp (218 kW / 296 PS) and 260 lb-ft (353 Nm) of torque, while the 5.7-liter HEMI V8 will crank out 370 hp (276 kW / 375 PS) and 395 lb-ft (536 Nm). Both will be connected to a five-speed automatic transmission which sends power to the rear wheels (all-wheel drive will be optional).[1][2][3][4][5]
Styles and Major Options
The new 300 is offered in six versions: the basic entry level 300, the "Touring" version, a more luxurious "Limited" model, the top-of the line 300C, the "Luxury Series", and the performance-oriented SRT-8.
The basic 300 comes standard with 17 in (432 mm) alloy wheels, four-wheel disc brakes, traction control, and a four-speed automatic transmission. It uses a 2.7 L LH V6 making 190 hp (142 kW).
The Touring model uses a 3.5 L V6, producing 250 hp (186 kW) and 250 ft.lbf (339 N·m) of torque. It also uses a 4-speed automatic transmission, but comes with foglamps, yaw control, and other luxury appointments.
The top of the line 300C version uses a 5.7 L Hemi V8. This engine can run on four cylinders when less power is needed, reducing fuel consumption. The EPA has rated the 300C as getting 17 mpg city, 25 mpg highway. When all 8 cylinders are needed, the 300C can make 340 hp (254 kW) and 390 ft·lbf (529 N·m) torque. The Heritage Edition of the 300C features the 5.7 L engine along with many of the SRT-8's exterior modification, added chrome accents, and special tires on 18 inch wheels. It is the first Chrysler vehicle with SmartBeam headlights.
The SRT-8 includes a new 6.1 L Hemi which produces 425 hp (317 kW).
Pricing
Today's actual prices for the Chrysler 300 can be found at CarsDirect.
300 Trims

300 Base Model
2WD

300 Touring
2WD

300 Touring
AWD

300C Base Model
2WD

300C Base Model
AWD

300C SRT-8
2WD

MSRP

$23,880

$28,010

$30,760

$34,525

$36,600

$40,420

Invoice

$22,332

$26,049

$28,524

$31,913

$33,780

$37,653
Gas Mileage
As seen on the FuelEconomy.gov website, the City/Highway MPG averages are as follows:
Trim

MPG

21/28

19/27

17/25

14/20

17/24

17/24
Reliability
Because the new 300 model only debuted in 2005, accurate long-term reliability information is not yet available.
Safety
The 2007 Chrysler 300 received high marks from the NHTSA in safety tests performed by the agency. For all front-impact and for rear seat side-impact tests, the 300 earned 5-Star ratings, and in tests for front seat side-impact and rollover, it received 4-Star ratings.
Some of the standard safety equipment found on the 300 includes:
Photos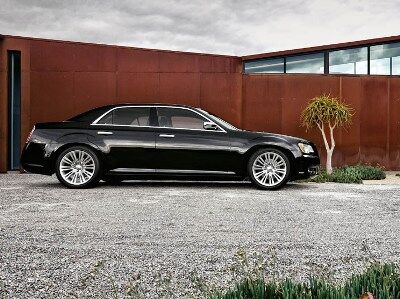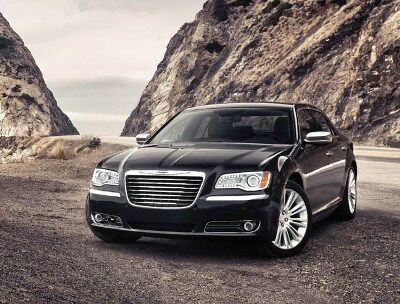 Luxury Series
Colors
Colors will vary by trim, and a complete list is viewable on CarsDirect.com. Some of the available combinations include:
Exterior
Bright Silver Metallic Clearcoat
Brilliant Black Crystal Clearcoat
Cool Vanilla Clearcoat
Inferno Red Crystal Clearcoat
Marine Blue Pearlcoat
Steel Blue Metallic Clearcoat
Interior
Dark Khaki/Light Graystone
Dark Slate Gray/Light Graystone
Dark/Light Slate Gray
Main Competitors
Hybrid Models
There are no hybrid models of the 300 in production at this time.
Unique Attributes
If there are any features of this vehicle that sets it apart from other vehicles in its class, then mention those unique attributes here.
Interior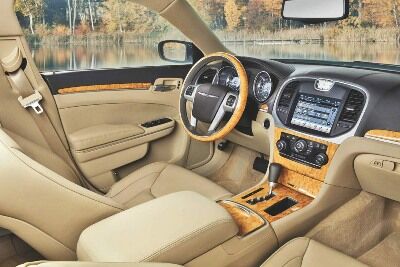 This section should include information on the interior's design, build quality, ergonomics, space (head and legroom, front and rear), features, stowage compartments and overall comfort and livability. Add pictures wherever applicable and keep information in a third-person point of view.
Resale Values
According to Kelley Blue Book, "the 300 is projected to hold a better than-average-residual value, with the Touring actually bettering the V8 300C over a five-year period by a few percentage points."
Criticisms
"If you're looking for something inconspicuous, say, for a stakeout, the Chrysler 300 might not be your best option. Car enthusiasts will lament the absence of a manual transmission and some may find the interior color choices drab." - Kelley Blue Book
"Saddled with a small V6, the base model feels sluggish, and we wouldn't recommend it to most buyers." - Edmunds.com
"Bit of a handful when giving its all(Hemi)." - Motor Magazine
Generations
Current Generation: (2011–Present)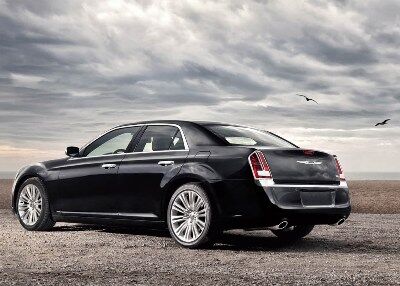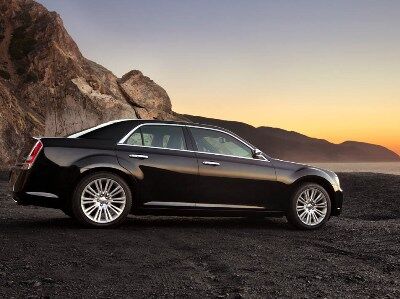 A redesigned 300 was introduced in 2011. Only the sedan body-style is available; the station wagon version of the 300 has been discontinued. Exterior changes include an all new body, bi-xenon HID projector headlights, LEDdaytime running strips within the headlights, new tail lights with LEDs and a horizontally slotted front grille as standard. The car also features an updated version of the Chrysler brand's winged emblem, which dropped the blue ribbon centre dating back to 1930s. Thinner roof pillars and a more raked windshield contribute to improved visibility. A dual-pane panoramic sunroof will offer twice the outward visibility of an average sunroof. The new 300 has optional 20-inch polished-aluminium wheels. The all new interior upgrades include a new instrument panel with "soft-touch" materials throughout, 8.4 inch Uconnect Touch, new steering wheel and centre console, and standard leather seating on all trim levels. Both seat-mounted and curtain side airbags were made standard.
The predecessors' 2.7- and 3.5-litre engines were replaced with Chrysler's new 3.6-litre Pentastar V6 engine producing 292 horsepower (218 kW) and 260 lb·ft (350 N·m) of torque. The 5.7-litre HEMI V8 engine remained available with 363 horsepower. A 3.0-litre VM Motori V6 turbodiesel is also available in Europe, and Australia.[21] Beginning with model year 2012 all V6 models were equipped with the 8-speed 8HP45 automatic transmission, licensed from ZF Friedrichshafen .[22]
Variants
The 2011 model is offered in Touring, Limited, 300C, and 300C AWD trim levels. Touring and Limited trims come with the Pentastar V6, while the 300C line offers the 5.7 HEMI.[23] A 300S trim was introduced at the 2011 New York International Auto Show together with the 300C Executive series. The 300S featured black treatment for grille and headlamps, 20-inch polished-face aluminium wheels with black painted pockets, 10-speaker Beats by Dr. Dre sound system, and steering wheel mounted paddle shifters. This was also sold in Europe as the Lancia Thema S from 2014.
SRT8
An SRT8 version was unveiled at the 2011 New York International Auto Show, powered by a 6.4-litre 392 HEMI V8 engine. The 6.4 392 Hemi engine is also used in other Chrysler Group SRT vehicles. With 470 hp (350 kW), the new 300 SRT8 can go from zero to 60 mph (97 km/h) in the low 4 second range. In addition to the increase in power, the SRT8 receives specific exterior trim including a lower front fascia, large exhaust tips, body color instead of chrome trim and large 20-inch aluminium wheels. The car also gets a lowered, sportier suspension setup and a large Brembo brake package. The 300 SRT (or SRT8) was discontinued for MY 2015 in the United States, but is still sold in Australia and the Middle East. Contrary to past statements by Chrysler, the 300 SRT8 is still sold in left-hand drive abroad.
Special editions
The 300 Motown Edition model sales began in the spring of 2013. The Motown Edition is a tribute to the Motown genre of music. Additions to the Chrysler 300C features, include special chrome wheels, a Beats by Dr. Dre ten-speaker sound system, "Motown Edition" badges on the front fenders, as well as 100 Motown tunes preloaded on a USB drive.[29] Berry Gordy, the creator of the Motown genre, appears in a 2012 TV ad for the Chrysler 300 Motown Edition, promoting his musical, and saying "This is Motown. And this is what we do". The song playing in the commercial is "Ain't No Mountain High Enough".
300S Glacier Edition, available in the fall of 2012 as a 2013 model year vehicle. Based on the Chrysler 300S, the Glacier Edition adds signature details not found on other Chrysler 300 models.
Mopar '12, available as a 2012 model year vehicle. This Special Edition Chrysler 300 was designed by Mopar Performance to mark Mopar's 75th anniversary. Featuring a 3:91 gear ratio, sport tuned suspension, and unique badging, only 500 Mopar Edition 300's were made.
Engines
Chrysler
Model
Engine
Displacement
Power @ rpm
Torque @ rpm
Years
Touring
3.6 V6 Pentastar
3,604 cc (219.9 cu in)
296 PS (218 kW; 292 hp) @ 6350 rpm
350 N·m (260 lb·ft) @ 4800 rpm
2011–
Limited
300S[30]
3.6 V6 Pentastar
3,604 cc (219.9 cu in)
304 PS (224 kW; 300 hp)
350 N·m (260 lb·ft) @ 4800 rpm
2011–
300C
5.7 V8 HEMI
5,654 cc (345.0 cu in)
368 PS (271 kW; 363 hp) @ 5150 rpm
527 N·m (389 lb·ft) @ 4250 rpm
2011–
300 SRT-8
6.4L 392 Hemi V8 engine
6,430 cc (392 cu in)
477 PS (351 kW; 470 hp)
637 N·m (470 lb·ft)
2012–
Lancia - (Chrysler UK)
Petrol
3.6 V6 Pentastar
3,604 cc (219.9 cu in)
286 PS (210 kW; 282 hp) @ 6350 rpm
340 N·m (250 lb·ft) @ 4650 rpm
2011–2014
Diesel
3.0 V6 VM Motori A630
2,987 cc (182.3 cu in)
190 PS (140 kW; 190 hp) @ 4000 rpm
440 N·m (320 lb·ft) @ 1600-2800rpm
2011–2014
239 PS (176 kW; 236 hp) @ 4000 rpm
550 N·m (410 lb·ft) @ 1800-2800rpm
Marketing
As part of the 2011 Chrysler 300 advertising campaign, three TV commercials were produced. "Homecoming" featured Detroit Lions defensive lineman Ndamukong Suh driving through his rainy hometown of Portland, Oregon, in his new 2011 Chrysler 300, retracing his humble beginnings. "Attitude" featured John Varvatos seeking inspiration at a record store in Brooklyn and record under his arm and into his Chrysler 300. "Good Things" featured Dr. Dre driving through the streets of Los Angeles in a Beats by Dre equipped 2012 Chrysler 300. The 'See It Through' TV commercial featured the Chrysler 300 and notable Detroit locals, including Detroit Lion's Ndamukong Suh and a poem written in 1917 by Edgar Guest titled "See It Through".
2015 facelift
In late 2014 a facelift version of the 300 was introduced. Changes include:
Full speed-range Adaptive Cruise Control with Stop
Full-Speed Forward Collision Warning (FCW) with Active Braking
Lane Departure Warning with Lane Keep Assist
Uconnect Systems: Bluetooth Streaming Audio, Uconnect Voice Command and Bluetooth (with Uconnect Access). The 8.4AN System adds, navigation, featuring full-color 3-D graphics and HD Radio
7-inch customizable Driver Information Display (DID) electronic instrument cluster
Standard TorqueFlite eight-speed automatic transmission with Rotary E-shift
Restyled front and rear facia
New black and silver mesh chrome grille
First Generation/Origins (2005-2010)
The original 300 is a muscle sedan and wagon which was first shown at the 2003 New York Auto Show as a concept car and first introduced in the spring of 2004 as an early 2005 model. The current 300 was designed by Ralph Gilles, and replaced both the 300M and Concorde.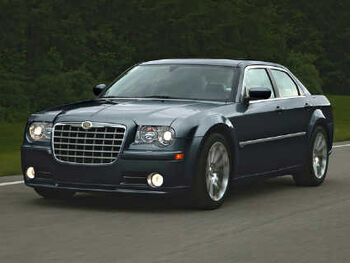 The new 300 was built to bring a high performance, sporty sedan to compete with the likes of the Buick LaCrosse and the Mercury Montego (launched at the same time as the 300). Unlike the LaCrosse and Montego, the 300C is rear wheel drive and offers comparable luxury at a lower price. The 300 is also sold in Europe as both a sedan and a station wagon. The station wagon, sold in Europe as the 300 Touring (not to be confused with the North American sedan's "Touring" trim level), shares its body pieces of the C-pillar with the Dodge Magnum. The 300 Touring differs from the Magnum in that its exterior stying and interior fitment are that of the 300/300C instead of the less-luxurious Magnum Version.
The car has become a genuine hit for Chrysler. It is priced below similar rear wheel drive, high-performance V8 sedans from other marques. Media reports have indicated sales approaching 10,000 per month and shortages developing.
The new 300C, Dodge Charger, and Dodge Magnum all share the Chrysler LX platform, which features components derived from the discontinued Mercedes-Benz E-Class of 1996 to 2002. Such components include the suspension design, front seat frames, wiring harnesses, steering column, the 5-speed automatic's design, and a derivative of the 4-Matic all wheel drive system.
Cosmetically, the 300 remains unchanged from the 2006 model year, save for an optional longer wheelbase available on select trims. Feature-wise, SmartBeam headlights are offered on the Heritage Edition of the 300C for the first time, and other new features include things such as heated rear seats and adaptive cruise control.
For 2008, The 300 receives a minor refresh in the form of minor revisions to the front and rear fascias and tailamps, a new rear deck lid incorporating an

SRT

-style spoiler, a new entertainment and communications options, a new instrument panel and center console design, soft-touch surfaces on arm rests and door panels, and a newly designed and relocated cruise control stalk. [7]
Extended Wheelbase
The Extended Wheelbase version of the 300 was shown for the first time at the 2006 New York Auto Show. It has 6 inches of extra length, which has been added to the rear passenger compartment. The extended wheelbase model will be built by Accubilt, an outside specialty vehicle manufacturer. Although built by this outside company, it will be fully backed by Chrysler and sold through Chrysler dealerships.
Origins
The 300 name made a brief reapparance in 1979, on a somewhat revised Chrysler Cordoba bodyshell. This "300" had non-functional fender vents, red, white, and blue pin stripes, and a 360 in³ V8. This engine produced just 195 hp (145 kW) and was mated to a 3-speed automatic transmission, resulting in meager performance. The model was gone after 1979.
Worldwide
The 300 is sold in many countries and as a 300 Touring which is a rebadged Dodge Magnum with the 300's front fascia. It is available with a diesel engine in Europe.
Design quirks and oddities
Shrewd product placement in several hip-hop videos have helped establish the 300 as a cool and desirable vehicle. In fact, one account had rapper Snoop Dogg leaving a message for Chrysler chairman Dieter Zetsche saying, "What I gotta do to get that brand-new C outta you?"
The Chrysler 300C has been voted the Most Washable Car 2005 by the International Wash Association.
In the first episode of Season 4 in Top Gear, Richard Hammond stated that the Chrysler 300C isn't really good at all and it is cool. Jeremy Clarkson however disagreed and talked about people owning 300Cs. Richard, holding out a 300C card to put on the cool wall asks the audience if they think it's a cool car when Jeremy unexpectedly snatched it off Richard's hand and stuck it on the "Uncool" section. Richard then took the 300C card out of the cool wall but Jeremy grabbed it again and threw it off.
Awards
The 300C was the 2005 Motor Trend Car of the Year and was on Car and Driver's Ten Best list for 2005. It also won the North American Car of the Year and Canadian Car of the Year Best New Luxury Car awards.
See also
Chrysler Hemi engine

Chrysler LX platform
External links