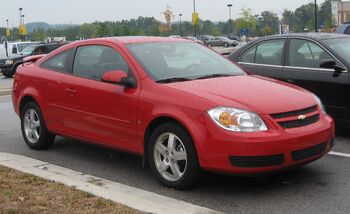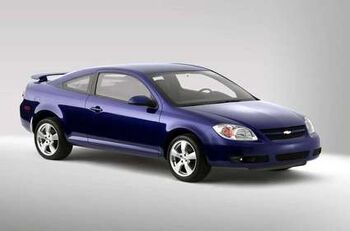 The Chevrolet Cobalt is a compact car introduced by Chevrolet in 2004 for the 2005 model year, replacing the aging Cavalier. The Cobalt is intended to compete with Japanese cars like the Honda Civic and Toyota Corolla.
It is available as both a coupe and sedan and is based upon the GM Delta platform, along with the Chevrolet HHR, Pontiac G5, Saturn ION, and European Opel Astra. All Cobalts are manufactured at GM's Lordstown Assembly plant in Lordstown, Ohio.
See Autopedia's comprehensive Chevrolet Cobalt Review.
Recent Changes
In late 2008, Chevrolet introduced the Cobalt SS Turbocharged Coupe. A sedan version of the SS Turbocharged followed for the 2009 model year.[1]The new top range Cobalt is powered by the Opel-sourced 260 hp 2.0 litre turbocharged Ecotec four-pot that can be found in other GM stablemates such as the Pontiac Solstice, Chevy HHR SS, and Opel Astra OPC. This powerplant accelerates the Coablt from 0-60 mph in 5.7 seconds.[2]
Cosmetically, the Cobalt remains unchanged since its debut in 2005 other than the removal of the circular tail-lights. For 2006, the engine receives a boost in horsepower by 2 and certain options have changed. For 2009, the base engine receives variable valve timing which boosts power to 155 hp.
Styles and Major Options
The Chevrolet Cobalt comes in either a 2-door coupe or a 4-door sedan. Both of these are available in LS, LT, and SS Turbocharged trims. The front suspension is independent with MacPherson struts, while a semi-independent torsion bar is used in the rear. The wheelbase is 103.3 in (262.4 cm), longer than its competitors, and the width is 68.4 in (173.8 cm). Weight is at 2808-2989 lb (1273-1355 kg). The car is notable for its use of electrical, rather than the conventional hydraulic, power steering. It is built at the General Motors plant in Lordstown, Ohio.
Engines:
Years
Engine
Power
Torque
2005–
2.2 L

Ecotec L61

I4
155 hp
150 ft·lbf
2008–
2.0 L

Ecotec

turbocharged I4
260 hp
260 ft·lbf
Pricing
Cobalt Trims

Sedan LS

Sedan LT

Sedan SS Turbocharged

Coupe LS

Coupe LT

Coupe SS Turbocharged

MSRP

$15,660

$16,460

$23,425

$15,660

$16,460

$23,425

Invoice

$14,799

$15,555

$22,137

$14,799

$15,555

$22,137
Gas Mileage
As seen on the FuelEconomy.gov website, the City/Highway MPG averages are as follows:
Reliability
Consumer Reports' 2007 Annual Auto Issue indicates that the Cobalt's reliability is worse than average and includes the Cobalt among the three least reliable small cars along with the Volkswagen Jetta and Chevrolet Aveo.
RECALL ALERT: On March 13, 2009, GM issued a recall alert affecting 276, 729 cars, namely all Buick Enclave, Chevrolet Cobalt, Chevrolet HHR, Chevrolet Malibu, Chevrolet Traverse, GMC Acadia, Pontiac G5, Pontiac G6, Saturn Aura and Saturn Outlook built for the 2009 model year, due to a loose clip on their transmission shift cable. The failure of the clip to be locked into place may prevent the transmission from moving into Park. This recall is filed under the NHTSA Campaign ID Number 09V073000. [1]
Safety
Safety tests carried out on the Cobalt by the NHTSA yielded mixed results. While the Cobalt earned a 5-Star rating for passenger front-impact crash tests, it received 4-Star ratings for driver front-impact, rear side-impact, and rollover tests, and only a 3-Star rating for front side-impact tests. In addition, in the 2-door Cobalt, there was a safety concern when, as the NHTSA reported, "during the side impact test, the head of the driver dummy struck the windowsill, causing a high head acceleration. Head impact events resulting in high accelerations have a higher likelihood of serious head trauma."
Some of the available safety features that may be found on the Cobalt are as follows:
Front and rear anti-roll bars
4-wheel anti-lock brakes
Driveline traction control
Driver/passenger front-impact airbags
Side impact bars
Occupancy sensors
1st/2nd row overhead side-impact airbags
Photos
Colors
Colors for the Chevrolet Cobalt will vary by trim, and a complete list is viewable at CarsDirect.com.
Main Competitors
Resale Values
According to Kelley Blue Book, "the Cobalt holds an average five-year projected residual value, falling far from competitors such as the Honda Civic, Scion tC, and Mazda Mazda3. The Hyundai Elantra and Kia Spectra, however, also have lower-than-average projected residuals, just slightly higher than those of the Cobalt."
Criticisms
"All models suffered fair coarse-pavement tire thrum." - Consumer Guide
"Despite its impressive specs, the 2.2-liter engine often sounds like it's laboring to produce that power, especially under full throttle, even with only two adults on board." - Cars.com
"If you're looking for a small car with a big back seat, the Cobalt can't compare to the Dodge Caliber or Scion xB. The Cobalt's engine is a bit coarse and its exhaust note is even louder." - Kelley Blue Book
"Stopping power good, but pedal felt spongy..." - Consumer Guide
Generations
Current Generation: (2005–2010)
The Chevrolet Cobalt was introduced as an all-new model for 2005, replacing the Chevrolet Cavalier. Initially available were the base Cobalt and Cobalt LS, both available in sedan and coupe bodystyles. The LT only came in sedan and the top-of-the-line 205hp SS Supercharged came in coupe bodystyle only.[3]
The Chevrolet Cobalt SS Supercharged was discontinued after the 2007 model year and replaced by the SS Turbocharged in late 2008.
References
See also
External Links