Chevrolet Avalanche
Chevrolet
aka
Type aka here, not up there
Production
2001 - 2013
Class
denote market class
Body Style
Crew Cab Pickup
Length
length - type here
Width
Width - type here
Height
Height - type here
Wheelbase
wheelbase - type here
Weight
Weight - you get the point
Transmission
4 speed automatic(2001-2008)

6 speed automatic(2009-)

Engine
Vortec 5300 V8
Power
N/A hp @ N/A rpm
N/A lb-ft of torque @ N/A rpm
Similar
Ford F-150 SuperCrew
Designer
Marc R. Asposito Grand Rapids, Michigan
The Chevrolet Avalanche was Chevrolet's top-of-the-line pickup. It was a four-door, six-seat pickup truck with a somewhat SUV-like flavor, known as a "sport utility truck". Avalanche was based on the full-size long-wheelbase General Motors SUVs (such as the Chevrolet Suburban), and itself forms the basis of the upscale Cadillac Escalade EXT.
Avalanche features four full-size hinged doors with seating for 5 or 6 (with bench seats). The open pickup bed in back can be extended into the back seat area by folding down the rear wall of the cabin and removing the rear window. GM marketers call this the "mid-gate system". A series of three removeable panels provides a watertight top for the cargo bed. Additional storage is provided behind each wheelwell, accessed by locking flip-top panels and can be useful as self-draining ice chests.
The truck's midgate construciton allows two fullsize sleeping bags to be laid out in the bed when the midgate is folded down, protecting the occupants from the weather. GM markets this truck as a choice for active outdoor adventurers in part due to its optional four wheel drive.
The truck's contstruction lends itself to hip-hop customizations. It is frequently seen with larger wheels upwards of 26" in diameter and powerful sound systems, urbanizing it away from its roots as a truck.
See Autopedia's comprehensive Chevrolet Avalanche Review.
Mention any minor facelifts or major changes made to the vehicle here.
Certain vehicles come in different trim levels or body styles. Features and major options should be mentioned here.
Add more fields as necessary.
MODEL Trims
Trim1
Trim2
Trim3
Trim4
MSRP
$Price1
$Price2
$Price3
$Price4
Invoice
$Price1
$Price2
$Price3
$Price4
Add more fields as necessary.
As seen on the FuelEconomy.gov website, the City/Highway MPG averages are as follows:
Trim
Trim1
Trim2
Trim3
Trim4
MPG
c/h
c/h
c/h
c/h
Specifications, details, graphs, pictures and other information regarding the powertrain is placed in this section.
Please make sure to write information of the vehicle's performance in a third-person point of view. This section should include information about the car's acceleration figures, handling, braking, etc.
If using information gathered from Road Test articles from a reputable automotive source, then please make sure to cite the quote.
RECALL ALERT: On August 29, 2008, GM issued a GM-wide recall (no.08V441000) affecting 857,735 vehicles built between 2006-2008 and equipped with heated windshield washer fluid option including the 2007-2008 Chevrolet Avalanche. The system was liable to short out causing cessation of function, smoke, possible fire and malfunctioning of other electronic systems in the car. GM urges owners of affected vehicles to go to their nearest local dealer so the problem can be remedied.[1]
RECALL ALERT: On December 23, 2010, GM issued a recall affecting approximately 1,260 Cadillac Escalades, Chevrolet Avalanche and Silverado 1500s, and GMC Sierra 1500s from MY 2011 due to a faulty rear-axle cross pin, which could fracture and become displaced within the axle. GM said that if the pin shifts out of position, it could create an interference condition and cause the rear axle to lock, in which case, the driver may not be able to maintain directional control of the vehicle and a crash could occur without prior warning.[2]

Add Photos of the vehicle here.
Please make sure not to use copyrighted photos.
Taupe Gray Metallic
Sheer Silver Metallic
Laser Blue Metallic
Summit White
White Diamond
Black
Victory Red
Blue Granite Metallic
Sunset Orange Metallic
If there are hybrid versions of this vehicle manufactured, then please elaborate a little bit on it here.
If there are any features of this vehicle that sets it apart from other vehicles in its class, then mention those unique attributes here.
This section should include information on the interior's design, build quality, ergonomics, space (head and legroom, front and rear), features, stowage compartments and overall comfortability and livability. Add pictures wherever applicable and keep information in a third-person point of view.
Add more fields as necessary.
<MODEL> Year
Year X
Year X-2
Year X-3
Year X-4
Resale Value
$
$
$
$
Please make sure to keep critiques in a third-person point of view. If using criticisms from a reputable automotive source, then please make sure to cite the quote.
Fill in as many as appropriate. Add more if necessary and pictures wherever applicable.
Please make sure NOT to use copyrighted pictures.
Current Generation: (2007–present)
[
edit
|
edit source
]
The GMT900 Avalanche was introduced at the Chicago Auto Show in February of 2006. Production of the redesigned Avalanche begins at Silao Assembly in March. The Avalanche looks the same as the Suburban and Tahoe, just with a bed. It has all the same standard and available fatures as the Suburban and the Tahoe.
Engines:
First Generation/Origins (2001–2006)
[
edit
|
edit source
]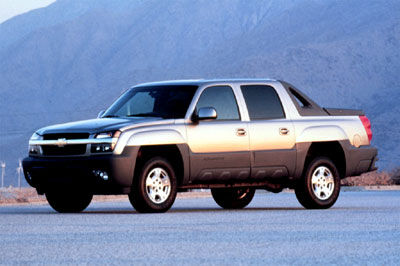 Avalanche was launched in 2001 as a 2002 model on the GMT800 platform. First year Avalanches featured light gray plastic body cladding. This provided needed visual distinction from the Suburban. Avalanche also gave the public an advance look at the next generation of front fascia designs for the entire GM line of trucks. A full-length chrome strip splits each lamp assembly and the grille, with a gold Chevrolet "bow tie" in the center. The hood and fenders featured aggressive folds, in contrast to the soft box of the other GMT800 models.
2003 models featured darker cladding, but GM's new president, Rick Wagoner, demanded deletion of this "unpopular" trim (as did certain elements of the public). From mid-year, Avalanche could be ordered without the cladding. Current Avalanches, called "slicksides" by GM marketers, resemble the current crop of Silverados in the front.
Avalanche was nominated for the North American Truck of the Year award and was Motor Trend magazine's Truck of the Year for 2003.
There are two engine choices: A Vortec 5.3 L V8 producing 290 hp (216 kW) and an 8.1 L V8 with 325 hp (242 kW). The drivetrain is rear wheel drive or available with selectable high/low four wheel drive.

If the vehicle is sold in other markets worldwide, then this is the section to mention that information. Also, mention if the <MODEL> goes by another name in these other markets.
Design quirks and oddities
[
edit
|
edit source
]
Refer to any pop-culture tidbits about the vehicle in this section.
The Chevy Avalanche was awarded Motor Trend magazine's SUV of the Year for 2002.
Please include any external sites that were used in collaborating this data, including manufacturer sites, in this section.
News and References
Enthusiast Sites and Discussion Forums

This page uses content from Wikipedia; see Chevrolet Avalanche, which includes these contributors.
Community content is available under
CC-BY-SA
unless otherwise noted.