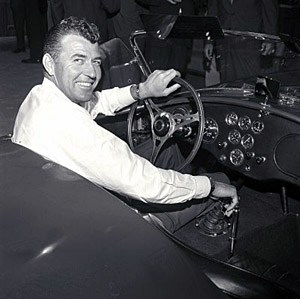 Carroll Hall Shelby, (born January 11, 1923 in Leesburg, Texas) is an American racing and automotive design legend.
Life before racing
Edit
After graduating from Woodrow Wilson High School in Dallas, Texas, Shelby enlisted in the United States Army Air Corps, serving in World War II as a flight instructor and test pilot. He then became a chicken farmer until his chickens died, and his friend invited him to become an amateur racer, and his victories led him to become a professional racer.
Driving career
Edit
Carroll Shelby has had an impressive impact on a. Starting out amateur, he soon became a driver for Cad-Allard, Aston Martin, Maserati teams during the 1950s. Driving for Donald Healey, in a streamlined and supercharged, specially-modified, Austin-Healey 100S, he set 16 US and international speed records. Teamed with Roy Salvadori, and driving for Aston Martin, he won the 1959 24 Hours of Le Mans.
Shelby the constructor
Edit
After retiring from driving in October 1959 [1], he opened a high performance driving school and the Shelby-American company. In the shop he designed and built the famed "Cobra" cars, which were derived from an AC chassis and used Ford engines. Shelby went on to help design some of the most successful and beautiful cars of the era: the GT40, the Mustang-based Shelby GT350 and Shelby GT500, and of course the 427 Shelby Cobra. Parting with Ford, Shelby moved on to help develop performance cars with divisions of the two other Big 3 American companies, Dodge, and Oldsmobile. The most memorable of these cars was the Dodge Viper.
He was inducted into the International Motorsports Hall of Fame in 1991, and the Motorsports Hall of Fame of America in 1992.
In 2003, Ford Motor Co. and Carroll Shelby mended ties again. Carroll Shelby became technical advisor to the Ford GT project. In that same year, he formed Carroll Shelby International Inc. based in Nevada.
Sources For Shelby's Cobra and Ford GT Racing -- 1962-1967
Edit
"Ford Cobra Guide" by Carroll, published in 1964, is an inside look at early Cobra racing 1962 through 1963. "The Cobra Story" by Shelby himself, first published in 1965, is Shelby's story of his life and racing (including Cobra racing) through 1964. "The Cobra-Ferrari Wars 1963-1965" by Shoen, published in 1990, covers Cobra (and Ford GT) racing through 1965. "Ford: The Dust and the Glory" by Levine, published in 1968, covers all of Shelby's Ford racing programs through 1967 and places them in the context of Ford's overall racing program. Ford provided financial support for Shelby's Cobras from 1962 through 1965 and provided financial support for the Ford GTs first with John Wyer's Ford Advanced Vehicles in 1963 and then with Shelby American from 1964 through 1967.
Shelby Dodges and Dodge Shelbys
Edit
Shelby began working with Dodge at the request of Chrysler Corporation chairman, Lee Iacocca, who had previously been responsible for bringing Shelby to the Ford Mustang. After almost a decade of tuning work, Shelby was part of the team responsible for the Dodge Viper.
The following cars were modified by Shelby, and bore his name, but still sold under the Dodge marque:
The following cars used Shelby-modified parts, but were not overseen by Carroll Shelby:
The following cars were modified and sold as Shelbys:
External link: The Shelby Dodge Pages
Shelby's Series 1 roadster used Oldsmobile's 4.0 L L47 Aurora V8, but was poorly supported by the ailing GM division.
Ford-Shelby Projects
Edit
The new contract between Ford Motor Company and Carroll Shelby signaled hope for Shelby products built under Ford. In 2004, a new Ford Shelby Cobra Concept was shown off in at US car shows. Built with a retro body mimicking the 1960s Cobras mixed with modern touches, it was based on the Ford GT chassis (reworked for front engine/rear wheel drive) powered with a 6.4 L V10 engine that produced 605 hp (451 kW). It received bad press reviews and the idea was scrapped for production.
A production-feasible Shelby product was then introduced, the Ford Shelby GR-1 concept car of 2005. While sporting a completely modern design, it showed a nod to the 1960s Shelby Daytona. The GR-1, like the Cobra, is based on the GT's chassis and was also powered with the same 6.4 L V10 engine, although production versions, if given the green light, could see a 7.0 L V8. Press reviews for the GR-1 have been very positive; it gained cover spots in magazines such as the U.S.' Motor Trend and the UK's Car Magazine. The Ford Shelby GR-1 could possibly be built, taking over the Ford GT's production line after its production comes to an end.
In 2005, the Shelby GT500 was revealed at the New York International Auto Show, and became available in the summer of 2006 as part of the model year 2007 lineup. It is powered by a 5.4 L supercharged V8 and is rated by Ford at 500 hp. It boasts a Tremec T-56 manual transmission, reworked suspension geometry, 18-inch wheels, functional aerodynamic body kit, and still retains the solid rear axle. The GT500 starts at an MSRP of $40,930 for the coupe, and $45,755 for the convertible version.
Shelby, in cooperation with the Hertz Corporation, produced a limited-edition Shelby GT-H in 2006. The GT-H is a special-edition Ford Mustang GT, available only for rental from Hertz. A Ford Racing Performance Group FR1 Power Pack boosts the GT's 4.6-liter, V-8 engine to 325HP. The car has a custom Shelby hood and black and gold body styling, incorporating a gold-plated "Hertz" nameplate on both sides of the car. The GT-H is limited to a run of 500 vehicles and is available for rental at major cities and airports across the United States. A consumer version of the Shelby GT-H will become available from Ford, the car will be called the Shelby GT.
External Links
Edit
The Cobra Ferrari Wars, Shelby's war vs. Enzo Ferrari Many rare, original photos along with a vast amount of information.
References
Edit
↑

"Automobiles", episode about Ford Motor Company, History Channel
Community content is available under
CC-BY-SA
unless otherwise noted.