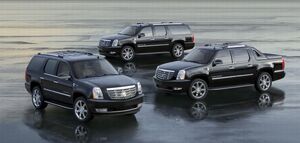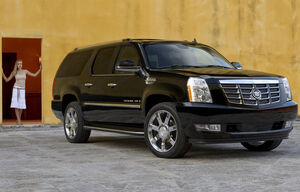 The Cadillac Escalade is a full-size luxury sport utility vehicle sold by the General Motors Corporation luxury brand, Cadillac. It was the division's first major entry into the popular SUV market. The Escalade was introduced for the 1999 model year in response to German and Japanese competitors and to Ford's 1998 release of the Lincoln Navigator. The Escalade project went into production only 10 months after it was approved. The standard Escalade is built in Arlington, Texas.
The Escalade was originally based on sister company GMC's Yukon Denali, but was redesigned for the 2002 model year to make its appearance fall more in line with Cadillac's new design theme. The Escalade was not the first Chevrolet-based Cadillac: the first-generation Seville and mid-1980s Cadillac Cimarron were based on entry-level Chevy vehicles (Nova and Cavalier, respectively). As of today, the Escalade ESV (a luxurious Chevy Suburban), especially the Escalade EXT pickup are, together with the Cadillac BLS, the only Cadillac vehicles made outside of the United States, since the demise of the German-built Cadillac Catera in 2001. The Escalade and Escalade ESV are built in Arlington, TX, while the Escalade EXT is built in Silao, Mexico
See Autopedia's comprehensive Cadillac Escalade Review.
The Escalade will move to the new "GMT900" platform for the 2007 model year. Its introduction was accelerated as sales began slipping. The regular Escalade will be joined by a stretched ESV version as well as a new EXT pickup truck. The 2007 Escalade was the official vehicle of Super Bowl XL, with MVP Hines Ward being awarded one of the first Escalades produced.
Hot on the heels of the the 2008 Cadillac Escalade Hybrid's late 2007 unveiling at the Miami Beach Convention Center, Cadillac has released the uber-bling Escalade Platinum Edition. Available in both regular and ESV variations, the new range-topper will be powered by the standard fare 403 horsepower 6.2 litre OHV VVT all-aluminum V8 mated to a Hydra-Matic 6L80 six-speed automatic transmission but gets an upgraded treatment inside and out. For starters, the interior will now be swathed in hand-stitched Aniline "Cut & Sew" leather with contrast-color French stitching on the seams, carry Platinum-specific door sills and floor mats, have the front headrests ensconced with LCD screens for full DVD, CD, MP3 and XM Satellite radio passenger entertainment along with the flip-down screen mounted on the ceiling all matched to a Bose 5.1 Digital Surround system (not to mention the 8 in nav screen on the dash) plus heated steering wheel and heated and cooled cup holders. The dashboard will also be inlaid with unique double grain wood paneling. Outside, the wonderfully decadent glut continues with unique 22 inch rims on wheels controlled by Magnetic Ride Control (MRC) suspension technology, Full LED headlamp clusters and a grille which borrows its style from the Cadillac CTS. Pricing has yet to be announced. [1][2]
The Cadillac Escalade comes in three body styles, the regular wagon version, the longer ESV and the EXT pickup truck.
The Escalade EXT pickup truck (released alongside its twin, the Chevrolet Avalanche) was introduced in 2002. It features a "Convert-a-Cab" composite pickup bed that can be expanded into the truck's cab through a bottom-hinged door. Like the Avalanche, the EXT has four full-size doors and seating for five. The EXT was only offered with the 6.0L High Output engine. high-intensity discharge headlights were offered for 2003. The Escalade EXT also appears in the movie, "The Matrix Reloaded" along with the CTS in product placement ads.
The Escalade EXT was created as a direct competitor to the failed Lincoln Blackwood, a pickup truck based on the Navigator SUV. Currently, it competes with the Lincoln Mark LT, another Navigator-based pickup truck that made its debut in 2006.
The extended-length Escalade ESV (based on the Chevy Suburban and GMC Yukon XL) was introduced in 2003. The Escalade ESV is also Cadillac's most expensive SUV with prices ranging from $59,680 for a base "Standard" version to $71,050 for a top-of-the-line "Escalade Platinum".
The Escalade line has proven very popular with after-market tuners, who personalize vehicles for usually affluent customers. While such work is not done by the Cadillac factory, much can be ordered through a Cadillac dealer and done by third-party companies. Much like the customized Cadillacs of the 1970s (during the "pimpmobile craze"), popular modifications include larger wheels, increased engine performance and custom paint. Due to its expensive parts and exposure from celebrity ownership, the Escalade has also been proven to be popular with car thieves as well, becoming the most frequently stolen vehicle from 2001-2003 according to the Highway Loss Data Institute.
Today's actual prices for the Cadillac Escalade can be found at CarsDirect.
2007 Escalade Trims

Escalade 4x2

Escalade 4x4

Escalade ESV 4x4

Escalade EXT 4x4

MSRP

$54,725

$57,280

$59,680

$58,990

Invoice

$54,045

$56,590

$53,530

$54,210
While power is absolute, it won't come at the cost of fuel efficiency with the new Escalade. The all new 403-hp 6.2L Vortec V8 VVT engine produces the highest horsepower of any SUV that can seat seven or more passengers, while also offering unsurpassed highway fuel economy in its class.
As seen on the FuelEconomy.gov website, the City/Highway MPG averages for the 2007 Cadillac Escalade are as follows:
City: 13 MPG
Highway: 19 MPG
Combined: 15 MPG
In an online review done by Autos.com, the Cadillac Escalade EXT came in seventh and the Escalade and Escalade ESV tied for eighth.
RECALL ALERT: On August 29, 2008, GM issued a GM-wide recall affecting 857,735 vehicles built between 2006-2008 and equipped with heated windshield washer fluid option including the 2007-2008 Cadillac Escalade, Escalade ESV and Escalade EXT. The system was liable to short out causing cessation of function, smoke, possible fire and malfunctioning of other electronic systems in the car. GM urges owners of affected vehicles to go to their nearest local dealer so the problem can be remedied.[3]
RECALL ALERT: On December 23, 2010, GM issued a recall affecting approximately 1,260 Cadillac Escalades, Chevrolet Avalanche and Silverado 1500s, and GMC Sierra 1500s from MY 2011 due to a faulty rear-axle cross pin, which could fracture and become displaced within the axle. GM said that if the pin shifts out of position, it could create an interference condition and cause the rear axle to lock, in which case, the driver may not be able to maintain directional control of the vehicle and a crash could occur without prior warning.[4]
All three Escalade trims ranked fifth for safety on Autos.com.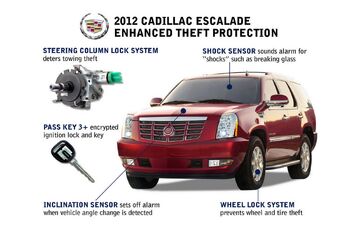 The key security enhancements for the 2012 Escalade are listed below (from GM):[5]
PASS Key 3+, a sophisticated encryption system for the key, key cylinder and ignition system (Deters: Drive-away thefts)
A more-robust steering column-lock system that makes it nearly impossible to maneuver the Escalade onto a flatbed. (Deters: "push-away" thefts)
An available inclination sensor that sets off an alarm when the system senses an unwarranted change of the angle of the vehicle, such as would occur with towing, flat-bedding or lifting the vehicle. (Deters: towing, push-away, and wheel thefts)
An available shock sensor intended to reduce content theft and push-away theft by sounding the alarm when the vehicle is "shocked," such as by breaking window glass. (Deters: Property theft)
An available new wheel lock system to help prevent the theft of Escalade's wheels and tires.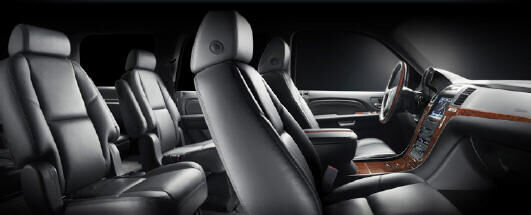 Exterior
Black Raven
Blue Chip
Gold Mist
Quiksilver
Radiant Branze
Red E
White
Rip Tide Blue
Interior
For more information, see: Cadillac Escalade Hybrid
Stretching 221.4 inches, the EXT and ESV are two inches longer than a Chevy Suburban, placing them among the longest vehicles on the road.
Resale values for the Cadillac Escalade, Cadillac Escalade ESV, and Cadillac Escalade EXT are available at CarsDirect.
The Escalade's high-intensity-discharge lights bother drivers coming toward the vehicle and they irritate those driving immediately in front of it." - Cars.com
"Towing is rated at 8,000 pounds, which is okay for a small weekend toy. If you need more grunt, the Chevy Avalanche has a more powerful version." - Cars.com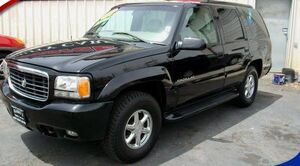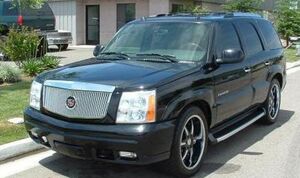 On October 7, 2013, Cadillac unveiled the fourth generation Escalade and Escalade ESV at a star-studded event in New York City, just nearly a month after GM unveiled their next-generation SUVs from Chevrolet and GMC. Cadillac began its campaign to promote the Escalade on August 14, 2013,[13] and started posting teasers online on September 23, 2013, with help from photographer Autumn de Wilde, who helped reveal more images ahead of the unveiling.[14] A YouTube page called "Escalade Reveal" was set up to showcase the videos along with the countdown to unveiling. On November 25, 2013, Cadillac began spreading the word of mouth about the 2015 Escalade by placing a front facsimile cutout of the vehicle on display at Sak's Fifth Avenue's New York City flagship store during its annual Christmas promotional campaign, which shows the SUV being frozen in wraps.
Production on The Escalade began in January 2014 at GM's Arlington, Texas assembly plant and went on sale in April 2014 as a 2015 model (with the MRSP starting at around $71,000 for Full Size, $74,000 for ESV), and available in only three trims: Base, Luxury, and Premium. International sales are scheduled to start in the Summer of 2014. They are assigned to the GMT K2XX platform as K2XL. "The 2015 Escalade exterior light signature draws inspiration from a variety of sources, beginning with Cadillac's heritage of vertical exterior lamps and extending into architecture," said Exterior Lighting Design Manager Martin Davis.
On February 13, 2010, according to a report on Autoblog.com, GM had reissued a redesign on the GM fullsize SUV lineup, including the Escalade, for a 2014 release due to increased SUV sales, and was working on its fullsize SUV replacements, which would see a possible change in the Escalade's SUV platform. But in July 2013, a series of spy shots revealed that GM will keep the Escalade a body-on-frame SUV. However, GM is looking at expanding the Escalade brand to the large CUV segment, which would see a vehicle using the Escalade badge sharing the same platform as the Chevrolet Traverse andGMC Acadia, which is in the planning stages.[22] According to VP Bob Ferguson, Cadillac's first 3-row Escalade CUV could be introduced in 2016.[23] There is also a possibility that GM might export the Escalade to Australia as a right-hand drive vehicle as part of Cadillac's global expansion, despite GM's decision to shut down its Holden division there in 2017.
The cargo space was reduced from 109.8 in (2,789 mm) to 94.2 in (2,393 mm) on the standard base and from 137.5 in (3,492 mm) to 120.5 in (3,061 mm) on the ESV in order to allow an additional 1.7 inches of headroom and 45.3 inches of legroom in the front while reducing the third-row legroom space to 24.8 inches from 25.6 inches. GM's 6.2-liter EcoTec3 V8, good for 420 horsepower and 460 pound-feet of torque, mated to a six-speed automatic transmission, is the only engine offered, along with a new coil-over front suspension and five-link rear setup, a wider track, variable-assist electric power steering and Cadillac's Magnetic Ride Control system with Tour and Sport modes. The interior now boast a hand-crafted design that features cut-and-sewn and wrapped materials, with wood trim options chosen for elegance and authenticity. The dashboard was also updated, and the Cadillac CUE system is added as a standard feature, along with an updated security system.
On December 23, 2013, Cadillac unveiled seven color palettes for the exterior trims on the Escalade: Dark Granite Metallic, Radiant Silver Metallic, Black Raven, White Diamond Tricoat, Silver Coast Metallic, Crystal Red Tintcoat and Majestic Plum Metallic, and three colors for the interior: Jet Black with Jet Black Accents, Kona Brown with Jet Black Accents, and Shale with Cocoa Accents.
On August 11, 2014, Cadillac announced that the Escalade lineup will receive an 8-Speed transmission, Surround View camera, and 4G LTE connectivity as part of a mid-year refreshening, which also sees the wreaths on the grille disappear from the Escalade as part of Cadillac's plans to update the logo to emphasize the crest on all of its models.
For the 2016 model year, Cadillac made upgraded changes to the Escalade and Escalade ESV:
Four new colors are featured: Gray Silk Metallic, Red Passion Tintcoat, Crystal White Tricoat, Dark Emerald Metallic; both Crystal Red Tintcoat and White Diamond Tricoat were discontinued
Advanced Diagnostics added to the Cadillac Cue System, which also receive upgraded improvements; SD card slot was removed
An upgraded Driver Awareness Package that is available on all trims
IntelliBeam headlamps (all trims)
Lane Keep Assist
Rear seat DVD entertainment system, dual independent, LPO
Third row comfort guides become a service part
A 12.3″ reconfigurable cluster change to the Normal Blue display
For the 2017 model year, minor upgraded changes were made, among them:
The PRNDL is modified to PRNDM
The 4WD control knob is modified with new lighting indicators
Two new colors, Adriatic Blue Metallic and Bronze Dune Metallic, are added, with four other deleted.
An updated Cadillac Cue system combining both Collection and Teen Driver features
Relocation of the rear view camera to the overhead console
The trims base levels were restructured to Standard base, Luxury, and Luxury Premium
On April 23, 2014, Hennessey Performance Engineering announced that will offer a HPE550 supercharger upgrade to fourth generation Escalade customers, which includes a belt-driven supercharger, air-to-water intercooler, recalibrated engine management software and a three-year/36,000 mile powertrain warranty, a 6 psi (0.4 bar) boost that will increase the 6.2L engine's performance to 557 horsepower and 542 pound-feet (735 N·m) of torque, and 20-inch lightweight H10 forged monoblock wheels, to further improve performance. The upgrades, once they are ordered by customers, have a set price of $15,950.
On September 8, 2015, Motor Trend reported via a tweet from writer Jonny Lieberman that a Cadillac V engine would be available as a supercharged 6.2-liter LT4 V-8 with power in excess of 600 hp (447 kW) and 600 lb·ft (813 N·m) of torque. The move would allow customers who usually turn to companies like Hennessey a new option for their supercharger fix.
On July 10, 2015, GM announced that it reached a deal with Unison SP ZAO inMinsk, Belarus to build and assemble the Escalade and Escalade ESV for the Russian and CIS markets. This version will be similar to the Russian-built Chevrolet Tahoe, featuring the 6.2L V8 EcoTec3 engine and the Tahoe's semi-CKD assembled designs; the ESV also marked the first time an extended-length base model has been offered in this region. It will be available in 4WD models only and carry a MSRP of 4.34 million Rubles ($76,984 USD) for standard-size and 4.59 million Rubles ($81,383 USD) for ESV.
The reviews for the fourth generation Escalade's redesign has been met with positive results from automotive critics. USA Today's James R. Healey and Fred Meier noted that "The once-unthinkable big Cadillac SUV has become indispensable." CNET's Antuan Goodwin notes that "Fans of the Escalade will appreciate the automaker's sticking with the original message and not "ruining" its former flagship, but if you already think the giant luxury SUV is a relic of the past, there's nothing in the 2015 Escalade that will convince you that it's anything but an old dog that's learned a few cool new tricks." Carscoopsnoted that "It may have impressed us more if a) it had shown the Escalade first instead of last, after the Chevrolet and GMC models or b) if the Chevrolet Tahoe and Suburban and GMC Yukon and Yukon XL simply did not exist…" and added that Cadillac has won their attention with the redesign Scott Burgess of Motor Trend summed up the redesign in its headline, saying its "It's bigger, it's bolder and it's more beautiful." Bill Visnic of Edmunds concluded in his review that "With subtle, new sheet metal refreshingly free of styling gimmicks, Cadillac's looking to the 2015 Escalade's all-new and upgraded interior to help it retain its role as the benchmark of bling SUVs."[37] The vehicle received a positive review by Autoblog contributor Michael Hartley, who took a road trip with a standard 4WD full size trim from Los Angeles to Monterey, California. Although Hartley was skeptical at first, he came away impressed: "A 600-mile trip in the Escalade left me convinced that it has the features, build quality and driving dynamics to strike new fear in the segment." Bloomberg News, in its March 27, 2015 review, cited the Escalade as one of the best American-built SUVs ever made, adding that when comparing it to its foreign competitors, "It's the best we make." For 2015, Cadillac is rumored to add a twin-turbo V6 package offering, like CTS and XTS (V-sport), the Escalade may receive the same offering, but will keep the V8 engine as an option, unlike the Lincoln Motor Company new 2015 Navigator. GM recently hired Infiniti's Johan de Nysschen to serve as Cadillac president and help revitalize the brand. June (2014) shipments showed Cadillac down a few percent for the year, however the Escalade was among the biggest winners with a 74-percent sales jump, and was one of Cadillac's best sellers the following July. As of March 2015, both standard and ESV Escalades have contributed to massive sales with the full size Escalade seeing a 117% increase and the ESV soaring to 114% overall. On August 20, 2014, Automotive News and Autoblog began reporting that Cadillac dealers have been waiting three times longer than usual - a month or more - from the time an Escalade leaves the assembly line to when it gets delivered, saying they don't always know where their vehicles are in transit, or when they are set to arrive, upsetting customers who have put down deposits, leading to Cadillac dealerships to reportedly stop taking pre-orders. Even customers who placed orders as far as February 2014 are still waiting for the vehicles according to the dealerships' owners. Cadillac blames the delays on two weeks of "dwell time," citing "a lengthy quality-assurance process on some interior parts" that caused the lag, as well as additional issues with figuring out which vehicles should be delivered first. Despite the setback, Cadillac does plan to correct the issues with adding more employees and speed up production at the Arlington plant.On March 16, 2016, Consumer Reports named the 2016 Escalade the worst large sized luxury SUV in its annual rankings, with an overall score of 44. Most of the criticism came from its room space, second-row seating, the CUE media system, stopping, stiff road handling, and its redesign, calling it the worst in class.
On May 20, 2014, GM announced that it was recalling 1,402 2015 Escalades and Escalade ESVs due to "an insufficiently heated plastic weld that attaches the (front) passenger side air bag to the instrument panel assembly could result in a partial deployment of the air bag in the event of a crash." GM also placed a temporary halt on further sales and informed owners not to let passengers sit in the front passenger side seats until they are replaced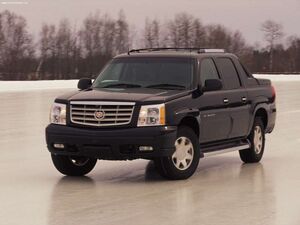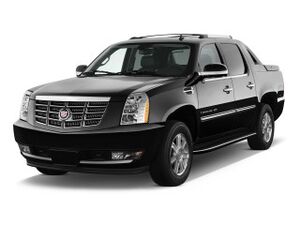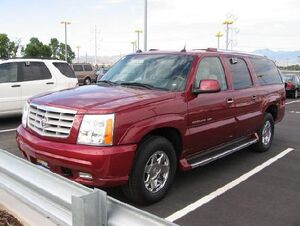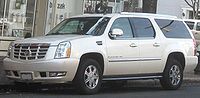 Third generation (2007–2014)
[
edit
|
edit source
]
The Escalade uses an all-aluminum 6.2L Vortec V8. The pushrod engine boasts variable valve timing, a first in a mass-produced non-overhead cam engine. The system adjusts both intake and exhaust timing between two settings. This engine produces 403-hp (301 kW) and 417 ft·lbs (565 N·m). A new six-speed 6L80 Hydra-Matic automatic transmission will be used. The new body boasts a 0.363 drag coefficient, though the large frontal area will hurt aerodynamics.
One major new feature absent from the production vehicle is American Axle's "I-Ride" rear independent suspension module. Instead, a conventional five-link suspension is used.
Production of the redesigned Escalade began at Arlington Assembly in January 2006. It will be priced from $57,280, though the rear wheel drive version at this price will not be produced until August. The more expensive all wheel drive version will be produced first, followed by the long wheelbase ESV and EXT pickup in June.
A special Platinum ESV model will follow in 2007. GM's Active Fuel Management will come in 2008.
The Escalade can accelerate to 60 mph (97 km/h) in 6.8 seconds. Fuel economy is rated at 14 MPG (16.8 L/100 km) in the city and 19 MPG (13.8 L/100 km) on the highway.
Engines:
Standard features of the Cadillac Escalade includes air conditioning with tri-zone climate controls, Nuance leather trimmed seats, wood and leather-wrapped steering wheel with audio controls, cruise control, heated front seats and heated 2nd-row seats, 14-way power front seats, memory system, remote engine start, premium sound system, 6-disc CD changer, rear radio controls, compass, power lift-gate, and outside-temperature indicator. The Platinum adds on a DVD entertainment system, navigation system, heated and cooled cupholders, rearview camera, cooled front seats, upgraded leather (Tehama front and second-row upholstery), and power-retractable running boards.

According to the Insurance Institute for Highway Safety 2007-08 Escalade models had the highest fatality rate of their class with a driver death rate of 33 compared to the class average of 15.
NHTSA 2014 Escalade:

| | |
| --- | --- |
| Overall: | |
| Frontal Driver: | |
| Frontal Passenger: | |
| Side Driver: | |
| Side Passenger: | |
| Side Pole Driver: | |
| Rollover RWD: | / 24.6% |
| Rollover AWD: | / 22.8% |
MY08
On the automatic trunk button, the "off" signal was changed from the Number "0" (Zero) to the word "off."
Escalade badging on the trunk lid was moved from the left side to the right.
Seating capacity was increased to 8 passengers
A newly redesigned remote for keyless entry was introduced to further distinguish it from the Chevrolet Tahoe/GMC Denali siblings.
Express Up added for front windows
MY09
The gauges were updated
Bluetooth hands-free interface was made standard.
A power tilt steering wheel was made standard.
Driver and passenger headrests were updated and no longer able to be tilted.
The Satellite Navigation System (optional) now added instant traffic updates and rerouting options.
Side Zone Blind Spot Alert was made standard.
GM's Magnetic Ride Control (MRC, or "MagneRide") was made standard on all models.
MY10
General Motors badges were dropped on the doors.
AFM was added(Active Fuel Management)
USB Port was added to the center console
Revised front airbag and door
MY11
2nd row headrests made larger and no longer adjustable.
MY12
GM facelifted the Cadillac Escalade Premium trim with a revised front fascia heavily based on the Platinum front fascia, deleting the chrome from the grille, door handles, and 22" rims. General Motors also updated the Premium trim tail lamps to "clear-outs LED tail lamps" and dual exhaust chrome exhaust tips, as seen on the 2012 Cadillac Escalade Platinum model.
Reverse Camera Guide lines added to Navigation system
MY13
Silver Coast Metallic and Sapphire Blue Metallic were added as new color trims, along with a revised grade braking performance.
MY14
A new color, Midnight Plum Metallic, was added. This is the first time that the Escalade will only be available in both standard and ESV brands, as the EXT and Hybrid models were discontinued, and last year for this generation Escalades.
Second Generation/Origins (2002–2006)
[
edit
|
edit source
]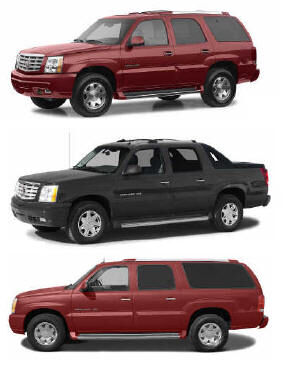 The Escalade was not offered for the 2001 model year, but returned completely redesigned for the 2002 model year. Rear-wheel drive was standard, as was a 5.3L V8, with four-wheel drive and the special High-Output Vortec 6000 6.0L V8 engine as options.
The "StabiliTrak" stability control system was upgraded to a four-wheel version for 2003 and power-adjustable pedals were added. For 2004, 20-inch chrome wheels (also known as "dubs") were offered, and XM satellite radio, second-row bucket seats, and a tire pressure monitoring system were all made standard on all Escalades except the EXT. The 5.3L engine was dropped for 2005 and the OnStar system was upgraded.
Also, the Escalade, along with the Yukon, Tahoe, Suburban, Silverado, Trailblazer and Envoy, the Escalade received criticizm for "Bland Interior and Exterior Styling". Cadillac responded in the 2007 model year.
Engines:
First Generation/Origins (1999–2000)
[
edit
|
edit source
]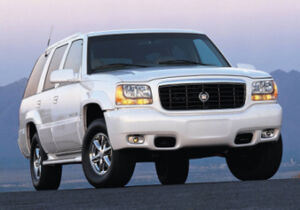 The first Escalade was very similar to the top Denali trim of the GMC Yukon. It shared all of that truck's exterior panels, which were themselves differentiated at the front from the regular Yukon/Tahoe. Even the wheels were identical, with the GMC center caps replaced by Cadillac crests.
The Escalade also used the same 5.7L Vortec 5700 V8 at 255-hp (190kW). All first-generation Escalades featured all-wheel drive. For 2000, unique vertical rear doors were added.

Design quirks and oddities
[
edit
|
edit source
]
Though they differ in body style, the Cadillac Escalade, Escalade ESV, and Escalade EXT share drivetrains, chassis architecture and styling cues.
The Escalade has been featured in many hip-hop music videos, and it may have been the reason for Cadillac's recent popularity among the urban demographic. James Gandolfini, who plays the character of "Tony Soprano," drives around New Jersey in an Cadillac Escalade ESV in HBO's "The Sopranos". It continues to be popular among younger actors, athletes and the hip-hop community.
A black Cadillac Escalade was owned by Nick (played by Ice Cube) in a film Are We Done Yet? as a replacement of his Lincoln Navigator (which was already destroyed). By the end of the film, a ladder fell onto his Escalade and broke the windscreen.
Community content is available under
CC-BY-SA
unless otherwise noted.