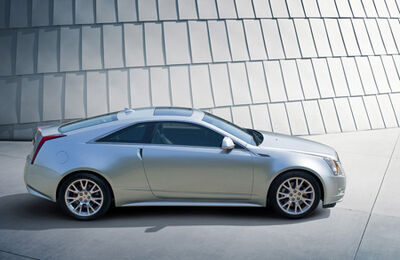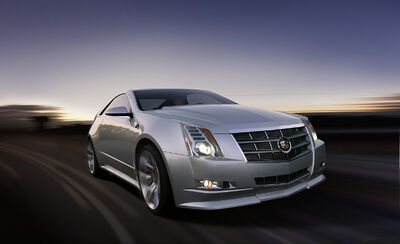 The CTS is Cadillac's entry-level luxury sports sedan. It was first introduced in 2002 as a 2003 model, replacing the Cadillac Catera. Among its rivals include/d the Audi A4, BMW 3 Series, Jaguar X-Type and the Mercedes-Benz C-Class. The CTS range was further bolstered by the introduction of the V-series in 2004 with the CTS-V. The V-series has since become a Cadillac mainstay expanding to the STS and XLR models. In 2009, the range was expanded to include a Sport Wagon version followed by the introduction of the Coupe a year later.
See Autopedia's comprehensive Cadillac CTS Review.
Recent Changes
Edit
Cadillac completes its CTS performance lineup with the introduction of the CTS-V Sport Wagon at the 2010 New York Auto Show. Like its sedan and coupe siblings, the Sport Wagon is powered by a 556-horsepower 6.2 liter LSA V8. It is aimed directly at the likes of the M5 Wagon, E63 AMG Wagon and RS6 Avant. [1]
At the 2008 Pebble Beach Concours d' Elegance, Cadillac revealed the 2010 CTS Sport Wagon. The station wagon CTS will be notable for introducing a diesel option in the form of a 2.9 litre DOHC 4-valve V6 which produces 250hp (184 kW) and 406lb-ft (550Nm) of torque. The downside is that the oil-burner will only be available in non-US markets. [2][3][4]
For Halloween 2007, Cadillac unveiled the 2008 CTS Sport at SEMA. Motivation will come from a production-spec 304hp 3.6L direct-injection V6 that exhales through a Corsa high-flow exhaust system with 3.5in tailpipes while stopping will be handled by uprated brakes with painted calipers and drilled and slotted rotors. Inside, the car will include amenities such as sporty Recaro seats, BlueConnect Bluetooth system and carbon-fiber interior trim pieces. [5]
Cosmetically, the CTS hasn't changed much since it was introduced in 2003. For 2007, this remains true, but notably, the addition of a "Sport" model with a Cadillac Sixteen style mesh grill.
Styles and Major Options
Edit
The CTS comes in a base model, a Sport trim, and the V-Series CTS-V. While the Base model comes in a choice of either a 2.8L 210hp V6 or a 3.6L 255hp V6, the Sport only comes in the latter, and the CTS-V is equipped with a more powerful 6.0L 400hp V8. All are equipped with a standard 6-speed manual transmission and rear wheel drive. There is no automatic transmission option for the CTS-V, and none of them is available in four wheel drive. Some of the standout features include: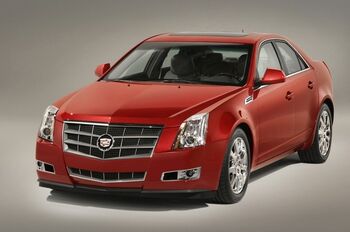 Base Model
16" painted alloy wheels
8-way power driver (4-way passenger) front seat
Leather seating
Genuine wood dashboard insert and shift knob
Dual zone front automatic air conditioning
7-speaker Delphi AM/FM/XM/CD audio system w/automatic equalizer
Cruise control
OnStar
Sport
Adds to or replaces Base features with:
Engine upgrade
Sport suspension
StabiliTrak electronic stability control
18" polished alloy wheels
Rocker panel extensions
Body colored grille moldings w/stainless steel insert
CTS-V
Adds to or replaces Sport features with:
Engine upgrade
Heated front seats with driver memory
Simulated suede/leather interior trim
Leather/metal-look shift knob and steering wheel
Express open/close sunroof
8-speaker Bose AM/FM/XM NavTraffic/in-dash 6CD audio system
Homelink Wireless Control System
Entertainment system w/DVD
Navigation system
Add more fields as necessary.
CTS Sedan Trims
Base RWD Sedan
Base AWD Sedan
Luxury RWD Sedan
Luxury AWD Sedan
Performance RWD Sedan
Performance AWD Sedan
3.6L Base RWD Sedan
3.6L Base AWD Sedan
Premium RWD Sedan
Premium AWD Sedan
MSRP
$36,730
$36,730
$40,130
$43,330
$41,730
$43,630
$43,825
$45,725
$49,920
$51,820
Invoice
$34,709
$37,733
$37,922
$40,946
$39,434
$41,230
$41,414
$43,210
$47,174
$48,969
CTS Sport Wagon Trims
Base RWD Sport Wagon
Base AWD Sport Wagon
Luxury RWD Sport Wagon
Luxury AWD Sport Wagon
Performance Collection RWD Sport Wagon
Performance Collection AWD Sport Wagon
Performance RWD Sport Wagon
Performance AWD Sport Wagon
Premium RWD Sport Wagon
Premium AWD Sport Wagon
MSRP
$39,830
$41,730
$43,230
$45,130
$43,530
$45,430
$45,625
$47,525
$51,720
$53,620
Invoice
$37,639
$39,434
$40,852
$42,647
$41,135
$42,931
$43,115
$44,911
$48,875
$50,670
CTS-V Trims
Sedan
Sport Wagon
Coupe
MSRP
$59,995
$62,990
$Price3
Invoice
$Price1
$Price2
$Price3
Gas Mileage
Edit
Add more fields as necessary.
As seen on the FuelEconomy.gov website, the City/Highway MPG averages are as follows:
Trim
Trim1
Trim2
Trim3
Trim4
MPG
c/h
c/h
c/h
c/h
Engine and Transmission
Edit
Specifications, details, graphs, pictures and other information regarding the powertrain is placed in this section.
CTS Coupe
Edit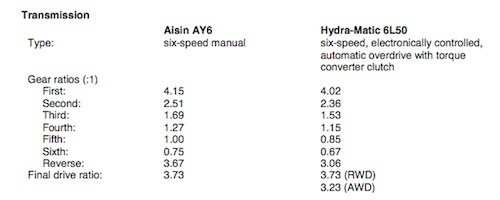 Performance
Edit
Please make sure to write information of the vehicle's performance in a third-person point of view. This section should include information about the car's acceleration figures, handling, braking, etc.
If using information gathered from Road Test articles from a reputable automotive source, then please make sure to cite the quote.
Reliability
Edit
According to Consumer Reports, "reliability is average" for the CTS. Automotive Information Systems, however, in assessing long-term reliability of the 2004 model, granted the CTS its highest mark with an overall Green rating, indicating minimal problems in all categories.
RECALL ALERT: On November 25, 2007, GM issued a recall for 9,648 MY 2007 Cadillac CTS' due to lack of compliance with the requirements of Federal Motor Vehicle Safety Standard No. 118, 'Power Operated Window, Partition, and Roof Panel Systems.' [6]
RECALL ALERT: On December 23, 2010, Cadillac issued a recall affecting 95,927 Cadillac CTS sedans from the MY2005 to MY2007 over faulty passenger sensing systems in the front passenger seat. According to NHTSA, repeated flexing of this sensor mat can cause it to kink, bend or fold, which can sever the connections of the mat's sensors to safety devices within the car. Most specifically, a damaged sensor may not be able to detect the presence of a front seat passenger and could disable the air bag, increasing the risk of injury in a crash. GM has not yet notified NHTSA of when the recall is expected to ramp up, but owners may contact the automaker with any questions prior to receiving the official notice. Dealerships will replace the passenger sensing system free of charge. [7]
The 2007 CTS fared well in safety tests carried out by the NHTSA. In tests for front-impact, front seat side-impact, and rollover, it received 4-Star ratings, and for rear seat side-impact crash tests, it received a 5-Star rating. Some of the standard safety equipment found on the CTS includes:
Front and rear anti-roll bars
Four wheel anti-lock brakes
Driver/passenger front-impact airbags
Driver/passenger seat mounted airbags
1st/2nd row overhead airbags
Occupancy sensors
Side impact bars
CTS Sedan
CTS Sport Wagon
CTS Coupe
CTS-V Coupe
Available colors will vary by trim, and a complete list is viewable at CarsDirect.com. Some of the available choices include:
Exterior
Black Raven
Blackberry
Blue Chip
Gold Mist
Infrared
Light Platinum
Thunder Gray
White Diamond
Interior
Cashmere
Ebony
Light Gray
Light Gray/Ebony
Main Competitors
Edit
Hybrid Models
Edit
There are no hybrid models of the CTS currently in production.
Unique Attributes
Edit
Resale Values
Edit
According to Kelley Blue Book, "as for long-term value, the CTS is making gains but overall resale figures remain below those of competitors such as the Audi A4, BMW 3 Series, Infiniti G35, Lexus ES and Mercedes-Benz C-Class."
Criticisms
Edit
The following comment has to dated/old, and surely not for 3.6L model. 3.6L has 256 foot-pounds of torque at 3250 rpm.
"However, with only 220 horsepower on tap, not reachable until 6000 rpm, and 218 foot-pounds of torque available at best, it will not thrill any driver who has had previous experience in a German or Japanese V6 of the same displacement." - New Car Test Drive
"If Cadillac wants to steal customers away from BMW and Audi, it's going to need a more polished cabin than this." - Edmunds.com
"The CTS' edgy, angular styling may not appeal to you if you've become accustomed to Cadillac cars over the last 30 years. Ditto its taut handling and controlled ride. Unlike many of its competitors, the CTS does not offer the option of all-wheel drive." - Kelley Blue Book
2008 models recently announced availability of AWD.
"Its steering felt a bit slow to turn in, and the shifter was sloppy to operate." - Autoweek
None of the recent reviews mentioned this. Seems the comment is dated.
Current Generation - (2014-Present)
Edit
On March 26, 2013, Cadillac unveiled the third generation of the CTS. The 2014 CTS uses the 2.0L turbocharged I4 and 3.6L V6 from the ATS and also offers an all-new twin turbocharged V6 producing 420 horsepower (313 kW) and 430 lb·ft (583 N·m) of torque. The twin turbocharged engine is only available in the CTS Vsport, a new trim that serves as a step between the 3.6L V6 and the high-performance CTS-V.
Despite carrying the CTS name, the third generation model is actually closer in size and market position to the former STS.
Bob Boniface and Robin Krieg designed the exterior of the third generation CTS. Eric Clough designed the interior.
Production
Edit
General Motors began assembling 2014 CTS sedans intended for sale to customers on 16 September 2013. Sales began in October 2013.
Reception
Edit
Motor Trend named the third-generation CTS its 2014 Car of the Year. As customary with award winners, the magazine acquired a CTS (in Vsport trim) for a long-term test. Its verdict lauded the car's driving dynamics and reliability but criticized its CUE multi-media interface.
In a four-way comparison in the December 2013 issue of Car and Driver the 2014 CTS 3.6 placed second overall. The article praised the handling of the CTS stating "[The CTS] is the only car in this group that didn't just put up with hard driving, it indeed goaded its driver to go faster." and praised the stopping ability, stiff structure and light weight of the car. The article criticized the engine for being "coarse in the upper ranges", the acceleration times, the fuel economy and the CUE entertainment system.
Consumers were less enthusiastic about the car due in part to its notably higher sticker price versus the previous generation CTS sedan. Sales concerns forced Cadillac to apply significant rebates to the 2014 models and lower sticker prices on the 2015 models.
Powertrains
Edit
All engines available in the 2014 CTS are constructed from cast aluminum blocks and heads and utilize direct injection and variable valve timing.
For the 2016 model year, the 6-speed 6L45 automatic transmission was replaced by the new 8-speed 8L45 automatic transmission, with the 8L45 also taking over duties with the naturally aspirated 3.6L V6 from the 8-speed Aisin TL-80SN automatic transmission. V-Sport models will continue to use the 8-speed Aisin TL-80SN. A new 3.6L V6, the LGX, replaced the 3.6L V6 LFX.
2014 Cadillac CTS Powertrains
Displacement
Fuel
GM Type
Configuration
Aspiration
Power
Torque
Layouts
Transmissions
Model Years
2.0 L


(1,998 cc)

Gasoline
LTG
I-4
Turbocharged
272 hp (203 kW) @ 5500 rpm
295 lb·ft (400 N·m) @ 1700–5500 rpm
FR, F4 (optional)
6-speed automatic
2014–
3.6 L


(3,564 cc)

Gasoline
LFX
V6
Natural
321 hp (239 kW) @ 6800 rpm
274 lb·ft (371 N·m) @ 4800 rpm
FR, F4 (optional)
6-speed automatic,


8-speed automatic (optional – RWD only)

2014–2015
3.6 L


(3,649 cc)

Gasoline
LGX
V6
Natural
335 hp (250 kW) @ 6800 rpm
285 lb·ft (386 N·m) @ 5300 rpm
FR, F4 (optional)
8-speed automatic
2016–
3.6 L


(3,564 cc)

Gasoline
LF3
V6
Twin turbocharged
420 hp (310 kW) @ 5750 rpm
430 lb·ft (583 N·m) @ 3500–4500 rpm
FR
8-speed automatic
2014–
6.2 L


(6,162 cc)

Gasoline
LT4
V8
Supercharged
2nd generation (2008–2013)
Edit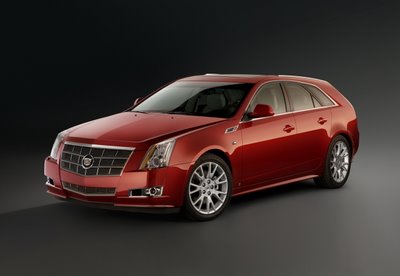 On April 2, 2006, in a 60 Minutes interview with Bob Lutz, part of a prototype Cadillac was revealed to audiences. The car featured interior and exterior design influences from the 2003 Cadillac Sixteen concept car.
GM revealed the all-new 2008 CTS at the North American International Auto Show in January 2007. The base model featured a 3.6 L variable valve timing V6 with 258 hp (192 kW) and 252 lb·ft (342 N·m) of torque. A second engine, a new 3.6 L LLT direct-injection V6 VVT engine with 304 hp (227 kW) and 274 foot-pounds force (371 N·m) of torque was also offered. The new car came with a six-speed manual transmission as standard equipment, with GM's six-speed Hydra-matic 6L50 automatic transmission available as an option on all variants. On-demand all-wheel drive was offered with both engines when equipped with an automatic transmission. Suspension, braking, and steering improvements from the previous generation CTS-V were designed into the new standard CTS.
The second generation was wider and longer than the original, measuring 191.6 inches (4866 mm) long, 72.5 inches (1841 mm) wide and 58 inches (1472 mm) in height. Wheelbase remained unchanged at 113.4 inches (2880 mm), but with a wider front/rear track of 61.8 / 62.0 inches (1575 / 1585 mm), donated by the larger STS. Other changes included a revamped exterior, with a new, larger grille, slimmer headlights and taillights, side air extractor vents located forward of the front doors, and new nine-spoke 18-inch wheels, surrounding larger high-performance brake calipers and rotors. Available features on the second-gen CTS included a Bose 5.1 surround sound system, GM's Stabilitrak ESC system, a tire pressure monitoring system, a navigation system with real-time traffic and weather data, an integrated 40 GB hard drive for music storage, swiveling headlights, and remote starting.
In 2008, the CTS was selected as the car that would re-launch the Cadillac brand in Australia and New Zealand.
First Generation/Origins: (2003–2007)
Edit
Introduced in 2002 for the 2003 model year, the CTS rode on General Motors' new Sigma rear wheel drive architecture. It was a return to rear wheel drive, as well as being the first Cadillac with a manual transmission since the 1988 Cimarron. It replaced the compact rear wheel drive Catera. The CTS was nominated for the North American Car of the Year award for 2002. The CTS is built at Cadillac's Lansing Grand River plant in Lansing, Michigan.
Originally powered by a 3.2 L LA3 V6 producing 220 hp (164 kW), the CTS received a 3.6 L DOHC V6 with variable valve timing in 2004, producing 255 hp (190 kW) and 252 ft·lbf (342 N·m) of torque. The 3.2 L engine went out of production in 2005, when a new 2.8 L version of the DOHC 3.6 debuted in an entry-level version of the CTS. In Europe, the 2.8 L replaces the previous entry level 2.6 L.
The CTS originally offered either a 5-speed 5L40-E automatic transmission or 5-speed Getrag 260 manual transmission. The Getrag was replaced with an Aisin AY-6]] 6-speed for 2005.
Year
Model
Engine
Power
Torque
2003–2004
CTS
3.2 L (3175 cc) LA3 V6
220 hp (164 kW) at 6000 rpm
220 ft·lbf (298 N·m) at 3400 rpm
2004–
3.6 L (3564 cc) LY7
255 hp (190 kW) at 6200 rpm
252 ft·lbf (342 N·m) at 3100 rpm
2005–
2.8 L (2792 cc) LP1 V6
210 hp (157 kW) at 6500 rpm
194 ft·lbf (263 N·m) at 3300 rpm
2004–2005
CTS-V
5.7 L (5710 cc) LS6 V8
400 hp (298 kW) at 6000 rpm
395 ft·lbf (536 N·m) at 4400 rpm
2006–
CTS-V
6.0 L (5970 cc) LS2 V8
400 hp (298 kW) at 6000 rpm
395 ft·lbf (536 N·m) at 4400 rpm
A CTS-V model offering a 5.7 L LS6 V8 engine, similar to the Corvette engine, with 400 hp (298 kW) mated to a six-speed Tremec T-56 manual transmission, became available in 2004.
The CTS-V will be updated for 2007 with a revised suspension under a wider body.
The Super V-Series CTS is reported to appear as a 2007 model. It uses the 505 hp (377 kW) LS7 engine from the Corvette Z06.
Worldwide
Edit
Design quirks and oddities
Edit
The CTS was featured extensively in the car chase sequence of the film The Matrix Reloaded (2003), along with the Cadillac Escalade EXT. The first public photographs of the car were actually smuggled off the set of this film.
John Lingenfelter Memorial Trophy
2003 J.D. Power Initial Quality Study 2nd winner (Entry luxury)
2008 Motor Trend Car of The Year
2008 Car and Driver's 10Best Cars list
2009 Car and Driver 10 Best cars list for a second consecutive year
2010 Car and Driver 10 best list for a third consecutive year
It has been revealed that the next-generation CTS-V will have the internal codename GMX322 V S/C.
External links
Edit
News & References
Enthusiast Sites & Community Forums
Community content is available under
CC-BY-SA
unless otherwise noted.